Happy Monday everyone! I hope you all had a wonderful weekend. What did you get up to? Mine was filled with friends, family, good food and lots of love from my baby boy….perfect! This week on the blog we have some amazing weddings to share with you, starting with this sixties themed, mini garden festival wedding, which took place Sophie's Nana's back garden! Both Sophie and Stuart are BIG music fans, and as they met whilst gigging around the same places, they knew that music was always to play a big part in their day. Their band even played in the evening, with Sophie taking star turn on vocals! They also 'went to town' with their decoration, incorporating music in so many ways, along with a touch of sixties psychedelic! It was a really fun-filled day, complete with so many smiles and laughter and an awesome party, not forgetting the amazing food! Big shout out to the talented Andy Gaines who took the brilliant photos.
The perfect festival style wedding day with friends, family, music and great food. A brilliant and fun atmosphere.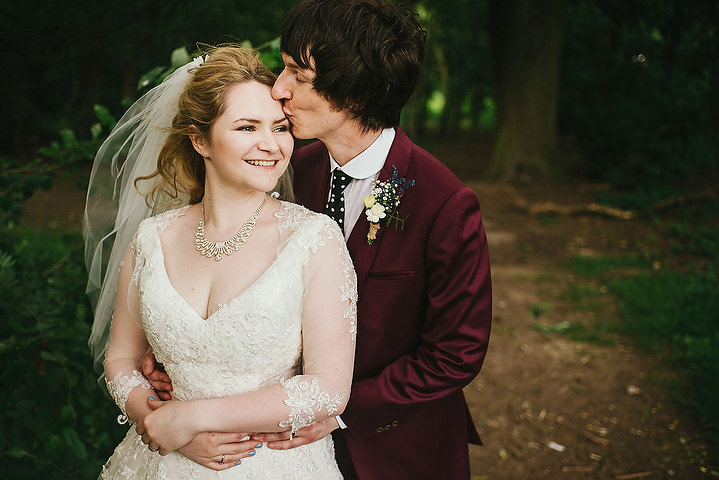 Sophie and Stuart were married on 27th May 2017 in a ceremony which took place at St Mary's Church in Haxby, York followed by a marquee reception in Sophie's Nana's house in the Village. 'Sophie grew up in this area and we both currently live with Sophie's Nana in a flat above the main house. She has a large garden and we wanted to have a wedding venue that we could have total freedom to make our own. So we hired a marquee which we personalised with our 60's inspired retro decor theme. It was about 18 months of planning and organising although i'd say that we really focused on it a lot closer to the date! We had 120 guests for the daytime and another 80 for the evening reception. So about 200 in total.'
How they met
We're both musicians and we met when Sophie came into the guitar shop I worked in. We eventually did a few gigs on the same bill and soon found out how much we have in common. Both being guitarists, songwriters and singers there was plenty of common ground – and it all happened from there. We've been together for 6 years now.
The Proposal
I had the idea of getting Sophie an engagement guitar – the idea being you can't lose a guitar down the sink or in the garden like an engagement ring. I found a 1973 Gibson Hummingbird, which is the exact make, model and year as mine – making a matching set. It was then drawn to my attention that it would be good for her to have a ring too (gentle nudging from family!) so I had the diamond from her Grandma's engagement ring reset on a new band.
We both love Wastwater in the lakes, so I suggested a little trip. It's a really dramatic lake and quiet compared to many of the others, so we had a picnic, I waited for the sun to come out and then I presented the engagement guitar with the ring in the case. It was great. I think she was a little suspicious that I was hauling around a guitar case but it all ended well!
How did you allocate your budget?
We really just spent the early days getting quotes from Will's Marquees, Shambles Kitchen for the amazing food, and Andy Gaines for his amazing photographs. Then fitted in the other smaller details around those key suppliers. We worked really hard to save and some very kind people helped us out too. Of course it went over what we originally planned, but our thinking was we'll only be doing this once, and it's so rare to have everyone together so we just went for it!
Where did you splurge and how did you save?
We were really keen to make the day as personal as we could so the main expenses were the marquee and food – both of which were totally worth it. We love good food! I have a band called Jonny and The Dunebugs, so managed to save on hiring a band. We play 50/60s/70s songs such as The Beatles/Stones/Kinks/T Rex etc. It made sense that we should play for the evening do as everyone would be there. Sophie's mum made the cake and lots of people helped out with the decorations too – all homemade and perfect for what we wanted.
Why did you choose your photographer?
I'd known Andy for many years from when he was in his band called Cardboard Radio (who were great). So when we got engaged he was the very first person we got in touch with, having seen all of his previous work, he was the only one to call! Also it made everyone feel at ease on the day. He's very much there as part of the celebration, and not getting everyone to stand and do awkward posed shots. The documentary style really appealed to us.
The Dress
The dress was from Little Pearl Bridal Boutique in Pickering by Charlotte Balbier Bridal. The shoes were from the Irregular Choice bridal collection.
The Suit and Bridesmaids
The suit I had especially tailored by Mullen And Mullen in York – something I'd never done before. I chose a deep burgundy 60's 3 piece slim fit suit, tailored shirt with penny collar and a pair of black suede cuban heeled Beatle boots by Madcap England, bought from Atom Retro. The bridesmaid dresses were from ChiChi London and their shoes from ASOS.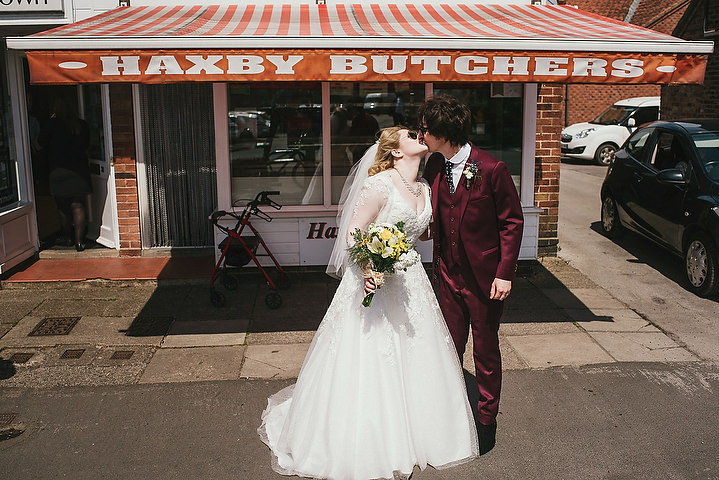 Theme or Colour Scheme
Our main theme was a sixties retro feel, lot's of pastel blues and yellows – and a bit psychedelic in places. It had a kind of mini festival feel.
Flowers
Flowers and buttonholes were all put together very kindly by one of our bridesmaids mum's, Julie Lindsay, who did a great job. The overall idea was seasonal flowers but to be honest we don't know a huge amount about flowers so Julie really saved the day!
Decoration
We had lots of bunting in the marquee and around the garden. Paper lanterns and fairy lights were dotted around throughout the Marquee as well as some amazing flower garlands wrapped around the marquee poles which we borrowed from a friend. We also moved most of our living room into the marquee, including a 60's G Plan telephone table complete with lava lamp and telephone. We also have some original 1967 framed prints of The Beatles photographs by Richard Avedon which we put on easels and used as the seating plan.  Each table had hand painted jars, and a Tunnocks teacake complete with name flag for every place setting.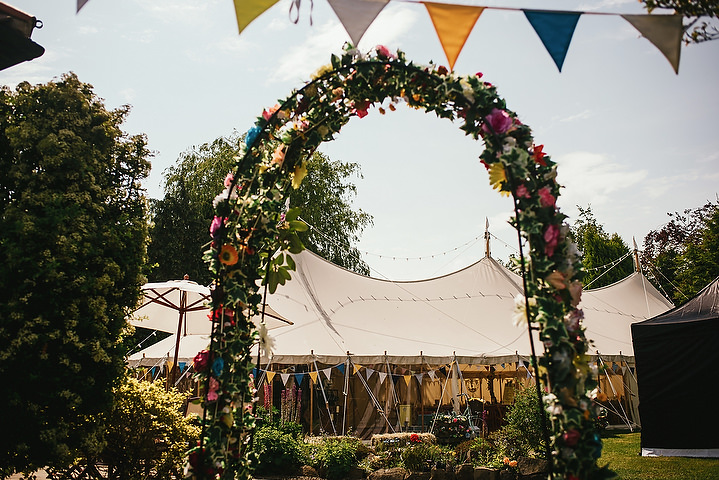 Food
Shambles Kitchen had their own food tent where they served an incredible daytime menu that consisted of soft corn pork, fish and mushroom tacos as starters, followed by two brimming paella pans of brisket chilli and Moroccan chicken with guacamole, rice and quinoa. The Shambles Kitchen also served up some gooey brownies for pudding, which our guests ate whilst mingling. For our evening guests, the Shambles Kitchen lit their BBQs to create their incredible chicken shawarma kebabs, and falafels served on a flatbread. It's safe to say that the kebabs went down a treat!
Wedding Cake
The cake was made very kindly by Sophie's mum Fran who did a great job. It was delicious and even in keeping with the decor.
Entertainment
We had Bare Brass Band playing us out for the church with 'All You Need Is Love', before leading us on the short walk back to the Marquee. They then did a set in the Marquee and had everyone up and dancing at 3pm in the afternoon. For the evening Jonny and The Dunebugs played a set and Sophie sang and played guitar the first few songs with the band. Later we had Abigail Gaines DJing with The Revolutionary Freaked Out Fuzz Club, playing 60's classic retro hits. Perfect!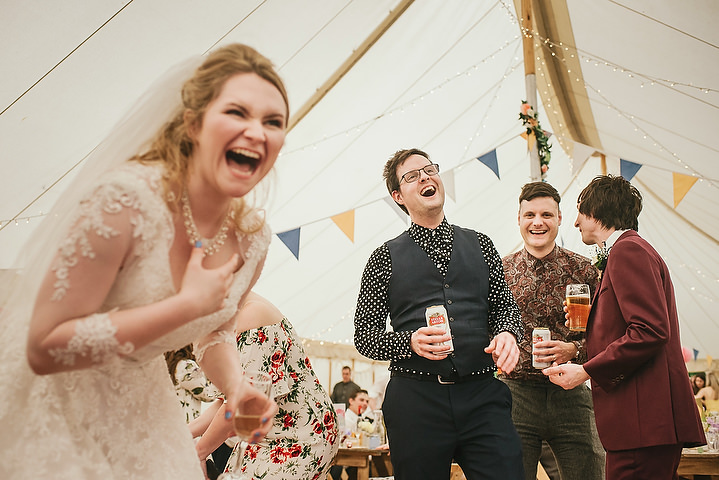 Who supplied the stationery?
Jonny Gatenby, (also drums in Jonny and The Dunebugs) designed all of our invites and order of service through his company Milk Club Creative. His style is perfect for what we were after, and all of the designs were amazing.
Personal Touches
We were very lucky to be hosting the wedding from home so we had all the freedom we needed to make it personal to us. Pretty much everything was done by us or friends and family, which made for a really amazing day.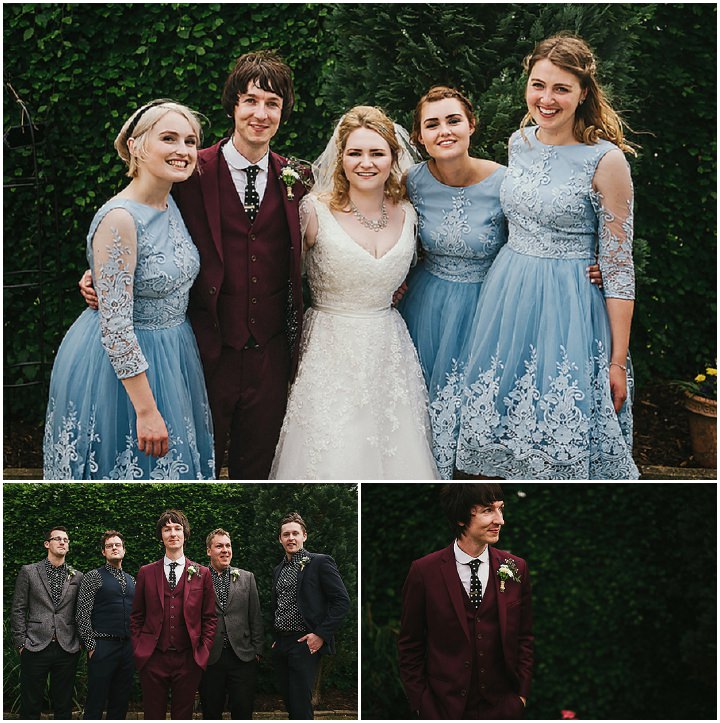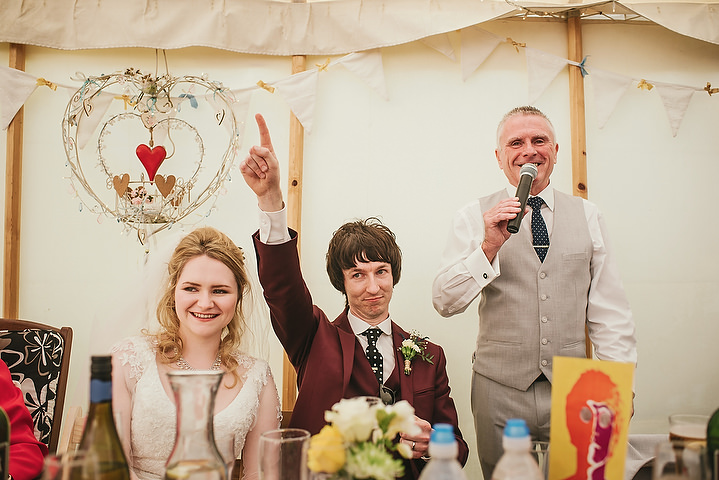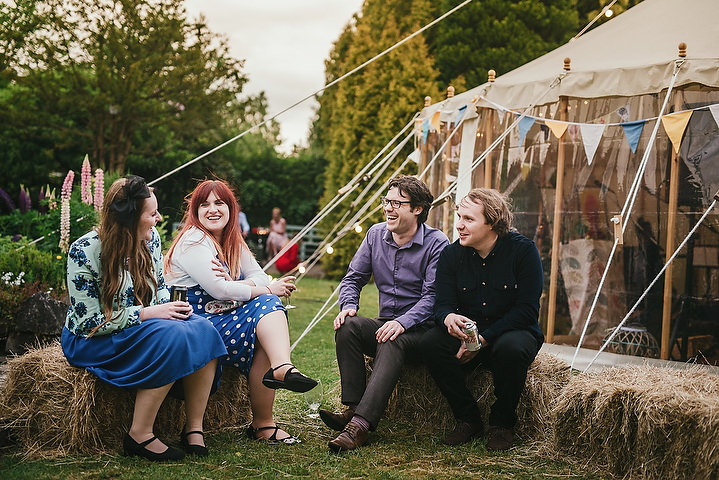 Special moments 
The walk back from the church was great with the whole wedding party being led through the village by the brass band was cool. People were coming out of their shops and houses and were really nice and supportive. We even stopped traffic at one point!
Advice for other couples?
Do as much as you can as early as possible, and try to make it as personal to you as possible – it really makes for an amazing day. Some of the best advice we got was to make sure you make 20 minutes or so for you both to disappear alone, just so you can take it all in and process the day as it goes so fast.
Biggest Surprise
Unknown to me, Sophie had bought me a Gretsch Guitar which she gave me during the bands set – I was totally taken aback. She'd had the tremolo arm engraved with the date of our wedding and 'Baby You're My Light' which was the name our first dance song by the wonderful Richard Hawley.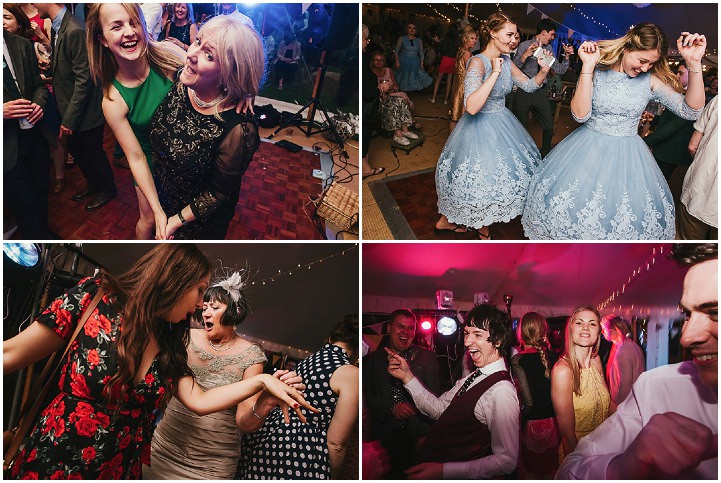 SUPPLIER SHOUT OUTS
For more information on the Andy's work go to:
www.andygaines.com /  [email protected] / FACEBOOK  /  INSTAGRAM  /  TWITTER
Andy is an award-winning creative wedding photographer, based in York but shooting weddings across the world.  A key focus on story-telling and natural and photography that shows real connections and empathy.  Andy creates photography  'less cheese and more awesome'!