Hello everyone! Today I have a wonderful woodland shoot to share with you from dream team Mari Chase and Photographer Sasha Mihalova ! They have taken a rustic woodland concept and developed it into one of glamour and royalty, incorporating luxurious details and amazing birds of prey! I will let you read on to see for yourself, it's definitely one that will take your breath away on this Thursday afternoon!
An alternative, rustic wedding with a nod to glamour.  A bohemian beauty who lives on the wild side, a forest queen in love with nature and all its surroundings.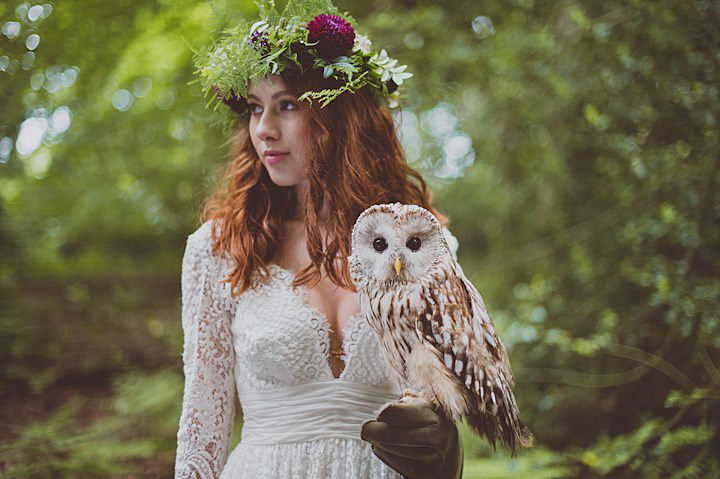 What made you decide to do the Shoot? 
I wanted to showcase my creativity and present something different.  As an artist I mainly work with makeup and hair, but I love styling women and bringing beautiful images together.  I've organised portrait shoots before, but this was the first time organising the whole wedding scene.  As someone new to the UK I also wanted to work with likeminded creative people in this wonderful industry who are equally as passionate about their work.   My photographer Sasha, shared the same vision and together we put an awesome mood board together.
What was your inspiration behind it?
The inspiration for this shoot came from several areas.  Sasha and I love the outdoors.  We found Woodland Weddings and it was the perfect backdrop and inspiration for this shoot. We wanted to work with our surroundings and use the natural earthy colours to complement our chosen palette of blueberry blue, deep reds and flashes of gold.  The beautiful dresses and feather sparrow jacket provided by Charlotte Balbier also added inspiration to our theme.  Our beautiful birds of prey were the perfect addition to complete this wild at heart shoot.
What did you want to get out for the shoot and do you feel you accomplished this?
I wanted to showcase an alternative wedding, something a little different.  Having the birds of prey in this shoot gave it that edge.  That's what I wanted.  Aside from organising the shoot of course I also got to do what I love.  Style our beautiful model with her gorgeous wild red hair.  When Sasha showed me the images, I was blown away.  Yes, I think we accomplished just what I wanted.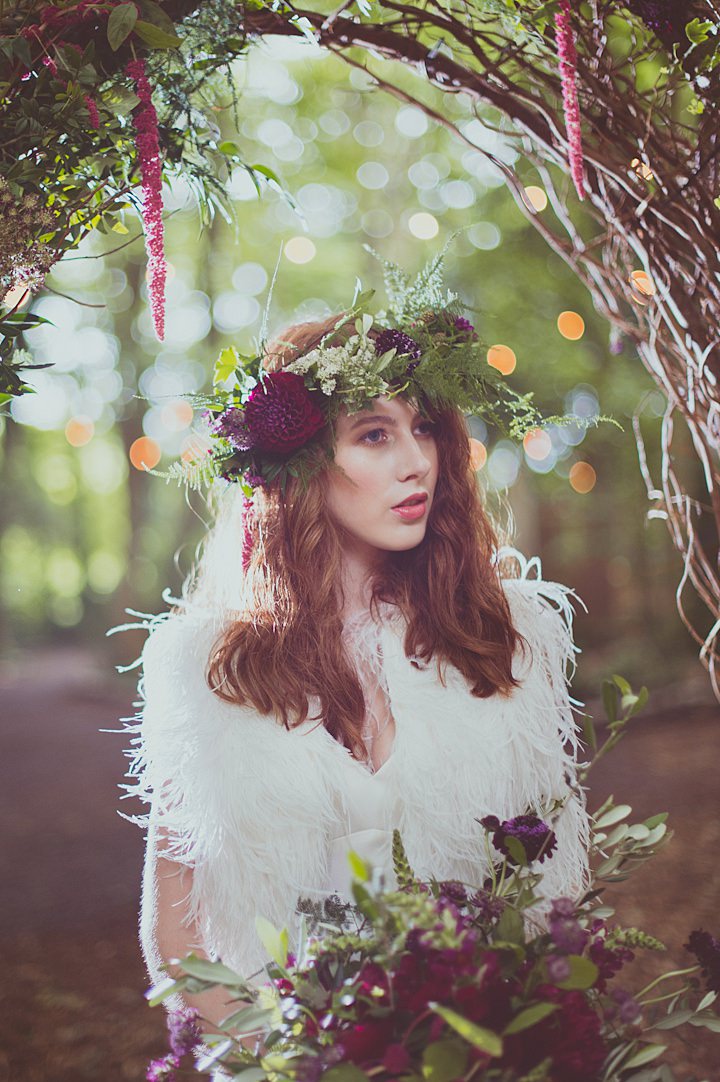 The Team Who made the Shoot Possible
For more information on Sasha's Photography go to:
www.sashaweddings.co.uk /  [email protected] / FACEBOOK / PINTEREST

[jprel]