Good Afternoon to you all!  I hope you are well.  This afternoon here at Boho Weddings we are happy to share with you this fantastic Outdoors, Rustic Wedding Styled Shoot that was kindly sent to us by Laughter and Light Photography.  I especially love the berry head-dress and the beautiful Table setting.  Many thanks to Michelle from Laughter and Light Photography and all the other wedding suppliers who participated in this gorgeous styled shoot.
'Rustic and colourful woodland wedding inspiration, featuring foraged and seasonal styling.' 
I'll pass you over to Michelle to tell us more about the shoot……….
Our main reason for wanting to create this shoot started with a conversation we had with another wedding professional, a very talented florist who had some amazing ideas for using foraged and seasonal materials instead of imported flowers. We all agreed that although flowers are beautiful, with an abundance of berries, feathers and other seasonal treats right on our doorstep, there was no reason these couldn't be used as alternatives, and what's more create unique and beautiful results. We are free spirited photographers and this conversation sparked something in us, our love for the English seasons, our appreciation of frugal wedding planning, it all started to come together and our shoot evolved from there. So much can be found in our English woodland and countryside, even the pheasant feathers in the brides bouquet! The florist has used chillies and berries in the brides crown, all of which you can forage or grow yourself at this time of year. Our wooden centre piece was discovered on a walk one day, which we decorated with dried leaves and pinecones. Our cake decoration is passion flower vine which gardeners trim back at this time of year, meaning that something that could have been discarded has been used again. We've learnt there is a wealth of materials out there to get creative with if you look at them with fresh eyes.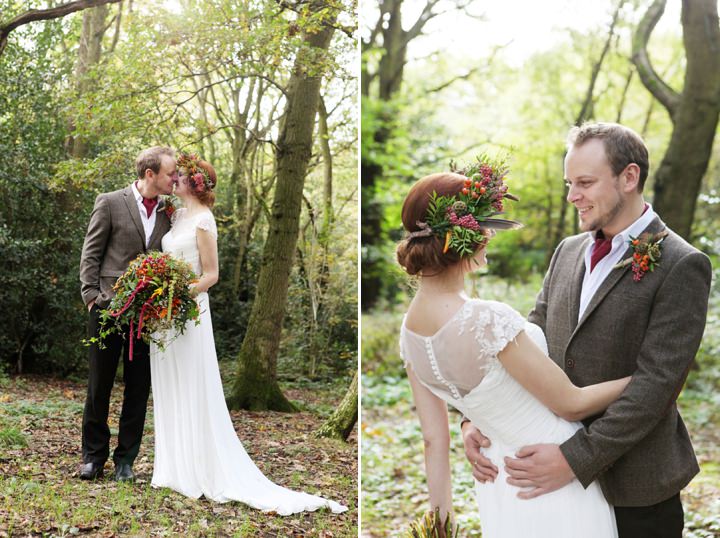 Our inspiration for this shoot came from nature. It has so much to offer and there is something truly beautiful and romantic about using its materials for wedding styling, it makes us feel like we're getting back to our wholesome roots and connecting with it again.
We wanted to show what could be done with foraged materials and hopefully inspire others to use them more, we wanted to show how stylish and beautiful they can be with a bit of love. We're really happy with the results and had so much fun creating our woodland shoot. Another Frugal tip from our florist was to use the bridesmaids bouquets as table decor later in the day by placing the bouquets in jars and we're so glad we got the chance to incorporate this tip into our shoot.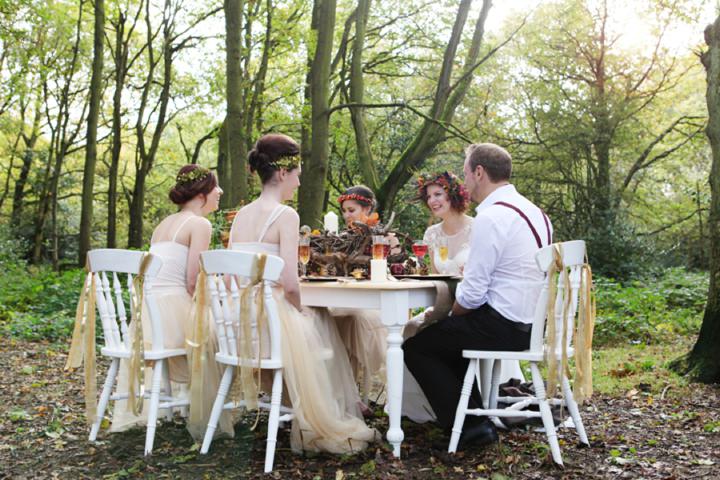 The suppliers who made it possible…..
For more information on Laughter and Light's work go to
www.laughterandlightphotography.co.uk
FACEBOOK
[email protected]
Phone: 07800923555