Good afternoon everyone, today I am thrilled to welcome back Tracey of Campbell's Flowers to Boho. As you may already know she is our resident flower expert, bloom buff, greenery genius and all round floral creative. Today, Tracey is here to chat about how to make the most of your flowers in an urban setting! Bring the meadows to the city, and let the florals compliment your venue and style! I will pass you over to Tracey for more…
Summer in the City
Hi everyone, As always, it's a total pleasure to be back on Boho, and I'd like to kick off with a huge thanks to Kelly for letting us pop up once again as experts on her beautiful blog.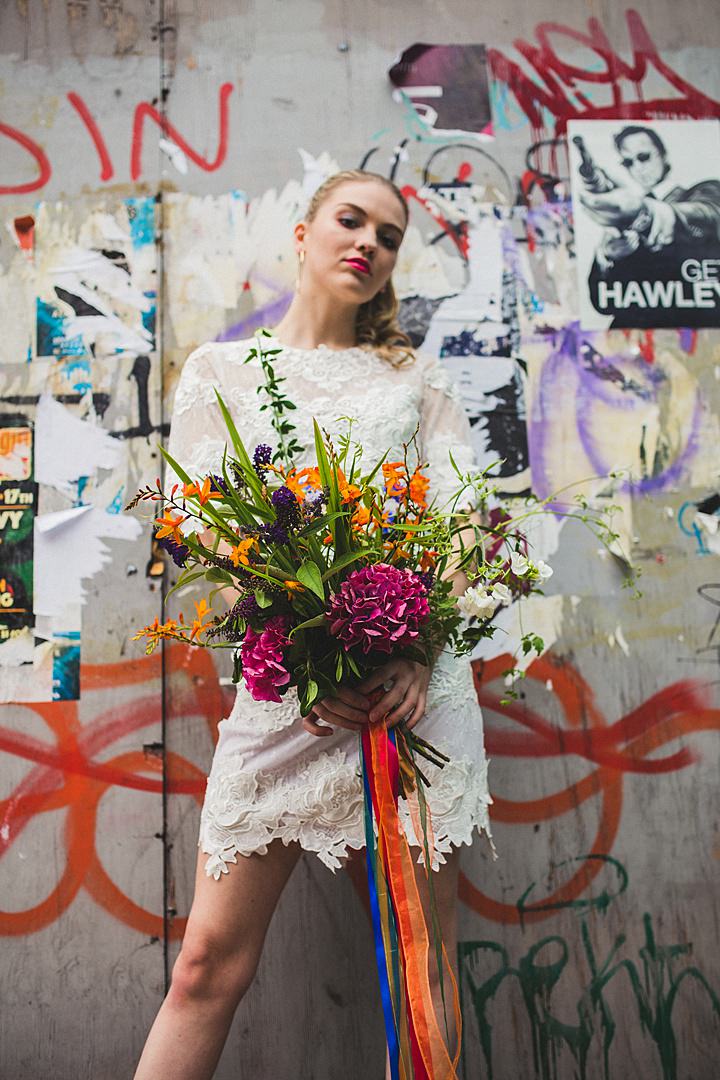 Today, I'd like to chat about something I, as a confirmed city dweller, feel incredibly passionate about. And that is how us urbanites can inject a strong sense of femininity, plenty of pretty and more than a hint of the wild and whimsical into the concrete jungles we call home when we get hitched. I want to show you that just because your big day is in the big smoke, there's no need to miss out on your heart's desires-whether it's meadowy vibes you're after or a hefty dose of uber-romantic luxe. We'll also look in detail at the choice of flowers available at this time of the year, both locally grown and those available further afield.
Wild At Heart
A sprawling metropolis is probably the last place you'd think to look for an abundance of natural beauty. In fact, you'd totally be forgiven for slipping on your Hunters and heading to the countryside if you're in search of wildflower meadows or enough daisies to create a glorious floral crown.
But if you look carefully, everything from our city streets to car parks and even motorway verges are teeming with wildlife and flowers, especially in late Summer. Forget our green and pleasant land, you can find pockets of meadow flowers blooming by high-rises, beautiful buddleia roaming free in backstreets, fruiting trees flourishing next to warehouses and poppy and wild fennel right alongside those Dark Satanic Mills.
There's so much beauty to be found in our urban landscapes, and particularly the stark juxtaposition between that soft, natural wildness quietly flowering and the city's harsh, gritty edges. So, from one city lover to another, let me share the floral secrets that can soften any urban wedding and venue so that you can enjoy the best of both worlds, and if you're looking at an August wedding; you're in for a treat.
Beautiful Bouquets
Bouquets are an easy and wonderful way to add some softness, colour and femininity to a city wedding. Blooms in bright colours work really well against the sometimes drab colours of urban settings (pavements, warehouses, old industrial buildings) and are brilliant fun when photographed against vibrant street art. Be bold and don't be afraid of using a riot of bright colours together. We call this polychromatic in floristry speak, and it's actually a fairly accurate reflection of nature, where you'll often find blues, reds, oranges, purple in a heady cacophony of colour in a meadow.
Think about asymmetric, messy, wild bouquets with plenty of foliage. Texture is key with this on-trend deconstructed look, so I've used supersized focal flowers, surrounded by carefully selected delicate blooms. Available from growers near and far, you'll find pale blue Delphiniums, roses, sweet scented mint, mustard yellow celosia, magenta stocks, burnt orange snapdragons, eucalyptus, and asparagus foliage from when the plant has fruited and gone over. Locally grown and British flowers at this time of year include bright orange crocosmia, hydrangea, the last of the sweet peas, and jasmine trails.
For an extra pretty edge, add plenty of long, silk ribbon trails- whether you opt for rainbow bright hues or classic ivory they look magnificent when you move or they get caught in a breeze.
Accent with Accessories
A subtle but very effective way to pretty up a city big day is by using floral accessories. Wearable flowers are still a huge trend, and it doesn't have to be all about the flower crowns if the festival look isn't your scene. A very elegant accessory is a dainty belt crafted from delicate roses. Or you could ask your florist if some floral jewellery might work for you-necklaces full of bright blooms can look incredible. If you did want to add something simple to your hair, single delphiniums dotted in strategic points make a wonderful whimsical look.
Va-va-voom for Venues
The trickiest part of adding a soft touch to a city wedding is often the venue, particularly with the shift toward using vast warehouses or old industrial spaces. While wonderful blank canvasses, these can need a lot of dressing, so careful use of flowers and foliage can really make a difference, so it pays to think about your décor carefully.
Hoops are so versatile and are having a huge moment currently. Our couples certainly can't get enough of them and are opting for them into next year's bookings, so it's a trend that shows no signs of waning. Rather than cover entirely, ask your florist if some of the beautiful natural willow can shine through and then add plenty of beautiful, locally grown foliage.
Floral installations can really help make a statement and help larger venues seem more intimate. The options are endless too. Arches, floral walls and curtains, chandeliers, suspended, hanging beauties- it's really worth having a chat with your florist and seeing where your collective creative vision will take you.
Switching traditional containers for natural materials is a great way to soften up your tabletops, particularly if they are long, communal, slightly industrial looking tables. So put down that geo vase and think about trying large pieces of bark, moss or woven wicker baskets bursting with blooms.
There are so many amazing ways to add femininity and pretty to a contemporary city wedding and with August in full bloom, so much to choose from – these are just are starting point for what you and your florist can get creative together. I'd love to hear your ideas too, what floral tricks are you using in your city big day?
Much love,
T xxx
Credits
AS ALWAYS YOU CAN FIND CAMPBELL'S FLOWERS IN A NUMBER OF WAYS
website, Instagram, facebook, twitter, pinterest, YouTube
Tracey is an uber creative and multi-award winning artisan florist & lover of British flowers. Tracey adores individuality and is inspired by you and your special day.

[jprel]