Good afternoon everyone! I hope the week is treating you well so far? Today we have a super pretty pastel boho wedding inspiration shoot to share with you. It's full of beautiful pastels, macramé and boho details, the most amazing cakes and, of course, some gorgeous stationery. I know you will love it! Many thanks to Wonderland Invites and Caroline Opacic for the submission today.
The shoot was amazing; everyone was so relaxed and there was so much creative talent flying around. Everyone felt super inspired throughout the day and had no problem chipping in with tasks that didn't necessarily fit in with their business. It was a real pleasure.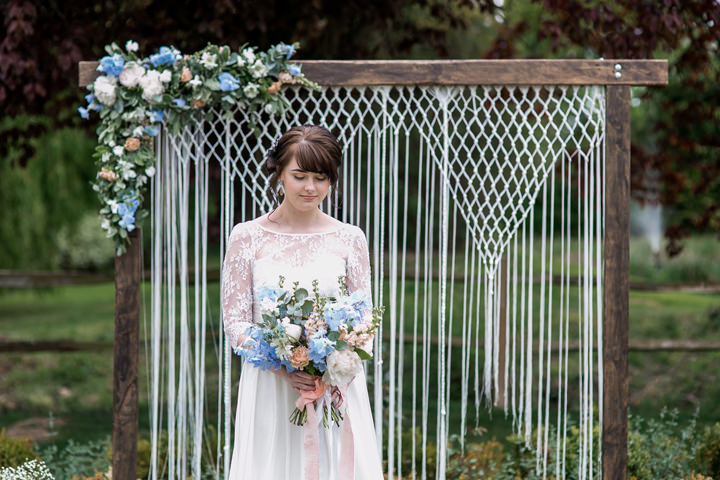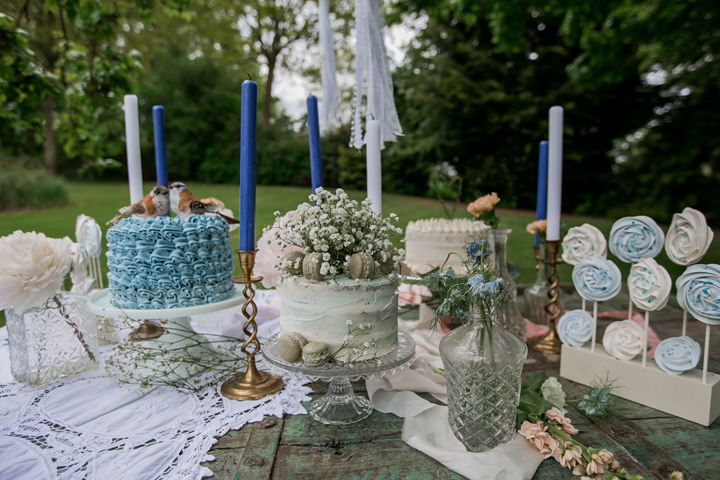 Although I am a stationer, I have a real passion for organising and coordinating styled shoots. After coordinating my first shoot back in March, and having been involved in numerous other shoots, I wanted to organise another…you could say I've got the bug! I am pleased to say everything ran according to time and without a hitch! I may have found a secondary calling!
My main inspiration was the venue itself. Houchins is a gorgeous venue; with beautiful outdoor features and an unexpectedly breathtaking wedding space, the venue has gained popularity since its opening in 2014. I knew it would provide ample inspiration for a styled bridal photoshoot. So as their recommended stationery supplier, I cheekily asked if I could plan a shoot there. That's where it all started!
Once Caroline, the photographer, and I decided on the colour palette things really started to settle into place. We opted for a powdery blue for the main colour focus and we built the rest of the colour references around this pretty shade. Blue is a colour I'm not often commissioned to use, so it was also an excuse to use it on some stationery! White and peach were selected as the complementary colours, and because Houchins has so much green space, we used an abundance of greenery to tie in the florals with the natural environment.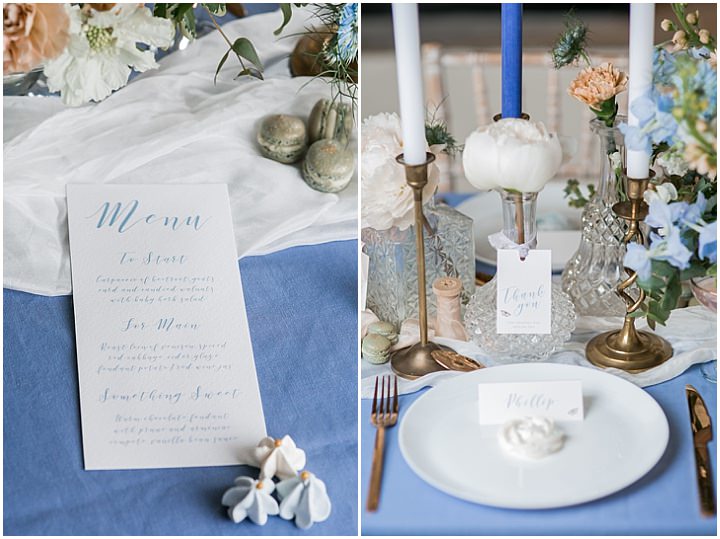 I really wanted to band together a talented team of London and Essex based suppliers (although a few of the beautiful items we utilised did come from further afield). Of course, the main focus was to create some beautiful inspiration for brides and grooms-to-be, but I was also keen to make some new industry friends and connect the local businesses to one another. The visual magic definitely happened, and so did the friendships! A few of us will be meeting at a local business meet soon, and we have more styled shoot collaborations in the pipeline.
The Team Who Made The Shoot Possible
For more information on Jenna's work go to:
www.wonderlandinvites.com / www.wonderlandinvites.com/blogs/wonderblog / FACEBOOK /  PINTEREST / https://twitter.com/WonderlandJenna / https://www.instagram.com/wonderland_invites