This morning I am whisking you off to beautiful Sintra in Portugal for this super romantic, relaxed and elegant styled shoot by Ivnna from The Wedding Wonderland and her amazing team of wedding suppliers. The shoot took place in January at Quinta da Penalva, and the inspiration came from the want to show off a more varied colour palette and some amazing ideas from the wonderful team involved. Rich red and gold tones, geometric detailing and beautiful blooms all go to make this shoot so pretty and romantic. As for the couple involved, a real life couple who wrote their own personalised vows for their ceremony, what a super cute thing to do.
This styled shoot, combines bohemian and romantic style with Sintra's whimsical atmosphere. The rich autumnal colour palette with dashes of gold and greenery made the final result very sophisticated and elegant.
Ivnna from The Wedding Wonderland tells us more about the shoot 
We've never done a wedding with this colour pallet before. When it's decision time, most of our couples play it safe and chose more pastel like tones. Don't get us wrong, we adore pastel, but we felt the need to show something bolder and inspire our couples to take more risks.
The starting point was the venue.  We wanted to create a bohemian, sophisticated and romantic style. Sintra with its enchanted and whimsical atmosphere was the ideal scenery for our work. All elements were meticulously chosen so as to fit the shoots concept and character. We wanted to enhance the lush green landscape with pops of burgundy, peach and gold – the flower design really played a major role for this purpose.
The two piece bridal gown and gold accessories added a beautiful, relaxed and effortless look to our mood. We are passionate about geometric patterns so we've introduced them throughout the shoot – you can find it at our sweetheart table, ceremony backdrop and wedding cake.
We wanted to create a magic scenery that couples can inspire to create their own wedding. The ideas that we've pulled together are very achievable for anyone to recreate and we are in love with the final result. Also, our bride and groom are a real couple and we wanted this shoot to be special for them to. One of the most beautiful parts of this shoot was Catarina and Pedro exchanging their vows in an outdoor ceremony in front of the pool. The whole team cried with them.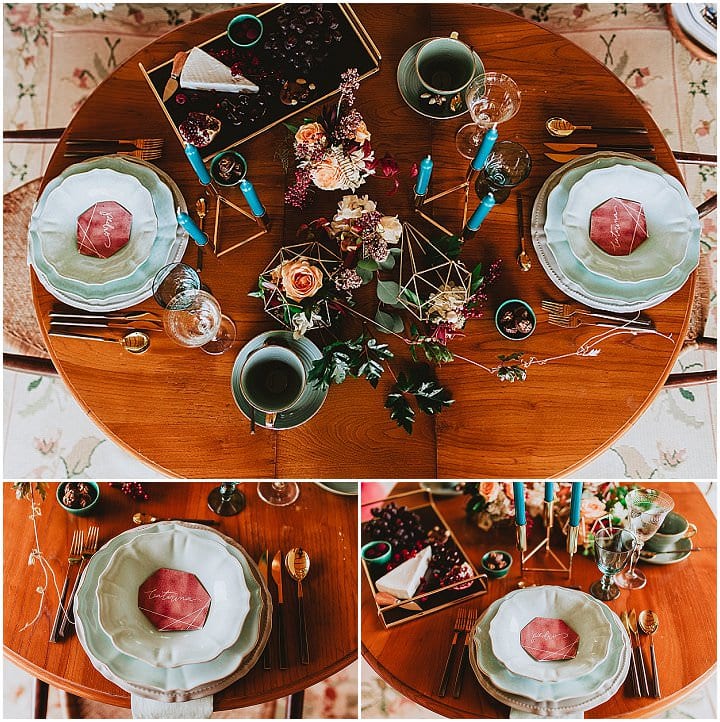 The suppliers who made the shoot possible