Don't you just love it when a team create a shoot slightly offbeat and outside of the box? I'm not sure I would have thought to put together Boho styling, Moroccan details and a Groom in tween outside in the Fall, but it works so well! The rich tones are accentuated throughout, the Bride looks super glam in that wonderful headpiece and the tablescape and hanging décor are simply fabulous. Well done team! With many thanks to the group of ladies who produced this for us today, and Tara Draper Photography for the photos.
Moroccan inspired Autumn Shoot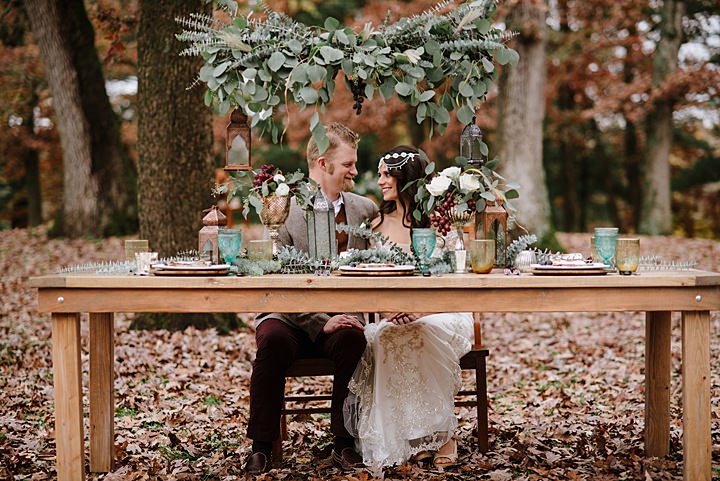 More about the Shoot:
When a group of girl-bosses got together this fall for a styled shoot, we were excited to create something for ourselves and to think a little outside the box. After throwing around several ideas, we decided that a Moroccan inspired shoot would be the underlying theme for the day? What would a Moroccan inspired wedding look like in the fall in Wisconsin? Well, much like this…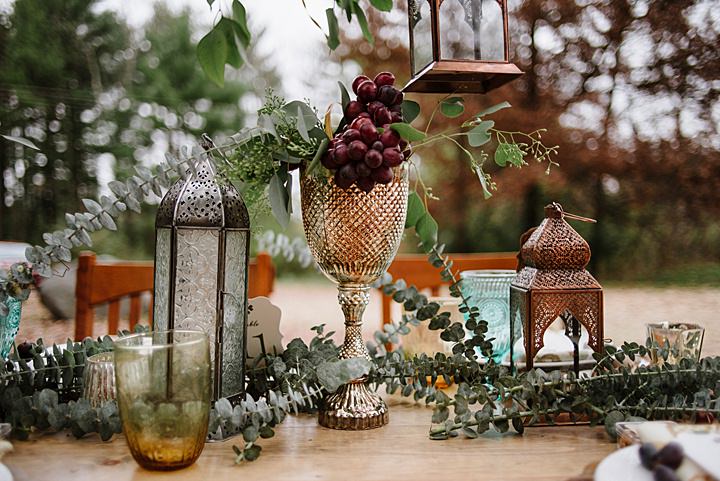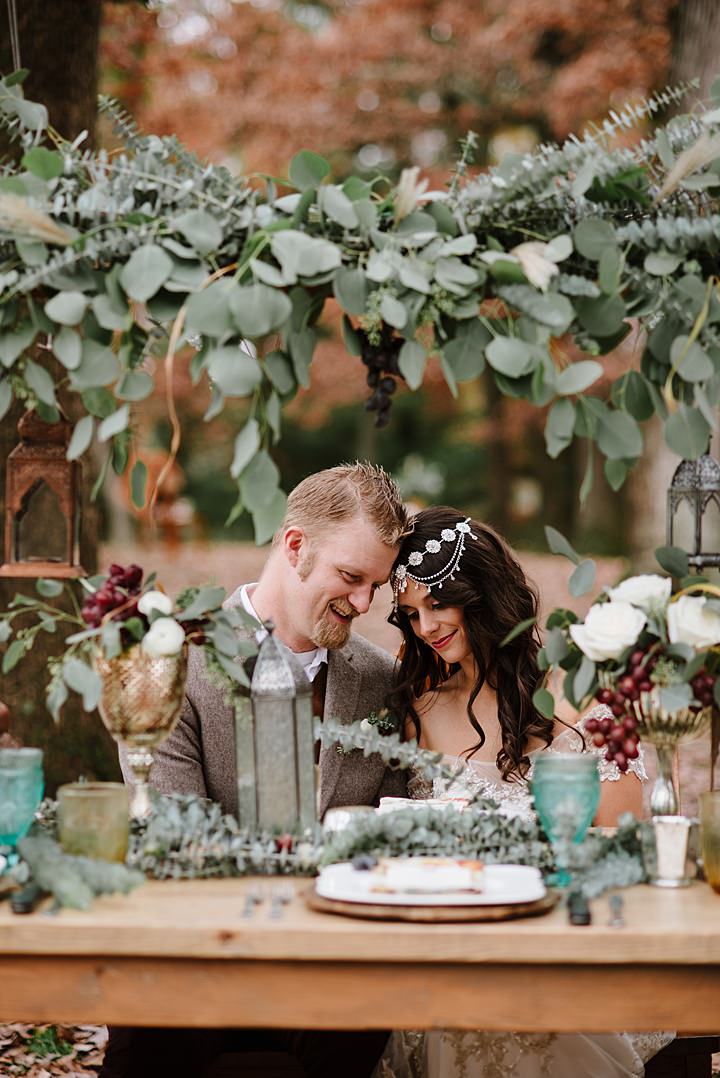 On this very Wisconsin(y) day Moroccan lanterns, shapes and patterns mixed well with the fallen leaves and neutral fall colors. The look both simple, elegant and yet a bit seductive styled by Neira Event Group. It starts with the bride, who wore an off the shoulder Maggie Soterro gown from Brides and Belles that features a low back and intricate details common in the Moroccan tradition. The fairway Grove at Chula Vista Resort in Wisconsin Dells set the mood for a perfect ceremony secluded in between tall Oak trees and nature. Existing symmetrical wedding arches were dressed with eucalyptus, lanterns, rugs and pillows.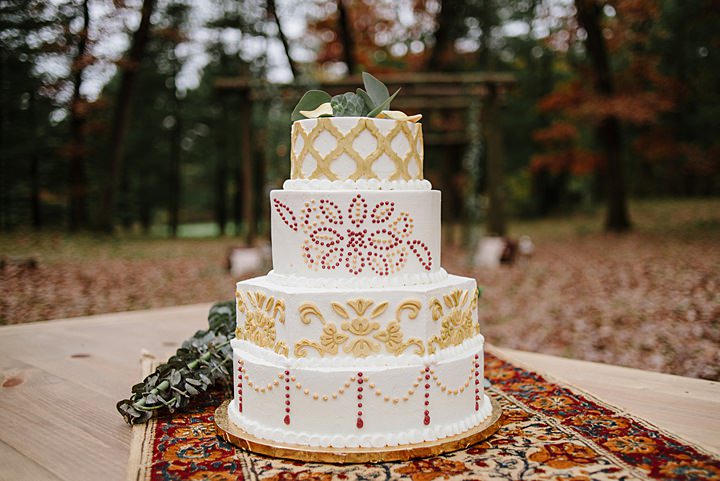 The table escape featured a hanging wood plank, with hanging lanterns, greenery and some grapes. On the table place cards which doubled as a wedding favor of almonds (not only a wedding tradition here but native to Morocco) created by Sugar Pear Designs who also designed the invitations. Wood chargers, plates and the menus brought in the traditional geometric shapes. Grapes were added to the centerpieces as conversation starter and who doesn't like when things are edible? The delicious cake (we can vouch for taste, we ate it) done by Taylor Cakes tied the loose ends with more Moroccan shapes done in fondant and a shimmery gold. The couple has been married for three years and with two little boys in the mix, they were excited for an afternoon to cuddle up in the fall leaves with one another and have some time for themselves.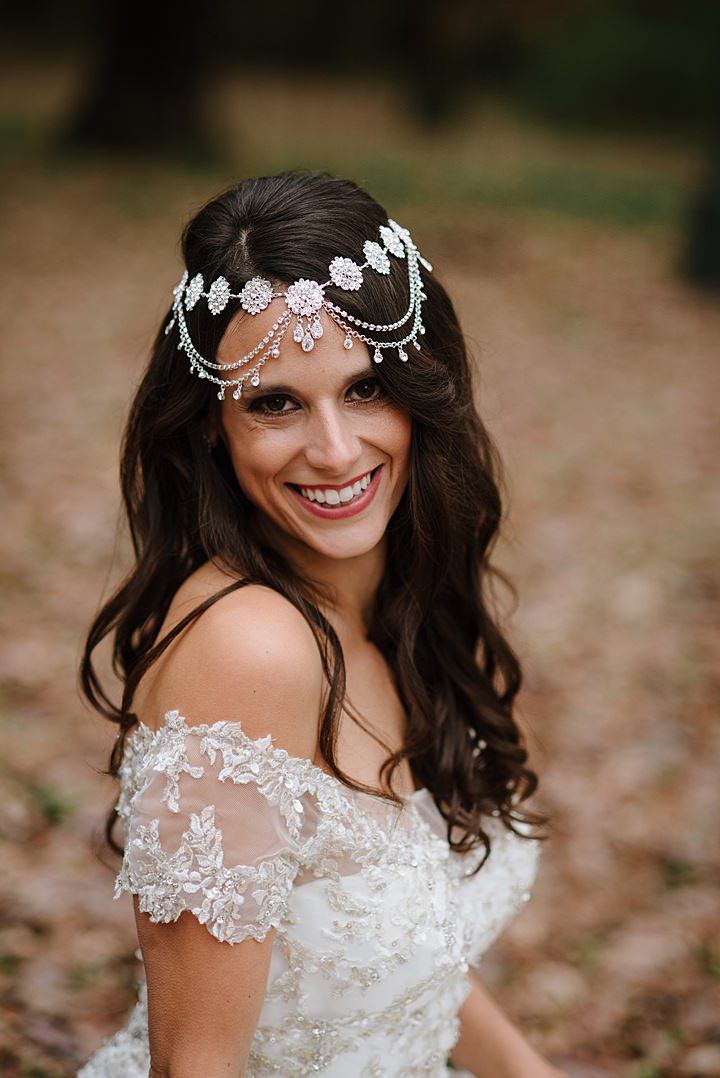 The Team who made the shoot possible:
For more information on Tara's work go to:
www.taradraper.com / www.taradraper.com/blog / [email protected] / FACEBOOK / I: @taradraper / T: @taradraper / PINTEREST