Happy Friday everyone and may I take this opportunity to wish my husband Nik a very Happy Wedding Anniversary. We are celebrating 8 years together today! It was from our wedding that the blog was born, as well as my past career as a wedding planner, so he has a lot to answer for! We are off out tonight to celebrate, then tomorrow it's Dexter's 3rd birthday party and then of course Father's day, so very busy here at Boho HQ! But enough about me, today we are celebrating the wedding of Katie and Matthew who threw an intimate wedding in their Nana's back garden. With 28 guests and the day planned in just 9 weeks, this wedding is personal, fun and filled with the most important thing of all, Love! Big thanks to Fairclough Photography for the lovely images.
'Intimate DIY. We focused on what is important, the people and relationships that matter most. Not just our own but everyone close to us that will be there throughout our marriage through thick and thin. Those we will laugh and cry with, and that will share the happiness we create together.'
Katie and Matthew were married on the 16th September 2016 in Katie's Nana's back garden, Lancashire. 'We wanted it to be somewhere that represented our values so it had to be Nanas garden! It was just what we wanted, only close family and friends, simple, intimate and full of love. We are so glad we chose to do it the way we did and did not get lost in the superfluous side of things and with only 9 weeks to organize! We had 28 guests and we had 9 weeks from engagement to the wedding day.'
How they met
We met through a mutual friend and hit it off immediately, from that point we were in touch with each other every day. It must have been 2/3 years before we started to see each other romantically and it all seemed very natural when we did go for it. By that point our relationship already had a firm foundation because of the strong friendship and bond that we had already formed, there was something special there from day one. We've been together for 6 years
The Proposal
The proposal was nothing extravagant, no fireworks or sky writing. We sat down for dinner like we do every night and put a record on. At the end of the meal Matt put a Chet Baker track on that I had bought him for a previous birthday and we had a little slow dance in the kitchen.  Matt got down on one knee and we ended up hugging on the floor next to the recycling bin, haha, neither of us have ever gone in for big statements. We like to keep things understated and real and that's very much how the Wedding was planned.
How did you allocate your budget?
We just tried to keep costs to a minimum by doing a lot of the preparation and organizing ourselves.
Where did you splurge and where did you save?
I guess we splurged on the things that will last forever – our wedding rings and the photographers. Our rings were from Ingle and Rhode a bespoke ethical jeweler. Matt had the engagement ring made and designed by the in house team.
Why did you choose your photographer?
Fairclough Photography  – The lovely duo did a wonderful job of photographing my friends' wedding and I didn't look anywhere else … James and Katie were our first and only choice.
The Dress
Ellis sweetheart lace dress in style 11442 in Ivory/Nude. Lotties Bridal Boutique was brilliant when she helped my friend with her wedding dress, so based on this I recommended her to my sister for her wedding. Again due to the excellent service that Lottie gave my sister I didn't look any further … Because we planned to get married in such a short space of time (9 weeks from engagement to wedding) I put all of my eggs into one Lottie basket, keeping everything crossed that she would have the perfect dress for me and would be able to turn it around in the short amount of time we had….and she most certainly did!
The Suit and Bridesmaids
Matt wore a navy blue slim fit suit from Zara. I had 5 x bridesmaid, but due the relaxed nature of our wedding I decided it would be better for them to wear whatever they felt comfortable in. They made up the majority of female guests from the Brides side so thought it would be a bit too much if they all wore the same dress.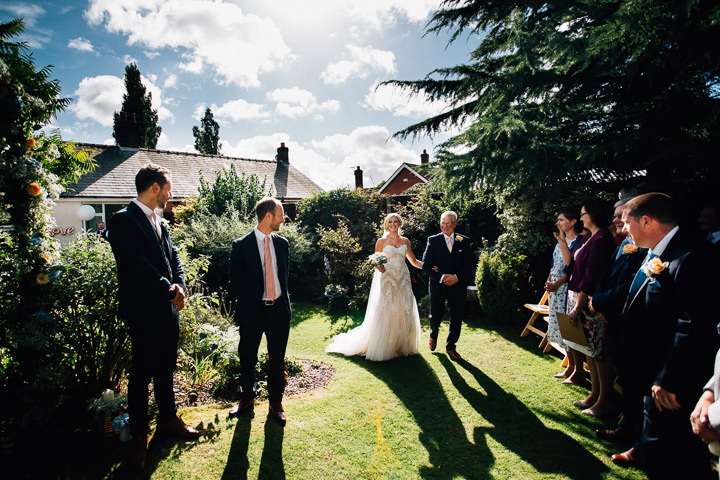 Flowers
A friend who is a florist, had recently done the flowers for my sisters wedding so I asked her. She created a beautiful bridal bouquet, a wonderful floral wedding arch where we were married and exquisite  decorative touches with flowers hanging from the tress in hand painted tin cans accompanied by home made white paper pom poms.
Decoration
My sister made a wooden sign for the front of my Nana's garden to direct people to "Nana's Garden" upon arrival, which was decorated with beautiful flowers. I had collected tin cans of all sizes and spray painted them copper, gold and cream, we filled them with lovely flowers and used them for the table center pieces, around the base of our floral wedding arch and delicately hung them from the tress around the garden. We had a stunning wedding arch that was decorated with flowers all the way round, with delicate little glass tea light globes hanging throughout. In addition to the tin cans hanging from the trees we also had white paper lanterns and hand made white paper pom poms.
Food
It was very much a family affair, my mum made the majority of the food with help from other members of our family and friends. The food was themed around our combined favourite foods in a help yourself style buffet which included Italian antipasti, succulent hot chicken thighs, a mix of Mediterranean salads finished off with Nana's Eaton Mess and Tessa's Classic Banoffee Pie for dessert.
Wedding Cake
My friend Sarah who loves and is brilliant at making cakes offered to make our wedding cake for us. She made a delicious 3 tiered naked victoria sponge, delicately decorated with some berries, gypsophila and icing sugar.
Entertainment
We created a playlist via spotify of all our favourite songs
Personal Touches
All of it … it was all very much DIY from the invites, to the spray painted tin can decorations, to my nana making my veil, My Friend Tessa did her own make up on her wedding day and it was just simply stunning so I asked her to do mine for me. As we got married in my nana's garden, the grounds weren't licensed for us to get 'officially' married there, so we got legally married the day before at a local registry office and then had our official wedding ceremony in my nana's garden. So with this we then had to find and ask someone to do the honors to marry us during the ceremony. In our eyes there was only one man for the job…our close friend Chris, who we also call Bob. He has a perfect mix of confidence, charisma and personality, which made our intimate DIY style wedding even more special – everything we did had a very personal touch to it.
Special Moments or Highlights
The whole day was so special, being able to have it in my Nana's garden was a dream come true, a place and a person who is so special to us both made it a day we will never ever forget.
Advice for Other Couples
The day really does fly by, allow plenty of time for everything and each other!
Supplier Shout Outs
 For more information on Katie & James' work go to:
www.faircloughphotography.co.uk / www.faircloughphotography.co.uk/blog / [email protected] / 07921 386761 / FACEBOOK / I: @faircloughphotography / PINTEREST