Today I have a fabulous shoot for you, all the way from January this year when the weather was rather different from the sunshine we have at the moment. Set at Ponden Mill, Stanbury, West Yorkshire (the Wuthering Heights of Brontë County). Full of wintery tones and wild styling. I love the delicate macramé and laser cut details offset against the boho rustic elements. With an intimate cottage and bleak moorland setting, this is a shoot full of inspiration for the offbeat couple with the outdoors in mind! With many thanks to Suzanne Oddy for the submission today, and images from Fox tail photography
A unique shoot featuring the most beautiful layered, handmade, flowing dress, dream catchers and unique truly items of stationery and décor. Shot in the stunning surroundings of Ponden Mill in the heart of beautiful Brontë Country, complete with wild ponies.
More about the Shoot
As a stationery designer and stylist I wanted to really wear my creative heart on my sleeve and create a shoot to showcase all the little details as well as the stunning bride, flowers and dress and venue.
For me, a wedding is much more than a ceremony. The joining of two souls has such a deep meaning that it goes much wider than the building it is in and the things that are in it, so I wanted the shoot to convey a sense of magic, nature, bohemian style, spirit and connection with the earth and the universe.
The whole shoot is inspired by the moon and the stars and bohemian ideals. From the mandala necklace and ring to the dream catchers, to the couple in the cake topper staring at the moon.
I wanted a real artisan feel to the shoot so chose suppliers who hand make their items and who really understood the mix of textures and colours I was aiming for.  I am overwhelmed at the amount of effort, creativity and sheer graft the suppliers put in to the brief. Not only did we pull together beautifully but we created something truly magical, as well as forming meaningful connections with each other. What a day (well nearly three days and many meetings in fact)
This is the first styled shoot I have coordinated and I absolutely can't wait to plan a second. Next time with a festival theme. But not your average festival…watch this space…!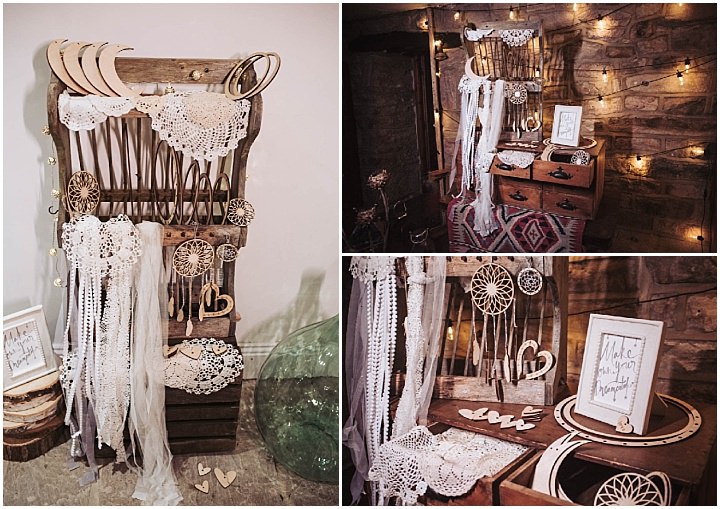 The Team who made the Shoot Possible
For more details on Suzanne's work go to:
www.suzanneoddydesign.com / FACEBOOK / I: @suzanneoddydesign / PINTEREST
For more information on Louise's work go to:
www.foxtailphotography.co.uk / [email protected] / 07788 163042 / FACEBOOK / I: @louise_foxtail / T: @Louise_FoxTail / PINTEREST