In this job I get to see so many different types of weddings, to be honest not much surprises me these days. However when todays wedding landed in my in box, there was something particularly different about it that made me realise straight away I had to share it with you. What could be so different? Well todays Bride and Groom, Olivia and Mikael, flew themselves to their own wedding reception in a glider! Which is how the couple actually met, on gliding lessons. The whole day has been captured perfectly by Lizette Photographie.
It was one of the best days in our life, we had so much fun and got to share the day with so many relatives and friends.
Olivia and Mikael were married on the 6th August 2016 in a ceremony in Rystad Kyrka followed by a reception at Kanalmagasinet in Mem in Sweden. 'We were looking for a cosy small place which fit in our budget and were close to the church. When we finally found Kanalmagasinet there was nothing which could be compared to the location! We had 60 guests. We started planning about a year before the big day, we did much ourself and spent several hundred hours to search for decorations, cakes, hair styles, dresses and everything else.'
How they met
We met when Olivia learned to fly a glider. Mikael was my teacher. During the winter, when there is a break in glide flight we started dating for real. Before we started dating we spent several hours in the plane together, where we got to know each other. We met 3 years before the wedding and became a couple 2,5 years before. From the started we knew we wanted to get married!
The Proposal
We started to discuss our marriage about six months in to our relationship. We were both sure we wanted to get married but that it was too soon. Mikael also told me that he wanted to be the one to propose, but he also wanted it to be a surprise. After about a year Mikael started to look at rings, he had a hard time deciding which ring he wanted to propose with and during the time Olivia got more and more curious. When was he going to propose? Finally Mikael told Olivia that he wanted help to pick out the ring, so they chose rings together. The night after we picked up the rings from the jewelry store we spent the night at the airfield and Mikael told Olivia he was going to propose in one of the gliding planes.  The next day we took a flight at 1500 m over the ocean and Mikael proposed.
How did you allocate your budget?
The big expenses was the food and the drinks. By choosing our reception at the place we chosed we couldn't decide to bring our own food or alcohol, and because this big expense we tried to save money on the other posts.
Where did you splurge and where did you save?
Olivia's ring got a little more expensive than we'd planned. We thought that we could save money by doing our own Save The Date and invitation cards but that probably got more expensive and we also put down a lot of work and hours in to making them. We also made our own cake, Olivia got help from her sister – the bridesmaid – with her hair and she also did her makeup herself. We asked relatives to bring flowers from their own gardens. We put money in making the pennants in lace, they almost took about 50 hours to cut, glue and sew together.
Why did you choose your photographer?
We looked online for photographers in our area. We wanted a certain look and style for ours pictures. We got our eyes on Lizette during a Valentines offer, and her pictures and the offer cut the deal.
The Dress
My sister-in-law made the dress. The earrings are from Edblad, necklace and bracelet were already bought a long time ago. Hair accessories were bought online at Wish. The shoes are from Rainbow Club.
The Suit and Bridesmaids
Smoking from Fogenstads Herrekipering and Högtidskläder
Theme or Colour Scheme
Green, purple and white with a natural touch.
Flowers
All kinds of flowers, the bouquet were a mix of purple flowers and the decorations at the reception were mixed summer flowers.
Decoration
We made our own pennants. The tables were decorated with long white canvas with jute cloth, iva, some hearts made of concrete and flowers. The location it self is so beautiful and didn't need much decoration.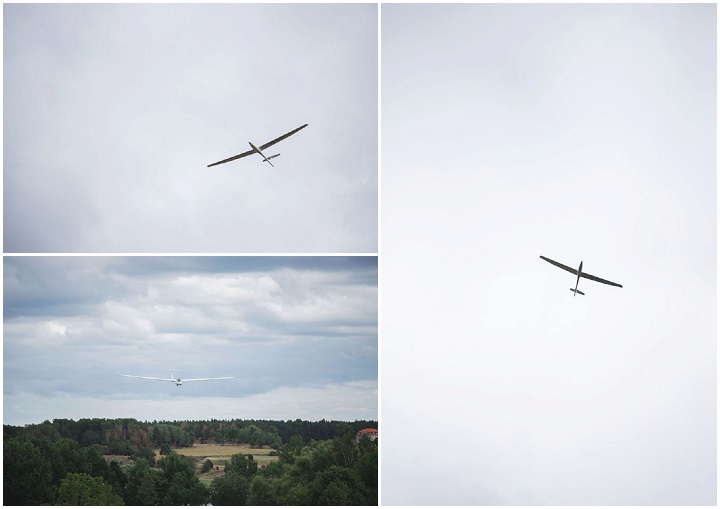 Food
Avocadomousse on bread for apatizer. Shrimp- and cheesestuffed plaice with a creamy sauce and potatoes.
Wedding Cake
Olivia made the cake with her father and his partner. It was a blueberry and lemon cake, the decoration on the cake – the roses – were made by Tårtverkstan in Linköping.
Entertainment
During the time the guests waited for us the went on a quiz walk with questions about the bridal couple and there were also a photobooth.
Stationery
We got it all ourselfes on Panduro, Skapamer.se and Clas Ohlson
Personal Touches
We made our own Save the dates, invitation cards, party booklet and Thank you-cards. We made our own pennants and pompoms. Olivia's grandfather made a wonderful welcome-sign to the reception. Mikael's mother made hearts and roses in concrete to the tables. We flew a gliding plane to the reception.
Special Moments or Highlights
The moment when we were entering the church, so existed and nervous. When we flew over the reception and looked at all the guests.
Advice for other couples
Don't make your own cake. Its a lot of work and even if it feels expensive we recommend that you pay for that service!
Also try to find things that are YOU. For example we had the gliding flight, but also our waltz, which were performed to the song Nothing else matters performed by Apocalyptica. When we found that song we knew it was the one.
Biggest Surprise
The bride's father's speech. It was perfect! Funny, touching and teaching with love. Also all the fun during the party, for example all the speeches and when we got to sit with each others back and answer questions by raising our shoes.
Supplier Shout Outs
For more information on Lizette's work go to:
www.lizettefotografi.se / www.lizettefotografi.se/blog / [email protected] / +46731421662 / FACEBOOK / I: @lizettefotografi.se
I'm a wedding photographer based in Sweden, who loves bohemian weddings with a genuine touch.