Today we are taking you off to beautiful France for this totally stunning wedding from Rose Fuschia Photographie. Alice and Tim fell in love with their venue and after that the rest of the planning seemed to fall into place. They opted for a natural theme, to enhance the gorgeous backdrop, so chose pale peaches, ivorys and pinks. They enlisted their friends and family to help with the decoration and details and in return offered them a weekend long celebration in the most beautiful of locations.
It was a rather unusual day.  Although we were busy rushing about the best part of the day, what we remember are the many beautiful moments, and such a memorable and personal ceremony.
Alice and Tim were married in a ceremony on the 3rd September 2016, and stretched the celebrations out for a whole weekend at Domaine Sainte Colombe, Saint-Gilles, France. 'It was love at first sight when we first visited the Domaine! The restoration and development work have turned the place into a truly exceptional venue – it really gave off that special vibe that we wanted our wedding to have. It is impossible not to settle into "weekend by the pool" mode when you are there! We had 62 guests, including 9 children. I proposed in December 2014… and we found the Domaine in February 2015. So almost a year and a half of preparations, in particular the final 12 months!'
How they met
We met in high school in France, back in 2007. And we have been together almost as long, since May 2008!
The Proposal
Well, I moved to California in October 2014, and Alice came over for the first time the following December for the Christmas break. After taking her for a walk along the Pacific Coast at Half Moon Bay, we sat on a bench on top of the cliff, overlooking the beach and the sea. I remember trying to break the ice with a cheesy line about the sea (I'm rather shy!), before turning to her and proposing. It took her almost five minutes to get over the shock, before finally saying, 'Oui'!

How did you allocate your budget?
What is this "budget" thing? All jokes aside, we ended up spending a fair bit more than we first set out! Globally, though, we reckon we spent roughly one third on the Domaine; one third on the most important suppliers; and one third for everything else (of which there are many).
Where did you splurge and how did you save?
The venue was a real investment, but we do not regret that one bit – our families and friends' reactions and compliments made it all worthwhile from day one! As for Alice's dress, we tried to guess its price, but that was a beautiful gift from her parents. Meanwhile, I ended up spending fairly little on my outfit – which, given the theme we had going, was not a problem at all! Alice got ready by herself, after learning how to do her hair with a Youtube tutorial – this way, we saved on the hairdresser and makeup artist!
Why did you choose your photographer?
After countless hours of research on blogs, Pinterest and Instagram (certainly a fiancée's best friends!), Alice stumbled upon Elsa's work at Rose Fushia Photography. Her photographic sensitivity immediately caught our eye, and her attention to detail shined through every photograph of hers. Following a quick email exchange, we set up a call – and it was truly love at first Skype! Elsa made us feel comfortable from the start, but also truly special – she was almost as excited about the wedding as we were! Last but not least, we were really happy to allow her to tick a box on her bucket list: to shoot with a horse!
The Dress
Alice's dress was crafted by the delightful and talented Diane Lelys, a couturière based in the VIIe arrondissement in Paris. She was attentive to every detail, and wanted to completely understand the theme, the mindset, that our wedding day would embody.
The Suit and Bridesmaids
I ended up wearing a white cotton-linen summer suit from Zapa, a Parisian clothing outfit. Underneath that I wore a simple white linen shirt, and some Polo Ralph Lauren shoes.
The theme for the bridesmaids was mid-height summer dresses, in shades ranging from pink powder to apricot. The groomsmen were all nicely outfitted in a plain white shirt and beige trousers from Zara!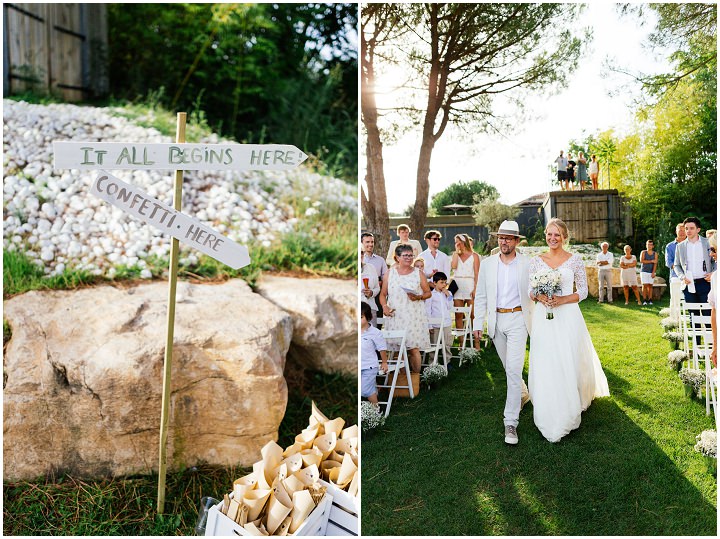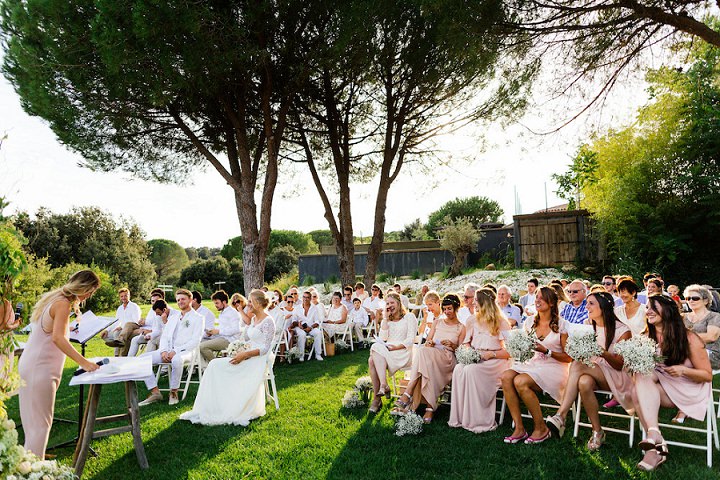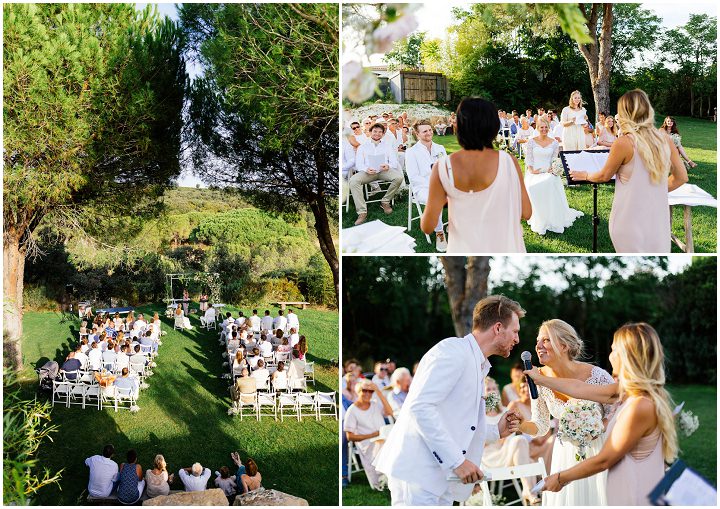 Theme or Colour Scheme
We wanted our palette to look natural to stay in spirit with the location and the theme of the gathering, so we went for colours like off-white, powdery pink, taupe, linen and natural materials.
Flowers
We would like to call out the fantastic work done by our florist, Valérie, of Rosa Alba. She made a stunning natural-looking, asymmetrical flower arch for our ceremony, which was a first for her, and she was extremely involved in getting it to look just right. Alice's bouquet was underpinned by David Austin roses and garnished with various seasonal flowers. Valérie and her team also prepared the gorgeous floral arrangements for the table, which were heavily complemented!
Decoration
We kept it simple; fairy lights, flowers, and the magic of the Domaine did the rest.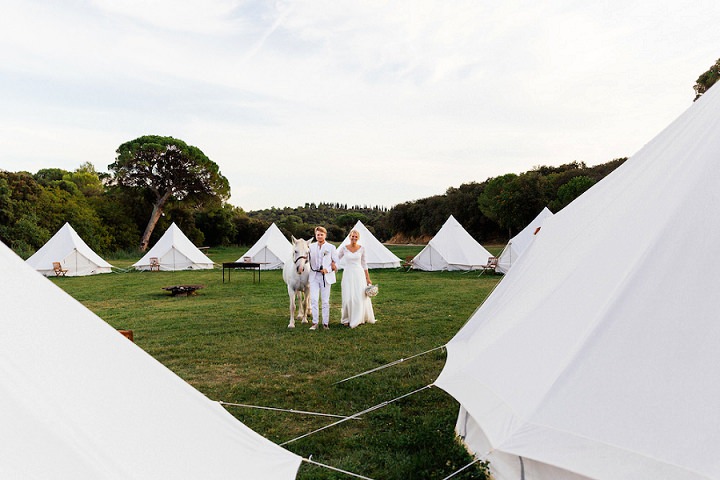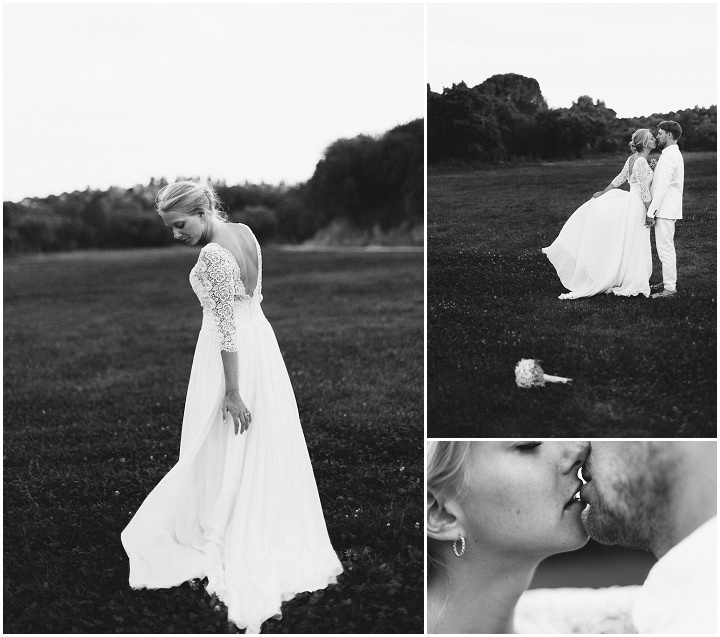 Food
Following the ceremony, we had champagne, cocktails, and some great nibbles on a wide wooden terrace overlooking the where the ceremony took place, as the sun set. As the night settled in, we moved to the actual reception dinner, which was outside under a lit pergola. Our caterer Sophie – Alice's dad's talented cousin – had prepared a generous meal, with some Italian-inspired starters of mozzarella, tomatoes and basil leaves; the main course was a selection of a gardianne, a local bull-meat stew; with a fish terrine, and a vegetable tart.
Wedding Cake
Alice loves naked cakes; but I am rather fond of icing, myself! So we reached a compromise, with a semi-naked cake prepared by Mary Cherry in Montpellier – the result was spectacular and exceeded our expectations! It was pretty AND delicious, with white chocolate and red fruit filling.
Entertainment
For the cocktails, we had a gifted gypsy jazz band playing called Drom Blanchard. They were a great success, and really settled the ecstatic mood following the ceremony into a happy dancing time. After they left, we relied on a well-curated playlist (that we prepared the night before – but don't tell anyone).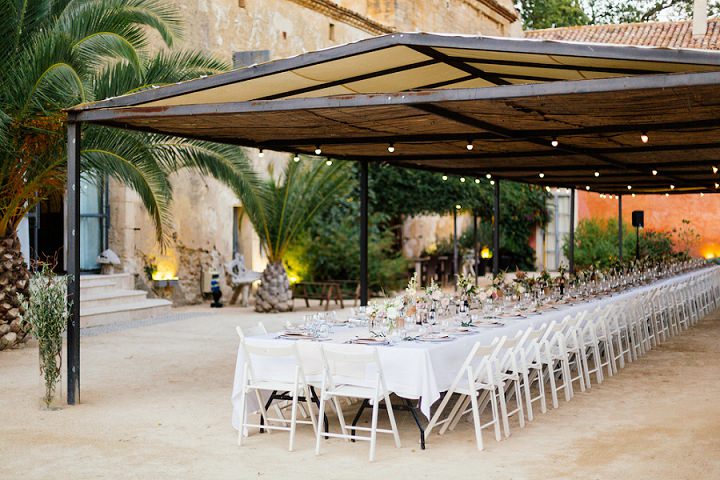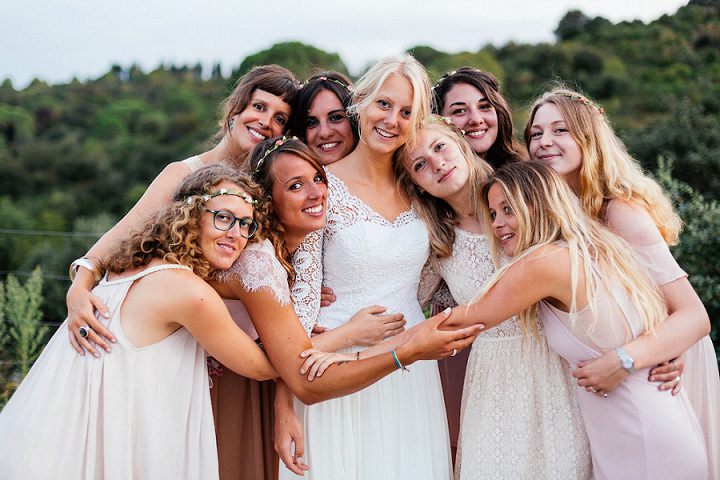 Stationery
We didn't have custom stationery made for our wedding; one of Alice's talents is design! Instead, after coming up with our logo and design language, we made our cards ourselves, as well as the various menus and personal messages.
Personal Touches
All the signage on the Domaine we also made ourselves, from reused wood! Alice's dad actually made a whole van's worth of woodcraft – an old ladder, turned into a shelf; an ice cream fridge; a drink stand… Alice's cousin, Claire, hand-painted all the drinking glasses and drew the wedding logo on the sign we set at the entrance of the Domaine – it was truly a team event!
Special Moments and Highlights
Definitely the ceremony. Our cousins Laure and Sophie, who wrote the ceremony and officiated for us, came up with something quirky, which made us laugh and cry, to the point that Alice couldn't stop giggling, and she never managed to say "Yes!" in the microphone!
We also had a fun-packed shooting with Elsa; we may be smiling on the pictures, but in reality, we were all (including the horse) fighting an army of blood-thirsty mosquitoes!
Finally, we cannot stress enough how much our families and friends did for us! Alice's family and her grandma's friends (yes, yes!) went above and beyond to help, from organising to logistics and help on the day.
Advice for Other Couples
If you don't have a wonderful mother-in-law who can coordinate and organise so many things on your behalf – get a wedding planner!
On the big day, do not put too much pressure on yourselves – you won't have time to spend hours with each of your guests – but don't forget to spare a moment to listen to your grandmother telling you how "in her day", she couldn't have walked barefoot along the isle, or danced with converse shoes on the dancefloor!
What was your biggest surprise of the day?
We were both taken away by the ceremony; that was definitely the most unexpected yet amazing surprise of the weekend!
One other surprise, though, was when we arrived at the dinner table, hand in hand: everyone was wearing masks of our faces, singing "All you need is Love"! It was quite a shock, albeit a funny one, and a memorable moment for sure.
Supplier Shout Outs
For more information on Elsa's work go to:
rosefushiaphotographie.com / [email protected] / 0674873073 / FACEBOOK /I : @rosefushiaphotographie / PINTEREST
"Hi, I'm Elsa. I'm a french wedding photographer based on South of France, Pink City, Toulouse. My style is poetic, colored, joyful, natural. I love boho, rustic, simple weddings, smiles, laughs, flowers, details, colors, simple pleasures of life, and I love my job ! My dream is to travel the world to capture beautiful weddings worldwide. "
Due to an email issue if you have emailed me between the 2nd & 9th of December, please resend it.
X