Todays wedding is one of my favourites of the year so far, it's a beautifully simple day but filled with so much love and the most gorgeous of couples! This sun filled wedding in Croatia is everything a destination should be, chilled, relaxed and filled with glorious sunshine! The setting, the backdrop, the smiles, the outfits are all wedding day perfection, all captured perfectly by Vladimir Mudrovcic. Martina and Tim have proved that with a little help from the internet anything is possible when planning a wedding.
Our wedding day came and went like a dream, but it felt more like a warm embrace that stays with you forever. The day represented us in every way – the surroundings, the simplicity, the food, the flavour and the love that was shared between everyone that was there was simply unforgettable.
Martina and Tim were married on the 3rd September at Boskinac Vineyard/Hotel/Restaurant on Pag Island, Croatia. 'Originally we were hoping to get married in my hometown – Zadar – but after exploring all the venue options. We wanted a simple, honest celebration with lots of good Croatian food and wine for our guests to enjoy. As soon as we saw the photos of Boskinac we we're pretty much sold. Then we heard they had the best wine in Croatia…and we definitely were sold! The quiet setting and nearby beach was just the icing on the cake and of course, the staff were just amazing from the word go. We had 50 friends and family from Croatia, Slovenia, Australia and USA. The wedding took 8 months to plan. At the time, we were living at opposite ends of the globe – Tim in Nigeria and myself in Ukraine. So all the planning was done online…and via Skype. We even managed to find a band by searching YouTube for days on end! There were many a long nights and broken Skype calls, but with Google on our side there was nothing we couldn't do.'
How they met
Tim and I had dated for 5 years before we decided to get married. We met at a week-long training course hosted by the Red Cross, back in the days when we were both ambitious and aspiring international aid workers. Tim and I met in Melbourne, and in true Melbourne style – we fell in love over coffee. When I say coffee, I don't just mean any coffee. Having just returned from a 5 day Red Cross training, this one was highly anticipated and arguably well deserved. The training, designed to replicate life "in the field", involved being far removed from basic luxuries such as coffee machines and frothy milk. Many a tea break was spent bonding over our mutual longing for "real" coffee, and at some point, I promised to introduce Tim to the best brew in Melbourne. To the untrained eye, our coffee "date" would have seemed quite a casual and spontaneous affair, but looking back now I realise it was probably a carefully planned and orchestrated event – coordinating emergency operations was, after all, Tim's specialty. On the flip side, if I were to be perfectly honest, I'd have to admit that I wasn't completely resistant to his charms either. So there we were. I introduced Tim to the beauty of the flat white and he began telling me his life story – one that I believe he never finished. He had a way with words, but unfortunately, his gift was not making them entertaining. Add to the mix my impulsive habit of cutting him off with questions mid-sentence, we quickly realised that several more dates would be needed in order to figure this thing out.
The Proposal
Tim proposed in Istanbul, by the banks of the Bosphorous. It was halfway during a morning run that Tim decided to get down on one knee…and I was not only extremely sweaty, but completely thrown off guard (read: mortified!!!). Hats off to Tim for the most unique well planned proposal I could ever imagine!
How did you allocate your budget?
We didn't really have a budget – We had guests travelling a long way to celebrate with us so their comfort and enjoyment was top priority. We made sure to provide good quality accommodation, food and drinks – once that was covered we just went with the flow, but tried to keep spending at a reasonable level.
Where did you splurge and where did you save? 
We saved by choosing flowers that were in season, hair and makeup was basic and all our accessories were purchased online. The photographer and band were probably the most expensive, but they were chosen based on their awesomeness…because that is priceless.
Why did you choose your photographer?
We found him online, after hours of Googling wedding photographers in Croatia. As soon as we saw Mudri's work we knew he was the right photographer for us. It was exactly the vibrancy and creativity that shone through his photos that we wanted him to bring out on our wedding day. We also loved the fact that he was an avid hiker, bike rider and coffee drinker just like us! Match made in heaven, really!
The Dress
My dress was by Leanne Marshall with a veil purchased locally in Croatia. My accessories were: Pearl earrings borrowed from mum, Pearl bracelet from Etsy, Flowers in my hair were put together on the day by the local florist in Croatia. My shoes were purchased from a bargain basement for $10
The Suit and Bridesmaids
The suit was purchased in Russia. We didn't have a bridal party!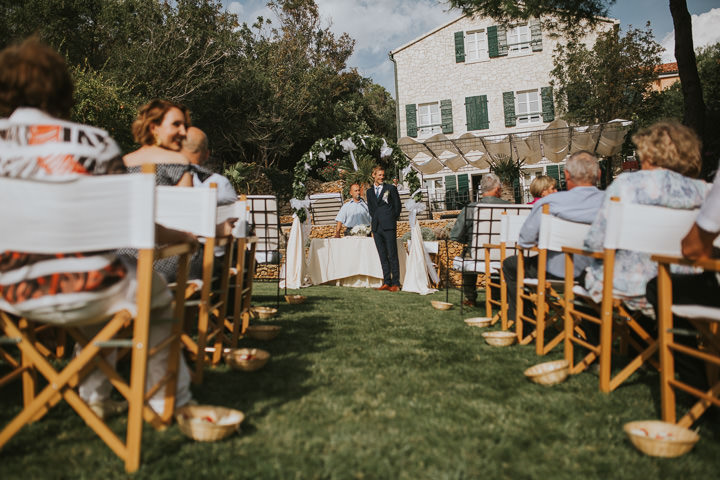 Theme or Colour Scheme
We didn't have a theme, we just wanted everyone to feel comfortable and free to move! We warned them the ceremony would be outside. That it would be on grass, and that it was probably going to be really hot. That was it! Overall everyone looked bright, summery and happy.
What sort of flowers did you have?
We didn't have many flowers – just a small bouquet on each table. We kept it simple – lots of white and green, and only what was in season.
Decoration
I think there was some left-over tulle that Boskinac managed to recover from a wedding the weekend before ours, but besides that we didn't have anything extra. The venue was simply stunning in itself, and we wanted the natural beauty of the surroundings to shine through as much as possible.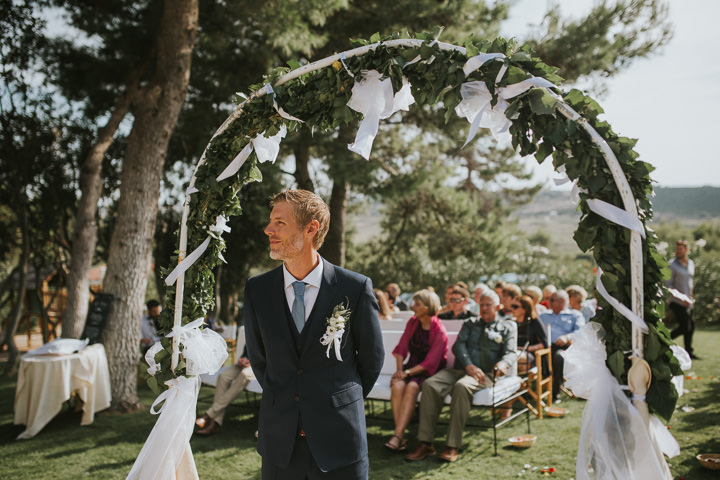 Food
So much!!! We had 5 courses throughout the evening. First was welcome drinks and finger food at the bar / tavern…the rest was served in buffets. We asked for only traditional Croatian and local food, especially that which the chef loved to prepare – basically seafood, lamb, cheese.
Wedding Cake
My mum made the cake! It was a gluten free chocolate beetroot mud cake. I made the request, and mum spent MONTHS refining and practicing the recipe. The result was a spectacular 3-layer cake topped with a bouquet of local Australian style sugar flower…crafted by mum and carried all the way from Australia especially for the wedding!
Entertainment
We had an acoustic duo playing throughout the welcome, ceremony and parts of the dinner. They mixed it up with cruisy melodies that we chose beforehand, and local Croatian songs (for my parents and the oldies!). Later in the eve we switched to a DJ who played anything that we could dance to.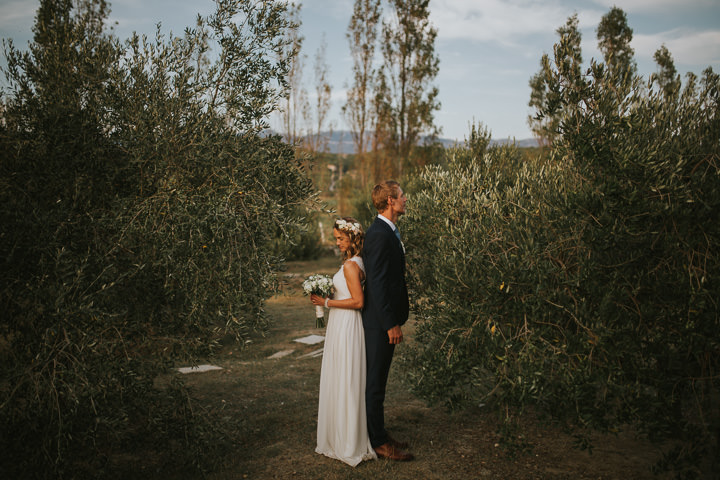 Stationery
We used Appy Couple for invites and to share all information related to the wedding.
Personal Touches
We didn't do much, but we did have:
– Gift bags for every guest / couple: each bag contained a small bag of local Croatian salts, a small jar of T+M Candy (ordered online in Australia) and a small bottle of Croatian Maraschino liqueur.
– Photo stand for Polaroids: made by Tim out of an old mirror frame and some twine
– Wishing well: Wooden box brought from the local hardware store
– Blackboards: For the Wishing well, Polaroid stand and our ring warming
ceremony…written by me!
Special Moments or Highlights
There were so many! Some of the more memorable moments were:
– The ring warming ceremony
– First dance – was a rendition of Only Love by Ben Howard that the duo came up
with especially for us
– The lawn games, especially Hammerschlagen went down a treat with everyone
– Sharing our vows – we wrote them ourselves
– Our personal photo shoot after the ceremony
– The Polaroids!
– Seeing all our family and friends come together as though they'd known each other
for years
Advice for other couples
A good friend of ours warned us that 'weddings make sane people crazy and crazy people insane'. This became our mantra when things got a little crazy and stressful…sharing a laugh or a private joke helped keep us grounded and (somewhat) sane. I would also recommend to make the day whatever you want it to be. Avoid being pressured by family and friends into doing something you don't feel comfortable with or adding something that doesn't resonate with you. Make sure it represents you as a couple in every way, because that's what makes the day special and memorable. No one remembers all the other bells and whistles! The day itself will go faster that you ever imagined! Make sure to take a moment (or several moments!) to sit back and soak it all up. Make as many memories as you can, it only happens once and in the end it will all be a blur anyway.
Biggest Surprise
I had so many surprising but memorable moments. First up I was amazed at how shakey my legs were, and how emotional I was in the lead up to the ceremony. I thought I was going to fall over! Second was the surprise message Tim wrote on the bottom of my shoes. My brother and his wife surprised me at how great they were as MCs and finally, my friend Linda was an absolute legend for pulling together an awesome speech in record time – I forgot all about it and ended up asking her to do it via text message during the ceremony. Tim: The photo shoot with the chickens!
Supplier shout outs:
For more information about Vladimir's work go to:
mudrovcic-weddings.com / mudrovcic-weddings.com/blog / [email protected] /  +38591 1922 110 / FACEBOOK / I: @vladimirmudrovcic
In a nutshell, I'm Vladimir, a wedding photographer Croatia.  My muse and biggest inspiration is my beautiful wife. Beside photography, my passions include cycling, hiking with wife and our beagle and exploring the exciting world of brewery (like to consider myself a self-proclaimed beer expert).  If it were technically possible, my style would probably be described as "the fly on the wall". I really believe that the best and the most honest photographic moments come when the photographer is as much invisible as it gets. The key is to create a relaxed, trustful atmosphere. It is specifically important if you (my clients) usually don't feel super relaxed in front of a camera. In such cases, which are perfectly normal and pretty often, I subtly guide and direct you through a photo shoot.