Today I am taking you across to beautiful Croatia for the stunning, elegant wedding of Franziska and Sven. This wedding is shot perfectly by Vladimir Mudrovcic and is a great example that you don't need a whole heap of fancy decorations and a load of details to make the perfect wedding. You just need fabulous photography, a couple very much in love, a stunning location and a drop dead dress (I mean how fabulous is Franziska's backless gown!) Mix in some gentle Boho touches and you get an amazing wedding.
Everything was perfect – from the breath-taking location over live music and the photographer to the whole atmosphere – which is why we would still do everything exactly as planned.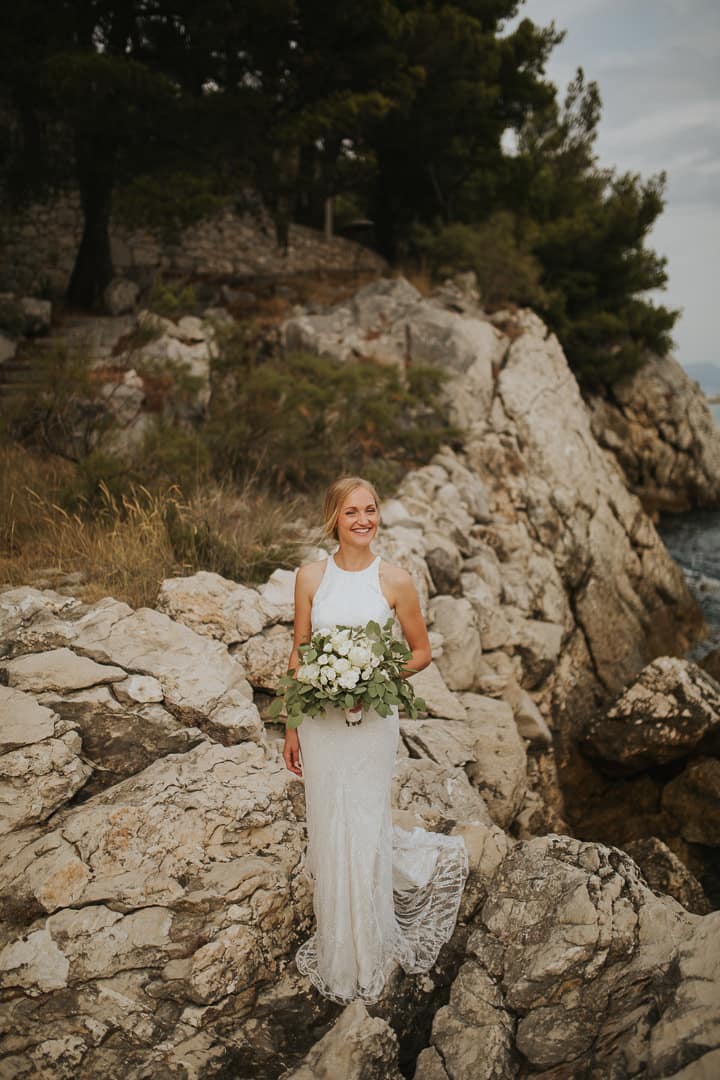 Franziska and Sven were married on 1st September 1st 2017 at Villa Dalmacija, Split/Croatia. We chose this because of the Unique location with its wonderful surroundings where we could transfer all our whishes (live barbecue, surrounded by the ocean, a forest, garden, greenery, partying all night long, having enough open space, a chill out area, …) and the theme (mediterranean & casual summer wedding with a touch of boho) – we simply fell in love with Villa Dalmacija. We had approximately 60 guests and it took 14 months to plan.
How they met
In childhood, we grew up in the same neighbourhood., we have been toegether almost 12 years.
The proposal
We wanted to go out for dinner with his whole family under the pretext that Sven had received his permanent contract just one week before. So we went to a fancy restaurant but his family was not there – usually all are over punctual! He didn't even answer my question to where his parents actually are. Since he did not show any nervousness or something like that, I still did not think anything about it. After he searched for a quiet place to come to his declaration of love, it has clicked me. Then he asked me quite classically on his knees if I would like to become his wife. For me that was the perfect proposal.
Where did you splurge and where did you save?
Splurged in location, food and drinks; saved on decoration
How did you choose your photographer?
It was a recommendation by Promessi, our wedding planner team, and finally we decided for Vladimir not only because of his great way of taking pictures, but also because of his personality, which in retrospect perfectly fitted to us and our guests.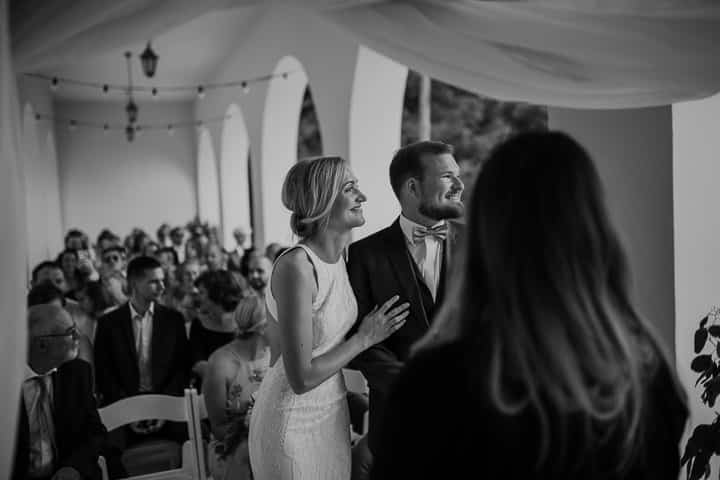 The dress 
Dress: Sanja Kotarac (Boutique Formica Zagreb); Shoes: Dune London; Accessories: Vintage
The suit and bridesmaids
Suit: Hugo Boss, bridemaids: Asos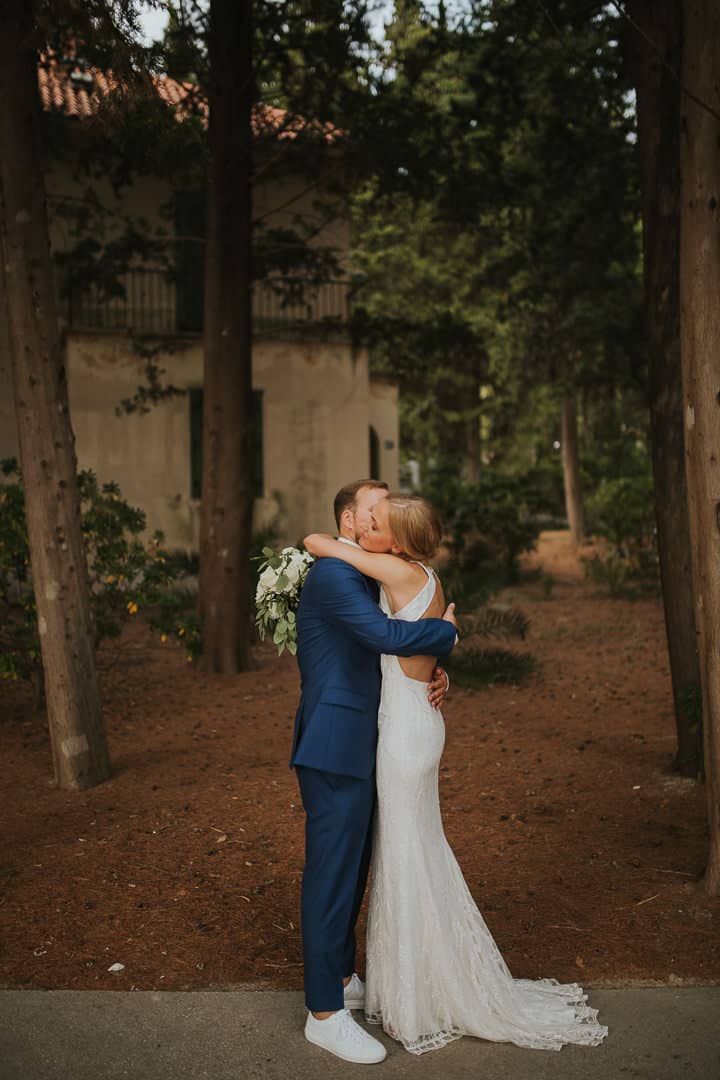 Theme or colour scheme
Mediterranean, casual summer wedding with a touch of boho
Flowers 
Garden roses, carnations and mini roses as well as greenery (eucalyptus, olive leaves)
Decoration 
Not a lot, just a few wooden things like a gentlemens bar, a chillout area with canvas chairs, a little candy corner, candles and some cosy pillows. Since the environment and the villa speaks of itself we did not need a lot decoration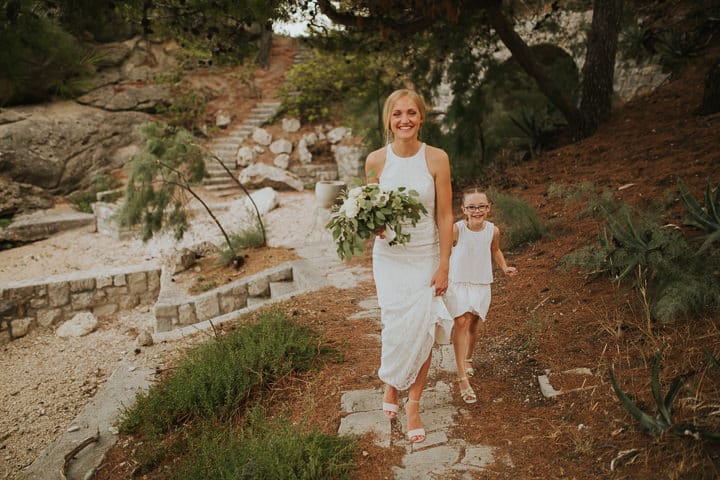 Food 
Live grill including traditional croation food. Cheese selection with grapes and walnuts, Dalmatian prsut and olives. meat e.g. cevapcici; fish e.g. tuna fillet, calamari; djuvec rice, marinated grilled vegetables, palacinke with ice cream and seasonal fruits
Wedding cake
Chocolate cake with figs on top, made by Dolcemania
Entertainment
New York live band from Zagreb
Personal touches
We did croatian welcome gifts by ourselves – ingredients (olive oil for the girls and schnapps for the boys) were made by Sven's family (e.g. from Korcula) We did name tags, the menu, seating cards and candy stuff by ourselves. Wedding dress was made by Sven's aunt only for Franziska
Special moments 
Difficult to say, cause there were a few, so will name the TOP 3:
The ceremony itself
Emotional speeches of our family before dinner
Our wedding dance
Advice for other couples 
Relax, Enjoy and Party – Don't get all stressed out. Having all your loved ones together in one place and at the same day is already an enrichment in itself.
Biggest surprise 
Slideshow from Franziska's brother of our best and funniest pictures from childhood till present
A very funny dance of Sven's male friend
Supplier Shout Outs
For more information on Vladimir Mudrovcic go to
 www.mudrovcic-weddings.com / www. mudrovcic-weddings.com/blog / [email protected] / +385 9119 22110 / FACEBOOK / INSTAGRAM