Happy Monday everyone, I hope you all had a wonderful weekend ad that you are excited for the week ahead of us! My weekend was a busy one filled with play dates, shopping and family fun, what about you? We are starting off the week with my good friend Jon from S6 Photography and a fabulous tipi wedding in Leeds which he shot last year. It's a wonderful wedding, jam-packed with homemade details, including the wedding dress and the flowers. Lots of rustic touches, outdoor games, fun, sunshine and a silent disco! I know you are going to love it.
One of the most special things about our wedding day was that it was our ten year anniversary, and to us it was a celebration of everything we have experienced as a couple and everything that is yet to come. It's hard to put into words how intensely happy we felt on the day and how special it was to have all of our loved ones there – a day like no other, a crazy, quirky, joyous, bundle of fun!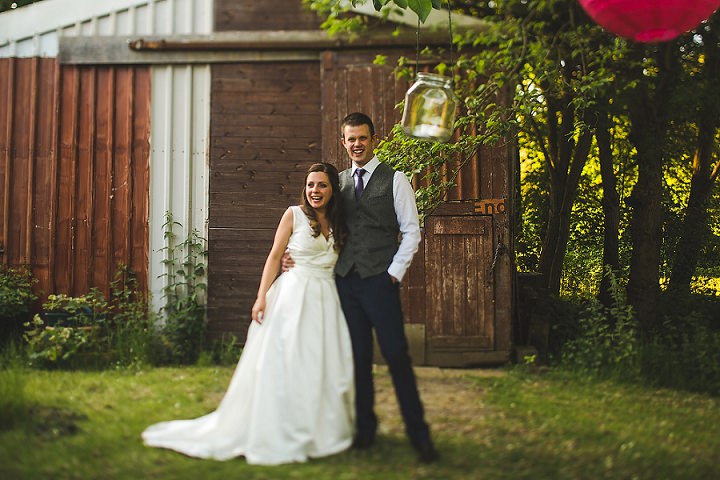 Bryony and Martin were married on the 29th May 2016 in a ceremony at Morley Town Hall, followed by a tipi reception in the grounds of Thwaite Mills Watermill in Leeds. 'As soon as we went to see Thwaite Mills, we immediately fell in love with the place, the team there were also fab. After choosing the reception venue, we looked for nearby ceremony venues. We chose Morley Town Hall because of its beautiful ornate Victorian interior, perfectly sized ceremony room, and super reasonable cost. Keeping things quite small and intimate was really important to us so we had 64 guests to the day, and an additional 10 for the evening reception. We planned the wedding over two years, mainly because we were set on getting married on our tenth anniversary. When we first started planning, it felt like forever away! But it went really quickly, and gave us lots of time to save and do as much of it ourselves as possible.'
How they met
We met when we were 17 years old, through mutual friends on the 119 bus to Runshaw College where we were both students! We were friends for quite a while, and then got together right before we both off went to University, The day we got married was our tenth anniversary!
The Proposal
We got engaged during a whistle-stop tour of Morocco. A few days into the trip we stayed overnight in the Sahara Desert in a Berber camp, and around midnight we went out into the dunes, photographing the incredible night sky. It was whilst out looking the starts that Martin proposed.
How did you allocate your budget?
We were terrible 'budgeters'!! We started with a strict (and unrealistic) budget, and this quickly started rising as we got stuck into the planning! The things that were immediately really high on our priority list were the reception venue, good food, an open bar, good entertainment, and a great photographer. We also knew that there were lots of things we wanted to do ourselves, such as the stationary, decorations and flowers, so we were able to budget a bit less on those aspects. One thing we were quite militant about was using a spreadsheet to track what we were spending and what we had left to save. It turned out to be really helpful (although a bit scary to look at!) as we realised early on that it would be really easy to get lost with it all and end up in a bit of a pickle when all the invoices started coming in!
Where did you splurge and where did you save?
We bought all the guy's clothing in the New Year sales, which was brilliant as it meant we afford have the suits we wanted. And my mum making my dress saved a huge splurge on a super expensive designer gown! We also saved a massive amount doing the flowers and stationary ourselves. Martin's uncle made our cake, and his aunt bought us all the wine from a local vineyard, which were both incredibly generous contributions and saved us a lot! The biggest splurges were the teepees, band, photography, and catering, as well as lots of added little extras that mounted up. But they were all 100% worth it!!
Handmade Tipi Wedding in Leeds by S6 Photography, with a homemade wedding dress, DIY flowers and a silent disco
Why did you choose your photographer?
One of the first things we did when we started planning was to start looking for a photographer; we knew that having great photos to remember the day by was really important to us and that we wanted to spend as little time 'posing' as possible! Jon's (S6 Photography) photos really stood out for us, so much so we actually ended up booking him before we even had a venue secured! Booking him was by far one of the best decisions we made – he was brilliant – a dream to work with and we are absolutely over the moon with the way he captured so many special memories for us on the day.
The Dress
My mum made my wedding dress, which was a real labour of love!! She made her own wedding dress, and it was incredible of her to offer to make mine – she did an amazing job. My something borrowed was a bracelet my mum wore on her own wedding day, which had been bought for her by my grandma. And my something old was my glitzy Christian Louboutin shoes which were a special gift from Martin from several years ago. I also had a dress change in the evening. My evening dress was Ava by Sassi Holsford and was bought pre-owned so it wasn't too much of an extravagance.
The Suit and Bridesmaids
The groom and groomsmen were kitted out in Ted Baker. The bridesmaids' dresses were from David's Bridal and bridesman's suit was TopMan.
Theme or Colour Scheme
We didn't have a set theme as such, but wanted everything to be quite natural and in keeping with the Mill and teepees. We ended up going with lots of rustic-y looking things and we stuck to a couple of statement colours that we repeated across the flowers, bridal party and groomsmen attire, decorations and stationary to keep things simple, bold and bright! Right towards the end of the planning I got a bit obsessed with the current metallic/geometric trend, so there were some last-minute touches thrown in!!
Flowers
All the way through the planning I was really keen we do all the flowers ourselves, it ended up being one of the most enjoyable parts! 4 days before the wedding we got up at 4.00am to get the flowers from the New Covent Garden Flower Market, and coming home with a car full of amazingly beautiful flowers was so exciting!! We made up the bouquets the day before the wedding, and the buttonholes first thing in the morning. I was actually really glad of something to keep me busy early in the morning, and the bridesmaids were an enormous help too!
Martin made wooden boxes for the tables, which we planted full of herbs. In the ceremony, ribbon-decorated jam-jars filled with the same flowers as the bouquets were hung on the end of each aisle, and vases of huge gladioli in white and pink were in the windows. We brought everything back to the reception with us so they could be re-used around the teepee!
Decoration
Hessian, hessian, and more hessian! Lots of jam jars – flower-filled, candle-filled, and cocktail-filled! 100 meters of bunting lovingly handmade by the mother of the groom, paper lanterns, flip-flop buckets, blankets, lanterns, glow sticks, and then lots of little random bits and pieces that we picked up during the planning, brought from home, or pinched from our families homes on the run up! As well as the mammoth task of making the dress, as a surprise my mum decorated two vintage bikes, by painting them bright purple and adding on flower baskets and a little nod towards our beloved cat who of course couldn't join us on the day haha! It was amazing. Martin's mum also worked amazingly hard sewing bunting, hessian tablecloths, table runners, napkins, and making the favours, and more.
Food
We booked Thomas the Caterer after being badly let down by someone else, and he did an incredible job of getting us excited about the food again. We didn't want a formal three course dinner, so instead we had the canapés as a starter. For the main event we wanted everything to be served sharing style, so we had hot meats (including Moroccan lamb as a little nod to our engagement), salads with all of our favourite ingredients, and breads that were carved by a designated 'carver' on each table. We served our wedding cakes as dessert, with Thomas creating a little 'dessert bar' of accompaniments where guests could just go up and grab what they fancied. In the evening we had pizza from the Wood Fired Pizza Co. They were amazing – and the team were absolutely lovely to work with too.
Wedding Cake
We ended up with two cakes – a 'Mr' cake and a 'Mrs' cake – because I weirdly hate sugar! So the 'Mrs' cake was wheels of cheese supplied locally to us by the fabulous Teddington Cheese. The 'Mr' cake was a three tiered sponge cake, with different flavours, iced in buttercream and decorated with fresh flowers. It was made for us by the groom's brilliant Uncle as a wedding gift. The cake stands were made for us by a very talented family friend, who engraved two large log rounds with 'Mr' and 'Mrs', and they were one of our favourite items on the day.
Entertainment
During the ceremony we had a pianist playing, and then between the ceremony and reception, we had outdoor games and some of our favourite retro songs playing. When it was time for the party to properly get started, the New York Brass Band entered flash-mob style and played outside for several hours with everyone dancing in the sunshine and then later around the fires after it got dark. They were absolutely incredible, and we've got nothing but praise for how much fun they made it – we were all so sad when it was time for their set to end! Later in the evening we had a silent disco, with a friend DJing for us – he did an amazing job of managing two playlists and keeping everyone on the dancefloor right until the very end! The silent disco was another decision we hummed and ahhed over, thinking it was a bit of a risk as it could either be amazing or terrible! In the end we needn't have worried as it was awesome – all the guests got completely involved, and the only complaints came at the end of the night when it was time to go home as we all wanted it to go on for much longer!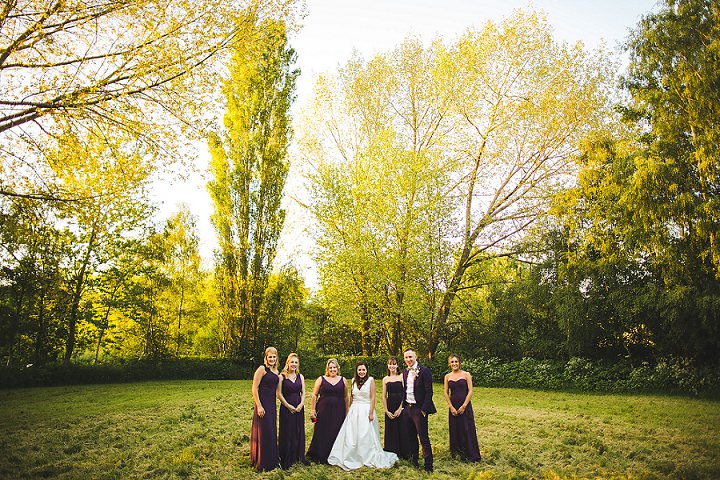 Stationery
We decided early on to make our own stationary. Partially to save on costs but also because designing and putting it together ourselves meant we could really put our own stamp on things and use the same designs across all of the stationary to tie to all together.
We bought some graphics and fonts from Etsy, and printed it at home. It took a huge amount of time and effort, but we were really pleased with how it all turned out, and that it was completely unique!
Personal Touches
We pretty much did most things by ourselves with a lot of help from talented friends and family! Our registrars were also really accommodating in letting us add bits to the ceremony and include our own vows that was really important to us.
Special Moments or Highlights
Putting on my dress for the first time, and having a few moments just being all together in the hotel room with my mum and bridal party. The ceremony readings, and saying the vows we had written to one another. The moment they announced us as 'husband and wife'. The confetti toss! Travelling to reception on the double-decker bus so similar to the one on which we met. Dancing around the firepits and haybales in a massive conga line with New York Brass Band all the guests covered in glowsticks. Building a human pyramid of bridesmaids and groomsmen, and managing successfully stay on the top long enough for a quick photo before it collapsed! Towards the end of the night, taking my headphones off during the silent disco and hearing all the guests singing several different songs at once, and all dancing away having the time of their lives!
Advice for other couples
If things go wrong, try not to get too stressed about it. Write a little list, or give trusted people one job each, to make sure things you really want to happen/photos you really want to get, get done! Get good photography and if your budget can stretch to it, videography. We were really over the moon with both our photos and video, and they are so important to us now the day has been and gone.
The day after the wedding we all returned to the teepees and had a little get together with food provided by the Market Wraps Co. who were brilliant – it was lovely to have another opportunity to see everyone and took some of the pressure off trying to get round to everyone on the wedding day as we knew we had the next day to catch up with people too.
Biggest Surprise
That it really was without doubt the best day of our lives – we always thought it would be a brilliant day, but thought that when people said this, it was probably a bit of an exaggerated cliché! After spending so long planning and thinking about each and every detail, the fact that it was better that we could ever have hoped for most definitely was the best surprise we could have asked for!
Supplier Shout Outs:
FOR MORE INFORMATION ON JON'S WORK PLEASE GO TO:
www.s6photography.co.uk / www.s6photography.co.uk/blog / FACEBOOK / T:@s6photography I: @s6photography