When you get engaged at a festival there really is no other choice than to have a festival themed wedding! And that is just what Coral and Scott did after Scott proposed to Coral at the Leeds festival while listening to the Cure! The whole day was full of personality from beginning to end, and due to their choice of venue they were able to bring in the suppliers they wanted and really go to town in creating a wedding that was totally them. With 3 large Tipis, 100s of hanging jam jars, a beautiful tipi ceremony, loads of DIY details, THE most amazing food and equally brilliant entertainment, this wedding is every kind of awesome. The cherry on the cake has to be that Jon from S6 Photography was there to capture the day, now isn't that pure perfection!
'Our wedding was without doubt Scott and I through and through. We wanted something that was unique and memorable but ultimately totally perfectly us.'
Coral and Scott were married on the 31st August. The legal ceremony was as Wakefield registry office at 9am (just immediate family, parents, siblings) and then the main wedding and reception was at Thwaite Mills Watermill Museum in Leeds. 'For our actual wedding we had a ceremony in our tipi venue at Thwaites and our reception followed. We booked 3 giant Tipis from TotallyTipi which were set in a line. We visited a ton of venues from Castles to Hotels but fell in love with the Tipis as soon as we saw them. We actually visited them at Thwaite Mills during an open day with TotallyTipi and whilst they had never hosted a wedding before, we knew we had to convince them to let us do it there. Laura and Jay from TotallyTipi were integral in getting this agreement for us as they have such a great relationship with their venues. Another bonus about Thwaite was that we could bring in our own caterers and buy in all the booze for the bar so we had a relatively cost effective free bar. We also drove my wedding car right up to the aisle, which was a special moment for me. My friends are all cheerleaders so there were even a few choreographed routines thrown in. We had 60 to the ceremony and wedding breakfast at the Tipi and another 200 to the evening celebrations, and it took less than a year to plan.'
How they met
We met at work and were engaged in 3 months. Crazy huh! We had known each other for a little longer but as soon as we started dating, which usually involved going to Rugby games, we were inseparable. He is my best friend and just happens to be totally gorgeous so its win-win.
The proposal
It wasn't planned…a definite spur of the moment thing and very out of the blue. We were at Leeds festival watching The Cure, drinking, dancing and singing along to 'Friday I'm in love'… I turned around and Scott was kneeling in the mud. A traditional-ish proposal in that way. A festival is such a great place for a proposal take it from me. People in festival spirits really want to help you celebrate so we had a lot of drunken congratulations that weekend. It ended with Scott doing the Haka with a couple of Australian guys we had met. Don't ask!
Why did you choose your photographer?
We were recommended Jon at S6 Photography again by Laura and Jay at TotallyTipi. They had worked with him before and said he would be perfect for our style. We looked on his site and immediately knew he would be perfect. Neither of us wanted a traditional photographer and we didn't want any stuffy forced family portrait shots. I work with photographers in my day job in advertising so have high standards, I thought I would be really fussy too. But Jon gelled with us perfectly. That's really important. Your photographer has to capture the most intimate and special moments in your life and so if you aren't comfortable its just not going to work. We wanted documentary shots, we didn't want to be out of the action away having pictures taken for hours on end. We wanted to enjoy our day and Jon totally got that.
The dress
I wore a Maggie Sottero dress from Pure Bridal in Norwich with Jenny Packham accessories. I customised the dress by adding the sash to the front and taking a Jenny Packham cuff and using it as front embellishment to the dress. My shoes were from Next although they lasted all of 20 mins before I ditched them along with my bra… your wedding day is too important to be uncomfortable right!
The suit and bridesmaids
My bridesmaid's dresses were Armani. Way over budget but their faces when they tried them on was priceless… so we found the budget for them! Typical! Scott wore a customised Calvin Klein suit and the rest of the groomsmen matching suits from Moss Bros.
Theme or colour scheme
Our theme was festival chic. We got engaged at a festival, were getting married in a tipi so it seemed only right. We tried to get as much as possible via local sources. So we rented all furniture from a local company, our flowers were seasonal flowers and mostly handpicked from hedges. The food was all locally sourced and everything down to invites and table decorations were designed and made by Lindsay, Scott and I. This is why it all felt so personal.
Flowers
Again, I decided to do these myself. Wedding flowers are so expensive so I learnt how to tie a bouquet by watching youtube and then went to a flower market at 5am the day before my wedding. Lindsay and I hand tied all the bouquets (without any previous trials) the day before my wedding. I just chose a selection of flowers in vintage pinks and whites but added in some really unusual pops of yellow. The men had paper roses made for their buttonholes by Jackdaw décor, which were made out of the sheet music for the song 'Friday I'm in Love', the song Scott proposed to. It was a lovely little touch, my Dad was really surprised at all these little details and even mentioned it in his speech. I guess I did really try to make sure everything had meaning or was handmade by us. I'll never do it again so why not throw everything into it.
What sort of decoration did you have?
Again all festival themed, think bunting, lots and lots of jam jars filled with candles. The first tent was dressed as a ceremony venue and had open log fires, lanterns and drapes. All flowers were wild flowers mainly taken from the grounds of the venue which just added to the natural outdoors feel. We also had all the guests stay in yurts booked via Glampit. Thwaites arranged a beautiful clearing for us in the woods for all these to be set out and we decorated them all like a little wonderland with lanterns and fairy lights. The venue decorations took the longest but one of my best friends Lindsay Gourley is a visual merchandiser for Crabtree and Evelyn so she offered to help coordinate all that so we spend many weekends together at flower markets/ crafts shops planning, making, gluing and sticking… and of course drinking.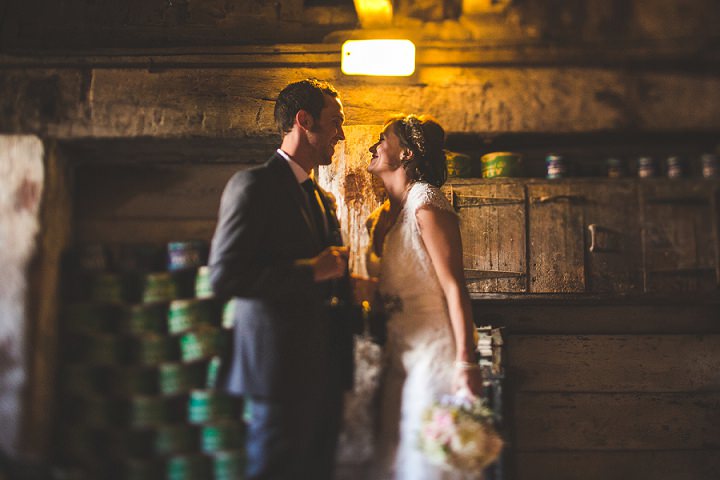 Food
We again didn't want traditional wedding food. We opted for 'the food people really want to eat but don't think it posh enough for weddings and then just made it look great'
Tom Guise a food stylist and Chef I had worked with at work offered to cater our wedding, It was his first ever wedding so it was a challenge but he really made our day. Our chef Tom Guise even came to our house and we cooked and planned the meals together, which was an amazing experience. All our dishes were served on roof slates (1 between 4) as my Dad was a roof tiller when I was a kid! We wanted to get people talking and digging in together, not served on little plates. Plus all our crockery was vintage crockery we had saved/ found in charity shops. Service for 100's worth!
The menu was:
– Deconstructed Prawn/ Seafood cocktail. This was based on my love for the retro Prawn cocktail but served with class! It included oysters, prawns, langoustines and muscles.
– Barbecued meats with all the classic trimmings: Lamb, sausages, steaks, chilli prawns served with coleslaw and crushed potatoes
– Profiteroles served with pots of chocolate dipping sauce
The evening menu was based on a traditional Yorkshire ploughman's. All locally sourced cheeses, meats, breads and homemade chutneys and pickles. Followed by a roast beef/ pork or nut roast butty at about 10 for all those hungry drunks. We also encouraged all the ladies of the family to bake us something for a gift, which resulted in a very impressive cake table for everyone to dig into throughout the day.
Entertainment
We had a string trio for the ceremony and my walk down the aisle. They were a big hit with everyone and played a load of modern tracks but in strings, which was just lovely. Jessica also played 'Kissing you' for me whilst I arrived. We then had a Ceilidh band for the early evening which was a great way to get everyone interacting with each other. It was hilarious and just so lively. The free bar helped. We then had Alex Simmons from Allstar FM DJ with strict instructions for NO CHEESE. It was funk, soul, disco then house and finally a tiny bit of garage thrown in when it was just me and my drunk friends left over.
Personal or handmade touches
• The lace on our invites I had made in china and it matched the lace on my dress (Scott didn't know this till the day of)
• We planned everything, from the venue to waste disposal and hiring toilets, yurts to sleep in etc.
• The menu was planned by us with Tom Guise
• The venue decorations were made by Lindsay and I
• The flowers were bought, trimmed and tied by us too
• Scott designed all invites, table plans etc
• We dressed the venue and the yurts for our guests in the 2 days running up to the wedding
• The buttonholes were beautifully personal
• However the main thing that we both were really pleased we did 'our way' was the ceremony. We scrapped the rule book and had my step mum and uncle write the ceremony themselves. My uncle performed it and we gave them the only instruction that it should be personal and about what our family can tell us about how a good marriage should be.
• We wrote our own vows and decided instead of exchanging rings (which we had done earlier in the day) we would write letters to each other the day of the wedding and seal them in a wooden box with a bottle of wine. This idea was to give ourselves a tool we can use in the future should we have any times of hardship. The plan is to never open the box unless we are having issues as a couple. We made the promise, should this ever happen, to sit down together bust open the box and read the letters over a bottle of wine. Hopefully this will remind us of how we felt on this special day and the reasons we wanted to enter into this marriage. I feel like people give up too easy because it's easy to forget why you loved someone so much in the first place.
Special moments or highlights
When our cousins Jane and Wayne disappeared at 11pm only to return dressed as Indians! An obvious tipi joke that had us all in stitches for a long time.
Biggest surprise
How amazing the venue looked at night. We had planned and planned and though I could envisage it all in my head but just being there and seeing all the open fires and hundreds of jam jars I had tied into the trees twinkling in the moonlight was unforgettable. A total priceless moment.
Advice for other couples
If you are not particularly crafty get some help. Its fun to do your own wedding but I plan events for a living so it wasn't as scary for me as it seemed to everyone else I told my plans to. Get a head start and don't leave anything till the last minute. Also, remember its your wedding. We had loads of people ask us to change things or can we just… As harsh as it seems it has to be your day, you'll bare the brunt of the debt for it too so make sure its something you will enjoy. If your friends and family love you, they will enjoy just how perfect for you it is!
Supplier Shout Outs:
For more information on Jon's work go to:
www.s6photography.co.uk
s6photography.co.uk/blog
FACEBOOK
@S6photography

[jprel]