Happy Monday everyone and how are you all? I hope you all had a wonderful weekend? Did you get up to anything exciting? We went to a family rave and it was awesome! Full on house music, lights, giant balloons, confetti cannons, bubble machines, Dexter LOVED it! (as did Nik and I!)
Today we have the most gorgeous homespun marquee wedding for you from Gemma Giorgio. The bride and groom wanted a really laid back day, that wasn't full of fuss and unnessesary details, so they decided to get as many people involved as possible and make the majority of the decor themselves. As well as this, Mae's mother made her dress, Mae made her flower girl's dress, she drew the invitations, as well as creating the flowers with some help from her bridesmaids and family members. A totally homespun wedding that is super pretty from beginning to end.
Our wedding day was a wonderful celebration of family, friendship and love, which is exactly what we wanted it to be.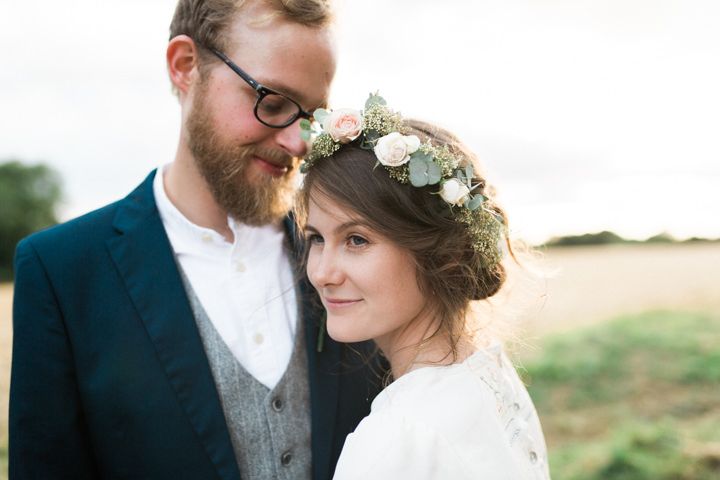 Mae and Markus were married on the 13th August 2016 at Mae's local village church followed by a reception at a friends' farm. 'The village where I grew up is tiny and the little church sees perhaps one wedding each year so it felt really special to get married there. I also really wanted to spend the morning getting ready at my parents home and walk over to the church. As Markus is German, a large number of our guests came over for the wedding and they loved the quaint English cottages and flint church in the countryside. We had 150 guests and we were engaged for 11 months before the wedding and we planned gradually from then onwards. It was important to us that we focused on the real importance of the day and not fixate on tiny details. This way we were able to relax during the whole process.'
How they met
We met nearly eight years ago. Markus was working for a year in the UK in a respite care home and I was sent there for a placement in my first year of nurse training for one week. We actually never worked a shift together during that week but met by chance. Since then we managed a long distance relationship for over 6 years before making our home together in Germany.
The Proposal
Markus asked me simply on a sunny afternoon in the fields behind my parents home with their dog as a witness. He gave me the engagement ring which had originally belonged to my Great Grandmother but which I as a child had always seen my mother wear. From the spot where he asked me, you can see the spire of the church where we got married.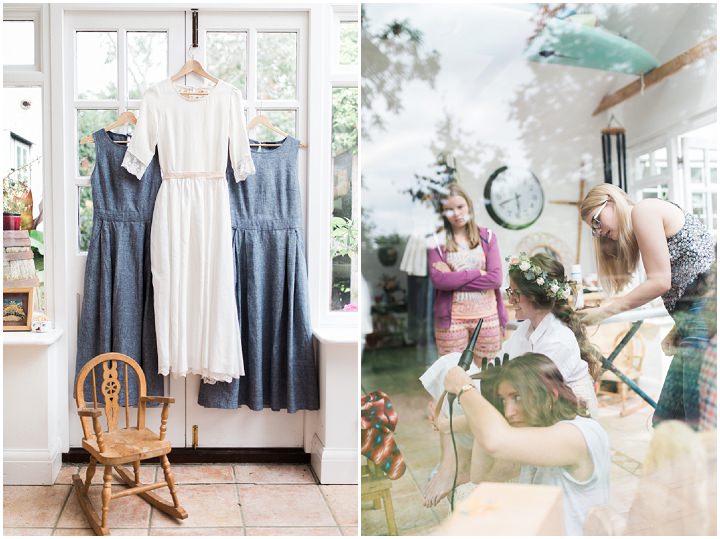 How did you allocate your budget?
We took each area of our budget and thought carefully about how much we would need to spend. We talked to other couples that were already married to get a better idea of costs. Some things were much more important to us than others, for example we spent more money on good food than we did on decorations.
Where did you splurge and where did you save?
The one area where we were happier to spend more was music and sound equipment. My family are very musical and we knew that several groups wanted to perform on the day so we wanted equipment which would support them. One particularly special item that we hired for the day was a grand piano. Having grown up listening to my father and brothers at home it was so special to have such a beautiful instrument in the marquee. We had a lot of help from friends and saved a lot of money by borrowing and reusing things and making them ourselves.

How did you choose your photographer?
We met Gemma at our friends' wedding the previous year and when we spoke to them afterwards and saw their photos we were sure that she would be the right choice for us too. Gemma has such a calming personality and made a real effort to get to know us before the wedding – even flying out to Germany for our engagement shoot!
The Dress
My dress was designed and handsewn by my Mum and I in the months before the wedding. I love simple, old fashioned dresses so we used vintage techniques like smocking and embroidery and natural silk to make it really special. We were both really happy with how it looked and felt. I wore my two favourite necklaces- both very delicate and gold- and a pair of little hoop earrings with seed pearls threaded through. I went for comfortable shoes so I could move around easily without thinking about it.
The Suit and Bridesmaids
Markus wore his favourite suit with his grandfather's vest underneath. We both wanted to be comfortable all day so Markus chose to wear a grandad shirt without a tie and his groomsman followed his lead! After exchanging some ideas my bridesmaids settled on a really simple linen dress that they all felt comfortable wearing. Everybody loves a dress with pockets.
Flowers
The flowers were one of my favourite things! Early on Thursday morning two of my bridesmaids and I drove into London to buy our flowers directly from the Covent Garden Flower Market. I knew I wanted David Austin Juliets for my bouquet so I had preordered those the week before but all the others we had great fun picking and choosing. My chief bridesmaid took me a couple of months earlier to a wonderful workshop by the Flower Appreciation Society where we learned how to make crowns, bouquets and buttonholes. The day before the wedding we put together the bouquets and table vases and then while we were getting ready on Saturday morning we made flower crowns and wreaths for the church.
Decoration
We used branches, fairy lights and paper cranes to decorate the stage area in the marquee. Markus' Mum made paper roses which we hung in garlands in the marquee and the trees outside. We also hung some big origami animal masks which Markus made and by the end of night they had made it onto the dancefloor.
Food
We had a very English afternoon tea after the church ceremony provided by Abigail's Delicatessen and a hog roast with all the trimmings in the evening from our local butcher. Both delicious!
Wedding Cake
We chose to have a few wheels of cheese instead of a traditional cake. Abigail's set it out beautifully with chutneys and crackers and by the end of the evening it was all but demolished!
Entertainment
Several groups of our friends performed songs, some of which were written especially for our wedding day. My youngest brother played a set with the younger sister of my chief bridesmaid. The two have been friends since they were babies and they have a wonderful rapport, great musical talent and comedy!
Stationery
I drew pictures of pairs of animals which mate for life and we used them for the invitations and table names. For the order of service I painted a simple wreath of flowers which we reused for our thank you cards.
Personal Touches
We did so much ourselves that it's difficult to pinpoint specific things. Markus loved putting the masks together and I was most proud of the dress I made for our gorgeous flower girl.
Special Moments or Highlights
Those first moments after our vicar announced our marriage were electric and it was only then that we really appreciated how many people had come to support us. The little church felt so full of love.
Advice for other couples
Think about what really matters and then it will be easier to let the unimportant stuff go. So many of our guests commented on how relaxed we were and how it made them feel the same! One thing we would definitely recommend if you've got guests coming from all over is to create a website. We had a lot of fun designing ours but you can get really simple pre-made templates. On ours we provided loads of information about travel, accommodation and interesting things to do in the area.
What was your biggest surprise of the day?
Two of my brothers had prepared a musical set together and when my eldest brother appeared even we at first couldn't recognise him! Moments before his entrance he had shaved off his impressive beard, donned make up and changed into an incredible Annie-Lennox inspired costume. While they were playing our 3 year old flower girl took to the dance floor and wowed the crowd with her self-taught ballet moves. It was fantastic!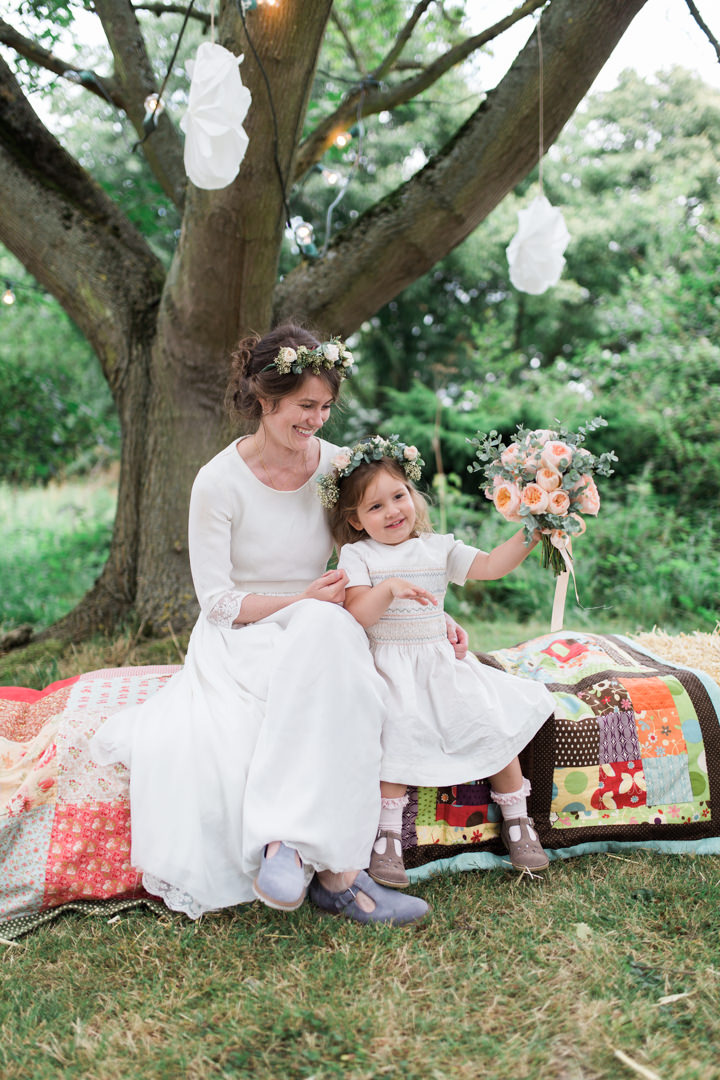 Supplier Shout Outs
For more information on Gemma's work go to:
www.gemmagiorgio.com / www.gemmagiorgio.com/blog / [email protected] / 07950 555625 / FACEBOOK / T: @gemmagiorgio / I: @gemmagiorgio / PINTEREST