Todays wedding is super cute and full of country charm. It takes place at the Ashes Barn in Leek and is just gorgeous. Emelie and Luke started off with a vintage theme that soon merged into a shabby chic theme, that then evolved into a homespun wedding. Lots of homemade decorations and details that kept the couple busy and added a lovely personal element to the day. With a cute VW van, beautiful blooms, gorgeous outfits and some fab photography by Rebecca from YU Photography, this wedding is sure to brighten up your Wednesday.
'As cliché as it sounds, it really was the perfect, dream wedding day. Full of personal touches and full of surprises!'
Luke and Emelie were married on 24th September 2015 at The Ashes Barns in Endon, Leek. 'We always liked the idea of a relaxed atmosphere and after some research; I came across The Ashes, two converted barns surrounded by stunning grounds. We booked a viewing and fell in love with the venue straight away. Knowing we would have the whole venue to ourselves sounded perfect, intimate and personal. Entering the ceremony barn, we looked at each other and we made the decision right there and then. We had 50 guests in the day and 20 more in the evening.We were engaged for 3 years, but thinking about it we only seriously started planning our wedding 8 months prior'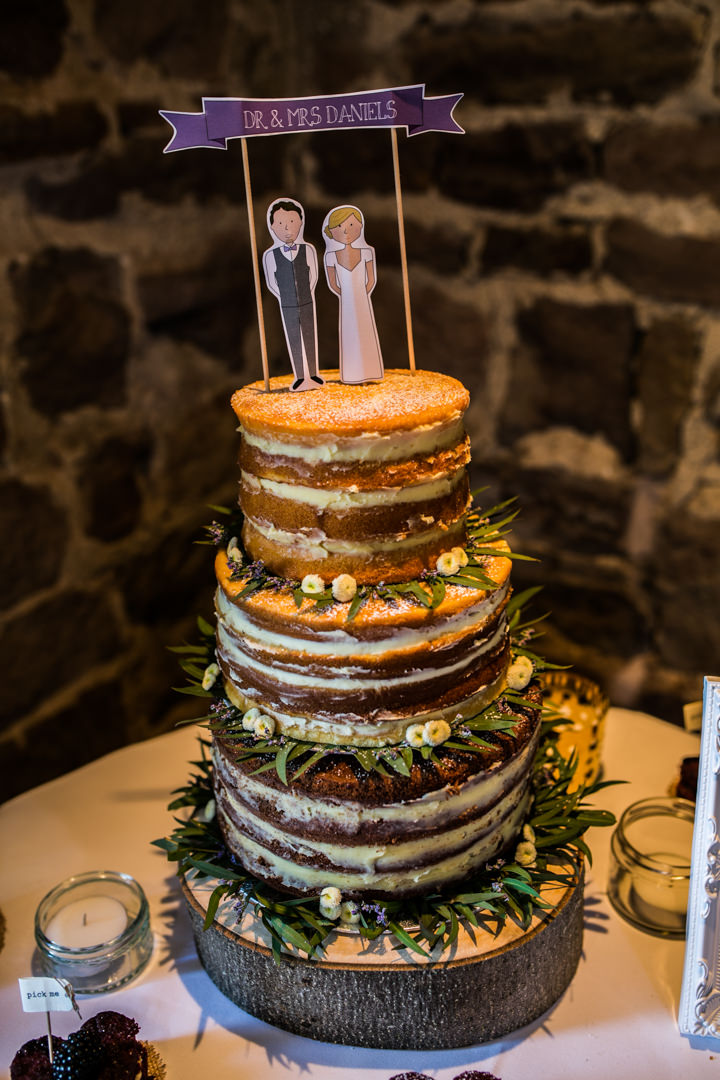 How they met
We met in High School over 11 years ago at a mutual friend's party. Luke then began sitting on the same table as me in Physics. A couple of months of flirting back and forth before Luke plucked up the courage to "ask me out"! We've now been together almost 11 years.
The Proposal
We had booked a 5 star holiday to Corfu, it was stunning! I always thought I would know when Luke was going to propose and despite friends having their suspicions, I was adamant a proposal was not on its way. Little did I know that Luke had already asked my Dad for permission and had even taken my Mum to pick out my engagement ring! Luke decided on a design he created himself. Luke had booked us a table at the hotels outdoor restaurant, overlooking the sea… a beautiful meal…but no proposal! After the meal, we went for a walk and lay down, looking up at the sky as Luke pointed out the stars to me. He had this whole speech prepared, bent down on one knee and then presented me my engagement ring, I could not believe it! My automatic response was "are you joking?!". Obviously, I quickly said "yes!" after I realised he wasn't joking! It didn't feel real until we went to bed and I caught Luke staring at my engagement ring and then I couldn't stop crying with happiness!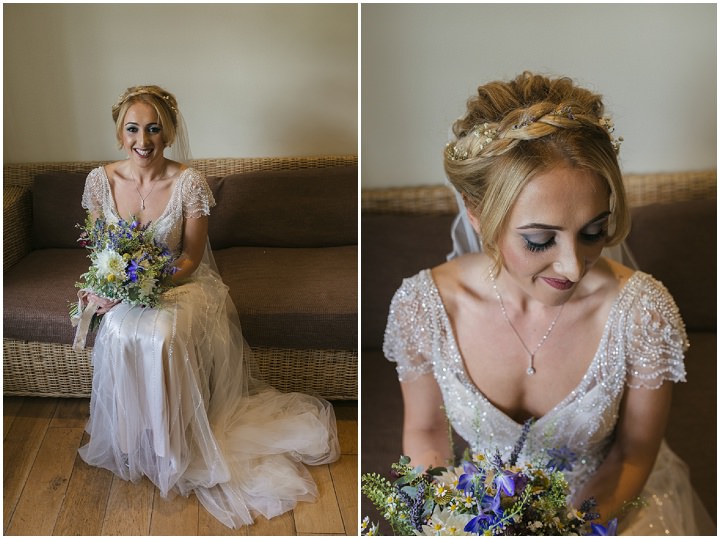 How did you allocate your budget
Approx. 40% was spent on the venue, food, and drink for everyone. 5% was spent on each the videographer, the band, hair and makeup, and flowers. 10% on wedding attire. 5 % on decorations. 5% on rings.10% on accommodation for bride, groom, and close family. 5% on registrar. And the final 5% probably on small things that add up!
Where did you splurge and where did you save
Biggest splurges… number 1 would be my dress! Despite being adamant for years that I truly do not think it matters how much you spend on your dress (I still believe if you can find your dream dress for £50 then that's amazing!), I just fell in love with a designer dress! It gave me that "the one" feeling!
We saved a lot by making things ourselves.
How did you choose your photographer
I actually did A level photography with Rebecca Yu and as such had been following her work for a few years and seen her style and skill develop to beyond many professional photographers. I'd suggested her to Luke and we both agreed we liked her style and already knew she had a friendly, relaxed personality. It was still quite a way from the wedding, however, Rebecca had advertised a competition to win a wedding photography package with her by submitting "your love story". Thinking we had a slim chance, I submitted and then we won! We were so lucky!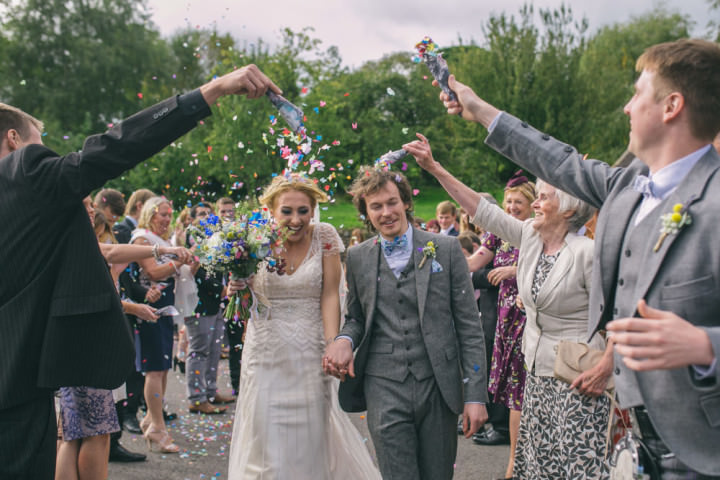 The Dress
My dress was a Maggie Soterro (the 27th dress I tried on!) I'd never imagined wearing such a dress but as soon as I tried it on, I said to my Mum and bridesmaids "this is the dress I want to marry Luke in". It had the added extra of being able to switch the under slip, so I decided to wear a steel grey slip in the evening to match my bridesmaids (Two dresses in one!) As I had splurged so much on my dress, I kept the accessories simple. My earrings and necklace were from Warren James, by bracelet was a gift from my Mum. My shoes were Faith from Debenhams.
The Suit and Bridesmaids
I wanted my bridesmaids to feel comfortable and confident in their dresses. I loved the "multi-wrap" style dresses and managed to find them on Etsy for a very reasonable price!
The groom's suit was from Next, picked by Luke. Luke found his bowtie on Etsy.
Theme or Colour Scheme
The theme kept morphing over the years we were engaged. Initially it was "vintage" then "homemade" then "shabby chic" then there were bits of "chemistry" to incorporate Luke's career. In the end I guess it was just whatever we liked!
Flowers
Dahlias, Scabiosa, Astrantia, Gypsophila, Tanacetum, Craspedia, Delphiniums, dried Lavender, Thlaspi Green Bell and mixed foliages. We wanted a relaxed 'just picked from the field' feel, I made the bridesmaids bouquets. Rachel at Ruby Doodles Florist created the table centrepieces, buttonholes and my bouquet. Rachel was lovely and I loved her style! When she handed me my bouquet, I cried with happiness!
Decoration
Homemade/shabby chic. The majority of our decorations were either homemade or from charity shops. Luke was a dream, he made the LOVE letters and the bunting was a joint effort by him and my Mum, I am in debt for the rest of my life! We had numerous photos of us, our family and friends dotted about the venue. We also had plenty of 'things to do' for our guests such as a large map for guessing our honeymoon destination, writing "advice for the happy couple" cards, a go pro for wedding messages and a homemade photo booth backdrop. Not only did these look nice to display, they kept our guests entertained and have provided us with some amazing keepsakes!
Food
We had a ratatouille tart to start, a choice of either stuffed chicken breast wrapped in pancetta with seasonal vegetables or cranberry and goats cheese tortellini for the main course and then an asset of deserts to finish. In the evening, we had Pork rolls with all the trimmings or veggie burgers accompanied by the wedding cake. It was all delicious!
Wedding Cake
The wedding cake was completely homemade by my wonderful Mum! Three tiers of chocolate, white chocolate and lemon cake. We also had red velvet cake hearts. I'm so proud of her for creating such a beautiful scrumptious cake. It was exactly how I imagined our dream cake would be! Luke created our personalised wedding toppers.
Entertainment
We had the Warning Tones as our band and DJ. I love live music nothing beats it! It was an added bonus that they also offered a DJ package so not only after their live set did they play on until midnight, they also played between sets so they music never stopped! Great guys, really energetic, our guests loved them!
The Stationery
We supplied the Stationery! We used Pinterest for inspiration and made all the stationary ourselves.
Personal or Handmade Touches
Pretty much everything that could be was handmade by us. We spent the whole day replying to comments of "I love that, where did you get it?" with "Luke/Emelie made it". It meant we saved a fortune and everything was exactly what we wanted.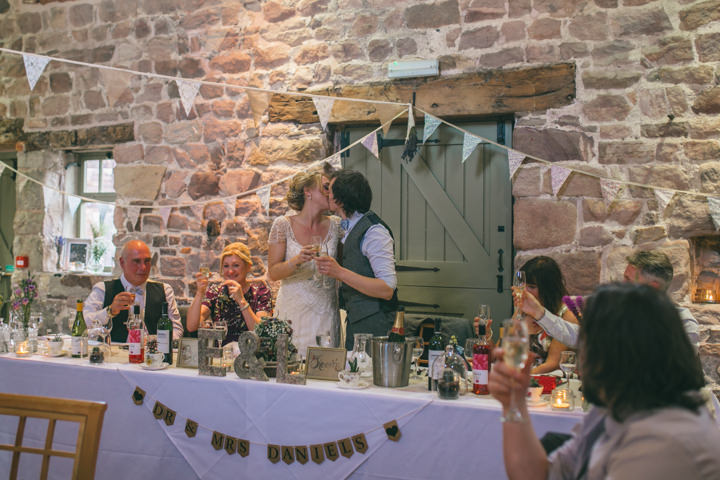 Special Moments
Everything! But a few that really stick out, my bridesmaids singing "hakuna matata" whilst getting ready to calm my nerves, seeing my Dad before walking down the aisle, Luke's face when he saw me the first time and having time to ourselves after the ceremony in Tilly, the VW camper van from Bluepumpkin.
Advice to other couples
Don't sweat the small stuff. Seriously. You'll forget (or not even notice) loads. Things that were a matter of life or death prior to the day don't even cross your mind. Ask yourself why you're getting stressed about it, does it really matter what everyone else thinks? On the day, we couldn't have cared less about what people thought of decorations, choice in food, flowers, music, attire etc. We were getting married. That was all that mattered and that was what the day was about. Don't let anyone put in their opinion and ruin that for you. It's not about how you are doing it, it's about what you are doing.
SERIOUSLY consider a videographer. Yes, it feels like an unnecessary expense but it really isn't. Having our wedding photographs was truly stunning, capturing freeze frames of beautiful smiles and hilarious moments so this is also something I would truly think about… If you love their style pay for it. However, watching the video of our day back, it's literally like we are back there reliving every moment again. I know as our family develops, being able to see people dancing, laughing, crying with us… it's priceless. The day will honestly fly in a blur of emotion, there's so many bits we had forgotten or missed! Bride and Zoom captured our day on film, we could not recommend them enough!
Biggest surprise
Loads of surprises! First of the day; I'd secretly been for a bridal photo shoot with For Your Eyes Only and the final images were given to Luke. I surprised Luke with a VW Camper Van from Bluepumpkin to pick him up in the morning. We surprised each other with our personalised promises. We had smoke bombs for some of our photographs which our photographer suggested to make it more fun and colourful. We went to dance lessons and had a little choreographed routine for our first dance. Finally, I surprised Luke by changing my dress slightly to a grey under slip in the evening! I love surprises!
Supplier Shout Outs
For more information on Rebecca's work please go to:
www.yuphotography.co.uk / @yu_photography / PINTEREST / I:yuphotography / FACEBOOK
Due to an email issue if you have emailed me between the 2nd & 9th of December, please resend it.
X