This afternoon we have a wonderful shoot for you from Puzzlewood in Gloucestershire. In the deepest, darkest forest there lies a luxe banquet fit for a Boho bride and groom, with delicious tones and lavish styling. Many thanks to Captured by Katrina for the gorgeous images.
This shoot was about creating a luxurious and lavish wedding scene completely inspired by the natural surroundings of the most beautiful ancient woodland, using raw materials, earthy, muted tones and a strong focus on food as décor. In keeping with this back to nature theme we wanted to make the whole shoot as eco-friendly as possible using a team of eco-conscious suppliers to show that you can create a lavish and decadent feel to a wedding with a green ethos.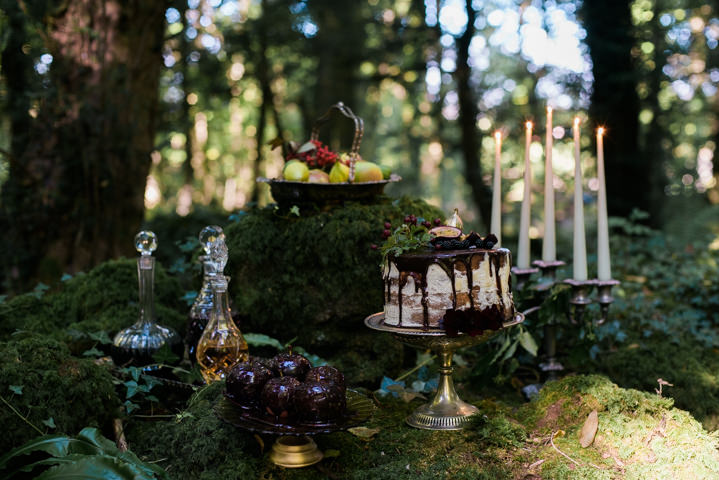 More from Katrina the Photographer
There were 3 elements that inspired this shoot: Firstly the location. I had first visited Puzzlewood when I was a director at the BBC years ago and was blown away by its beauty. Secondly I really wanted to create a stunning eco-friendly wedding inspiration shoot and was particularly inspired by some eco-luxe suppliers such as Minna wedding dresses and Pheasant Botanica floristry. And thirdly I love food styling, I buy recipe books just to look at the pictures! And I wanted to create a wedding where food was a key part of the décor rather than flowers or props.
I began talking to Krysta at For the Love of Weddings about creating a shoot based around these 3 ideals and she loved the concept and made it a reality. She knows some wonderful suppliers including Emma from Paisley Flour catering who created the food scape of my dreams and Kerry from The Cutting Shed who uses all vegan and cruelty products in her hair and make up. I got in touch with Minna whose wedding dresses I have adored for so long and she agreed to loan us some stunning dresses and veils for the shoot. We teamed up with The Vintage Hire Co who were local to Puzzlewood and supplied the perfect props for our food feast which perfectly complimented the natural surroundings. Lesley from The Vintage Hire Co then put us in touch with Bukuu who supplied us with the stunning centrepiece – that amazing wooden table made from a tree in the Forest of Dean and perfect for our wedding feast. Pheasant Botanica created the most stunning foliage bouquets for us and when Clare Davey from Cake Daydreams made our cake a reality and Lauren from Oh Wonder Calligraphy created the most perfect stationary set it all came together. Myself and Krysta had decided that we really wanted to have a beautiful silk backdrop hung from a natural foliage arch as a centrepoint for the shoot too and Lauren from Oh Wonder Calligraphy created the most beautiful writing which was printed onto silk by Kate Cullen. When Donna of Pheasant Botanica hung if from the foliage arch she spent an age creating it was the perfect finish to the shoot.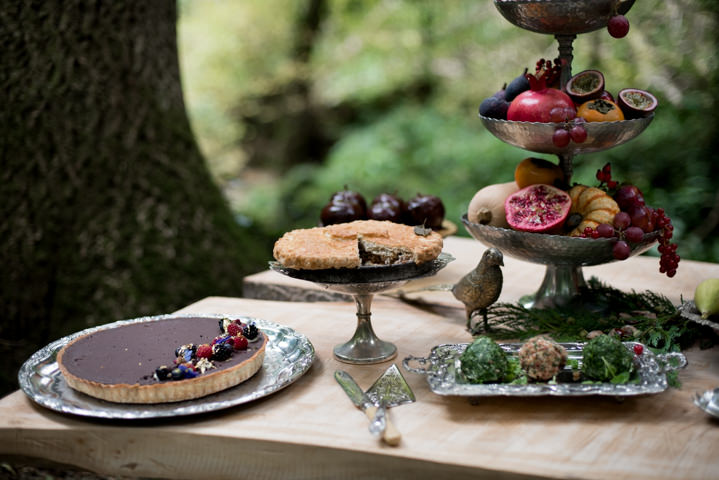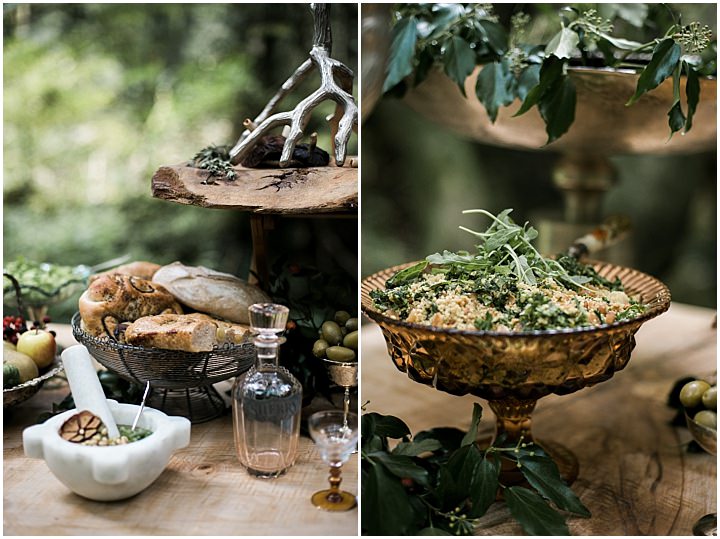 What was your inspiration behind this shoot?
Nature through and through. We wanted every element of the shoot to be inspired by nature, from the table that was created from the trees that surrounded it, to the flowers and berries braided into the models hair, the local beef joint on the table to the natural foliage ceremony arch that seemed to grow naturally out of the forest floor.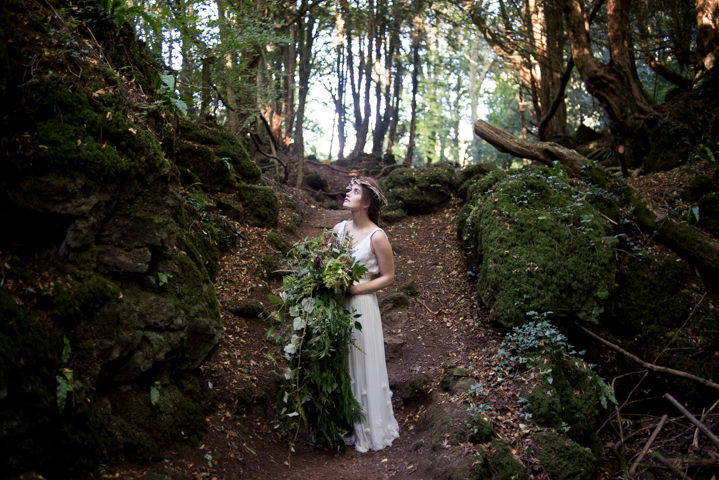 What did you want to get out of the shoot?
We really wanted to create a shoot that felt decadent and lavish but completely rooted in nature which sounds like an odd combination! But I think we really did achieve it. There is nothing more beautiful than the nature that surrounds us and we are so often trying to recreate parts of nature that we don't take the time to look at what is right in front of us. I'm also really proud that we used so many wonderful eco-friendly wedding suppliers and products for this shoot .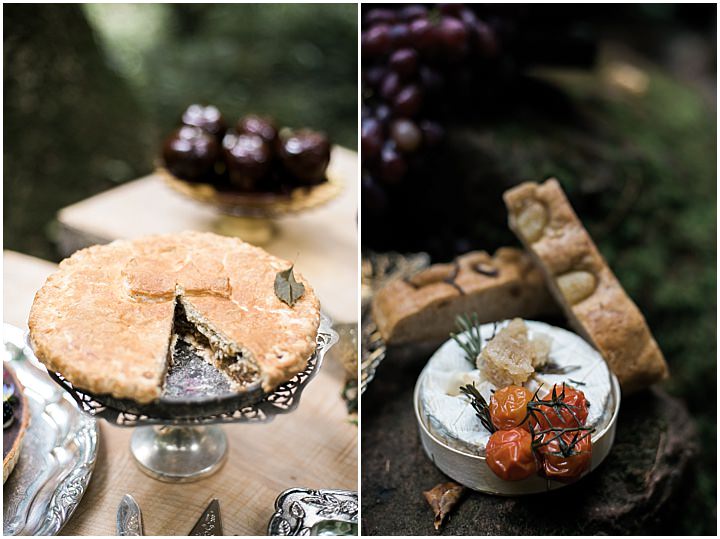 Are you planning any more shoots?
Yes definitely! The team for this shoot were a complete dream and we have plans for at least 2 more shoots this year. The first will be an urban shoot as a complete juxtaposition to this one.
The Team who made the Shoot Possible
For more information on Katrina's work go to:
www.capturedbykatrina.co.uk / FACEBOOK I: @katrinabartlam / T: @KatrinaBartlam / PINTEREST