Happy Friday everyone, and yay for the weekend! How are you all? I am currently living in  a building site, my house has been well and truly turned upside down as the next stage of our extension taking shape. We have had walls come down, walls go up, electricians, plumbers, no heating, no water, and a whole lot of noise! However I'm certain it will be worth it in the end and I can't wait for the finished result. We are finishing off the week with this wonderful wedding from current sponsor Launcells Barton, a stunning venue in Cornwall. With so much versatility and a high level of attention to detail, Launcells Barton is the perfect place for a wedding and this one captured by Pete Cox Photography is an absolute beauty.
Eclectic, laid back and fun – still can't believe we pulled it off!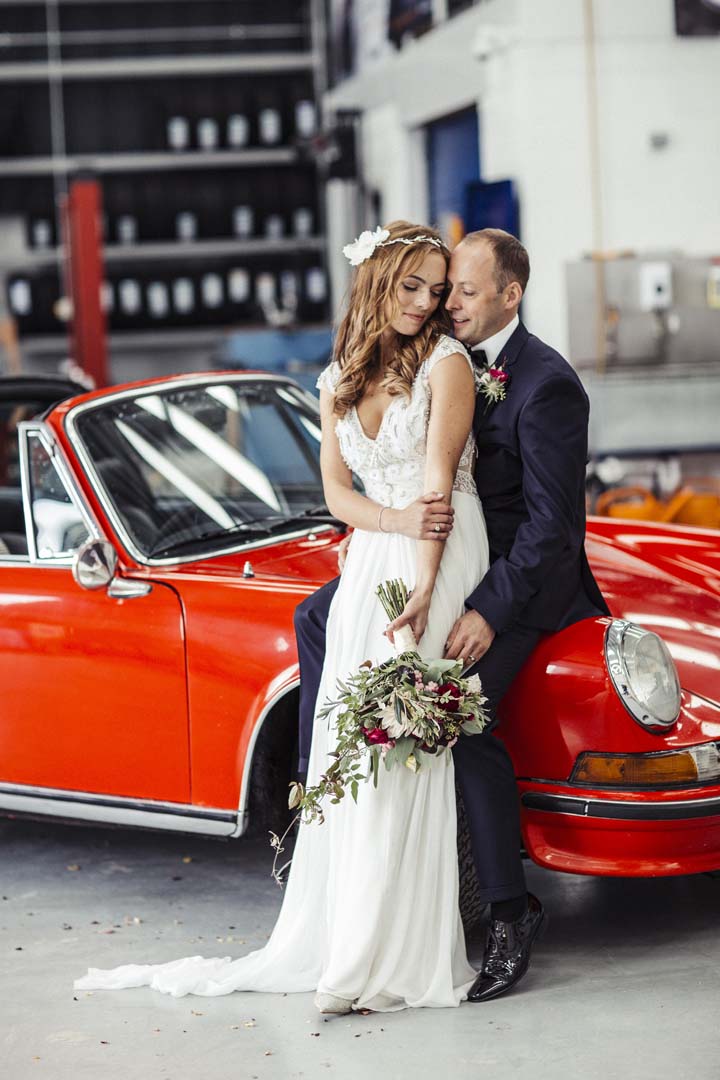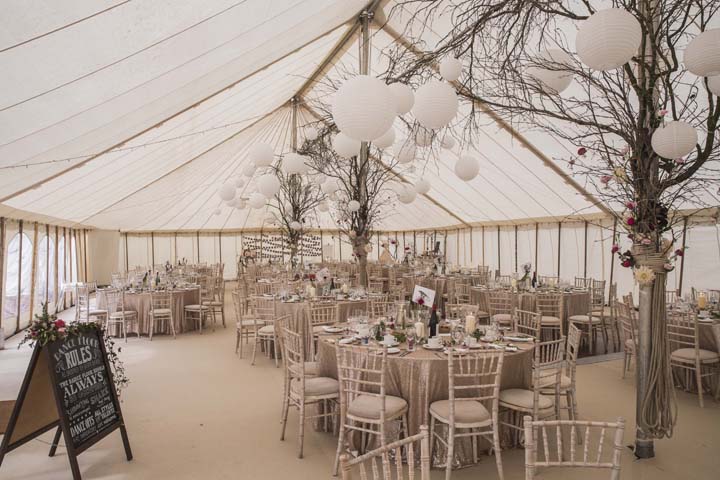 Katherine and Geoffrey were married on the 1st October 2016 at St Swithins Church, Launcells followed by a reception at Launcells Barton. 'I grew up close by Launcells Church and lived just over the valley from Launcells Barton, so when they announced that they were going to be a wedding venue shortly after we got engaged, it seemed as if it was meant to be. We had 170 guests during the day and another 210 in the evening, and the wedding took 10 months to plan.'
How they met
We initially spoke to one another over the phone when Geoff made some enquiries to our family business (at the time looking to set up in competition ha). We met at a friends a few weeks later and were pretty much inseparable from then on. We've been together 6 years.
Tell me about the proposal
I took Geoff away to the Cotswolds for a Birthday surprise with his brother and sister-in-law. Unbeknown to me – he had a bigger surprise in order and proposed in bed as soon as I woke up, 6am the morning of his Birthday. We very excitedly forgot the time and ran down stairs to tell Rob and Claire. Once they had recovered from being woken up so early, and realised it wasn't a life threatening emergency – we opened some Champagne, poured it into mugs (all we could find) and the four of us finished the bottle pre-breakfast.
How did you allocate your budget?
We wrote a list of perceived expenses, put them in order of priority, and tackled them in order one by one. Once we'd got quotes and decided on an expense, we'd move to the next item on the list and so on until our budget ran out.
Where did you splurge and where did you save?
Our main splurge and biggest expense by far was the open bar, closely followed by the catering, and then the venue. We saved by going DIY on the stationary, decoration and most of the flowers. I did my own make up and our family and friends were all roped in to help with different bits.
Why did you choose your photographer?
We're not fans of formal wedding photography and were both keen that our pictures should tell a story of the day. Pete Cox shared the same view and had a beautiful portfolio. Luckily for us he had availability for the date of our wedding.
The Dress
My beautiful dress was from Alice Temperley and shoes by Jimmy Choo. All of my accessories were from Etsy.
The suit and bridesmaids
The groom & Best Man wore suits from Hugo Boss and the Ushers from Moss Bros. The Bridesmaids dresses were from Adriana Papell and the flower girls from Monsoon.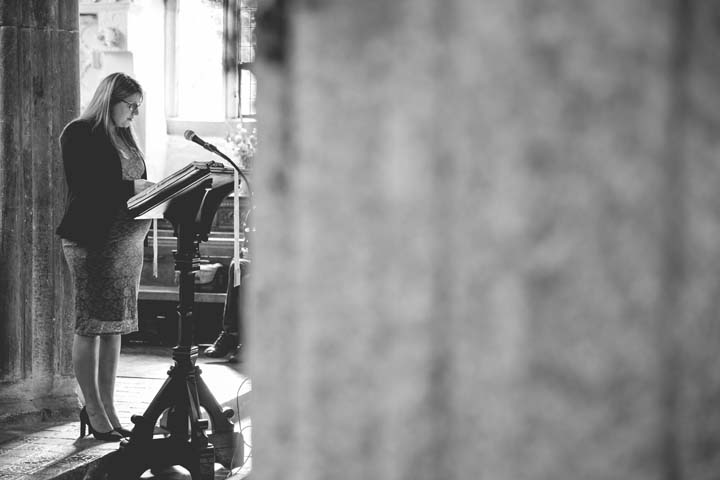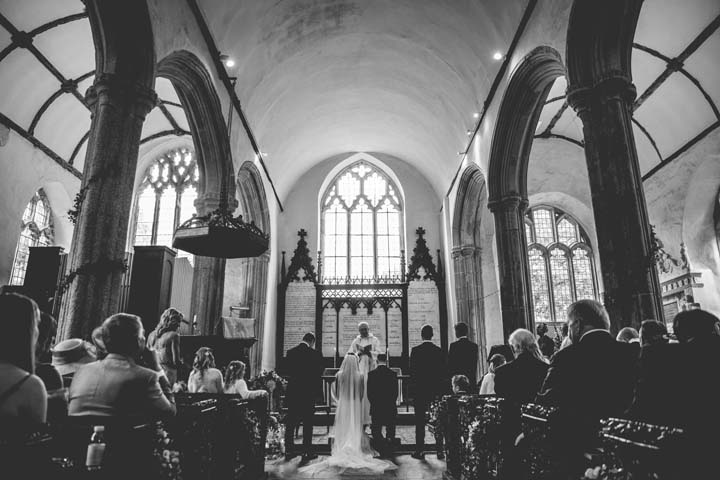 Theme or Colour Scheme
Rustic autumn neutrals with a bit of sparkle……and a touch of car/workshop.  
Flowers
Autumn is a funny time for flowers so we mainly had clashing pink roses and silvery green foliage from our gardens. Bleujen florist did the bouquets, an alternative pedestal in the church and added the finishing touches to the pole in the marquee. Geoff's mum, accompanied by my mum, gran and family friend took control of all the other flowers. They raided their gardens for foliage and the farm for lots of ivy and matched Bleujen's theme. We were keen that the flowers were not too 'done' so Erica at Bleujen designed a beautiful undone trailing bouquet and we based everything else from there. We had to keep the table flowers to a minimum to make room for the food so the florists littered the tables with mini floating candles and then draped ivy and flower buds around the candles to soften the sequin cloths.
Decoration
For the marquee: We cut down some beech tree branches from a tree on Geoffs parents farm, and hung them inside the marquee to look as if they were growing up the poles and suspended from the roof. We then spun warm white fairy lights around the branches and suspended white paper lanterns with fishing wire for a magical feel. The Bleujen florist team then came and hung individual flowers in test tubes from the lower branches to add a bit of colour.  We covered the table in sequin table cloths from ebay and used tea towels as napkins.
For the barn: A few days before the wedding it was apparent that the weather was going to be wet so we changed from having our welcome drinks outside to having them in the Mill Barn (a bonus of having Launcells Barton as a venue) We decorated the Mill barn last minute with left over white lanterns and giant white helium balloons.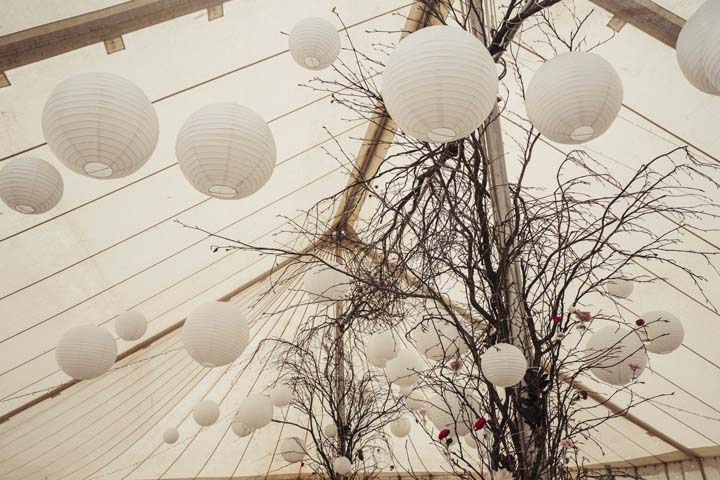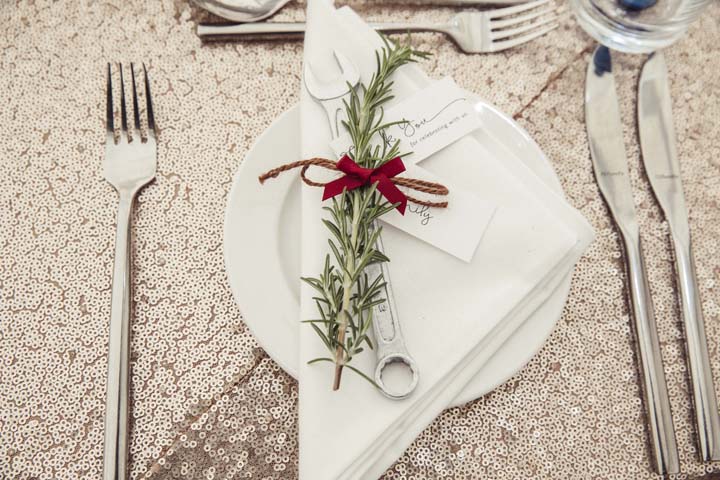 Food
Welcome canapés.
Roast beef with all the trimmings – each table had its own joint and a nominated carver so that everyone was eating at the same time. We dressed the carvers up with aprons and a chef's hat.
We served sharing platters for dessert of mini Pavlova, mini vanilla cheese cake, chocolate brownies and lemon compote.
We went Cornish for the evening food with pasties and fish and chips. We also had a cheeseboard with chutneys and pickles made by our family and sweet cart for the 'kids'.
Wedding Cake
Semi naked vanilla sponge cake by the amazing Hannah's Cornish Cakes. Hannah is a family friend so the decision to have her make our cake was an easy one. The cake was decorated with macaroons and fresh flowers.
Entertainment
Live music on arrival by Bradley Cook, DJ and band in the evening by Up4Grabs. We also had a photobooth.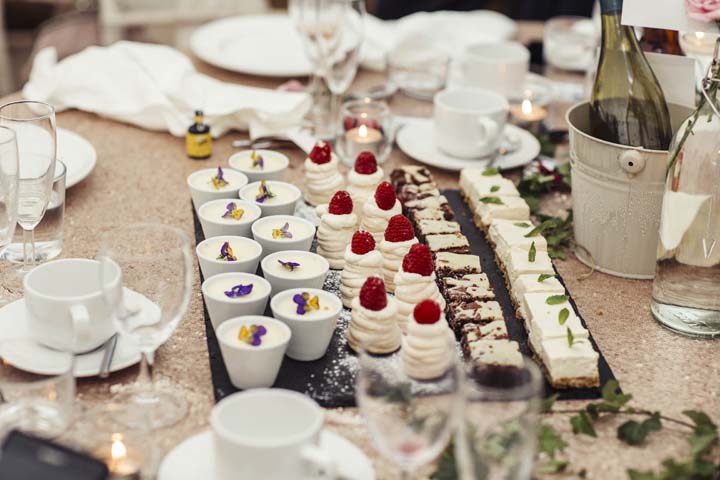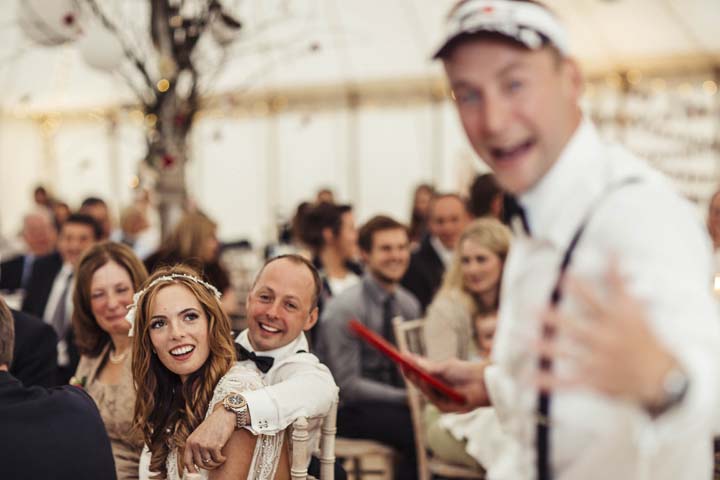 Stationery
I designed all the stationary myself and had it printed locally by Jamaica Press.
Personal Touches
We run a garage, so it was inevitable that there had to be some car/workshop touches. We gave spanners as wedding favours (another mixed job lot from ebay). The tables were named after cars and we sprayed up three old oil drums in the Le Mans Gulf oil brand colours and used them as the cake stand and drinks tables around the bar. The maid of honour is a very talented graphic designer, and drew some chalkboards for 'order of the day' and 'dance floor rules'. My mum hand painted wooden signs directing people to the church etc. and painted us a watercolour of the Porsche that we left the church in for people to sign as a guest book.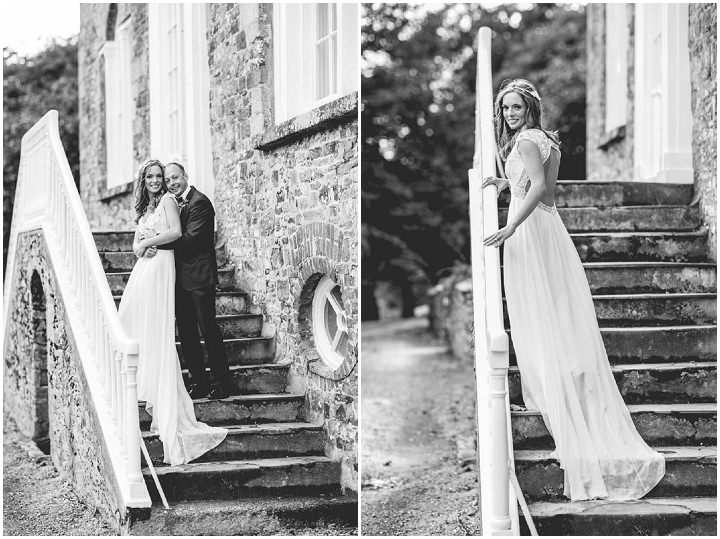 Special Moments or Highlights
Geoff and I both agree that nothing compares to that moment when you enter the church and you first see each other down the aisle. I don't know whether its excitement or relief that we both turned up, but it pretty special.
Advice for other couples
Try not to stress. Planning a wedding is easy – it's trying to keep everyone happy that's the difficult bit. Just remember it's your day and ultimately everything comes together. People around you will also be very excited and offer loads of ideas /opinions. It's hard sometimes, but just remember that they're only trying to help because they love you. Everyone will be happy to help with the fun bits in the lead up, so make use of them –  try and separate out jobs into people's skill sets. Don't be afraid to allocate!
You will be overwhelmed by the love and support that your families and close friends show in lead up to your wedding. Enjoy and appreciate it. Choosing Launcells Barton as a venue proved one of our best decisions. The space is so versatile and Matthew and Lara were on hand from the day we booked to offer their help and advice. In the few days prior, they blew us away with their help and support going above and beyond anything we could expect. Their on the day efforts made the whole day run smoothly and we were left to fully enjoy our special day. We cannot think of a more perfect venue.
Biggest Surprise
A friend lending their red 1973 Porsche Targa for us to leave the church in. (It was the only thing we didn't plan – we've got the best man to thank)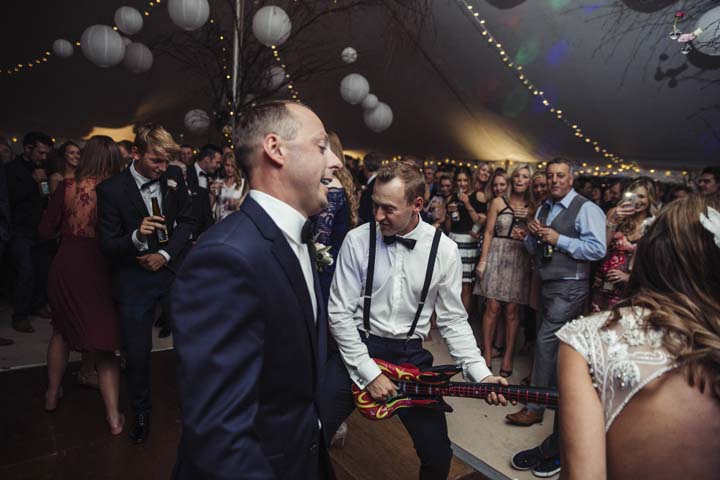 Supplier Shout Outs
For more information on Pete's work go to:
petecoxphotography.co.uk / FACEBOOK / T: @petecox_