A few weeks ago I introduced to you to Becky our new London reporter and she told us all about a bloggers dinner that she had attended. Well today we are back with Becky as she has been out and about in London, not only attending weddings as a guest (seven so far this year) but attending wedding events for Boho.
I'll pass you over to Becky so she can tell you more.
I went to my last wedding (of 7) recently and it seems the season is coming to an end.  But all that means is next season's brides are in full planning mode, and there are plenty of wedding events, open houses and shows in London to help you! And I got to attend a few, here is my diary …
Wednesday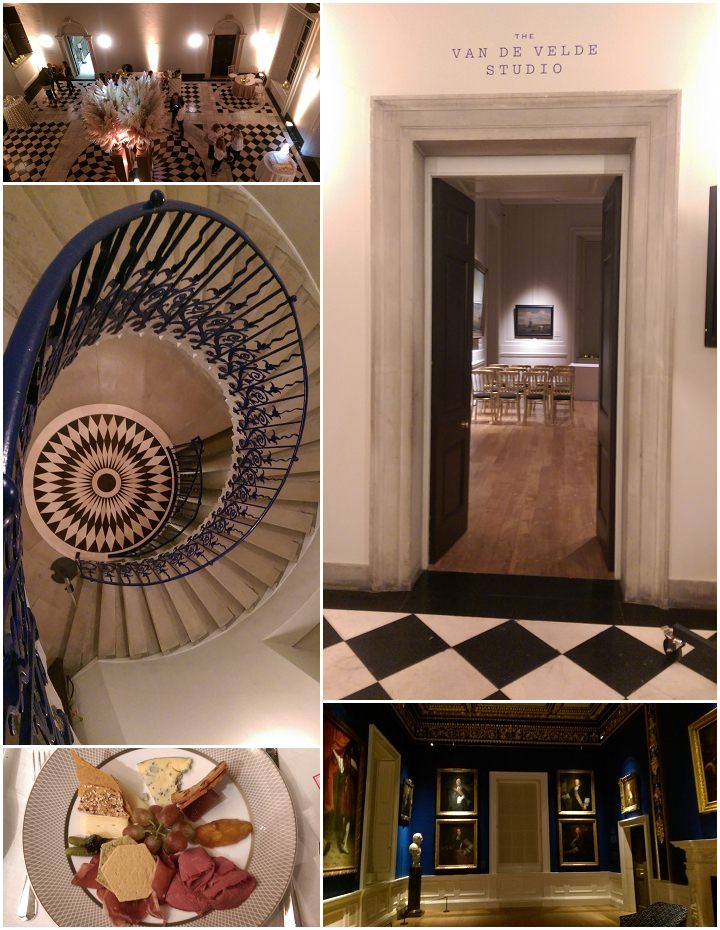 I went to see (nose around) the newly refurbished Queen's house in Greenwich.  It's a timeless and stunning English venue, where you can celebrate your marriage.  Greenwich is a beautiful setting for a wedding anyway – along the Thames, cityscape view but feels like a village, but then having a wedding at a 400 year old former Royal residence is the cherry on top of that cake!
The house is one every girl dreams of, like a giant dolls house.  The banquet room is beautiful and decadent with a black & white floor design.  The room was decorated exquisitely when I saw it (as you would expect) but actually would work just as well for a bohemian style wedding – think medieval and candle lit.
If you want a more intimate wedding, then they have some lovely rooms, which are steeped in culture. A larger ceremony can be held in the banquet room if you want to go big & grand.  Whatever you're looking for, it can work to suit you.
The best room/feature though has to be the gallery overlooking that magnificent room. I could totally imagine stealing a few moments in the day with your new partner as you take it all in.
It's a house built for a queen, so perfectly fitting for a bride who dreams of that fairy tale wedding!
Sunday
My week ended with a bridal show.  Hosted by Brides magazine at the Rosewood Hotel, it was to showcase the fabulous Susan Neville's latest collection.
My little sister came with me to this one. As she is getting married next year and is still looking for a dress, I felt she would definitely benefit more from this!
Givenchy, Jo Malone and Rigby & Peller were also some of the supporting brands on hand to give you advice.
The show happened all around you.  While you sat and enjoyed a cocktail, some nibbles and tea, the models floated past your tables.  Of course, there was plenty of time to take photos of your favourite ones but there were just so many exquisite dresses it was hard to keep up!
The dresses ranged from the glitzy to boho, from the more traditional style to more modern twists.  Here are a couple of my faves:
The only problem is I think my sister is now more confused than ever!
Becky xx
Hi, I'm Becky. A city dweller, living with my partner right in the heart of everything, in London. I take great delight in discovering new places, so I try and escape as much as I can.
 I am practically a professional wedding goer and just love experiencing or looking at a couple's special day and seeing how they have put their own unique stamp on it.  I am a little obsessed by all things decadent and vintage and love anything that is a fairy tale come true.