This afternoon I am delighted to welcome Becky our roving London reporter back to the blog to tell us all about her latest adventures. Becky gets to go to all the lovely events in and around London that I can't make, I'm not jealous of all her gallivanting, honestly! (OK maybe just a little bit jealous!) This time she has been off to have a lovely blow dry at Duck and Dry and enjoyed an evening at the wedding shop, sampling cocktails, lucky lady!
I'LL PASS YOU OVER TO BECKY TO TELL YOU MORE
A Blow Dry at Duck and Dry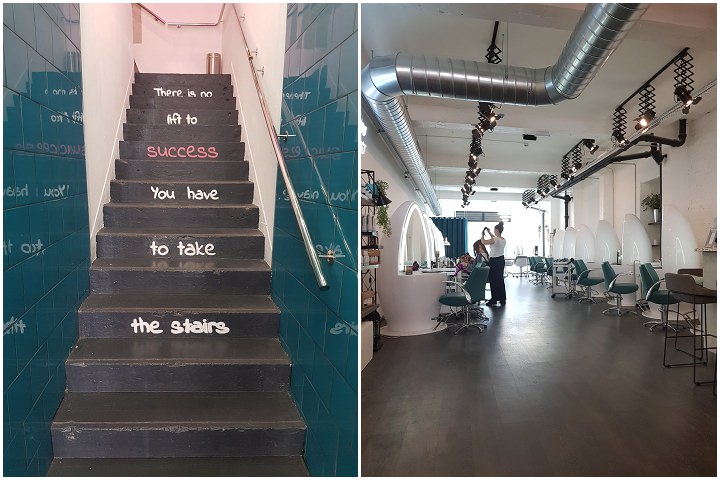 Sometimes it's the little things that matter, especially on your wedding day.  Making sure your hair looks amazing is probably top of most brides' wedding list.  I also know, as an (almost) professional wedding guest, that getting a gift that matters to the happy couple is very important.
Recently Duck & Dry invited me to check out their blow dry bar.  I decided to go before my sister's London hen party so I could turn up with that hair that I am always envious of. They have two bars in London; one off Oxford Street and the other in Chelsea.  I went to the central one on a VERY hot day. It's a gorgeous setup. Upstairs it's bright, fun and futuristic with white pods and silver pipes but with touches of an English country garden.
They offer everything; from a quick blow-dry if you don't have much time, or one with a little trim, to hen parties and bridal hair.
After much deliberation I went for 'Beach Locks' from their look book, tousled and relaxed beach hair.  My hair can be difficult but Chaya was an excellent stylist (she also does bridal make-up). You can be the judge…
If it hadn't been melting conditions outside it would've lasted all night but alas it lasted until it got dark.
I loved getting my hair done (who doesn't) and will definitely be using them again. Whether it's for a wedding, a really fun start to a hen party, or just because you fancy it, this is a fun place that is guaranteed to make you feel fabulous.
The Wedding Shop
My next event took me to West London, where I was invited by the Wedding Shop to come & see what they were all about.  These are the guys that will sort your dream gift list for you and they will do it in style. To demonstrate what gifts they had, they hired this absolutely amazing house…probably my dream house…and turned it in to their showroom.  What they offer is not just incredibly sourced gifts but a personalised service to create your bespoke and tailored gift list.  I loved everything.  It was just incredibly thought-out.  They can even sort your dream honeymoon!
As well as an amazing showcase of gifts you could choose from, they also had Chateau Marmot serving some delicious canapés.  Like The Wedding Shop, they can tailor the food for you.  Working with some of the best chefs from London's restaurant scene, they can help to create a completely unique menu. If you want a black & white theme, they will do it. And the cocktails we had were provided by Holy Water. They were delicious and made just for us, based on our loose brief on what kind of cocktails we love. We also had flower demonstration hosted by Sarah Loughrey-Jennings from Hiding in the City Flowers which were beautiful.
The Wedding Shop has showrooms in Selfridges, the Fulham Road, Edinburgh and Dublin but offer the same service online or over the phone.  They will take the pressure off you and make sure all you have to do is enjoy those amazing gifts!
Thanks for a lovely evening, I can't wait to pop back to the blog and tell you all about my next adventures.
Becky xx
Hi, I'm Becky. A city dweller, living with my partner right in the heart of everything, in London. I take great delight in discovering new places, so I try and escape as much as I can.
 I am practically a professional wedding goer and just love experiencing or looking at a couple's special day and seeing how they have put their own unique stamp on it.  I am a little obsessed by all things decadent and vintage and love anything that is a fairy tale come true.

[jprel]