This afternoon I am delighted to welcome back our London reporter Becky to the blog. Becky has been busy out and about in London over the last few weeks attending some lovelt events on behalf of the blog, I am incredaibly jeleous looking at the fab pictures that she sent me!
I'll pass you over to becky to tell you more
I attended two great events recently…both all about the dress.  I went from admiring them from afar, to pretending to be a bride and actually trying them on…
Ted Baker Tie the Knot Bridal dinner
Ted Baker know how to create stylish wedding outfits.  Big prom skirts, vibrant floral patterns and top quality suits.  They have always been a go-to for suits for the the groom or his wedding party.  So it's only natural that they would start a bridal collection.  They tested the water with one last year and, after its success, are now launching 5 beautiful gowns.  They understand that half the fun of choosing your wedding dress is making sure a bride has that special experience. So they offer the full service – a private dress fitting, alterations, the works.
To celebrate the launch of their new collection, they invited Boho weddings along to a special event to see the dresses and celebrate with them.  So off I went along to a dinner at Clifton Nurseries, a perfect fit for them.  Think wild flowers & secret garden vibe. We instantly all commented how 'Ted Baker' it was.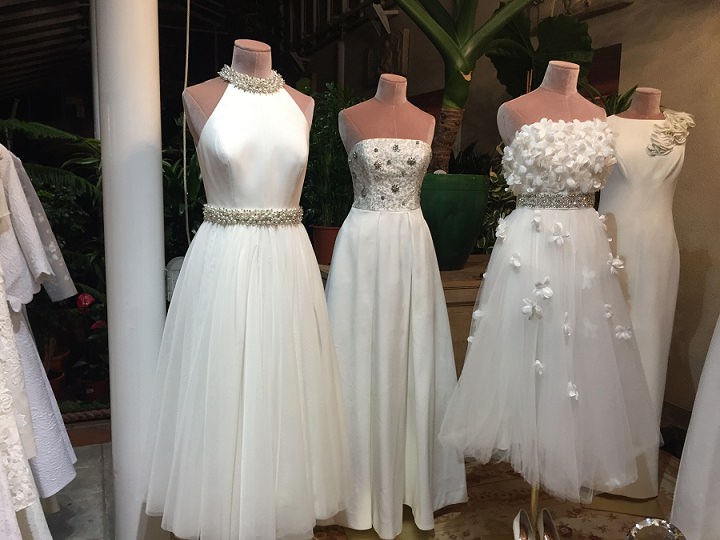 The 5 dresses looked stunning.  5 very different unique styles with something for everyone.  The princess one, the glitzy one, the boho one…
Their bridesmaid dress collection was also not to be ignored.  Amazing pastel colours and modern styles.
The dinner was provided by The Social Kitchen, a Not-For-Profit organisation that sees food as something to share and have fun with.  A buffet style set-up, it was an array of fresh & delicious salads, asian-inspired fish and meats and delicious dips. And the cherry on top of all of this were the desserts…complete sweet heaven.
You could see just how proud they are of their new collection, and they should be.  The dresses are priced at around £700 – £1,700 so a really good range. You can't customise the dresses but they do have a great range of accessories to make it your own.
Now just need to convince my sister I need a Ted Baker Bridesmaid dress for her wedding!!
Riki Dalal Haute Couture – Bloggers Bridal Day Experience
So my next adventure was a Bridal Day experience, where I got to pretend to be a bride for the evening at Riki Dalal Haute Couture, just off the very prestigious Bond Street.  Riki Dalal is a bridal gown designer from Israel.  Although she lives and works in Israel, she opened her own boutique in London last year.
After getting my hair and make-up done by some of their team, I was looking glamourous and ready to try on some of their fabulous dresses.  While they do have Couture in their title, and they do have many exquisite, custom-made dresses, they also have ready to wear dresses (NOYA collection) for anyone who may be on a smaller budget…but who still wants that special dress.
After looking at them all in their catalogue, I decided to leave choosing the dresses to the experts, as they all looked stunning.  Here are a few snaps of me in the dresses…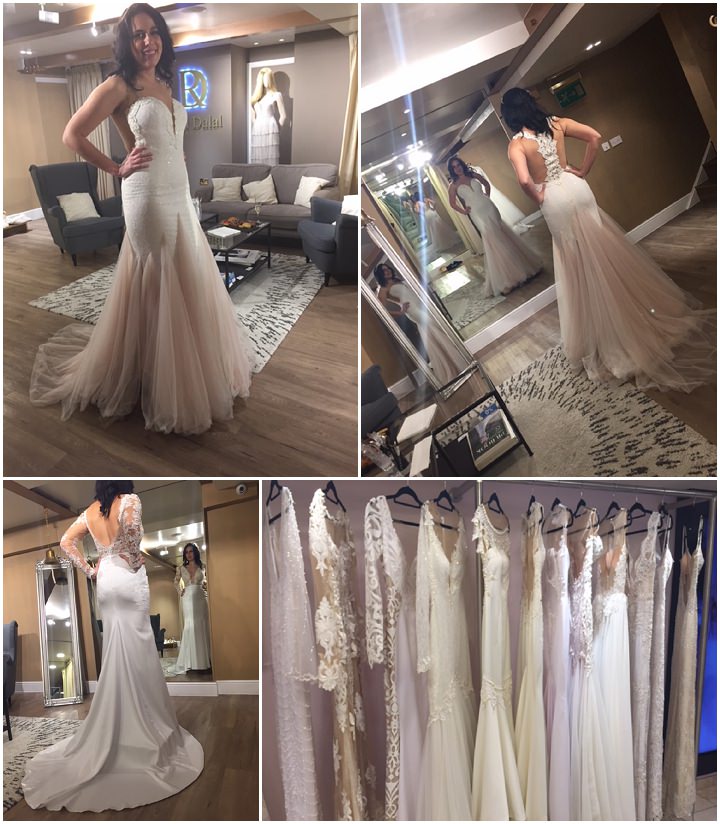 The dresses were all really elegant and made with such love and detail.
I have to admit I did feel slightly strange at first – trying on wedding dresses but not actually getting married.  But I had such fun trying them all on in my private fitting.  Cristina was so friendly and helpful that I really enjoyed myself.  These guys would make any bride on her wedding day feel great as she gets ready.
My pretend bridal experience soon came to an end but for those couple of hours I really feel special.
BECKY XX
Hi, I'm Becky. A city dweller, living with my partner right in the heart of everything, in London. I take great delight in discovering new places, so I try and escape as much as I can.
 I am practically a professional wedding goer and just love experiencing or looking at a couple's special day and seeing how they have put their own unique stamp on it.  I am a little obsessed by all things decadent and vintage and love anything that is a fairy tale come true.