We are back with another lovely wedding for you today, this time we are taking you off to sunny California for the gorgeous lakeside wedding of Shelly and Tayler. They chose this beautiful location as it meant they were close to nature and close to where Tayler was born. The lakeside backdrop is perfect for this nature loving wedding, and makes for some amazing photos which have been captured by Tyler Ray. The whole day was created on a budget but nothing was left out. Great entertainment, delicious food, and the most amazing setting! The perfect rustic outdoor wedding.
It was an intimate, joyful, and sacred ceremony that everyone said was "so us". The celebration, which lasted for several days, was made up of our closest friends and loved ones.
Shelly and Tayler were married on the 23rd July 2016 at a private residence in Alpine Meadows, Lake Tahoe, California. 'Tayler was born and raised in the tiny hamlet of Alpine Meadows, a mountain valley near Lake Tahoe. We wanted to get married somewhere that was special to us both, as well as somewhere that was peaceful, intimate, and in the natural world. After searching unsuccessfully for several months near our home in San Francisco, we heard about a family friend's property in Alpine. Within days we had visited the property and fell in love with its fields of wildflowers, views of Tayler's home mountains, and the serenity of the wilderness. We had 75 guests and the wedding took a little under a year to plan.'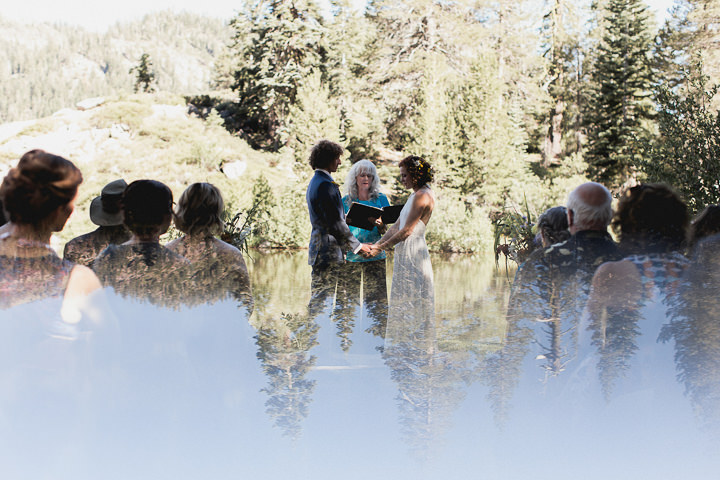 How they met
We met volunteering in San Francisco. The volunteer supervisor was asking us all to find someone to work with and we can't remember who said it first, but one of us asked the other "Do you want to be my partner?" Three days later we went on our first date, 4 months after that we moved in together and now we've been together for 6 ½ years.
The Proposal
I (the bride) broke my spine 10 years ago and I've had several surgeries since then. Tayler's been by my side for almost all of them. Last spring, I had just had my fourth surgery and I was on crutches. I was just a few days away from having another very intensive and invasive surgery. Tayler took me on a picnic in the forest and got down on one knee and asked me to marry him. I remember that I was surprised even though we knew we would get married! It was a true testament to how much he loved me and was committed to being with me as we were about to face together with my huge surgery.
How did you allocate your budget?
We knew from the start that we would do this on a small budget, but we both agreed that we didn't want to give up quality and our sense of style, so we made sure to map out what we felt were our biggest priorities. Tayler works in fine dining and we both love good food, so we knew that finding a caterer that specializes in fresh food was #1. Then came entertainment, photography, and flowers.
Where did you splurge and where did you save?
I wouldn't say that we "splurged" but we did spend a large piece of our budget on food, music, flowers, and photography, oh and Tayler's suit was definitely an investment. We saved money, but didn't compromise quality, by sourcing a lot of free goods from our community. We also did a lot of crafts over the course of several months. We also ended up hiring a gifted celebrant to marry us, which we are so happy we did because she was able to hold a sacred space for the ceremony and the start of our marriage. She incorporated our favorite poems and nature-inspired rituals to make the ceremony really special. Plus, having her officiate it allowed our family members and friends could be involved in other roles during the ceremony.
Why did you choose your photographer?
We found Tyler after a long search that was derailed because our original photographer accidentally double-booked our date. It was serendipitous, actually, because Tyler's style and his ability to capture the outdoors and the natural world really resonated with us. Plus, he was game to travel from Seattle to Tahoe to document our story, which we really appreciated!
The Dress
My dress is a dotted Swiss ivory chiffon from Galina (Davids Bridal) and the shoes are bronze ballet flats from HushPuppies. As for accessories, I wore wildflowers in my hair, my mother's gold and pearl bracelet, and I carried a locket with my late Father's picture in my bouquet. My dinner jacket for the reception was custom made by Branch and Blossom
The Suit and Bridesmaids
Tayler's suit is a navy Italian wool from J. Crew. He wore brown leather oxford dress shoes from Nordstrom. We didn't have a formal bridal party, but we invited our sisters and parents to join us in walking down the aisle and our sisters each read during the ceremony. I asked that the family wear colors in our wedding color palette (plum, goldenrod, teal, and dark blue)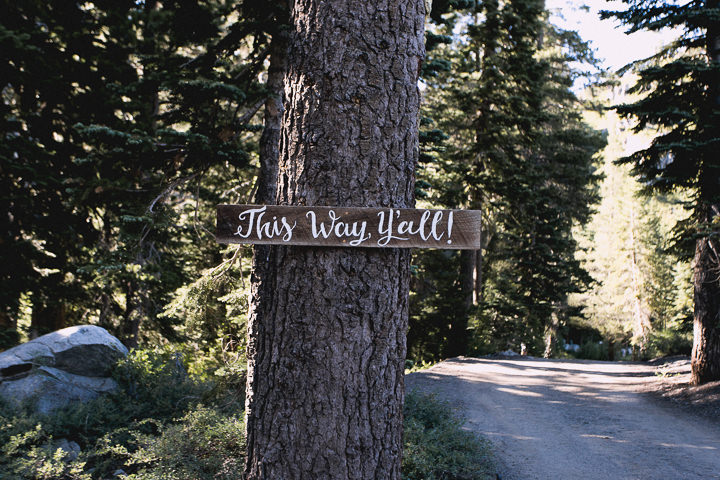 Theme or Colour Scheme
We went for jewel tones, inspired by the richness and depth of color that are found in the wildflowers that dot the meadows and mountainsides of the Sierra Nevada. We are avid campers, hikers, and backpackers; we spend most of our free time out in the natural world, so we wanted to be sure to feature our love of nature in the event ambiance. The colors are Teal, Plum, Navy and Goldenrod
Flowers
The flowers were all grown by our florist on their farm in the Sierra Foothills. black-eyed susans, dahlias, queen anne's lace, zinnias, Billy Balls. We're preserving Shelly's bouquet and Tayler's boutonniere with Impressed By Nature, which is a handmade artisan that makes beautiful jewelry from preserved wedding flowers.
Decoration
We love rustic design, but also adore classic and simple elegance. We were married on a silk rug that we found at an antique market near our home; we liked the idea of having the place where we were married with us forever. We hope it becomes a family heirloom. Our dinner tables were covered with ivory drapes and adorned with vintage lace. We sourced glass bottles of various sizes and shapes and then painted them bronze, copper, and gold; they held the flowers for center pieces. I collected fabric and made bunting with my mom, which we hung from the trees along with market lights. We also had two fire pits, cozy mexican blankets, and vintage board games. Our guestbook was a stack of fabric squares that our guests were invited to write a message on and my mom is going to sew them together into a special quilt.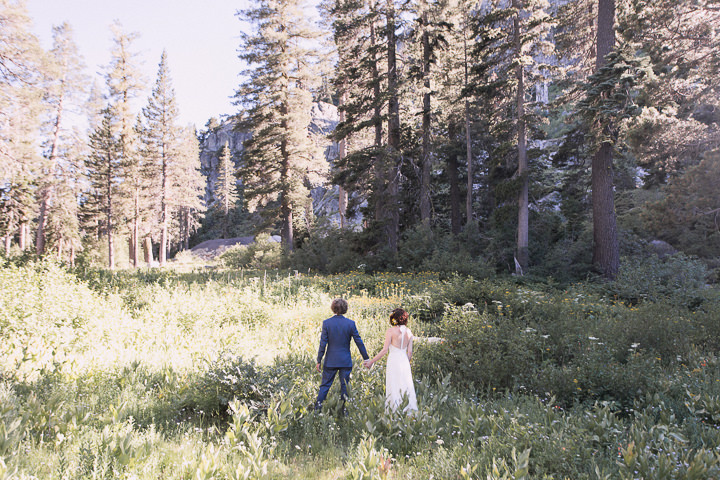 Food
Pork tenderloin with peach compote, Chipotle rubbed chicken with grilled corn salsa, Summer squash with chili lime spice, Grilled polenta cakes, Mixed field greens salad with strawberry balsamic vinaigrette
Wedding Cake
We got married in the mountains at the height of summer time, so we wanted to go with the summer theme, which is why forgo a traditional wedding cake. Instead, we had a pie bar with freshly-baked pies from a famous road-side market, Ikeda's, in Northern California. The eight flavors ranged from strawberry rhubarb to aprciot and sweet pecan.
Entertainment
We love live music, both listening and playing, so it was important to us to hire a band. We hired Rockridge Bluegrass (bass, fiddle, mandolin, banjo, guitar, vocals) to play both the ceremony, cocktail hour, and reception. It was so fitting to have mountain music lilting through the summer air.
Stationery
We worked together to make the save the dates. Shelly watercolored the mountains and Tayler did the handwritten text. We printed them at our friend's house. For the formal invitations, we hired Starboard Press to design the invite and we made the info card about the weekend events ourselves and included it in the invitation envelope.
Personal Touches
So much of our wedding was about personal touches and things we did together as a couple or together with our families.
Special Moments or Highlights
Oh my, there were so many special moments. If we had to pick a few it would be from the moments: Our epic dance party! We danced and danced and danced some more. I remember looking out on the dance floor and seeing people from corners of our lives embracing one another and really enjoying their time together. It never felt like there was small talk at our wedding. the entire celebration felt like one big hug.
After the night started to wind down, a group of us ended up watching shooting stars by the pond and campfire, all snuggled up with my closest friends and family after we danced our butts off.
The ceremony was so special. There was a moment when, during the ring warming ritual where we asked our immediate family members to hold our rings and bless them, I was really missing my dad (he passed in 2012), and the wind started to pick up, but it was this calming warm gentle breeze, but powerful. I looked over and my mom was holding the rings and smiling through happy tears. I knew it was my dad's way of reminding us that he was with us.
Advice for other couples
Be present. People always say that your wedding day will fly by in a blur and that's true to an extent, but we both made a commitment to savor each moment and to really cultivate an awareness during the celebrations. Because of that, at the end of the night, we both realized how we could vividly recall nearly every moment and detail of the day (and days leading up to it). We felt so fully alive and happy during the day that it's as if the feeling of the experience is forever etched in our memories.
Biggest Surprise
Nearly a year of planning doesn't really allow for moments of surprise. But, if we had to choose it would probably be the moment we saw one another when Shelly walked down the aisle. We wanted to keep to tradition in that way and it was worth it.
Supplier Shout Outs
For more information on Tyler's work go to:
www.tylermilesray.com / [email protected] / 14252839049 / FACEBOOK / I: @tylermilesray
'To me, photography is much more than the sum of the actual photos and the gear. It's a relationship based on trust. I strive to provide snapshots of lives and relationships, whether it's a bride and groom on their wedding day, or a festival in Thailand. I'm based in Seattle, USA, and travel worldwide to photograph couples in love, landscapes, and events; and I would love to learn about your amazing lives and beautiful vision.'