It's great to be able to feature a supplier who is from Sheffield, and now Our Cow Molly Ice cream is an awarding winning brand, after winning the 'Exposed Magazine Awards 09/10 – Best Made In Sheffield Product' something to be very very proud about.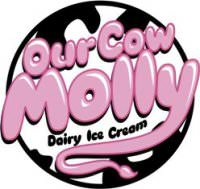 A Brief History about the farm.
In 1947 my granddad Hector Andrew started our dairy farm. We are located in Dungworth on the top of one of the seven Hills Sheffield is built on.
When my grandad first started delivering his bottled milk in Sheffield, a pint of milk had the same value as a loaf of bread and a pint of beer.
60 years later my Mum, Dad and Brother are running the farm. Today the milk price is so poor three UK dairy farmers a day are giving up producing milk. We didn't want to be next so Our Cow Molly dairy ice cream was born!
We have been producing our ice cream since 2007 and have had great support from the people of Sheffield.
The big difference in our ice cream is that we use fresh milk and cream, not many ice cream producers can afford to buy in so much dairy product, but we have 80 cows so that's no problem for us!
I have to admit I am quite new to the ice cream, after a tasting a month or two ago, I took my husband up to the farm to investigate and buy some for our selves………………..we were REALLY impressed and have to say have been addicted to it ever since.
The ice cream is made with the farm's milk and cream, to which we add only the best quality ingredients.
The ice cream is pasteurised and then left to age over night. By doing this all the ingredients bond together naturally helping the mixture to stabilise. The result is a rich, creamy texture that makes Our Cow Molly taste great!
The Ice cream comes in various yummy flavors:
VANILLA, STRAWBERRY, MINT CHOC CHIP, CHOCOLATE, RASPBERRY RIPPLE, PANNA COTTA, BANOFFEE, RUM & RAISIN, JUST MOLLY, CORA'S CHAOS, IRISH CREAM, LEMON & GINGER, SNICKERS, WILD CHERRY CHEESECAKE, BLACK FOREST GATEAUX, JAM ROLY POLY, and FERRERO ROCHER.
So far my favourite has to be the snickers but I still have a few left to try!!
Not only do Our Co Molly create the best ice cream to sell in their farm shop with a mixture of other farm goodies, the amazing ice cream is sold in a variety of shops and restaurants in and around Sheffield, for a full list go to the website.
Now if you are wondering what all this has to do with weddings……..well I'm getting to that part. Our Cow Molly is also available for hire………………….
The 1st option is the Wedding Cart.
For a small charge you can hire the cart and staff with a choice of 4 flavours of ice cream scooped in to tub or into quality waffle cone. Transport in to Sheffield is free.
The 2nd option is the 4.5 L ice cream tubs to be used by the caterers for the wedding breakfast available in any flavour on the website.
The 3rd option is 120ml single serving tubs, the hotel or wedding venue usually have a large platter of ice with the small individual tubs sat it the ice to make a large display.
With all 3 options the bride and groom are able to try any ice cream before they decide on the flavours………….that's got to be a reason to book!!
So go visit the farm and say hello to the cows, donkeys, sheep and chickens, while trying out THE best ice cream in the world, honestly I'm not exaggerating!! My husband agrees, and he knows his food!
For more information about having Our Cow Molly Ice Cream at your wedding go to www.ourcowmolly.co.uk or Vist the farm at:
Cliffe Cottage, Hill Top Road, Dungworth, Sheffield, S6 6GW
Tel. 0114 2332683
Or contact me here at Boho and I can give you some more details about prices.