Last week we saw the first lesson in my 'How to guide' to bridal makeup, all thanks to Catherine Hughes from Ivy Clara make up styling. Catherine was kind enough to talk us through the important stages of 'base' and this week she is bringing us not just eyes but Alluring eyes!
Over to Catherine…………………………
Raise a brow
I always begin with filling and shaping the eyebrows as I feel it creates a frame for the rest of the eye makeup. With an eyebrow brush, begin by brushing upwards through the eyebrow, then along towards the out corner of the eye. This helps you see the natural shape of your eyebrows better. To fill in your brows, use an angled brush with a matt eye shadow. I use a palette of three eye shadows in dark, mid and light brown which can be blended to get the best shade possible. Start at the inner part of your eyebrow apply the colour in small strokes using an upwards and outwards motion. When you are happy with the shape, brush through an eyebrow gel such as Brow Set by Mac,  as this will set the eyebrows in place.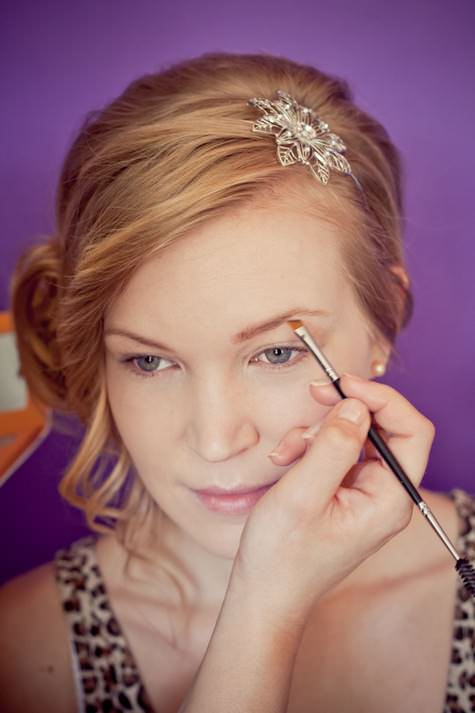 Keep a lid on it
Take a light peachy bronze colour and sweep over the entire lower lid up to the socket line. I love Brule by Mac as it has a soft sheen without being too sparkly. Using a fluffy brush, buff the colour into the socket line to get rid of any harsh edges.
Bright eyes
Next take a light reflecting eye shadow and add to the inner corner of each eye with a small brush. I love Nylon by Mac as it adds a 'pop' of brightness to the whole eye.
Socket to 'em
Next, add a bronze or mid tone brown shade into the socket crease using a 'wind screen wiper' motion. The crease is the indent that lies against the top of your eyeball. To add colour to the crease, it is easier to do so with your eye half open as you can see it more clearly and have better access to the area with your brush. I have used Bronze by Mac for this stage of the eye makeup.
Don't be harsh
Take a matt ivory colour such as Vanilla by Mac and apply to the brow bone. Use the residue colour on the brush and buff  into the socket colour to create a soft edge between the socket and the brow bone.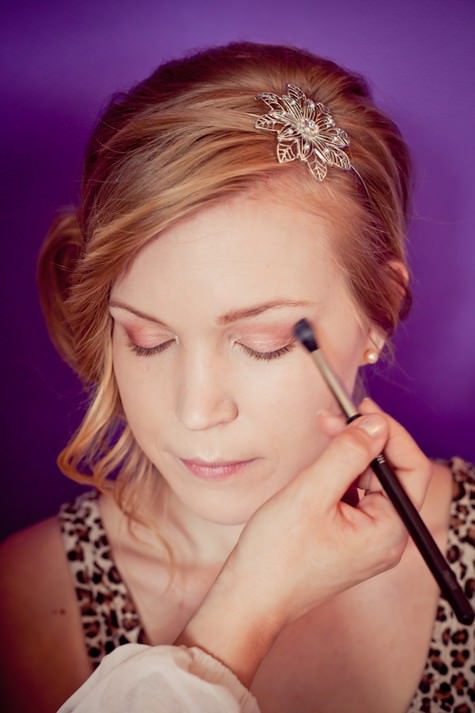 Victory V
To create definition, apply a darker colour to the outer corners of the eye. An easy way of doing this is to use an angled brush and draw a 'v' shape along the outer lash line and socket line. I have used the colour Cork by Mac and a Mac 266 angled brush.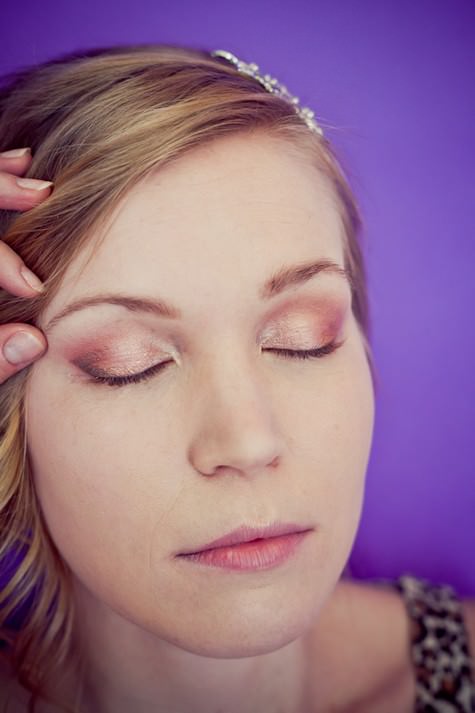 Blend and buff
Once again, take a fluffy brush and buff the colour into the socket line. You can repeat the previous step and keep buffing until you get the desired intensity. It's best to do this in stages as you can always add more colour. Taking too much colour away is more difficult!
The bottom line
To define the lower lash line, apply a black eye pencil to the outer half of the lower water line. Then take a small blending brush and blend into the lower lash line. Bobbi Brown's Creamy Eye pencil is highly pigmented and easily bendable with good staying power.
Curl girls
Before applying your top line, now is the time to curl your lashes to avoid smudges. Use gentle grip in order to not pull and lashes out and apply pressure using a gentle 'bouncing' motion instead of using one continuous squeeze. Lash curling is often left out of a makeup regime but it is so important as it really helps to open up the eye.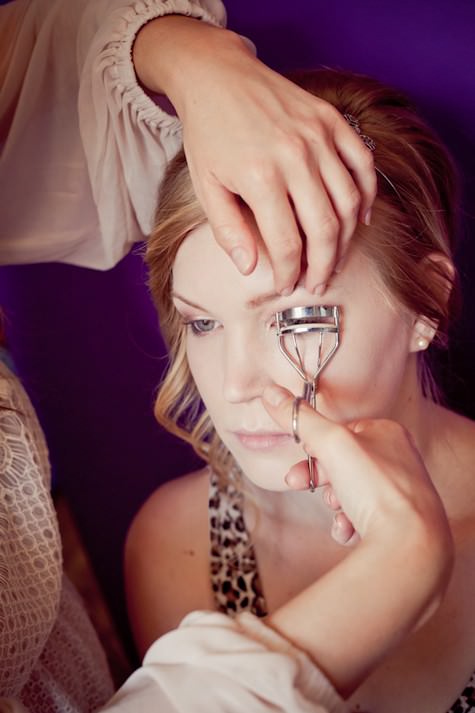 Line and Define
Using a waterproof gel eyeliner and an angled brush, start in the centre of the lash line moving towards the outer corner. Lifting the eye from the brow bone with your free hand lets you get really close to the lash line with the brush. Apply the liner in smooth strokes, gradually taking it as far towards the inner eye as you wish and then out towards the outer corner. Long Wear Gel Eyeliner by Bobbi Brown is a particular favourite of mine as it is tear proof and lasts all day.
Optical Illusion
False lashes are a brilliant way of creating thicker or longer lashes in an instant. I always encourage my brides to let me apply some in the trial session, as when applied in the correct way, they are undetectable. Even for the most 'false lash-phobic' bride, I would suggest giving them a go. Have a practise first but don't leave it until the morning of your wedding for your 1st ever application! I normally suggest that people purchase a couple of sets of false eyelashes and practice applying them whenever possible. You can easily peel them off, along with any dried glue, and continue to practice with the same pair. First, measure the false lash against your upper lash line and trim from the outer edge to fit your eye. Next, apply a line of glue along the lash base and wait for 30 seconds until it is tacky
Next, hold the false in the centre with tweezers, look down into a wall mirror and press the centre of the lash right against the centre of your lash line. Then take the tweezers and push the outer corner down to meet your lash line, then the inner corner.
Finally use your finger to press the false lashes into your own and pinch them against your lashes so that they are secure. There are many different lashes on the market but for bridal wear, I would suggest buying a pair with a clear base strip. My favourites are Eyelure Naturalites which come in a range of lengths and thickness.
In order to blend your own lashes into the false ones seamlessly so that you cannot tell them apart, apply a coat of mascara to the base of your own lashes. Taking the mascara all the way to the ends is not needed unless you are going for an extremely dramatic finish. I would recommend investing in a good waterproof mascara such as Bobbi Brown No Smudge Mascara.
Clean up
Finally, take your foundation or concealer brush with the residue product still on and clean up any 'fall down' of product from under your eye area to create a clean, bright eye area.
Thank you once again to Catherine for sharing her expertise with us today, I'm off to practice on my uggly mug! Make sure you pop back next Friday for 'cheeks!
Hair and Makeup: Ivy Clara makeup and styling
www.ivyclara.co.uk
FACEBOOK
TWITTER
Photographer: Lorna Roberts
www.lornarobertsphotography.com
FACEBOOK
TWITTER
Model: Alex Outhwaite
www.starnow.co.uk/alexouthwaite
FACEBOOK