I always love it when I get sent information from the bride and groom and they go all out to tell me about their day. The wedding today from Pete Barnes Photography is one of those! From reading Melissa's words I can just tell that she has the most amazing day which was full of fun, sunshine and lots of hand made and DIY details! They certainly look happy! I'll let you make your own mind up!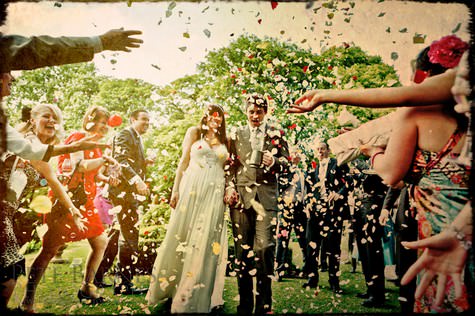 Full names
Melissa Sherriff and Andrew Hendry
How did you meet
We and got together in our first year of 6th form and have now been together for 13 years (although it certainly doesn't seem it.)
Date of wedding
06th May 2011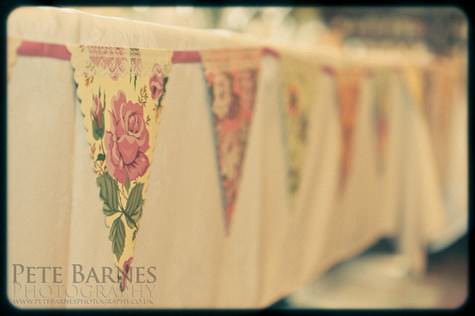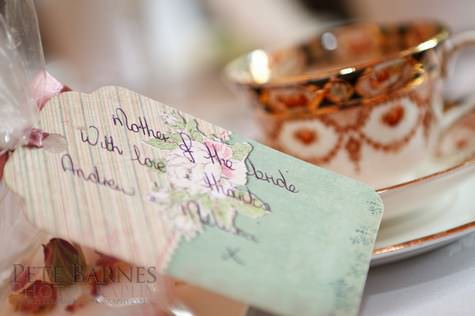 Location
The Crab and Lobster, Asenby, North Yorkshire
What made you decide to get married where you did?
We fell utterly in love with it from the minute we walked in. It's the quirkiest, most fantastic place we've been to and has food to die for! It's one of those places where you walk in and you think the next room can't be as good as this – and it doesn't disappoint. Each bedroom is based on a famous hotel from around the world and several log cabins – many with their own hot-tub. The staff there are so friendly and helpful, it has bedrooms that are based on famous hotels from around the world, a big top canopy with bunting in the restaurant conservatory, lobster nets hanging from the ceiling in the bar, vintage chandeliers, a parrot wearing a top hat on the bar, beautifully tiered landscaped gardens, and a full size yeti in the manner house (I know!) – it does not disappoint on any level. In fact so much so, that we had to ban our parents from visiting too often before the wedding, although I'm assured it was for 'quality control purposes'! We knew it was perfect for us as soon as we saw it, and so many people said that to us on the day. We're looking forward to spending our anniversary there.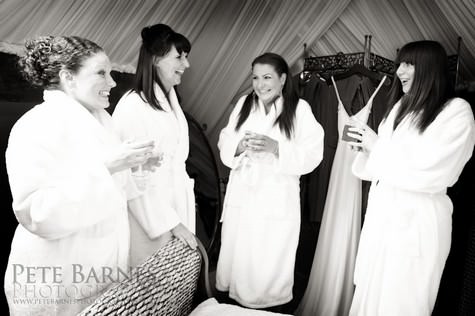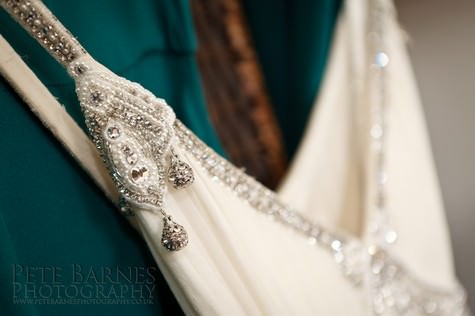 Who was your dress by
Jenny Packham. I knew as soon as I saw her designs that they were what I had been looking for – and I absolutely love it.
And the suite
We went backpacking in Vietnam in the September before the wedding and Andrew had his suite made in Hoi An. It wasn't originally intended to be his wedding suite, but fit in completely with the feel of the day. It's pure wool so we had lots of fun trying to keep it dry in a backpack in the Vietnamese monsoons – only for Andrew to end up in the Hot tub fully dressed at the end of the night!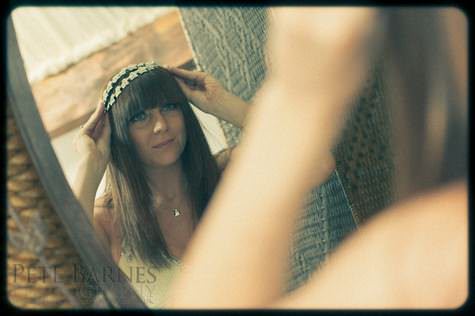 How would you sum up your day
Without doubt, absolutely fantastic in every way! We really couldn't have asked for anything more. The ceremony was held in the conservatory of the manner house which was really intimate and the registrar had us all laughing throughout the ceremony. The sun came out so we were able to enjoy sitting out in the courtyard for the BBQ. We just thoroughly enjoyed every part of it.
Did you have a theme/colour scheme
Not really. After falling in love with the venue (how could we not) and having a love of all things retro, i knew that we would have a bit of a vintage theme running throughout. The most important thing for us was that everyone enjoyed our day with us.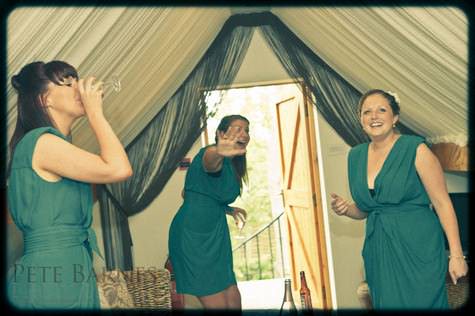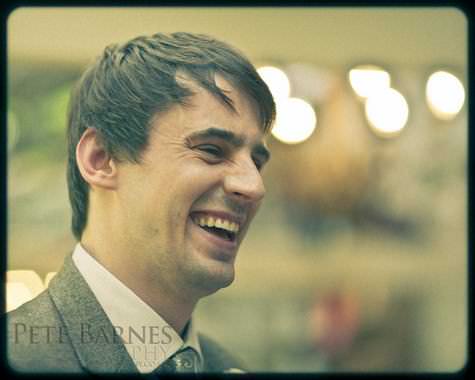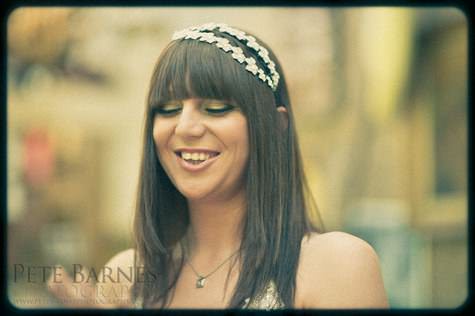 Did you have any personal touches, or things that you did yourself
We sure did. Emily (one of my bridesmaids) made our wedding buns for us. She made 3 different flavours in three different vintage themed wrappers – they tasted heavenly and looked beautiful; In fact they were so good, she's doing our friends next year. We were so touched that she would do that for us and the effort she put into them.
Andrew only had two requirements of the wedding – 1 that he could do the playlist for the evening and 2 that we had a three tiered porkpie cake and a brown sauce fountain. He got everything but the brown sauce fountain (not near my wedding dress thank-you). When Emily heard I wasn't entertaining the idea of a brown sauce fountain she made Andrew some special bottles of Hendry's Sauce for Pork-pie's. One of my favourite shots is Andrew seeing the bottles of sauce for the first time – brilliant!
I had an idea of the style I'd like for the table settings and discussed them with my mum, who is a vintage and charity shop queen (you can actually place order she's that good at finding what you need!) so 22 china tea cups and saucers and 16 vintage glass vases later and we had our table settings sorted. We placed tea lights in the cups and saucers and added a mixture of silk and real flowers to the vases, which fit in brilliantly with the room. I really can't thank my mum enough for her time and help.
Our friend Ian created our vintage style postcard wedding invitations for us, which I still love!
My cousin Charlotte kindly made our favours. I knew I'd like something personal and when Charlotte offered to make soaps, I knew it would fit perfectly. We decided what scent and colour we would like (rose with rose petals for the ladies and cedar wood with poppy seed for the gents). She cleverly moulded them into mini cupcakes which smelt divine and looked fantastic wrapped in cellophane, I was so so pleased with them.
My Grandma brought a bottle of whisky, which my Granddad collected. We all had a toast to absent friends in his honour, which everyone said was a really nice touch (he also had great taste in whisky).
Andrew's mum gave him one of his Dad's tie pins to wear, which was a lovely way for us to include him into the day.
I also really struggled to find a head piece in the style I wanted. After much searching in shops, vintage fairs and online I bought 2 bracelets I liked, and with the aid of a bit of wire, I attached them onto a hair band wrapped in ribbon and was surprisingly pleased with the results.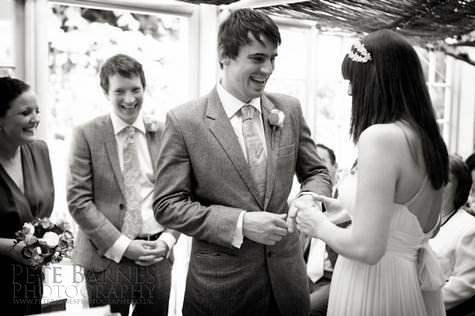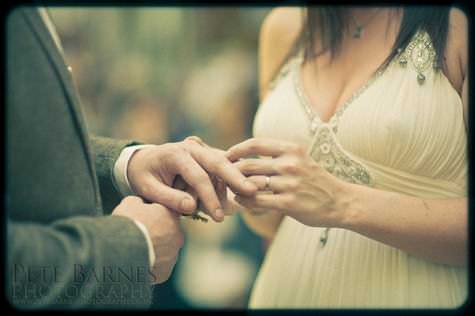 What were your special moments/highlights?
We got married at 4pm and spent the morning separately – Andrew's best man Sam took Andrew for a barber's shave, which he's always wanted to do, and I spent the morning in my dressing gown drinking bubbly and getting ready with my bridesmaids Leanne, Alison and Emily.
Walking down the aisle with my dad was really special and the anticipation and seeing each other for the first time when I walked down the aisle was fantastic. There was such a lovely atmosphere in the room as we said our vows, and a few dewy eyes.
Having our photo's taken was so much fun, we had a good laugh with the poses and everyone threw rose petals for us to walk under, much to Andrew's distress at them landing in his tankard of beer (the photo's of that still makes me smile).
The speeches were fantastic, lots of giggles throughout, and then came the cutting of the pork-pie cake which was lots of fun – it's not every day you get to cut a cake that size made out of meat!
In the early hours of the morning everyone piled into the hot tubs for a celebratory drink (or two). Andrew's best man Sam leaped over a fence, landing in the hot tub with a drink in his hand – It was one of the best entrances ever seen!
Loads of people said what a relaxed and fun day it was and how included they felt. We're so thankful for our family and friends and really couldn't ask for more than that. We had an absolute blast!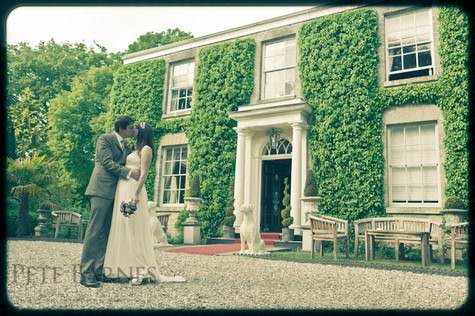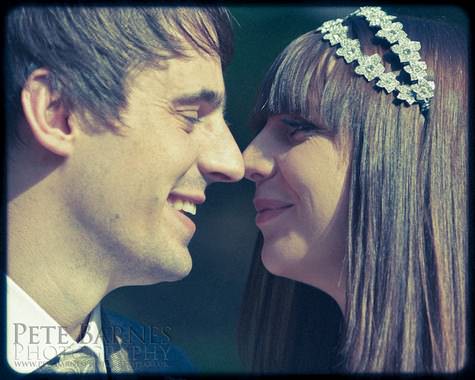 How many guests?
We had 54 guests for the ceremony and meal and an additional 20 for the evening BBQ
Is there anything you would do differently?
Possibly sorting out all the little bits I put off sorting until a few days before the wedding, to give myself time to relax, but I wouldn't change anything as it all added towards making it the day it was.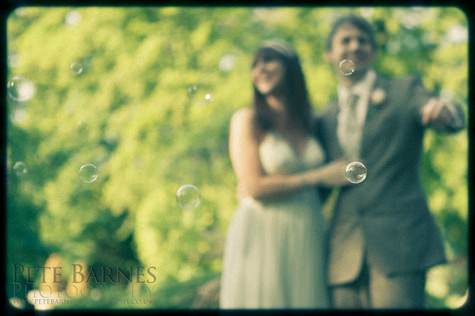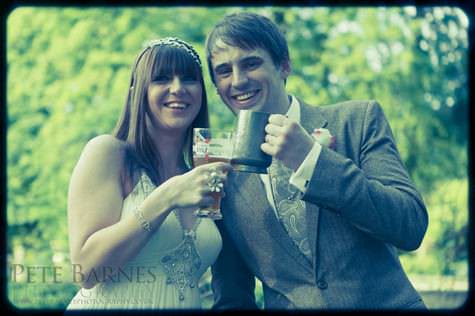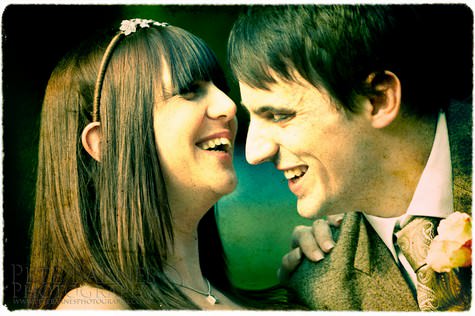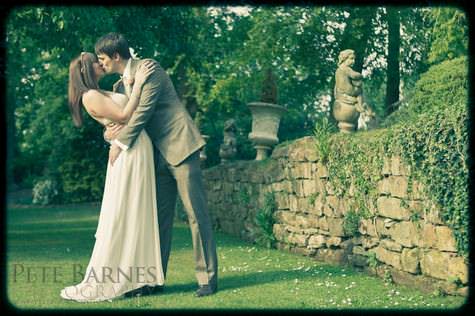 What advice would you give any other couples?
Have a clear idea of what is important to you when you set out and don't settle for anything you're not happy with. Spending that bit of extra time finding what is perfect for you and seeing it all come together on the day, makes it all totally worth it.
What was your biggest surprise of the day?
Ever since seeing a picture in a magazine when I was 14, I've wanted a happy diamond necklace – I've drooled over one in particular in a local jewellers more times than I should admit to and absolutely could not believe it when I was given it as a gift from Andrew on the morning of the wedding. Pete has captured a great shot of my bridesmaids giving me the necklace whilst we are getting ready – I really was as surprised as I look!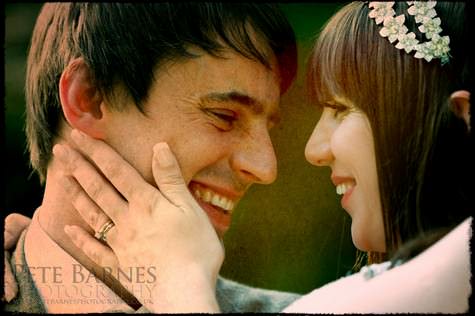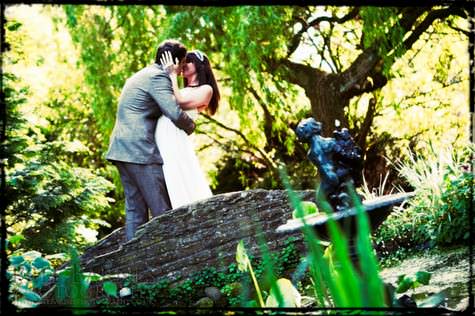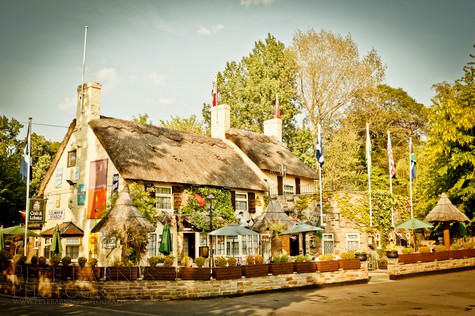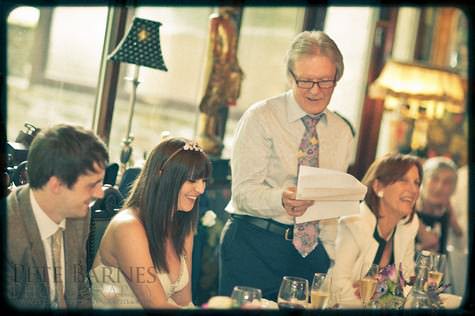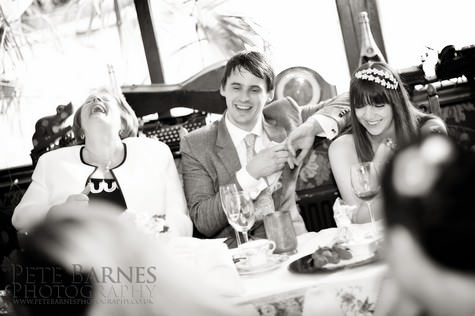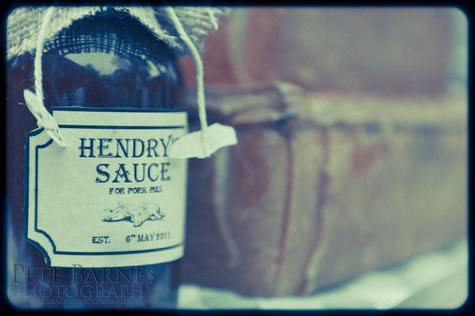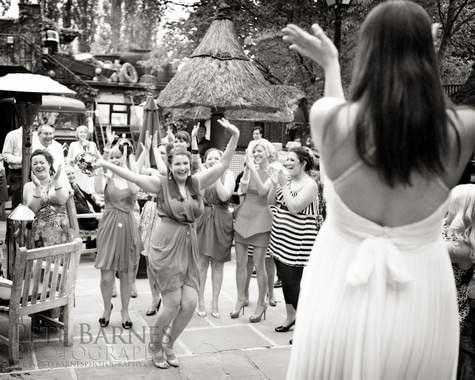 For more information on Pete Barnes Photography services go to:
www.petebarnesphotography.co.uk
www.petebarnesphotography.co.uk/blog
E: [email protected]
T: 01924 287433
M: 07922 533312
FACEBOOK
TWITTER