I'd like to introduce you all to Catherine Hughes from Ivy Clara make up styling. Catherine is one of my lovely sponsors and will be with us for the next few Fridays as she gives us a step by step tutorial in how to do bridal make up.
Catherine tells me:
As a makeup artist I help women enhance their natural features by using the correct products and techniques. A little know-how and product guidance can make the world of difference to your makeup regime, finished look and confidence. Over the next few weeks I will be sharing some tricks of the trade and product advice to help you glow inside and out!
This is the finished bridal look I have created and I will be sharing a step by step 'how to' on achieving this defined and enhanced version of yourself.
Be prepared
Start with a freshly cleansed and moisturised face. Take a piece of tissue to blot away any excess moisturiser on your T-zone to reduce shine.
Undercoat
Don't forget the primer! Primer is a must as it evens out skin tone, helps your makeup stay on longer and reduces the amount of foundation you need to put onto your skin. Use a foundation brush to apply the primer to your face. Start at the centre and work your way out blending right under the jaw line. Sweep the brush over your eyelids to help eye shadow stay put. If you have very oily skin, use a primer with oil control ingredients over the T-Zone. Smashbox primer goes on like a dream and evens out the complexion before you have even picked up your foundation!
Solid foundations
Getting the right colour is a must- especially when you're going to be photographed all day! Choose three colours of foundation you feel are the closest match and paint three stripes on your decolletage area. The colour that blends in seamlessly is the colour for you. Go outside into natural light to choose as harsh lights in department stores give inaccurate results. Apply the foundation with a brush starting in the centre of your face stretching the product out towards the edges and blend right under the jaw line. You can then build up the coverage by reapplying more, only where you need it. Don't forget to sweep over the eyelids to even out dark areas. You should go for a matt foundation but one with a hint of luminosity to create a natural finish. A particular favourite of mine is Chanel Pro Lumiere foundation
Don't conceal your identity
Concealer is an amazing product for banishing dark areas and blemishes but do not go over board or you'll create a mask. A good concealer is highly pigmented which means it covers a lot without applying a lot! Pat sparingly into the areas needed only and buff with a fluffy brush like the MAC 224 brush. This will create an air-brushed finish. Be careful with light reflecting concealers. They are amazing in natural light but because they contain major reflectors they can create 'halos' around the eyes when a photographer's flash is near! Mac studio finish concealer serves me extremely well for good coverage and a great photo finish.
Highlight your best bits
Proud of your great cheekbones or wish you had them? Highlighter lets you create them or simply show them off. Although light reflectors in certain areas do not look good when a flash goes off, on cheekbones and brow bones it certainly does! Pat in a highlighting product on the very top of your cheekbones and onto your brow bone to contour the face and create a healthy glow. Don't go overboard though as we're not talking the tin man look! Giorgio Armani Fluid Sheer is, in my opinion, the holy grail of bridal highlighters!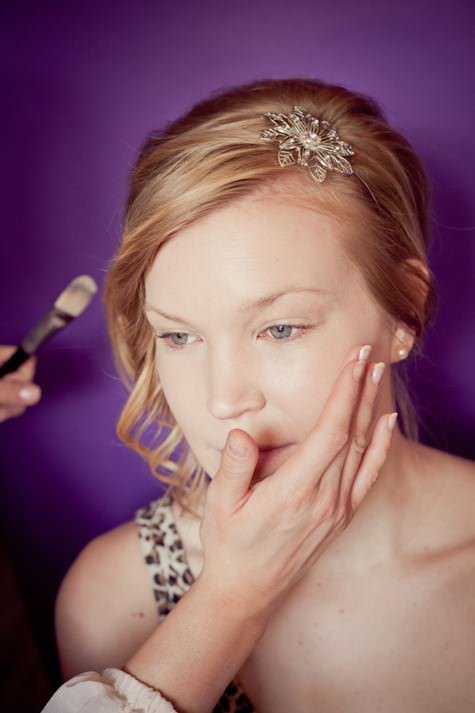 A powder such as Chanel Poudre Universelle Libre will be used to set the base…but not yet! Put your powder brush down until after you have finished your eyes. Any 'fall down' of your eye makeup can then be quickly cleaned up with your foundation brush, instead of creating a mess on your powdered and set face.
Thank you so much to Catherine for sharing her expertese with us today. Make sure you pop back next Friday for 'Alluring eyes!'
Hair and Makeup: Ivy Clara makeup and styling
www.ivyclara.co.uk
FACEBOOK
TWITTER
Photographer: Lorna Roberts
www.lornarobertsphotography.com
FACEBOOK
TWITTER
Model: Alex Outhwaite
www.starnow.co.uk/alexouthwaite