Happy Monday everyone, I do hope you had a lovely weekend and you are now ready for the week ahead of us, it's a busy one here at Boho HQ, what about you? We have some amazing weddings planned for you this week, starting off with this gorgeous same-sex wedding from Rob and Sarah Gillespie. Amelia and Leah held two ceremonies, a beautiful outdoor legal ceremony followed by a woodland pagan wedding ceremony. This was followed by a midsummer nights dream themed reception filled with beautiful lighting and amazing centre pieces. A magical wedding, filled with love, emotion and so many smiles.
Mystical circus, a saucy Midsummer Nights Dream and the worlds tastiest picnic the musical  
Amelia & Leah were married on the 11th June 2016 at Matara Spiritual Center, Gloucestershire. 'We loved the stunning scenery, pagan service and excellent food. We had 58 guests and the wedding took 2 years to plan.'
How they met
We met through a friend who knew two gay people and organised a night out! That was 6 years ago.
The proposal
Leah wanted to be the one to propose from the beginning and Amelia knew she wanted a creative proposal, in fact she said it would be a no if the question was asked in a restaurant. Leah therefore wracked her brains for a perfect setting and chose…. A Werewolf Horror Survival Experience!! Amelia got tickets for her birthday a few months previously and was none the wiser of the mystery plan, the day arrived and the pair joined others and were kitted up ready to begin. After a few nerves had passed (Amelia nearly pulled out of the experience), they had a wonderful time interacting with enormous werewolf looking actors and pummelling them with batons and shields. The finale approached and as Amelia sprinted round the corner to safety she was advised Leah had been captured by the werewolves! Without hesitation she double backed and ran right up to a wall of wolves screaming 'bring it on you b******s'! Before she knew it the line parted and Leah approached before bending to her knee with a sparkling ring. As the question was asked Amelia was so stunned she kept repeating 'seriously'? 'seriously'? Before finally saying yes and kissing her new fiancée.
How did you allocate your budget?
Countryside venue and lovely food and drink were our biggest priority. Our least important details were shoes (barefoot is better) and extortionate bouquets.
Where did you splurge and where did you save?
We knew we wanted the extremely talented photographers Rob & Sarah Gillespie, they stated the price, we found a way to afford it. We saved the pennies by making our own invitations, table places and names, our favours and bridesmaids jewellery.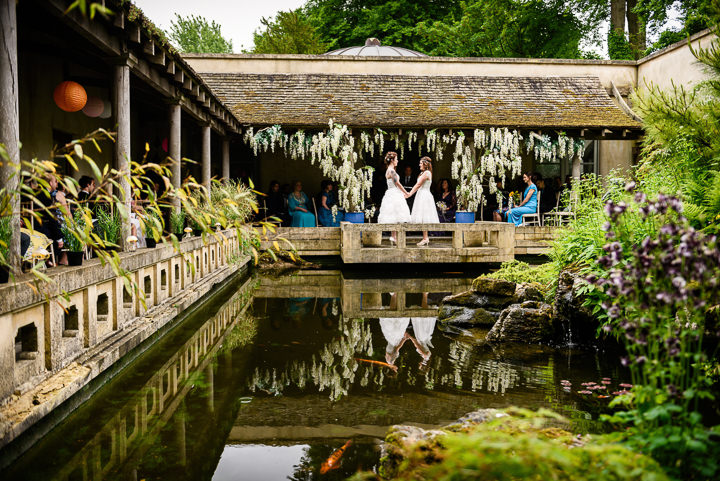 Why did you choose your photographer?
We were introduced to our wonderful photographers at a friend's wedding two years ago. We saw the finished pictures in a bespoke album and after that there was no question of us not having them at our wedding.
The Dresses
Both our dresses were purchased from 'Your Wedding Shop' in Birmingham along with Leah's shoes. Amelia's shoes were purchased from BHS.
The Bridesmaids
We wanted our bridesmaids to feel happy in their dresses, so gave them a contribution and a colour and asked them to find something they loved in their chosen style. These were purchased from an array of places including boutiques, high street shops and 1 via Ebay in India!
Theme or colour scheme
We chose turquoise / teal and sunshine yellow.
Flowers
Amelia & Leah both had wirework bouquets made by the very creative Gemma Crow. The bridesmaids carried sunflowers and the best men, fathers and ushers had buttonhole carnations.
Decoration
We had very colourful decorative ribbons, lanterns and umbrellas generously provided by Matara. We used Enchanting Trees for our table centre pieces. There were many quirky statues throughout the venue including a life-size metal giraffe; we placed a top hat on his head for the occasion.
Food
Canapes were served after the ceremonies with welcome drinks and these included spicy prawns, bacon wrapped apricots, pea and mint soup, crispbreads and hummus and red pepper arancini. The wedding breakfast starters were a choice of salmon fillet / goats cheese tart with walnut and pear salad (vege) or mushroom strudel with a piqant sauce (vegan) Mains: Fillet of beef with dauphinoise potatoes and seasonal veg, nut roast with dauphinoise potatoes and seasonal veg (vege) or Mediterranean spaghetti (vegan). Dessert was freshly made baklava with seasonal fruit and ice cream. For supper we served lamb tagine, forest mushroom lasagne and vegetable Thai green curry (with optional chicken). Crackers and cheese were also available in the evening along with cupcakes and wedding cake!
Although Amelia and her sister Hannah are vegetarian they chose the vegan option to include spaghetti as this is their favourite food on earth and Amelia was desperate to eat this on her wedding day.
Wedding Cake
The wedding cake was made by Amelia's mum Theresa. Cupcakes were provided by Holly, a bridesmaid.
Entertainment
Throughout the day we had a magician, Josh Brett of Deceptive Arts, an acrobat and fire performer, Rachel Baird and iRock, a cover band for the evening.
Stationery
We created all the stationery ourselves, nothing was outsourced.
Personal Touches
We made many things ourselves including the invitations, place settings, table names, the favours, the confetti.. I may have missed a few.
Special Moments or Highlights
The highlights were the pagan ceremony in the woods surrounded by family and friends, the loud laughter, spontaneous singing, endless hip-hip-hurrays and lots and lots of cuddles.
Advice for other couples
Be true to yourselves and make it special, never compromise your own happiness, make it as unique as you are together and above all.. take 5mins out on the day to be alone and contemplate the events whilst gazing into each others eyes.
Biggest Surprise
Being dropped by my bridesmaids during the 'lift the bride' photo on the lawn
Supplier Shout Outs
For more information on Rob and Sarah' work go to:
robandsarahgillespie.co.uk / robandsarahgillespie.co.uk/blogall

[jprel]