Yay it's Friday, I hope you all have that Friday feeling and are looking forward to the weekend? To finish off the week I have this rather magnificent Midsummer Night's Dream Wedding which has been sent into me by Paul Underhill. The bride and groom, Valentina and Thomas put together a stunning and very grand wedding, from the 12th century church to the amazing reception venue, to Valentina's Pink wedding dress. With lots of DIY details within the reception decoration, they managed to keep the budget down by calling in favours from friends and family. What a wonderful wedding to end the week with.
Dreamy. Spontaneous. An emotional rollercoaster!
Valentina and Thomas were married in front of 100 friends and family at St Nicholas Church in Winterbourne Kingston on 13th October. 'Thom's parents live at Winterbourne Kingston which is where Thom grew up. We felt it would honour them to get married at their local church. It is also very romantic to see the place where we married every time we come home to see the family. This beautiful 12th century church marked Valentina's official entry to the family and is very near to the family home.
Thom proposed on the 'Maya's calendar end of the world day' which was 10 months before the wedding. We were both working and studying right up to 2 months before the wedding, so detailed planning only began then. It was very hard work.
Everything in our life together came with 'love at first sight ' and this magic helped us to decide the right place for the wedding. 13 is our favourite number, 13 X 2 takes us to the day of our first date – 26th. We both wanted the date of our wedding to look special. 13.10.13 is a mirror date and October in 2013 had 13th as a Sunday. This date was meant to be!'
How they met
We work together in a large architectural company. There was only a small chance that we would meet and get to know one another. What really brought us together was Valentina  who organises after work events for colleagues and friends. She plans them regularly but, during that August in 2011, three times in a row nobody came except Thom. We spent three evenings together without realising they were dates! Thom asked Valentina out after the third 'date' just before her last train left for Gatwick to catch a plane to Nice where she was going to meet another date. Thom knew nothing about this but felt that he wanted to say something to Valentina. He gave a long heart-felt speech under the Shard. After this Valentina said 'Yes' and has stayed with him ever since. We walk 'hand in hand' through life and will do so for the rest of our lives together.
The proposal
Thom was working in Hong Kong for 3 months and that really bonded us together as we had not been separated for so long before. He was coming back for Christmas right before the 'End of the world by Maya's' calendar. He mentioned a Christmas surprise trip but insisted on blindfolding Valentina whilst bringing her to St Pancras. They boarded a train and when it moved, she could open her eyes. The train driver then announced 'welcome on board this train to Edinburgh!' and that's how it all started! It was a first class train with a hot meal and wine. Just before Christmas – the carriage was empty and the staff were very friendly as Thom had mentioned the purpose of the trip to them. 4 ½ hrs flew by and we stepped out of the train as dusk fell in the city. Valentina wanted to show Thom Edinburgh as he never been before though she had. She insisted on going up the hill first without realising that Thom had planned it all for the exact time of sunset that evening. We were on top of the hill enjoying the view when Thom went down on one knee and gave the second longest speech after which Valentina said 'Sure I will!. After the proposal we went to a very bohemian hotel with a booked suite filled with candles and a dinner with champagne for two in the room with a stunning view of the water! This is how our engagement began!
How did you allocate your budget?
We had to be very careful with our savings for 9 months in order to pay for the wedding. Half of the budget was for the reception including venue, drinks and food. As we were a long way from the ceremony venue we provided transport for the guests on a London bus which added to the amount. The ceremony included bell ringers and a choir in the historic church which cost about 10% of the budget. Photography was a similar amount.  The dress was really special and quite expensive but the grooms suit was hired and the bridesmaids dresses were bought on sale from the internet which helped massively!. We used local ladies help to decorate the church and had a lot of DIY throughout the day. We felt it was important to include the honeymoon cost in the budget. We went on a boat trip in Scotland to Loch Ness which was reasonably priced and cost us around 5 to 10 % of the budget. The rest of the money went on hiring suits and dresses, travel arrangements and entertainment.
How did you choose your photographer? 
We searched through many online and in person but as architects we have quite high standards for composition, creativity and colours. We loved Paul's blog and rang him to arrange a meeting. Once we met, we were sold, as Paul appeared to be a very nice person, he is very professional and electrified us with inspiration! We really loved our first engagement photo shoot of Lady Penelope and 007 which were superbly photographed with special moments or a smile caught at the instant they occurred. After that we had no doubt in Paul and trusted him to be our wedding photographer which proved to be an amazing choice.
The dress
Maggie Sottero Divina dress in blush and matching blush veil with diamante = the bride's something new. Vivienne Westwood and Melissa light blue shoes with red hearts = the bride's something blue. Thom's grandmother's diamond engagement ring = the bride's something old and borrowed. Handmade accessories of a butterfly brooch and pink feathers
The suit and the bridesmaids
The bridesmaids were cream and gold dresses that we bought and their own shoes + accessories. The groom wore a dark navy evening suit with pink waist coat (to match the dress) and bow tie.
Theme or colour scheme
We worked within a pale pink – mint – gold theme
Flowers 
We wanted herbs and flowers, many of which had a special meaning. It was a hand bouquet based on a variation of pale pink roses with main accent on grand piano roses. Astillbe and basil leaves were gently softening the grand appearance of the roses. The bouquet was tight with a matching the colour of the dress pale pink 5mm ribbon with a tiny bow and very long ends.
Decoration 
We had two bunches of balloons (pink-mint-gold), pale pink heather pots along the long (think Harry Potter) tables, tea light candles in golden glass holders, pine cones holding butterflies with names, neutral white picture frames with magical animals representing the number of the table), pale pink-mint-gold sashes on the chairs, a card-board cut out Queen next to the cake, and our favourite friend from the house – the animal toy – a small hedgehog that means a lot to both of us.
Food
Starter – baked goats cheese tart with roasted vegetables and tomato dressing. Main – rump of lamb with olive mash, braised green lentils and French beans. Dessert – raspberry crème brulee with fresh raspberries and raspberry dressing.
The wedding cake
The wedding cake was made by our two lovely friends. It was a sponge gradient (from deep pink to gold) pear cake with real fruit pieces and mint colour (not taste) meringue type icing and real mint leaves as decoration. We do not like figurines and instead had a large red heart-shaped lollipop on top. It had a very refreshing, almost sparkling, very fruity taste.
The entertainment
The theme for the wedding was Midsummer Night's Dream. The idea was to reach out to the magical child in every guest. We went for fairy tale feeling in everything – there was a live band barn dance with a wonderful caller, lots of props – from animal and Venetian masks to Darth Vader! There was silly games and a very beautiful firework display after the barn dance. Then we each made our own private wish as we floated lighted candles onto the ornamental pond outside under the stars.
Buy or DIY stationery?
DIY = we had pine cones from Thom's aunt's garden with a butterfly shaped name tag. We placed pots of flowering heather wrapped in gold paper for the decorations. The table plan consisted of mysterious fairy tale animal creatures. These were drawn on a table map held in front of the room – so each guests knew the location of their seat.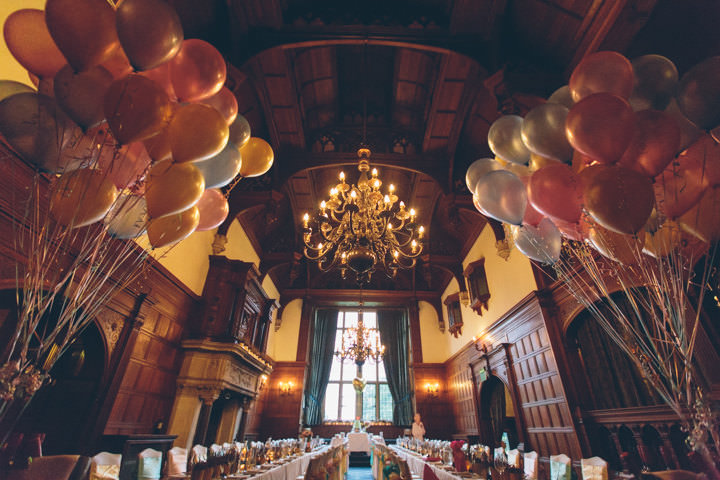 Special moments
Thom seeing Valentina walking towards him down the aisle. Seeing all the family, friends, many from abroad at the church all so beautiful, bright and happy. The moment of holding each other's hands for the very first time in the church. The ceremony went a little wrong when the vicar made a mistake and pronounced vows that we did not agree to. It was a moment when Thom and I right before becoming husband and wife had to test our relationship in front of all – family, friends, vicar, God, and ourselves. There was no room for anything but true. We could not speak, as it was the middle of the ceremony. Instead, the silent conversation of our eyes lasted a split second in which the whole lifetime was lived through. We saw it all in each other's eyes and our souls agreed to continue the ceremony as it is. It was absolutely beautiful as it made a recently rehearsed ceremony vibrant and added an extra layer of depth to the meaning of the vows. It was a very-very special moment that we will remember for always. This is when we both felt God being right there with us, blessing and leading our two hearts into a long life of happy marriage. Coming to the wedding breakfast room alone, before the guests and seeing all the DIY projects come together. It looked even better than we dreamed!
Advice for other couples
Do not try to put all your ideas in one day – try to enjoy its natural flow, the people who came just for you and each other. Give yourselves a lot of time to plan everything and accept all the help you can.
Biggest surprise
Being surrounded by so many great people at the same time, all truly happy for both of us. It was absolutely fantastic to feel so loved!
Supplier Shout Outs:
For more information on Paul's work, go to:
www.paulunderhill.com
FACEBOOK
@paulunderhill