Happy Monday everyone and how are you all today? I hope you all had a lovely weekend. We are starting off the week with this fabulous A Midsummer Night's Dream Meets The Great Gatsby Wedding from Joanna Nicole Photography. It's a full of fun wedding with amazing outfits and a real sence of community. Friends and family all pitched in to make the wedding a success, from DJs to the stationer, cake toppers to button holes, everyone got involved and the results are gorgeous.
Magical, dreamlike, filled with love, festivities and beautiful family and friends. It was a wonderful day filled with laughter, colour and joy.
Lucy and Rob were married on the 21st May 2016 at the Half Moon Inn, Ditchling Road, Plumpton. 'When we drove into the carpark and saw the quaint country inn, we knew it was the one. Then when we walked up to the meadow behind the inn and looked around at the backdrop of trees with the South Downs rising behind and our hearts sang. We just knew we had to have our Midsummer Night's Dream meets The Great Gatsby celebration here against this beautiful backdrop. We had 88 Day Guests and 35 Evening Guests and the wedding took 9 Months to plan.'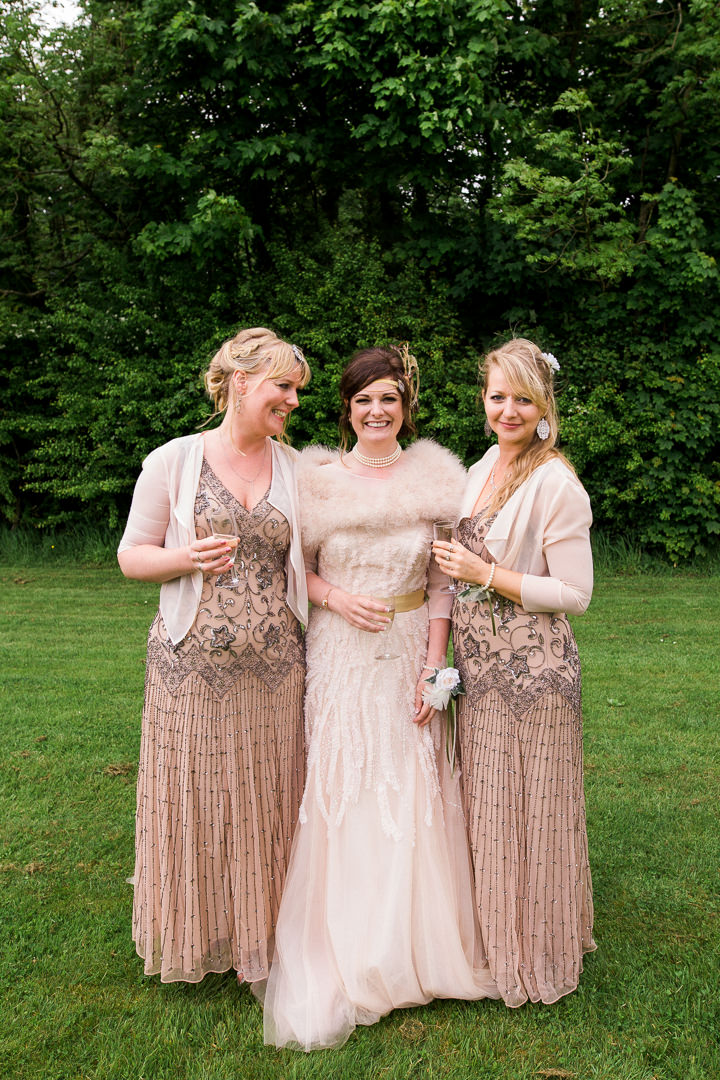 How they met
We met through mutual friends at The White Heart in Stoke Newington. We then cycled to the party and didn't speak at the party but then I was dancing on my own to Absolute Beginners by David Bowie, and Rob walked past and said, "are you ok?" to which I replied, "when I finally find a man that can handle me this will be the song I walk down the aisle to when I get married". At that Rob, who was very shy, came and danced with me. We had our first date which was incredible on 2nd July 2010. We've been together 6 years now. We got married after 10 months in a registry office but we didn't have the means, experience or knowledge of how to plan a wedding and we were both terribly shy back then. We were so, (and still are!) so in love we just wanted to be married.
The Proposal
We were throwing a birthday party for Rob, (we are two days apart) and at the party he felt that introducing me as his girlfriend didn't represent his true feelings for me, so he took me off to one side and got down on one knee and proposed! He proposed 7 months after our first date. I totally said, "Yes! But you have to ring my Dad tomorrow and ask for his permission!"
How did you allocate your budget?
We had a very clear vision of what we wanted for our special day. The theme, the invitations, the website, the material flowers, (as the thought of so many flowers losing their lives for one day made us a bit sad(!) We are massive hippies at heart!) and feather combinations which were to reflect the English countryside in both look and feel. We then allocated our budget accordingly but we were naive in a few areas when it came to cost, so we did go over budget but it was worth it.
Where did you splurge and where did you save?
We didn't really splurge actually, we are just too practical, and ended up getting everything for the best price we could possibly find. We saved on stationery as Rob is a whizz at Photoshop and because we built our own website. Also, Heather, my mother-in-law, created the stunning wedding arch, button holes and corsages. The wedding arch had real ostrich feathers from South Africa. We were concerned about food waste, so we had a dessert buffet that included the cake and that went down a treat. We also had poker chip drinks tokens in every guest's favour bag rather than wine on the table as many of our guests prefer ale or cider to wine. The evening entertainment was 4 of our fabulous DJ friends. We saved by having material flowers, rather than real flowers, which we then gave away as gifts to those who had helped us.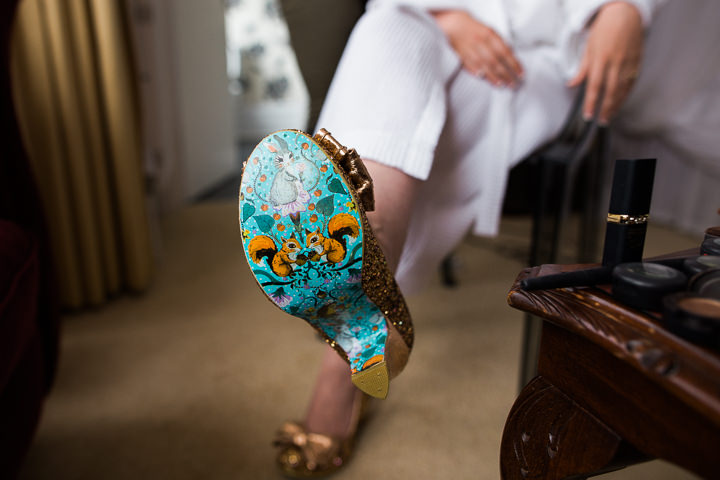 How did you choose your photographer?
We were so lucky, I have a fabulous friend of mine who is a wedding photographer and she put a call out in her circles and sent us a selection of photographers from our list of requirements. This massively removed the stress, as we had no idea that there are so many different styles of wedding photographers out there! We chose Jo as we loved her natural style and candid shots. She was perfect for our vision of capturing magical moments. Jo knew exactly what we wanted and captured the day perfectly.
The Dress
Peter's Bridal Warehouse. Peter and his team were incredible. I was looking for something different, dreamlike and sparkly and I found it. His team then added my creative touches of the sleeves and top, took the back down into the v shape and added the large gold bow. My feather shrug was also from Peter's and I couldn't believe it when the colours matched so perfectly. My stunning headdress was by Jordana Millinery, who is a friend and she also created my bridal bouquet and the terracotta welly centre pieces.My shoes were Irregular Choice! I LOVE Irregular Choice, so they were the only choice for me!
The Suit and Bridesmaids
The Groom and Best Man's suits were from Reiss, Covent Garden. The Bridesmaids dresses were from Nordstrom.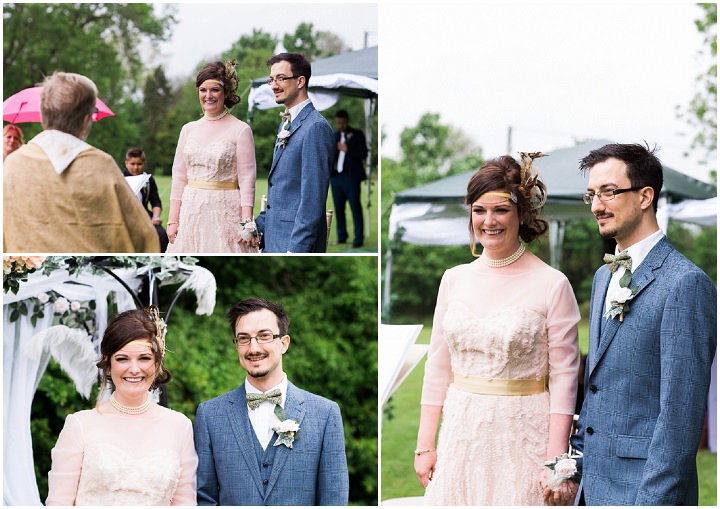 Theme or colour scheme 
As I mentioned previously, we had a very strong vision for the day which was A Midsummers Night's Dream meets The Great Gatsby. Rob and I love festivals and dressing up so much, we wanted to recreate a magical dreamlike day, that would vanish without a trace afterwards. We wanted our guests to step into a magical world full of festivities and fun. The colour scheme was sparkly gold, rose pink, cream, brown and a light green.
Flowers
Rob and I wanted to bring the English countryside into our celebration, so all the bouquets, buttonholes, corsages, centre pieces and my headdress were material flowers and feathers from UK birds.
Decoration
Ivy, roses, orchids, feathers from UK birds and ostrich feathers and pearls, daisies, pink heart balloons, terracotta green wellies, candles and jam jars.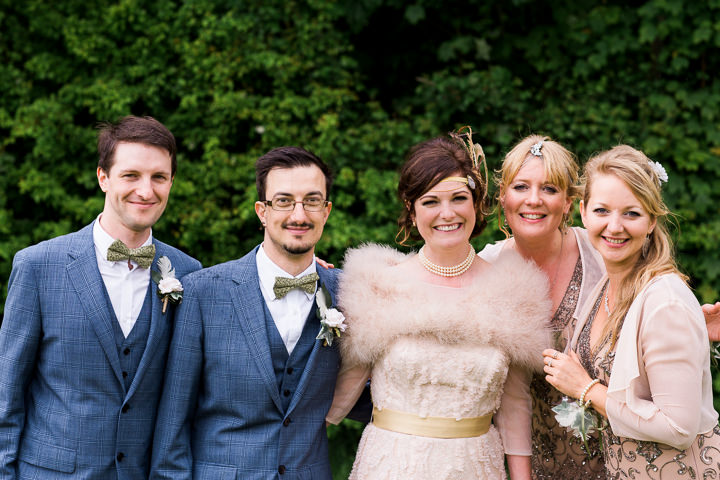 Food
We had canapes, followed by a sit down meal of Bangers and Mash and then a dessert buffet of a cheese board, a tower of profiteroles and vegan crumble.
Wedding Cake
We had a blueberry and vanilla sponge cake with ivy and Art-Deco sugar icing and we also had a smaller vegan cake.
Entertainment
We have some amazingly talented DJ friends who kindly played several sets ranging from 80's cheesy classics to Electro Swing, (which is Rob and Mine's favourite type of music.)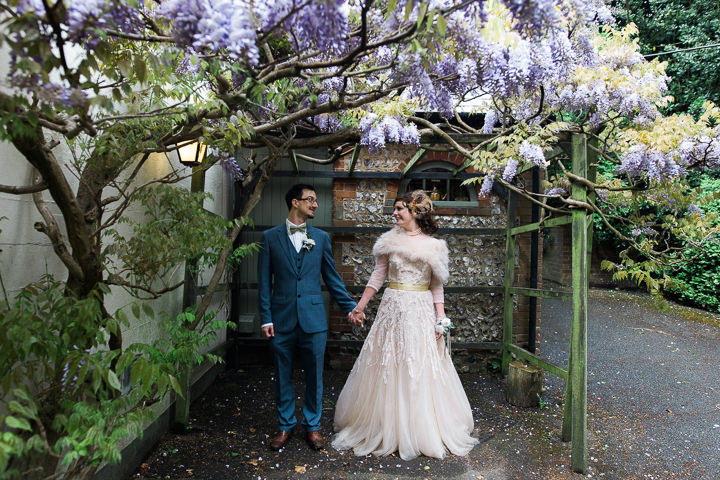 Who supplied the stationery?
We created all our printed stationery in Photoshop and had them printed at VistaPrint. For our evening invitations we designed and created an email template which we used for our evening invitations.
Personal Touches
We wrote our ceremony with the help of our OneSpirit Minister. We bought poker chips and placed them in animal print favour bags which guests could then use to exchange for drinks at the bar. The favour bags also contained bubbles and heart chocolates. Gemma, my bridesmaid, made our cake toppers. I designed the added touches to my dress. We both designed and created the invitations, the seating plan and our website. Heather created the buttonholes, corsages and wedding arch. The bridesmaids created their own bouquets.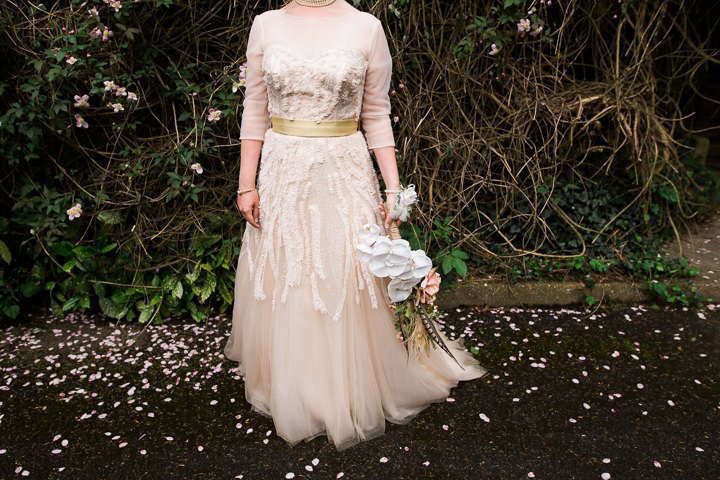 What were your special moments or highlights of the day?
Seeing all our friends and family going to so much effort with their outfits, it was just magical and in such a beautiful setting it blew us away. My grandad congratulating me with tears in his eyes. My Dad's father of the bride's speech. Rob says, "seeing my dress for the first time" and having our photos taken just the two of us, as we didn't know that the hyacinth was in bloom and it just added to the magic. The smiles on everyone's faces!
Advice for other couples
Hire a professional wedding photographer, you put so much time, energy and effort into the day that you want it to be captured forever. You can't be everywhere at once, so photos capturing those moments while you're not there as you've popped to the bathroom or something are great! Have canapes rather than a starter and offer a dessert buffet that includes your wedding cake to reduce costs and food waste. Also, we loved offering our guests a choice of what they wanted to drink for the sit down meal and our poker chips that were drinks tokens seemed to go down well.
Biggest Surprise
The amount of effort all of our friends and family went to with their outfits! We were totally overwhelmed; it was just amazing. They are all wonderful people that we are honoured to have in our lives and felt so privileged that they were able to come and celebrate with us.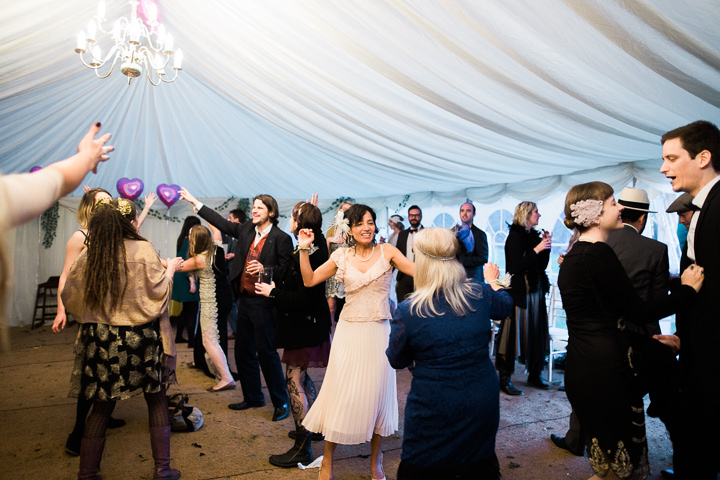 Supplier Shout Outs
For more information on Joanna's work go to:
www.joannanicolephotography.com / 07793037341 / Facebook / Twitter / Instagram
I am a creative documentary photographer based in London shooting weddings all over the UK.