Today I have something totally breathtaking and a real change from the norm. A secluded and remote location with the most amazing views. Shanna and Brian came all the way from Seattle to the Isle of Skye in Scotland for their beautiful Elopement. This wedding shows that you don't need fancy details and loads of decoration to have the perfect day. All you need is a beautiful backdrop and a whole load of love to create a dream wedding. Big thanks to Lynne Kennedy Photography for the lovely images.
'We married on a beautiful sunny day on the edge of a cliff on the magical Isle of Skye, Scotland. It was a deeply meaningful and intimate ceremony to celebrate our commitment to each other'
Shanna and Brian were married on 18th September 2015 at Dunscaith Castle, Isle of Skye. 'We wanted to marry somewhere which felt both familiar and different. Scotland shares a similar climate and landscape with Seattle. We had never explored that part of the world, so it felt like an adventure…the perfect way to start our new life together. Also, Scotland has a history, going back many centuries, as a destination for elopements. We chose Isle of Skye after searching for picturesque, remote locations which matched our sensibilities. One of the primary reasons we wanted to elope was so that we could be vulnerable and present with each other when we said our vows. I felt so open and ready to commit my life to Brian when I said my vows. We started talking about elopement almost a year before we married. We looked at different venues and restaurants around the Isle of Skye. But we really didn't start putting the pieces together until just a few months before we left for Scotland. We also needed to apply for a marriage visa eight weeks before the trip.'
How they met
We met salsa dancing in Seattle. We both registered on each other's radar but never had the opportunity to connect until we found ourselves on the same dance team. Our dance connection was so strong, which spilled over beautifully into our relationship. We celebrated five years together during our trip to Scotland.
The Proposal
Two months before we married, we spent 4th of July weekend away on an island here in the Puget Sound. I knew that was my time to propose. I didn't know where or exactly when, but I knew it would be that weekend. I waited for just the right moment. And waited. And waited. On our last night we grabbed two wine glasses and a bottle of wine in search of a beach on which to watch the sunset. We found a small private beach just before sunset. That would be the moment. My heart raced even though I knew her answer to my eventual question. I bent down on one knee, pulled out the provisional engagement ring I wove together from the grass on the island (we both decided much earlier we didn't want to do the diamond engagement ring) and asked. She said yes :) The next day we selected a beautiful silver engagement ring from the local farmers market.
How did you allocate your budget
We never had a clear budget. But still, we're frugal people and careful with finances. We spent up for Lynne Kennedy's photography. It was so important that we captured our moment for friends, family, and posterity. We spent up for our wonderful wedding meal at Kinloch Lodge. We made sure to pay for the best celebrant in Sonja. But we covered everything else on a standard traveller's budget, though we had flexibility in our spending knowing this trip was both our wedding and honeymoon.
Where did you splurge and where did you save
We splurged on Lynne Kennedy Photography. We also splurged on our wedding dinner at Kinloch Lodge, a Michelin starred restaurant on the Isle of Skye. The food was exquisite, the atmosphere was intimate and personal, and the location was convenient. It was the perfect first meal as husband and wife. We lodged using AirBnB and spent time researching ways to save while traveling in the area, including making reservations on transportation, identifying affordable restaurants in the area, and using travel rewards wherever we could.
How did you choose your photographer
We considered several photographers in the area but settled on Lynne after reviewing her portfolio and communicating over email. Lynne had such an easy-going personality which calmed us while planning our wedding from the other side of the Atlantic. We loved her attention to detail and her determination to get stunning scenic photos. We are so happy we chose Lynne.
The Dress
My dress was made by Fame and Partners. I bought it online through ASOS. When I bought it I never expected it to be as elegant as it turned out in person.
My shoes are the Layla ankle boot by Sam Edelman. I knew I would need to have something sturdy to cross the rocky and sometimes muddy terrain. But more importantly, my dad works at Sam Edelman and wearing those shoes made me feel like I was carrying him with me that day.
I wore a necklace made from the diamond of my grandmother's engagement ring to symbolize my paternal grandparents. My flower headdress was made by Serenity Crystal on Etsy.
The Suit and Bridesmaids
I bought a tweed herringbone suit from Walker Slater. Very Scottish. I special ordered the suit to the States and had it tailored here ahead of time. In this suit, I felt synced with my surroundings, which was important to me.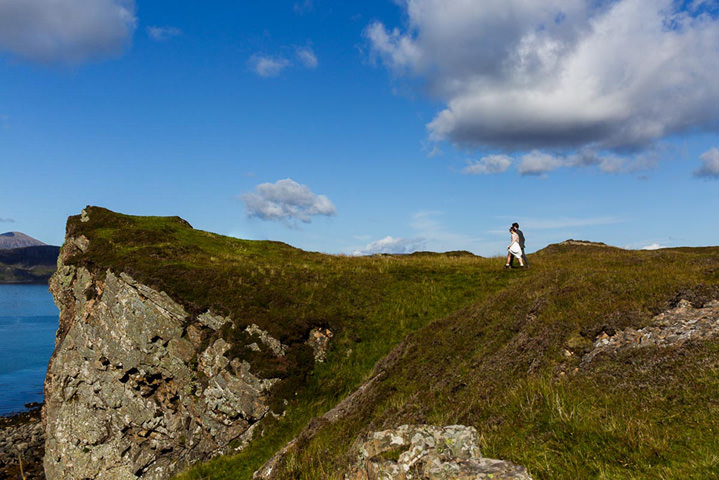 Theme or Colour Scheme
We didn't have any pre-determined color scheme. It was most important to us that we match our surroundings. We decided to make the bouquet and buttonhole when we arrived on Isle of Skye and relied on whatever was in bloom at the time. We were lucky to find such beautiful vibrant colors for the flower arrangements. We really wanted to keep things simple and classic so that the beautiful scenery would feature as prominently as we did in our photos.
Flowers
I made my bouquet and Brian's boutonniere the morning of our wedding day with flowers we picked together. This turned out to be one of our fondest memories. Brian had no idea what we were going to do with the flowers but was patient and helpful in picking out colorful blooms. Putting the flowers together felt like all the pieces of our lives were coming together in a beautiful and natural way.
Decoration
The only things I added to our ceremony table were a ring box from my maternal grandmother and a tiny model elephant. The elephant was a gift from my mother. I brought it with me so that I could have a symbol of her presence at our wedding.
Food
We ate at Kinloch Lodge. It was a beautiful and intricate five course meal. I absolutely recommend it to anyone who travels to the area.
Wedding Cake
This was my only bridezilla moment. I had this idea that we needed a cake and that we could buy it in Edinburgh, hand carry it with all our luggage to Isle of Skye on various trains, transfers, ferries, and keep it from getting stale until our wedding day—a bit crazy. My plan fell through when we couldn't secure our cake in Edinburgh. I moped for a couple hours. But I calmed after remembering our wedding wasn't about the food, and it certainly wasn't about cake! All of this is now a running inside joke of ours.
Entertainment
After our ceremony we played music for our first dance. We met dancing, so dancing has always been an important element in our relationship. Dancing in tall grass on uneven terrain provided more difficulty than we expected. But we had a playful and intimate dance nonetheless. We brought a speaker and played music from Brian's phone.
Personal or Handmade Touches
The personal touches were the items I brought to symbolize my family. I also made our Vow books. We spent a lot of time thinking and writing our vows so that we would truly dedicate ourselves on that day.
Special Moments
Picking bouquet flowers from the surrounding hills on our wedding day ended up being a lot of fun. The ceremony was deeply intimate and location was stunning. Our wedding dinner was outstanding. One funny unexpected: on our way to the ceremony location, we found ourselves blocked by a bunch of cows. We needed the help of the nearby farmer to put them back in their pasture. When we passed, the cows moo'd louder, as if they want to be part of the festivities.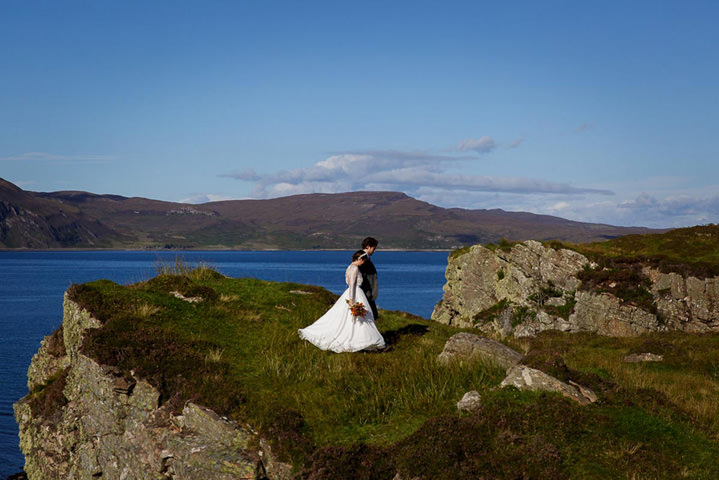 Advice to other couples
Your wedding is an important day and it should be about you and your partner, whatever that means or looks like. For us eloping was absolutely the right decision. Stay true to yourselves. The best part of our wedding was feeling so open and connected. That could only have happened because we stayed true to what we wanted and needed.
Biggest surprise
I was surprised how quickly the day passed. I've heard others say this about their wedding days. But I figured that was because of all the freneticism in a traditional wedding. I was surprised by the absolute peacefulness I felt during our wedding dinner. I expected more personal awkwardness at my first Michelin-starred restaurant. But I was on a cloud.
Supplier Shout Outs
For more information on Lynne's work please go to:
www.lynnekennedy.co.uk / @skyeweddings / PINTEREST / GOOGLE+ / FACEBOOK

[jprel]