What a shoot I have for you today! If you are looking for elopement inspiration then this gorgeous styled shoot is just for you! Keihona and Isaiah are a real life couple which is what makes this shoot so special. It is shot like a real wedding, from the gettng ready shots to the intimae ceremony, the first look to the cake cutting. The whole relaxed vibe of the shoot is down to the couple and of course Taylor Denton Photography. The shoot took place on 3rd April 2022 on the Oregon Coast, it was a day filled with varying weather including rain. However this didn't put anyone off, they embraced the rain and ran with it. This is a beautiful shoot, filled with tender moments and some gorgeous inspiration.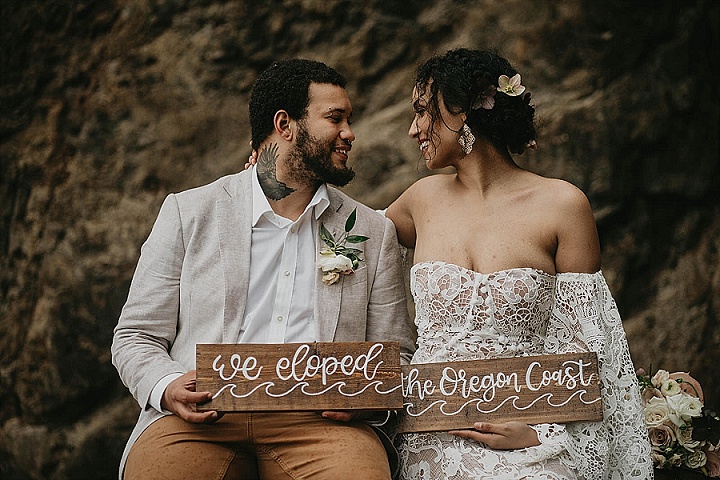 Taylor tells us more about the shoot
Keihona and Isaiah's rainy Oregon Coast elopement was absolutely incredible! Although this was a styled shoot, we wanted the day to feel just like a real elopement so we started it off with getting ready photos and a first look, followed by adventure photos on the coast. I teamed up with some of the best Oregon Coast elopement vendors to pull off this incredible day!
For this spring elopement shoot, Keihona and Isaiah started off their day getting ready in a cabin by the water in Rockaway, Oregon.
For their first look, we chose a spot in the tall grass just outside the cabin. Isaiah was so excited to see Keihona and his reaction was so incredibly sweet.
Keihona and Isaac's adventure photos took place on the Nehalem River in a kayak that we had rented. These photos were so much fun and represented one of the unique ways couples can add meaning into their elopement day!
After kayaking, we headed back to the cabin where pizza and beer were waiting. The couple shared lunch followed by their cake cutting.
While we were inside it started to rain, but we didn't let the weather stop us from venturing out to the beach for some couple photos and a vow ceremony. The thing about eloping in Oregon is that you never quite know what weather you are going to get. I always advise couples to just embrace whatever comes their way because that's where the magic happens!
This rainy elopement styled shoot was absolutely magical! Keihona and Isaiah are absolutely incredible humans whose love shined through the rain! A special thanks to all the incredible Oregon elopement vendors, who helped bring this magical day to life!
Supplier Shout Outs
Taylor Denton Photography