Today I have a real treat for you in the form of this rustic glam Washington State wedding, which was sent into me Tamara Nicole and captured beautifully by Jaquilyn Shumate Photography. Drew the bride had a clear vision of how she wanted her wedding and with the help of Tamara, this vision was brought to light. She wanted to incorporate the blues and greys of the winter landscape and mix these with metals, foliage and other beautiful items. The outdoor ceremony is stunning with an outstanding backdrop and then these colours are mirrored when the cerebration goes inside with metallics, sequins and some beautiful flower arrangements. Throw in a hot chocolate bar and the most beautiful dessert table and you have a wedding made in winter heaven!
'Our wedding day was everything we hoped for: warm, intimate, and romantic, in a setting that juxtaposed ruggedness with luxury. The venue provided the amazing backdrop to a day filled with love and laughter shared between all of our nearest and dearest'
Drew and Scott were married on 21st February 2015 at Cave B Inn and Estate Winery. 'We wanted a small intimate wedding that had a destination feel but was still accessible to all of our family and friends. We knew that a greater percentage of guests decline invitations to destination weddings for logistical reasons and we wanted to ensure as many of our loved ones as possible could attend. Cave B, nestled in the east side of Washington State, is close to home but feels a world away given the dramatic landscape. It was this beautiful, spartan backdrop that made Cave B the only choice for our wedding. The Inn and Winery at Cave B are perched above the Columbia River and boast dramatic views of rugged canyon terrain, blue river, and a sunset painted sky. It is the perfect setting for a romantic and intimate wedding. We fell in love with Cave B when we visited for our one year anniversary as a couple and it seemed only fitting that it served as the venue for our wedding. We had a total of 60 guests. Scott and I had been dating for about 5 years when he proposed so I have to be honest and say I had been mentally planning the wedding long before the proposal but actual logistical planning began about 10 months before the big day.'
How they met
We met in High School through mutual friends. Scott joined our group for lunch one day I cheekily dangled my hand out to him and without missing a beat he kissed it. We've been friends ever since. Our relationship felt a bit like When Harry Met Sally or Emma and Mr. Knightly. Scott was prepared for more than friendship when we first met, but I was slow to the party, fortunately he became the best friend I could ask for over the last 16 years. I've known him half my life and love that I get to be married to him for the rest of it.
The Proposal
Scott proposed to me on a slim outcropping of rocks in Larabee State Park just off of Chuckanut Drive. This beautiful setting is about ninety miles north of Seattle and a place we spent our first month together transitioning from best friends to boyfriend and girlfriend. Scott was finishing a second degree in college and I was traveling for work. We had a short time to spend together before I hit the road again. It was a romantic and peaceful time. 5 years later we returned to that same park and the same rocks. He dropped on one knee and told me he had been waiting for this day since the first day we met when we were 16.
How did you allocate your budget
A majority of our budget was allocated to catering, floral, and décor. The second largest portion was spent on entertainment and photography. It was important to me that the venue look amazing and magical and that the food and drink satisfy and wow the guests.
Where did you splurge and where did you save
We definitely splurged on chairs! My mom and I have a thing for chairs. We would go to weddings and see beautiful linens and flowers and then old, mismatched, or white plastic chairs to accompany them. The chairs always have the ability to throw the whole look off. Needless to say I had to special order gold Chivari chairs. We really saved on the venue and catering in that they were discounted at a winter rate. I always envisioned a winter wedding and the season was my first choice. For brides looking to find a discounted rate look for off season pricing and avoid busy summer and holiday weekends.
How did you choose your photographer
We chose Jaquilyn Shumate Photography because her photos absolutely wowed me. I love how Jaquilyn and her husband Travis can capture the mood and heart of moment in a way that is completely unobtrusive. Their photography has a natural and candid feel that I adore. They also edit all of the images themselves, ensuring that every photo stays true to their artistic vision.
The Dress
My dress was a romantic black tulle strapless number by Jenny Yoo. I have never been one for too many accessories so I kept it simple with some small black and gold Kate Spade earrings, a gold laurel leaf headband from Nordstrom, and a second hand fur stole purchased from Goodwill. My shoes were crystal sparklers that evoked the 1920's and were made by Betsy Johnson.
The Suit and Bridesmaids
I really love the look of colour coordinated but non matching bridesmaids dresses. I gave the bridesmaids free reign over their dress choices. The only specification was that it be long and in a lighter shade of silver or grey. Their choices were beautiful and unique we had one in a strapless light silver gown and another in a darker silver sequin gown. They were all tied together by the black faux fur stoles I gave the ladies in their gift bag. Scott picked out a fun and formal velvet sport coat for him and groomsmen. Their jackets had a lovely velvet sheen and paisley pattern. The added their own black slacks, dress shoes, white button up, and Scott provided a black tie.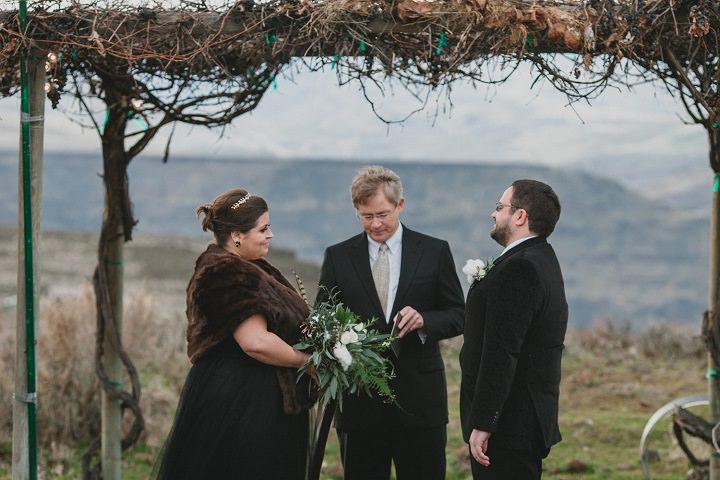 Theme or Colour Scheme
I love the juxtaposition of rugged, worn, spartan landscapes with elegant and romantic accents. It was from this winter landscape that I drew inspiration. I wanted the winter feel without tying the event to Christmas time. My planner Tamara helped me to create a beautiful palette of mixed metals to compliment the blues, greys, and golds of the landscape.
Flowers
We wanted to incorporate blooms that provided a fresh pop of color but stayed true to the concept of rugged elegance. I worked with my florist Eleanor from Bash and Bloom to create a unique, romantic, organic, and wintery bouquet featuring raw cotton bolls on the stem, a few large white Garden Roses, some Anemones with dark centers and lots of accents including Eucalyptus, Dusty Miller, berries on the branch, ferns, and feathers and with stems wrapped in a brown velvet ribbon with tails. It was the perfect mix of wild, lush, and romantic. Eleanor made the most glorious and textured garlands of evergreens, ferns, eucalyptus and olive branches to hang over the reception. The centerpiece were a work of art as she took tall gold candelabras and gave them a crown of white cotton bolls with accents of eucalyptus, olive foliage, and berries on the branch amongst multiple white taper candles. The foliage wound down the candelabra stem and draped onto the tables, providing a garden feel.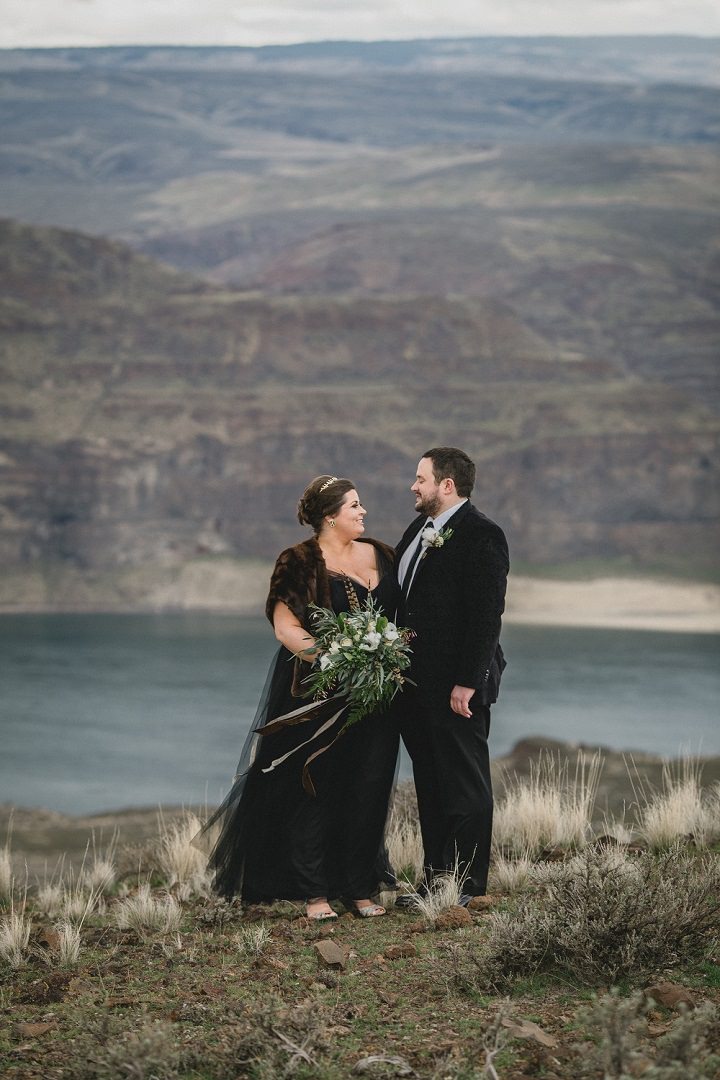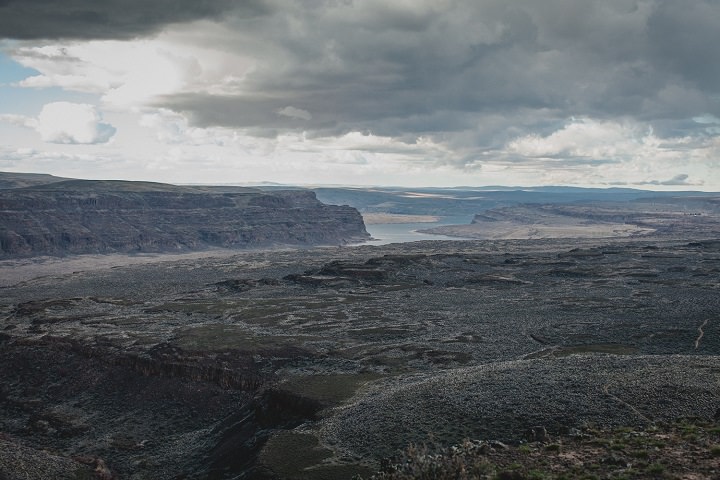 Decoration
Tamara really helped me hone in on the vision I had for the reception. We worked to create a bit of Imperial Russia, think Anna Karenina mixed with the greenery of country wedding accents, so think Anna visits her country dasha with the fine china. The green garlands strung across the room gave the setting a fresh intimate feel while the statuesque gold candelabras brought drama and elegance. My favorite part was the effort Tamara put into lighting the candles early to create a romantic feel with dripped candle wax. We incorporated silver mercury glass votives at the dinner and cocktail tables, smaller arrangements of cotton and greenery were placed throughout the venue. As guests walked in they were greeted by two large iron trees that were painted gold. On the branches we placed escort cards and glass orbs with tea lights. The linens were beautiful. We ordered a few accent copper sequin linens for the dessert table and DJ table. The dinner tables were covered with a lovely blue grey linen and then a piece of white tulle was placed on top to complete the look. They looked stunning in candlelight. The table was so beautifully decorated that I had to rent gold rimmed plates and wine glasses to complete the setting.
Food
We loved the feeling of a sit down dinner versus a buffet but wanted to continue the feeling of intimacy and warmth throughout the day so we elected to serve dinner family style. Our guests enjoyed duck wontons, pork belly, and other delicious hor d'oeuvres during our cocktail hour in the inn lobby. Guests then made their way to the estate room and were served, beet and feta salad, Caesar salad, gnocchi with pancetta, halibut in a lemon cream sauce, and braised kobe short ribs.
Wedding Cake
A running theme throughout the wedding was guest satisfaction, or how can we wow and spoil our lovely family and friends. We decided a dessert bar would do just that. We offered chocolate covered strawberries, pumpkin cookies with cream cheese frosting, mini chocolate mousse parfaits, and a variety of cookies.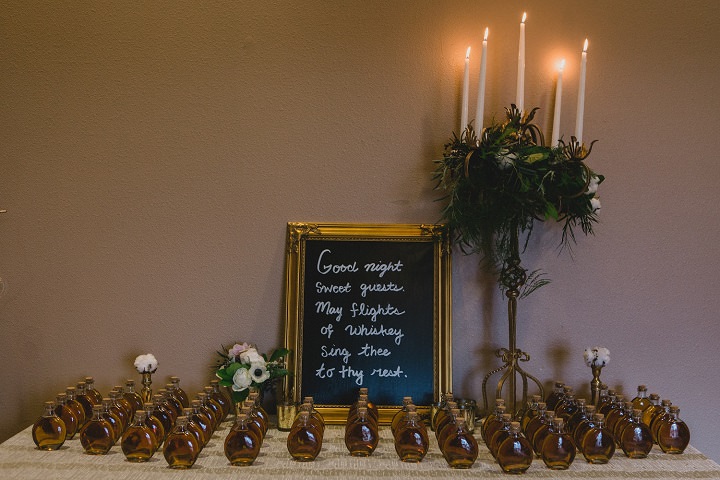 Entertainment
I am a lover of the American Songbook. Anything that evokes the big band era, jazz, or a crooner and I'm a goner. At a wedding vendor expo I stumbled upon a jazz quartet dressed in 1940's attire and I fell in love. We hired them to entertain the guests as they arrived at the ceremony and sipped spiked hot cocoa, they played some of my favourite old standards as we walked down the aisle and then they put on a great show during our cocktail hour. At our reception we had a wonderful DJ play a mix of decade classics and the songs we loved growing up.
The Stationery
Wedding Paper Divas
Personal or Handmade Touches
As I mentioned the guest experience was an extremely important part of our wedding. We wanted our guests to feel special. Two personal touches that my bridesmaids, mom, and I made were the welcome bags and the wedding favors. Our wedding welcome bag had all the essentials for the night of and the morning after and the favors were apothecary bottles filled with whiskey. We had a blast putting them together and as a sign of how well we know our friends, I have to say a few favours were opened early.
Special Moments
A highlight was the big reveal of our reception décor. The centrepieces, garlands, and linens looked stunning. Our planner Tamara knocked it out of the park. It was so beautiful and unique, that many of the venue staff were taking photos of all the splendour. I loved seeing my vision translated to something beautiful. A special moment occurred when I looked up mid laugh to see all my friends and family wildly celebrating on the dance floor with Scott and me.
Advice to other couples
Your wedding day will fly by in a joyous blur. It absolutely will feel like a whirlwind. Every couple should make a plan to step away for a moment. Find a place slightly removed yet still in sight of your reception and take it all in as a couple. Also, when planning, ask yourself how each choice benefits your guests. There will be some things that should decidedly be about you but remember to think of the guests. After all, you can have the most beautiful wedding but if your guests aren't enjoying themselves it really takes away from your experience.
Biggest surprise
The biggest and best surprises of the day all were personal poetic ones. Some of the people I love most surprised me with the sweetest words. My future husband had two of his groomsmen deliver a handwritten love note the morning of our wedding. It was the perfect start to our wedding day. At our reception my sister and my best friend both spoke. My sister was so nervous about her speech and my best friend, being a lawyer, is a wordsmith. It turned out my sister killed it with an amazing and touching speech while my best friend resorted to sobbing in the mic. Both speeches were absolutely perfect representations of our love for each other and their happiness for Scott and me.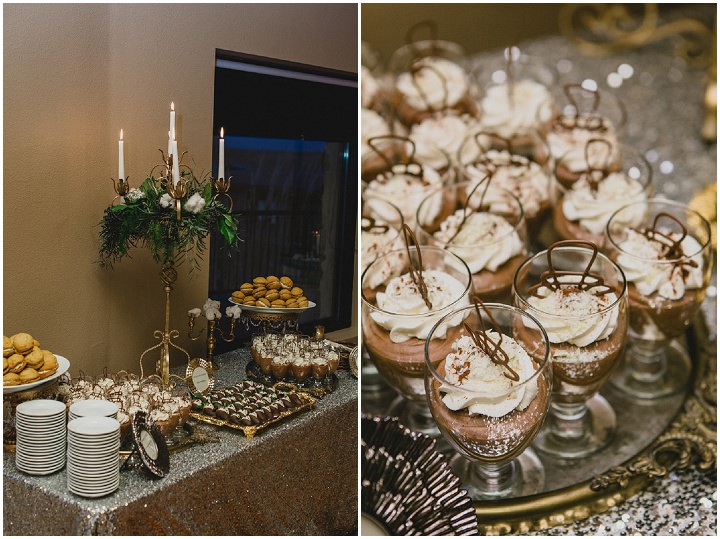 Supplier Shout Outs
For more information on Jaquilyn work please go to:
www.jaquilynshumate.com / @jaquilynshumate /
For more information on Simply Tamara Nicole's Planning work please go to:
www.simplytamaranicole.com / www.simplybytamaranicole.blogspot.com / 888.220.2651 / FACEBOOK / @TamaraNAnderson / I:simplytamaranicole / PINTEREST
"Simply by Tamara Nicole is a Seattle wedding planning and design company that LOVES to make it all about the couple. Discovering ways to bring out your personality and relationship through the decor, colors, textures and details is our specialty. Our weddings and styled shoots have been featured in print and well known blogs all over the world. Although organized and detailed, Tamara Nicole and Claire are relaxed as can be during the planning process, and always down for a fun coffee, cocktail or treat while helping you plan your BIG day and find the best vendor team to do this with!"