Happy Friday everyone, I hope you are all well and happy and looking forward to the weekend ahead! I am very excited as Nik and I are having a little weekend trip away, just the two of us to Oulton Hall. It's been a pretty busy time for both of us, so we are looking forward to some time to relax, eat, drink and unwind, I really can't wait!
Before all that though I have this gorgeous California wedding for you, filled with bohemian charm and so many pretty details. Lori from Images By Lori sent me in these beautiful sun drenched photos, and I just love the whole wedding, I hope you will too!
'Our wedding day represented who we are, together, as a couple. It was fun, relaxed, intimate, whimsical, and full of love!'
Sheila and Matthew were married on 20th June 2015 at Capay Oaks Farm in Guinda, California. 'Matthew and I were both born and raised in Oakland, CA, where we now have a little home-scale urban farm complete with fruit trees, veggie beds, chickens, and honey bees. For our wedding day, we wanted nothing more than to take our love to the country and wed at our close family friends olive oil farm, Capay Oaks Farm in Guinda, CA. We had about 170 guests in total. When we got engaged in July 2014, we already knew we had the venue so the rest of the details really came together over six months'
How they met
Having grown up in the same city, Matthew and I could have crossed paths so many times. In fact, before we met, we discovered we used to walk the same golden retriever, Dakota, for a mutual family friend. However, we finally met in December 2007. Matthew was in college studying architecture at Cal Poly in San Luis Obispo, CA and happened to become roommates with one of my best friends. We were instantly drawn to each other and a few days after meeting we went on our first date, taking that same dog for a long hike which turned into dinner, and a movie and so much more. We made it work between San Luis Obispo and Oakland until we moved to Paris together in 2010 and spent a year abroad traveling and learning so much about each other. Now, eight years later, we're back in our home city building a beautiful life together.
The Proposal
Matthew proposed on warm summer day. We went for an epic hike and took a moment to rest in a beautiful grassy meadow. He asked me to close my eyes and when I opened them he was on one knee with a small wooden box in his hand and began to tell me how much he loved me and asked me to marry him. As he tells it, I replied. "hell yes!"
How did you allocate your budget
We were very lucky to already have a venue so we were able to use our budget for things that really made the day special, great food, drink, music, decor, and vendors.
Where did you splurge and where did you save
We saved by doing a lot ourselves, but it meant a lot to us to source things local and seasonal, so we splurged on on a family style meal, quality wine, and amazing vendors.
How did you choose your photographer
Lori is amazing. She has the sweetest soul, she's laid-back, creative, patient, kind and she also had her own flock of chickens!
The Dress
My dress was a local bespoke creation thanks to the amazing, Anne Ventresco, who handmade it to perfection. My dear and talented friend, Pia Ashley, made my earrings, body chain, as well as all the earring I gifted my bridesmaids. The anklets I wore, were from Forever Soles.
The Suit and Bridesmaids
The groom and groomsmen wore Egara suits and the bridesmaids wore eclectic neutral tops with matching silk chiffon maxi skirts in deep teal for a relaxed boho vibe.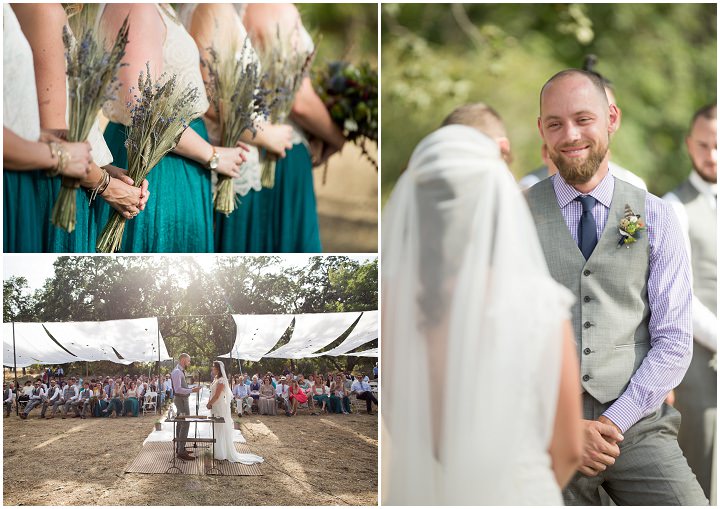 Theme or Colour Scheme
Rather than choose a wedding pallet or décor right away, we chose natural materials and elements we wanted to be surrounded by: feathers, antlers, river stones, lace, and metal. Using these materials, we created everything for our wedding.
Flowers
We sourced all seasonal blooms from Full Belly Farm, which is just up the road from our venue. To reduce cost we gathered friends and family the day before and made all the arrangements together if was such a fun and a great way to kick off the festivities.
Decoration
We have a mutual love of making, sourcing local, and all things nature, and we wanted to incorporate these elements into every detail of our wedding day – the boutonnieres had feathers from our city chickens, the table numbers were hand painted river stones we collected on the property, family and friends gathered the day before to arrange the bright seasonal blooms that were sourced up the road from Full Belly Farm, and guests took some sweetness home with jars full of honey from our own bees.
Food
We enjoyed a delicious, seasonal, locally sourced meal served family style at one long table. On the menu was a stone fruit and red wine slow braised brisket, white bean and herb salad with chioggia, golden beets, and toasted almonds, a farrow and fennel salad with shallots and herbs, and a mixed green salad with tri color carrots and watermelon radish. In addition to the wedding cake, we had assorted cookies made with love by people we love.
Wedding Cake
The groom's mother made a Norwegian wedding cake or Kransekage cake. It's an almond flavored cake made up of a series of 18 concentric rings layered on top of each other in order to form a steep-sloped cone shape that is stuck together with icing. It's tradition for the bride and the groom to lift the top ring at the same time and however many stick together indicate how may babies they'll have. We're destined for three babes!
Entertainment
In addition to dancing and a DJ, we had a rustic handcrafted game of corn hole set up on the lawn for big and little kids alike to enjoy.
The Stationery
We designed our own wedding stationery. Matthew painted the watercolor that was the background of our invitation, we had them professionally printed and I did all the calligraphy.
Special Moments
We wanted to choose songs that were unique and special to us. Matthew, guided by his parents and our bridal party, walked down the aisle to Me In You by Kings of Convenience. As my parents walked me down the aisle, the song transitioned to an acoustic guitar version of Here Comes The Sun by George Harrison.
After we were pronounced husband and wife, "Lovin Like This" by The California Honeydrops played. The upbeat, bluesy tune kicked off our musical parade from the ceremony site to the reception. Our entire bridal party lead the way and guests followed with an eclectic assortment of music makers in hand. It was magical!
Advice to other couples
As far as advice for couples planning now, always remember the real reason why you are doing this: The day, the moments, are about the union with the love of your life. The details should be a reflection of who you are as a couple and your values. If you stay true to that, everything will be pure magic!
Supplier Shout Outs
Photography – www.imagesbylori.com
Venue – www.capayoaksfarm.com
Catering – www.stonesoupdavis.com
Dress – www.anneventresco.com
Brides rings – www.jenburralldesigns.com
Grooms ring – www.pointnopointstudio.com
Music – www.djvinnie.net
Hair + Makeup – www.lenachavez.com
Hair + Makeuphannah – www.angelawomack.com
Floral – www.fullbellyfarm.com/events/full-belly-floral
Rentals – www.elitepartyrent.com
For more information on Lori's work please go to:
www.imagesbylori.com / [email protected] / FACEBOOK / I:imagesbylori