Happy Wednesday everyone! I hope the week is treating you well so far and that you're coping with the wind! Looks like Autumn is definitely here after that lovely weekend of sunshine we had! Today I have this stunning farm wedding from California to share with you, and it's a real treat for the eyes. Emma and Zachary were married on 11th June 2017 at Bates Nut Farm, California. They chose to hold their wedding outdoors under the sunny Californian sky and the results are this beautifully rustic day filled with amazing details, fantastic decoration ideas and so much love for each other. Tender moments followed by so many smiles, an abundance of fun and of course a whole heap of love, this is what today's wedding is all about! Big thanks to Sarah Seashell Photography for capturing the day so perfectly.
OUR BEAUTIFUL SUMMER BOHO FARM WEDDING
More about the wedding from Emma the Bride
It was along the Mediterranean Sea in the country of Israel that we first met. This set the pace of our relationship to always be filled with adventure and spontaneity! The sweetest thing was to call each other "best friend" throughout it all.
Our wedding was under the summer green trees, with passing cool breezes, as we made a promise before each other and God. With family and friends near we danced the evening away under the glow of stringed market lights. Our wedding day was pure bliss! We by no means think we are perfect though, we know ourselves and each other. There were joyful days, and days riddled with tears leading up to this. However we wholeheartedly believe it is the imperfections and the grace of God that make our story perfect. This is US.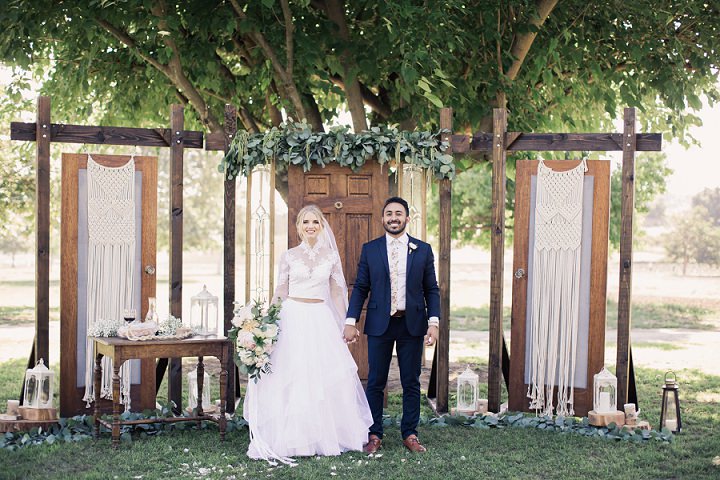 SUPPLIER SHOUT OUTS
For more information about Sarah's work go to:
www.sarahseashell.com / www.sarahseashell.wordpress.com / FACEBOOK / INSTAGRAM