Happy Monday everyone, I hope you are all fit and well and had a good weekend? We managed to get a bit of sunshine up here in Sheffield which was lovely, so I hope you did too. We have another busy week planned here on the Blog, starting off with this wonderful wedding held at Pinewood Studios that has been sent into me by the amazing Ed Godden Photography. It's a spring wedding, so it's full of lovely yellow details, along with some rustic touches. I am loving the groomsmen's bow ties, along with the bridesmaids gorgeous dresses. I hope you enjoy it a much as I do.
'It was a chance to get all our favourite people together to eat, drink and party! We wanted it to be laid back and fun for everyone'
Joy and Ben were married on 28th March 2015 at Heatherden Hall at Pinewood Studios. 'Strangely enough, I suggested visiting the venue because they had a wedding fair on. Ben has worked there many times, and wasn't really interested for that reason – but when he met the coordinator and saw the amount of space available, he was sold on it! We had 90 day guests and invited an additional 180 to the reception. We booked the venue about a year in advance. However, we honestly didn't start putting it all together properly until the final few months before.
How they met
Haha.. we met in a dark, sweaty metal club called Schism. We were both designated drivers for the night, and got talking by total chance. (I say chance – I had pointed Ben out to my friends as the only attractive person in the club!)
The Proposal
Ben suggested a weekend away in Kent, as he'd spent a lot of time on location there and wanted to show me the places he'd visited. Apparently he spent the whole day trying to find the right moment, but didn't get the chance until the evening. He got down on one knee while we were walking along the pebbles on Whitstable Bay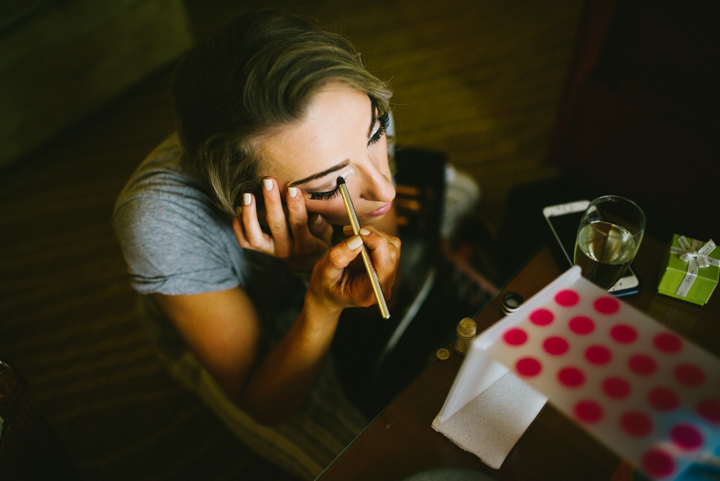 How did you allocate your budget
We had a rough idea of a budget at the beginning, based on what friends had spent on their weddings. That soon went out the window! So we knew our biggest cost would be the venue, because they did everything in-house – which made it easy to track for us. Everything else was bought/paid for on an ad-hoc basis, which was possible because of Ben working freelance.
Where did you splurge and where did you save
I think the extra food and drinks we added to the day were the biggest splurge… but we were really lucky to have friends that could help by making our cakes, giving us a good rate for their band to play and booking/ordering things at wedding fairs. We saved a good percentage on the venue and my dress by booking them at fairs!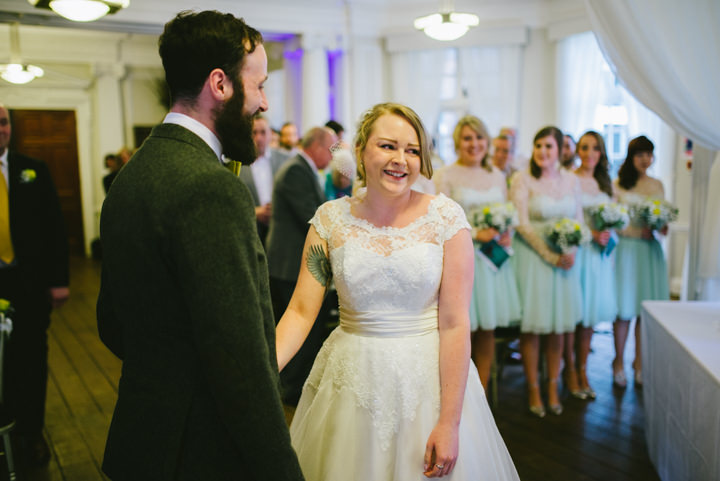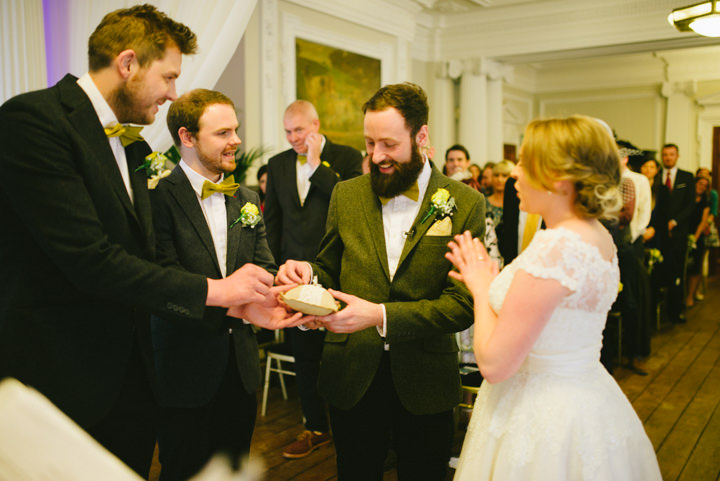 How did you choose your photographer
Well I was lucky to have worked with Ed many years ago. So I'd always kept in touch and followed his work. I only had to show his website to Ben, and he absolutely loved Ed's style. So that was probably the easiest choice we made!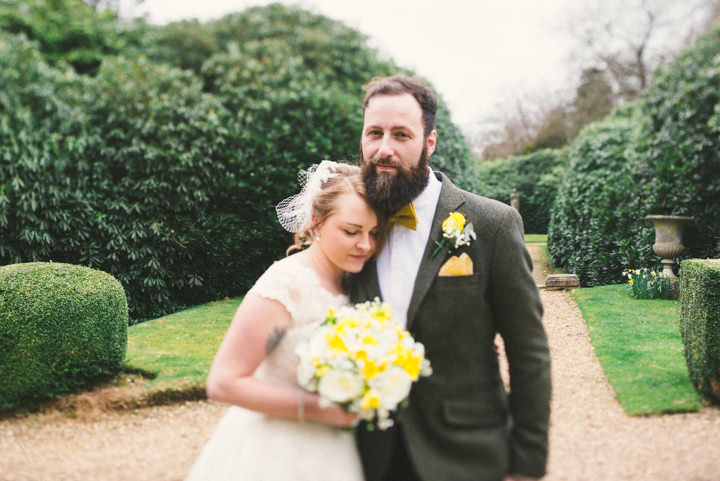 The Dress
My dress was from Forget-me-not Designs, a lovely little family run boutique on the Isle of Wight. I met the sisters who run the shop at a Wedding Fair and fell in love with two of their dresses. I ended up going back to the same fair later in the year and ordering my dress – which they made to measure with some bespoke elements. I couldn't have been happier with it! I also bought my headpiece and earrings from their shop, but ordered some Paradox by Pink shoes online from Elegant Steps.
The Suit and Bridesmaids
Ben took his SEVEN groomsmen out into central London to sort their suits, because he's crazy. They managed to buy most of them in El Ganso on Carnaby Street. However, Ben's taller groomsmen (both over 6'5") had to have jackets specially ordered in at Walker Slater. They finished off the suits with braces and bow ties.
I found the bridesmaids dresses online, from Little Mistress. It's quite a challenge to pick a dress that suits five bodies – but the one we picked was flattering, and everyone said they felt happy and comfortable in it.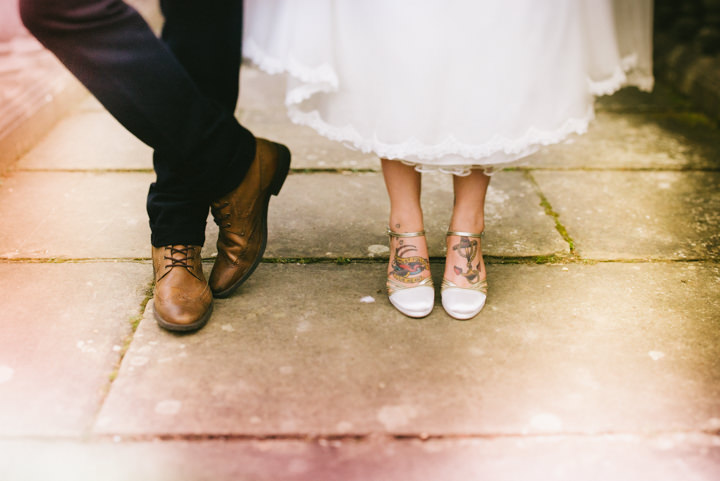 Theme or Colour Scheme
We sort of fell into a colour scheme based on our flower choices. As I had decided I wanted yellow roses, I looked up complimentary colours and found lots of mood boards for lemon and mint themes, which we thought would be ideal for a spring time wedding. The rustic sort of theme kind of just fell into place as we went along.
Flowers
The only flowers I really knew I wanted were yellow roses, as they were my late Nan's favourite. I told our florist this, and she suggested other flowers that would work well with these. I pretty much left it all in her hands, and she did a fantastic job!
Decoration
I guess I'd describe it as rustic? We managed to find bits and pieces in Homesense and Ikea that all worked together… Mostly bare wood/earthy colours, hessian and the yellow and green accents in places.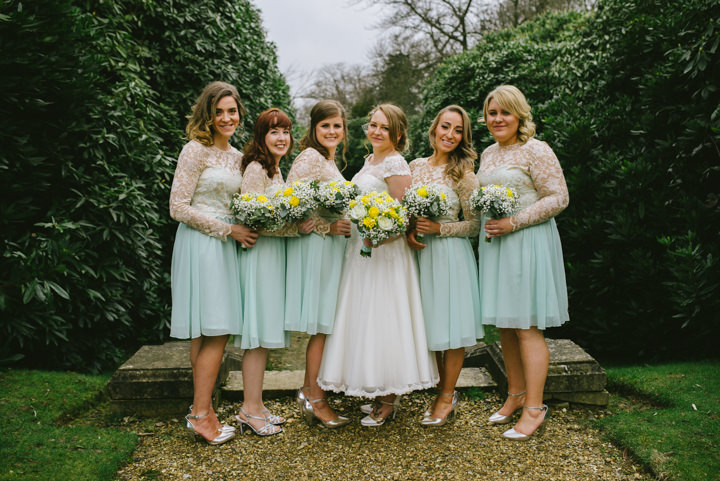 Food
All the food… it was a hearty meal! Starter was mushroom tart with truffle oil, main was pork belly with spinach and potato and we had sticky toffee pudding. I don't think any of us finished all the food! Later on in evening there was a cheeseboard, and we encouraged everyone to help themselves to cake.
Wedding Cake
My good friend and bridesmaid, Clare, made our main cake. We don't like traditional fruit cake so she did a lemon drizzle layer, and a chocolate one – covered in a messy frosting. It was exactly what we wanted! Another friend of ours, Andy, made a batch of mini cupcakes in early grey and lemon flavour, and mint chocolate flavour.
Entertainment
The venue kindly supplied DJs as part of the package we had chosen. We also had a friend's band play for us – Five Smooth Dudes. They already had a lot of the songs we wanted (mainly 80s covers) but learnt a few more for our set. They were great fun and got everyone up dancing in no time!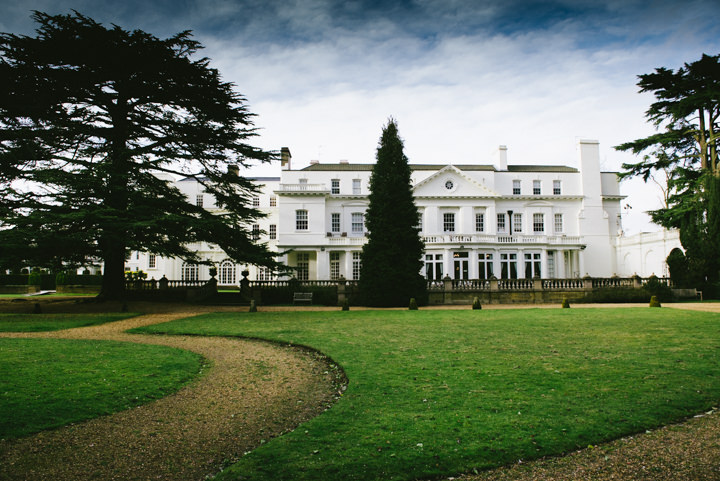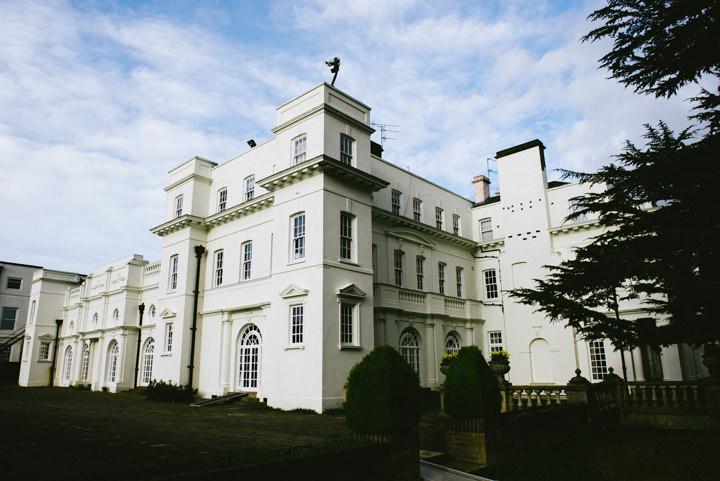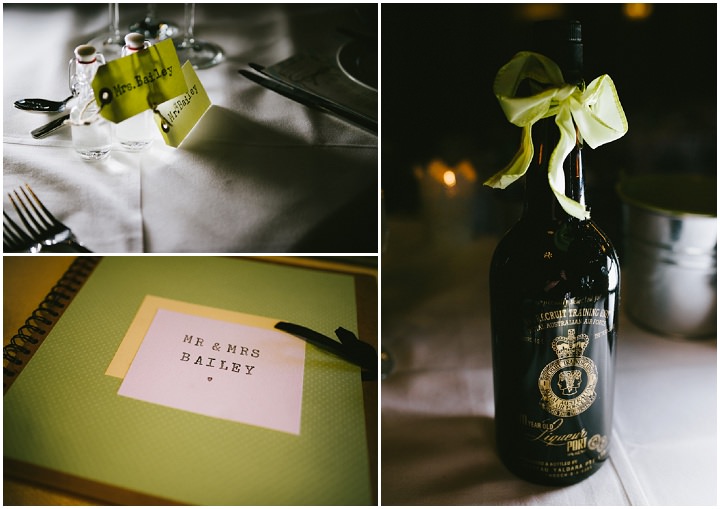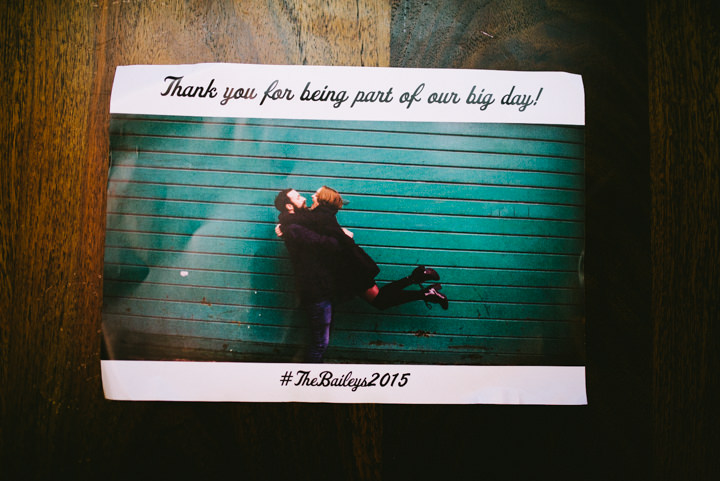 The Stationery
I ordered all our stationary through Vistaprint. It was so easy to put together the designs we wanted, using their templates and tools. They also send freebies and offer discounts frequently, so it was great value.
We've since ordered our wedding photo albums through them – perfect bound photo books. They are brilliant quality! I've recommended them to several friends.
Personal or Handmade Touches
The favours! Never again. We gave little bottles of fig vodka for our favours, and decided to also use them as place names by putting tags on. After assembling, filling, hand stamping and tying 92 of them, I kind of regretted the choice! They looked so good, though. I also put hessian baskets of goodies, and nice toiletries and a big basket of flip-flips in the ladies loos, which seemed to go down very well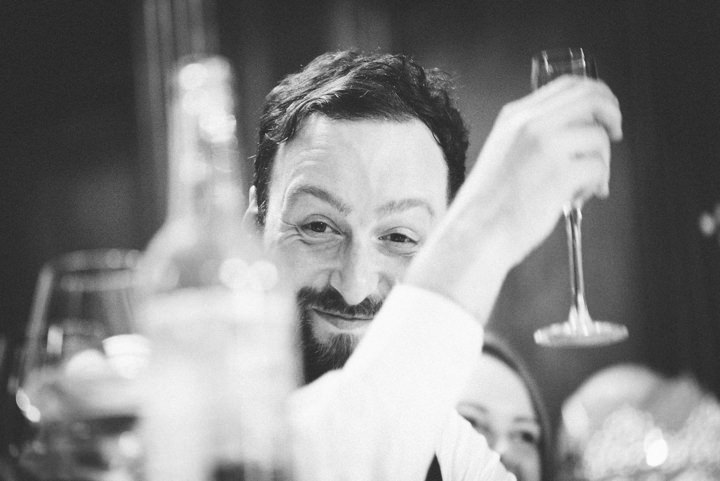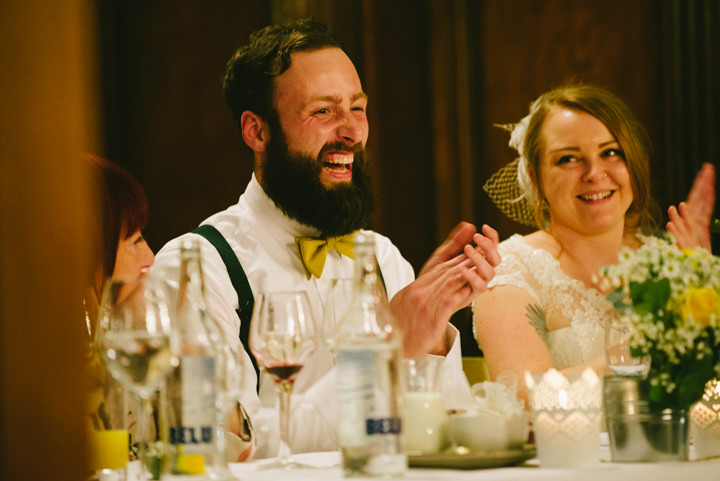 Special Moments
The ceremony itself! I made it halfway down the aisle before the tears came… then the speeches. Ben wrote a poem that he read at the end of his speech, which was a really nice surprise. All the speeches were great.
Our first dance was also a highlight. We planned to have two songs, the first minute of a slow song (We found each other in the dark – City and Colour) and something more upbeat (You make my dreams come true – Hall and Oates). We wanted to look like we knew how to dance, so went to a local swing lesson, where we soon realised that we were hopeless. We didn't discuss the dance after that, I think mostly down to the fear! But on the day, after a few glasses of champagne, we somehow managed to go for it, and everyone thought we'd choreographed this crazy routine
Advice to other couples
Don't get hung up on the tiny details – as important as you think they are, it's the big things that will make the day go well!
If you can get a venue that does everything in-house, you'll save a lot of hassle as you have one point of contact for most of the elements.
Enjoy it! Things will go a bit wrong on the day, but you'll more than likely never know (until your husband tells you a week later…) as everyone around you will be concentrating on fixing them.
Google docs. Put everything on Google docs and share with all your suppliers & wedding party.
Biggest surprise
I couldn't believe how relaxed we were on the day. Once we had given everything to the venue, there was literally nothing for us to worry about, and we were able to completely let our hair down and enjoy the day.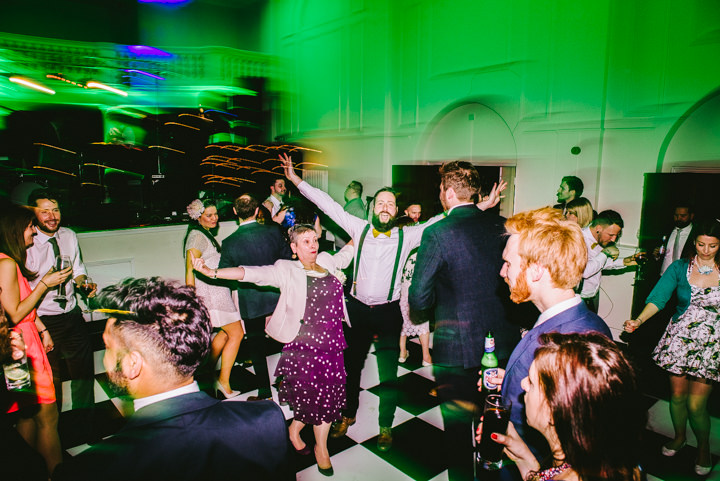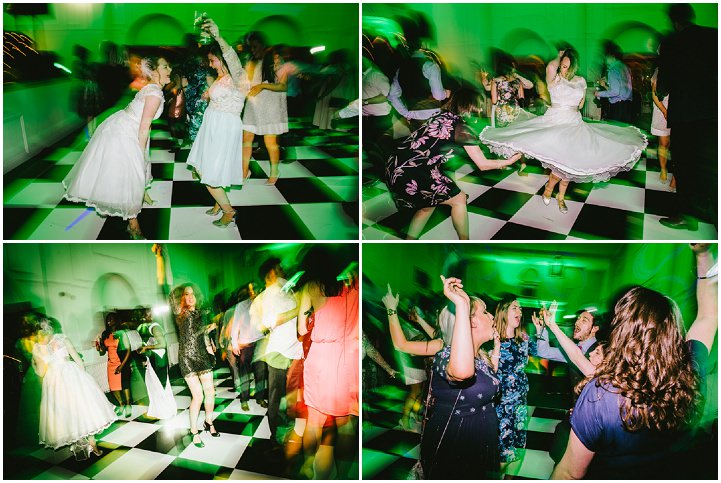 Supplier Shout Outs
For more information on Ed's work please go to: