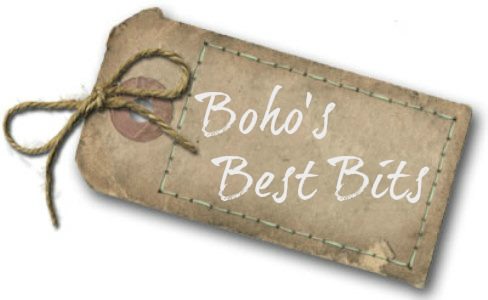 Happy Sunday everyone! how are you all?I hope this week has treated you well, how was your valentines day? Mine was good. Nik and I had a romantic evening in with an M&S meal for two which was very lovely, we do the same thing every year. Nik refuses to go out to a restaurant ever since we went out about 6 yeas ago and felt like we were being herded around like sheep, so now it's a nice meal at home. I got some lovely flowers and he got some thorntons alphabet truffles. Who says romance is dead LOL!   Apart from that it has been the normal busy week at Boho HQ, lots of things going on, it just keeps on getting busier which is amazing and I'm so pleased!
This weekend Nik and I are in Leamington Spa visiting his sister and her husband. It has been lovely so far, and really nice to get away properly for the weekend. We did a spot of shopping yesterday, had a few drinks then went out to a very swanky restaurant had cocktails and an amazing meal. Today we have been chilling out and then I will be back home this evening getting on with some more work, no rest for the wicked!
Now it's time for you to get a cuppa and get yourself comfortable! As I share with you my finds from this weeks wedding internet, the best the wedding world has to offer! Like last week there is a strong Valentines day theme.
Best Wedding of the Week
So many reason I have made this wedding wedding of the week, the MASSIVE heart sign, the bright colours, succulents, chevrons, paper pin wheels, escort cards. I LOVE it! Thanks to 100 layer cake for the wedding and to  Acqua Photo for the Photography
Whimsical Valentine's Themed Wedding – From 100 Layer Cake
Best DIY
DIY Rock Candy Valentine – From Style me Pretty
Free Valentine's Day Printables – From The Wedding Chicks
Vintage Inspired Decorative letters – From a Beautiful Mess
Floating Heart Table Numbers  – From One Lovely Day
DIY Fishtail Braid – From OnceWed
DIY Cupid Feather Wings – From Ruffled
DIY Tutorial – Chalkboard Martini Glasses (from Boho)
Best Photography
Ravinder and Dave's Wedding at Pinewood Studios – From Lawson Photography
Town Hall Wedding – From Nicola Thompson
Jordanna & Dave at the Electric Cinema – From Anna Hardy
2012 Was a Big year – Sam Blake
Rebecca and Dave – From Emma Case
Ruthie and Ian Napa Wedding – From Jose Villa
A Beautiful Outdoor Wedding – From Joanna Brown
Best Stationery
Show and Tell: Sarah Wants – Wonderful, Whimsical, Rustic Stationery
Best Styled Shoot
Grey and Pink Valentines day shoot – From Ruffled
Pink, Gold and Glittery Valentines Party – From 100 Layer Cake
Valentines day Love Struck – From Glamour & Grace
Valentines Engagement Shoot – From Green Wedding Shoes
Little Hipster Valentines  – From 100 Layer Cake (photo by : Studio Castillero)
Best From Boho
Jessica and Jason's Yellow and Blue Garden Party Wedding by Tino and Pip
Best of the Rest
Vintage Inspired Winter Wedding – Love my Dress
Eccentric, Whimsical and Eclectic Wedding – From Rock n Roll Bride
Colourful Handmade Wedding – From SouthBound Bride
Do What makes You Happy by Emma case – From Rock my Wedding 
A Rustic Bohemian Wedding – From WWW
Old Hollywood Glamour Wedding – From London Bride
Stylish Yellow and Gray Wedding – From The Wedding Chicks
Sweet Hawaii Wedding – From Green Wedding Shoes
Handmade New South Wales Wedding – From Ruffled
Big Boho Happiness Love
Kelly xx
Due to an email issue if you have emailed me between the 2nd & 9th of December, please resend it.
X