I have another gorgeous wedding for you today, this one is a 2 day long celebration, a yurt wedding full of festival spirit, DIY projects and some really tasty food. Harriet and Richard decided on a chilled out feel for their day and the rest just fell into place, a rocking band, paella and antipasto for the food followed by a hog roast and a cake table, a gorgeous dress from Rime Arodaky, lots of lovely DIY touches and of course a very happy bride and groom. A full of fun wedding that I just love from start to finish. Bug thanks to John Anderson Photography for the lovely images.
'An epic two-day do–it-yourself wedstival spent with the most fun group of friends and family who got fully involved both in the partying and in helping to keep everything going smoothly. Tapas and paella, hog roast, live band, 6 hours of dancing, hot tub action, BBQ hangover cure ending with drunken karaoke and more hot tubs fun…all shamelessly captured on various go pro's'
Harriet and Richard were married on 29th August 2015 at St Mary's Tissington then Standlow Farm, Kniveton with a yurt from Yorkshire Yurts. 'We had quite a few people travelling a long way to be there and wanted to make sure we got spend time with everyone which can be a challenge, so we decided to make it a bit of a weekend event rather than just to one day. We also wanted a festival/relaxed feel and wanted the run of a place so we could do what we wanted when we wanted. Finally we wanted as many people as possible to be able to stay on site again so they had the same freedom. That restricted our options a bit, but when we found Standlow Farm and there was enough room to sleep around 50 people (along with lots of other fun additions such as hot tubs!) we thought it was perfect! We had 135 guests in total and planning wise it took just over a year in fits and starts!'
How they met
We met through a friend and have been together around 6 years.
The Proposal
We were in the USA seeing friends. We had just finished moving into our new home the day before catching the flight and after not finding the right moment to propose during the hectic move, Richard brought the ring away with us hoping for a better opportunity. He ended up carrying the ring around with him for the whole two weeks trying to find the perfect moment. After numerous failed attempts he proposed in the airport hotel before we caught our flight back home!
It doesn't sound quite as romantic as most but I loved it because it felt very genuine – nothing too fussy or OTT (not to mention that the various failed attempts made for a good story!)…although poor Richard said it was the most stressful holiday of his life!!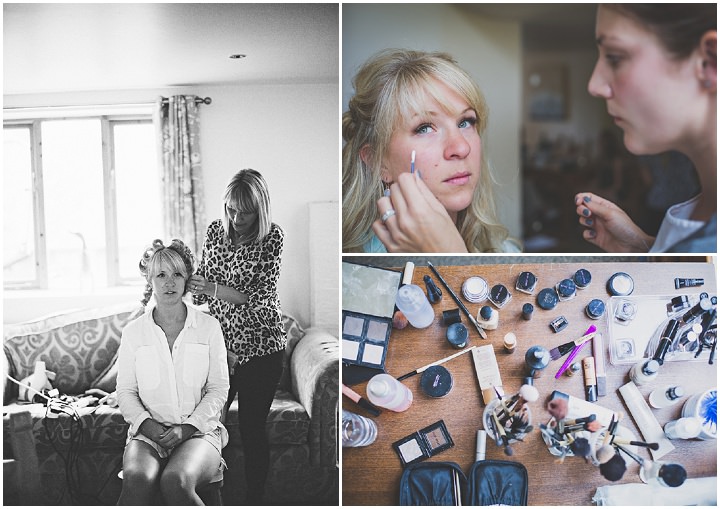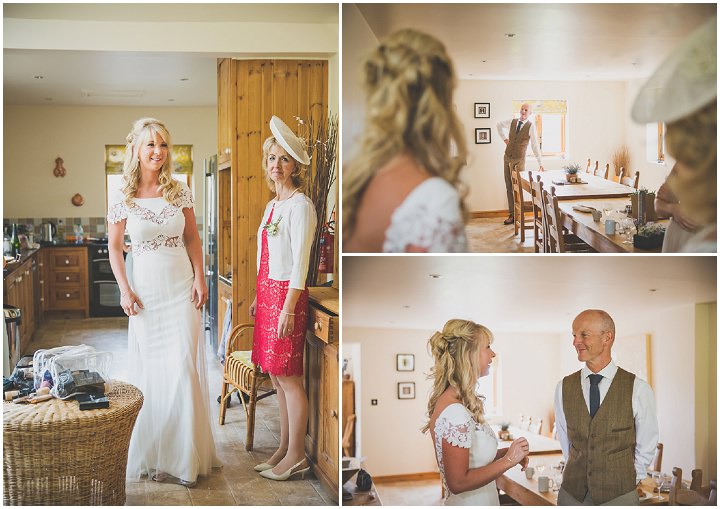 How did you allocate your budget
Richard allocated and I spent! We had good budgetary intentions from the start but as anyone who has planned a wedding knows – by the end it all seems to go out of the window! Worth every bit of the financial hangover though.
Where did you splurge and where did you save?
The yurt was our biggest cost but we were really pleased with how it looked and we got two full days' use out of it. Also the band was totally above budget – but again, worth every penny.
How did you choose your photographer
John is a family friend and we have seen his work for the last few years and knew he would be great! Plus he had photographed both my sister and sister-in-law's weddings and their photos were really impressive.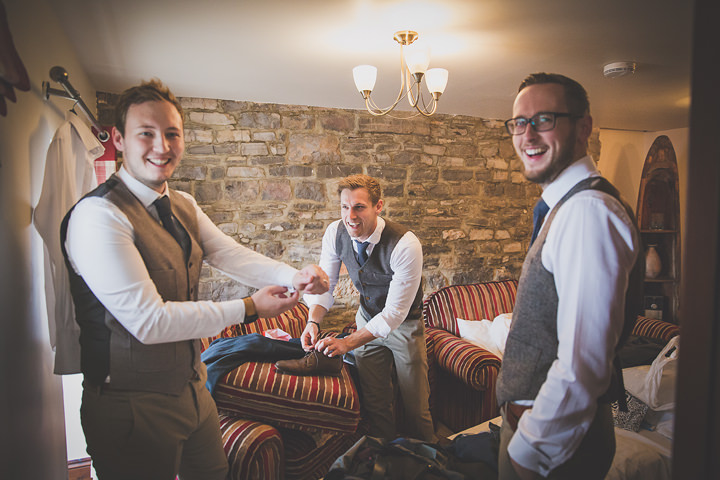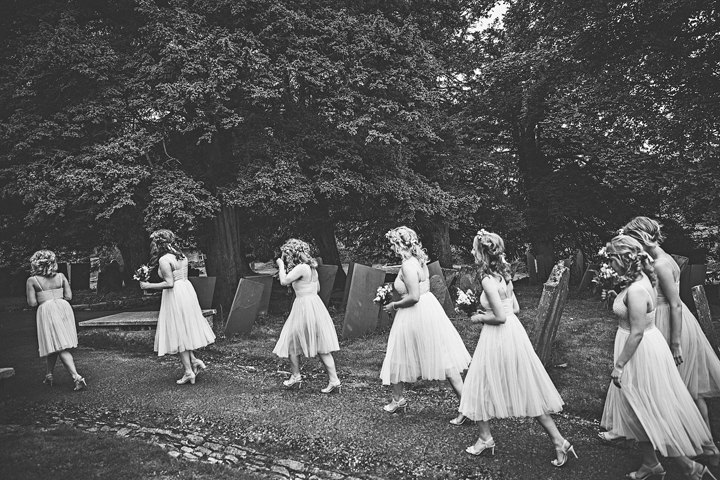 The Dress
Rime Arodaky – she is a French designer and I could have picked any of her dresses!
My shoes were LK Bennett and accessories from Maria Black / Monica Vinader (in love with both of these!)
The Suit and Bridesmaids
The suit was a Next / ASOS hybrid, and the bridesmaids were by Needle and Thread on Asos – I had originally planned to have all the same colour bridesmaids but I bought 6 dresses instead of 7 (nightmare)!! So we bought the cream ones last-minute – in the end I thought they looked better that way anyway.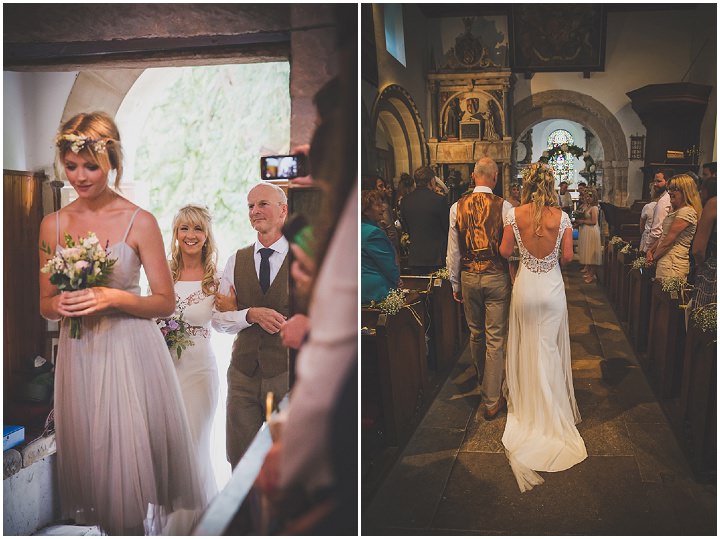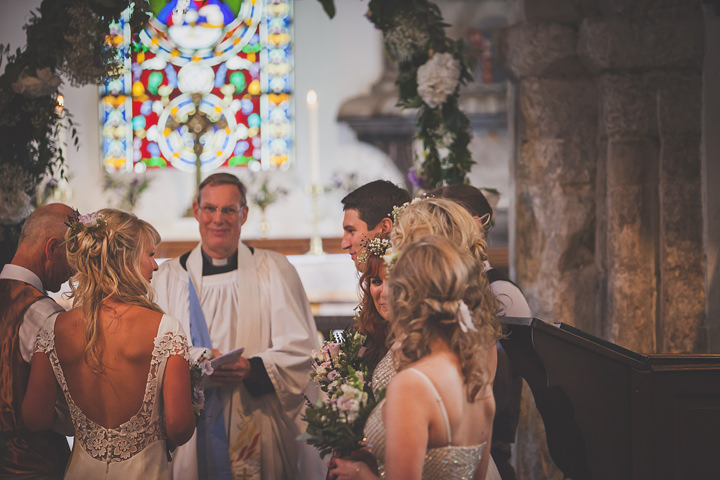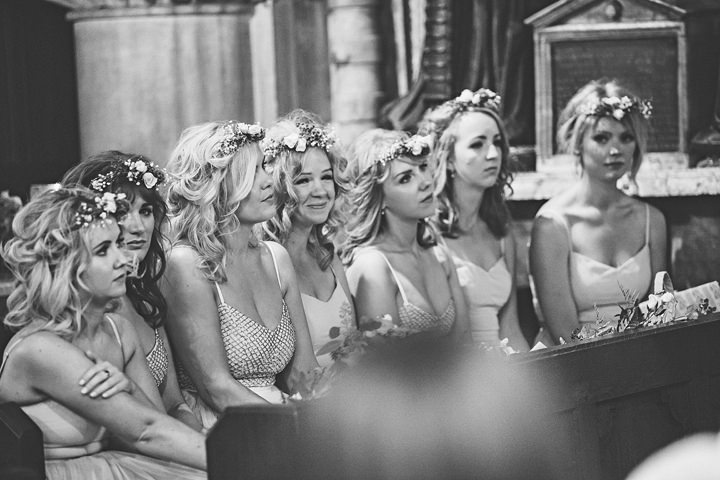 Theme or Colour Scheme
I just wanted it to be a nice mixture of wild / country / simple colours.
Flowers
They were from Ofthewild in Sheffield – Kath is another family friend and is brilliant. We just wanted simple wild flowers. The flower arch in particular was one of my favourite things – it looked so pretty!
Decoration
It was all fairly jumbled – we stole ideas from Pinterest and wedding blogs – we had paper pom poms, vintage china (which my Mum spent the whole year collecting!), scrabble letters for names etc. We can't thank my parents enough for the effort they put into the décor – they spent the 6 months prior to the wedding with a dining room full to the brim of 'wedding junk'. They spent weekends making all of our signs, the festoon lighting, spray-painting our bottles etc – we could not have done it without their help!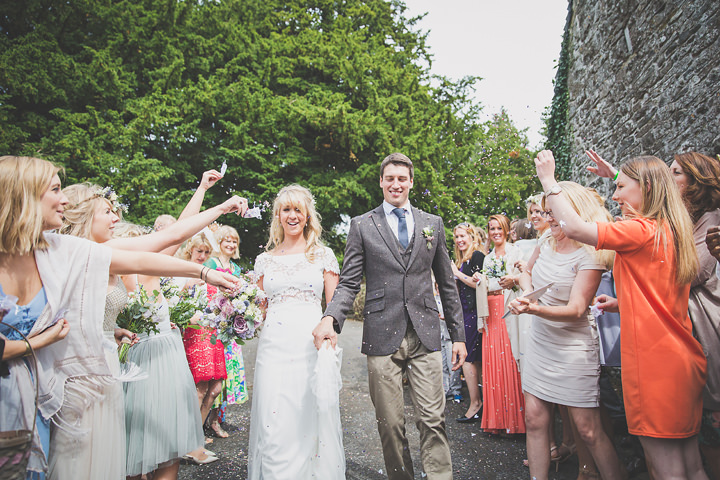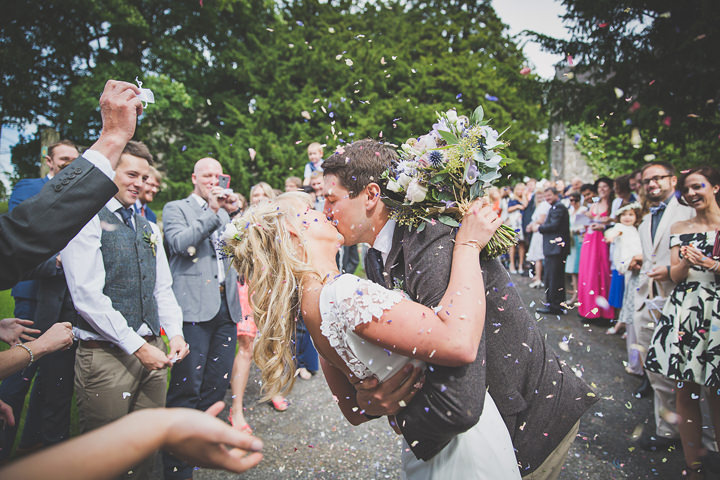 Food
The food was made by a local restaurant to us – Juan Sanchez Bar de Tapas in Chorlton, Manchester where we live. They brought two huge paella pans and cooked them in the middle of the yurt which was a great feature. They also managed to do hot and cold tapas on the tables – they did a great job and everyone commented on how good the paella was! I can definitely recommend them.
In the evening we had a hog roast – it kept everyone going after all the wine.
Wedding Cake
Was made by my amazingly talented sister Ruth Whitehead! She is the master of all things sweet – I knew I wanted her to make it as I've been spoiled over the years by her many treats. I don't think it was stress free for her though!!
Entertainment
We had a band – The Revue – which we had heard at a beer festival the year before and we had written their name down as a potential wedding band. They were so good – the dance floor was full all night.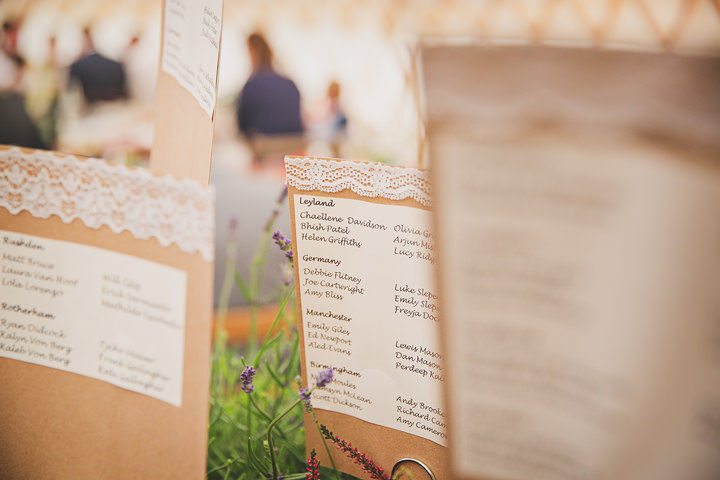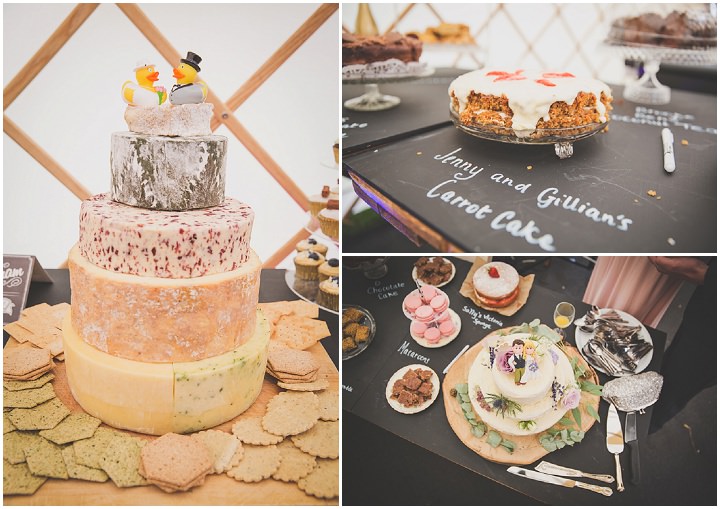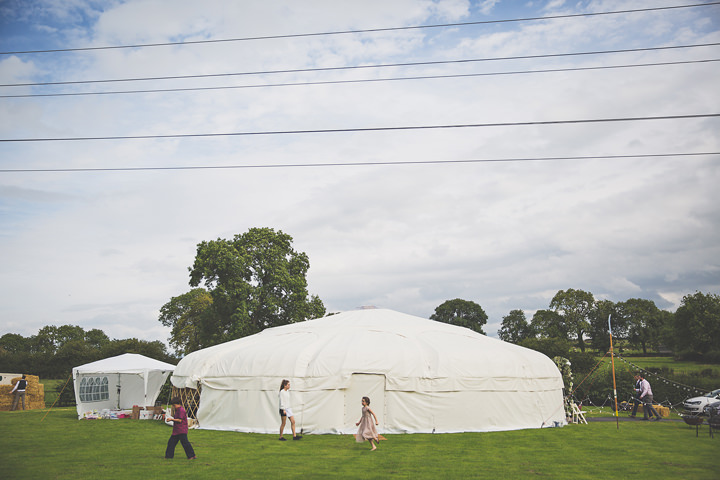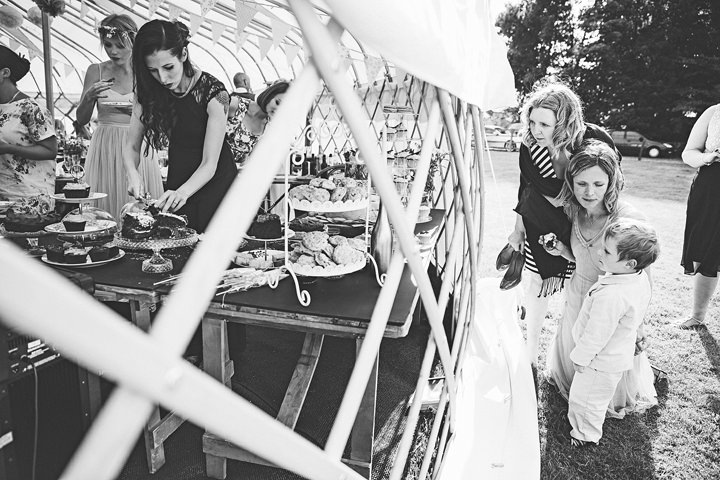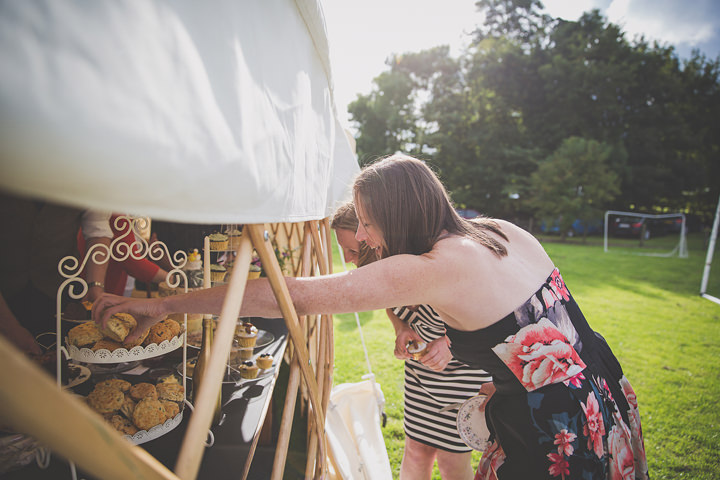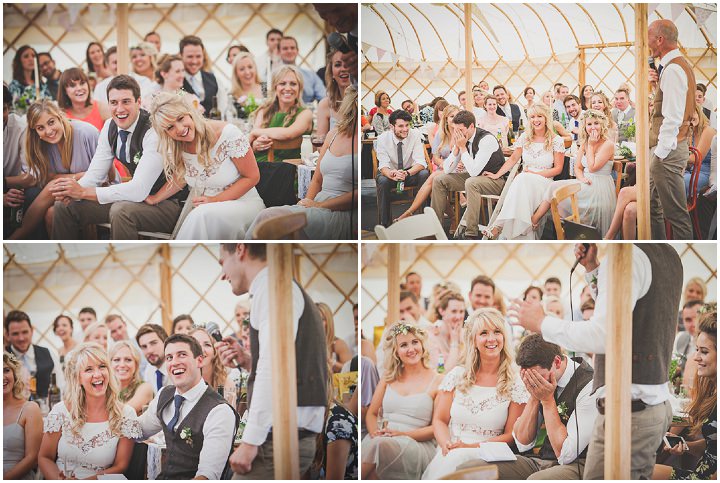 The Stationery
It was another mix – we made the orders of service ourselves (the day before), but for the invitations we found an illustrator through Etsy – Sarah Matthews. We sent her a picture of the yurt and the church and she did some nice illustrations to make the invitations a bit more interesting. They were really cute.
Personal or Handmade Touches
One thing I did love – we asked our family and friends to make cakes for our desert table and put these on a blackboard with everyone's names written on them – it was so nice to see how much effort everyone had put into making them. We felt very blessed!
And the Go Pros – the ushers spent hours with cameras attached to their heads and Chris, one of Richard's ushers spent hours putting all of the footage into a video for us. It was brilliant.
As I say, the ultimate personal touch was the way everyone got stuck in to helping in some way or another. The ushers especially really earned their waistcoats!

Special Moments
I think my highlight of the day was when the first song came on after our first dance and I looked around and the dance floor was absolutely rammed full and everyone was giving it socks. I was absolutely beaming!
Advice to other couples
Get everyone involved – the whole two-day wedding felt like a collaboration between all of our friends and family.
Get some Go Pros – you will get some priceless footage!
Biggest surprise
As a perfect cliché – the maid of honour and the best man hooking up!!!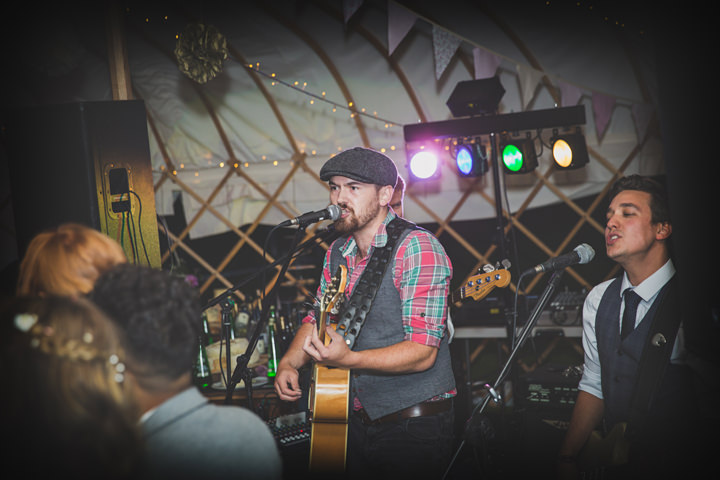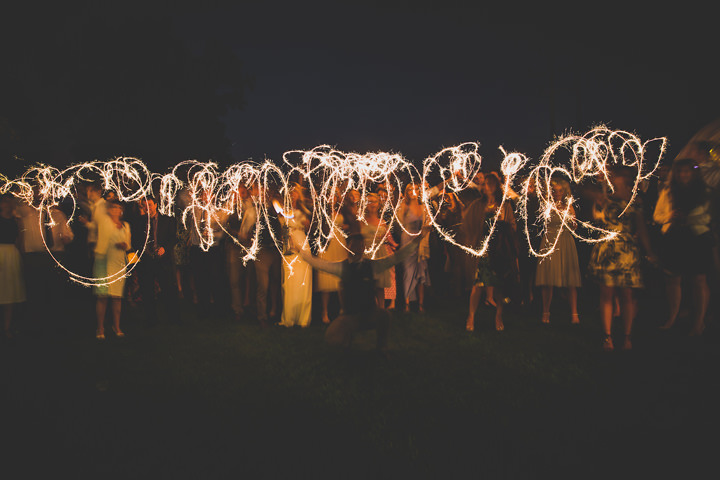 Supplier Shout Outs
For more information on John Anderson Photography go to:
www.johnandersonphotography.co.uk / blog.johnandersonphoto.co.uk / FACEBOOK /  [email protected]