Today we are back in Yorkshire for this beautiful wedding shot my Mark Tierney from Tierney Photography. It's the wedding of Emma & Daniel who were married on 31st March. It's a very personal wedding, that the couple really made their own, with a cream and lilac colour scheme running throughout, a hint of vintage theming, lot so DIY details and the most amazing Yurt.
Both Emma and David wanted to make the day personal to them and its those personal moment that really caught my attention, the moment between Emma and her Dad are so touching, when he sees her for the first time, before they go into the church, and the speeches as well, another lovely moment!
The ceremony was at All Hallows Church in Almondbury, followed by a drinks reception at The Woolpack Pub across the road and full reception at The Wesleyan Cricket Club in Almondbury in a Yurt. They had 46 guest in the day and 90 in total in the evening. It took 9 months to plan 'We got engaged in July and got straight on with it.'
They describe their day as 'Our wedding was rustic, local and vintage. It was very personal to us and was lots of fun!'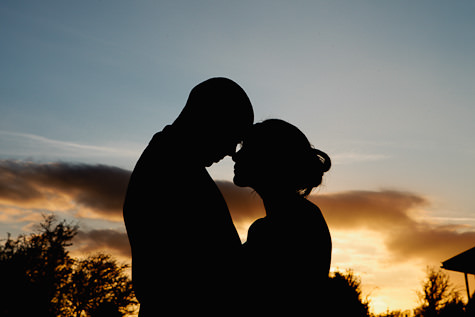 The venue
We wanted a local wedding so everything was based in the village that we have lived in for years and Daniel grew up in. The Church is across the road from the pub we own and the cricket club is up the road. We tried to make everything local and authentically us.
How they met
We met at college when we were 17. We have been together ever since, which will be 10 years in October.
The proposal
I had been on at Daniel about getting married for years, but he wanted us to buy a house first and be more financially stable. We bought a house in 2010 and since then I was waiting (not very patiently!) and expecting it at any time. He knew he had to surprise me so on a random Tuesday in July 2011 he met me at home after work and asked me to get changed to go out for a quick meal – nothing out of the ordinary or so I though! When I was ready he called me into the lounge where I was greeted by 100 candles, our song playing in the back ground and him on one knee! It was so random that I was very surprised and it felt very genuine and not overdone. I loved it!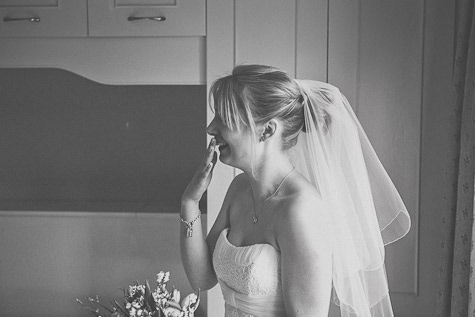 What made you choose your photographer
We spent a lot of time scouring the internet for a style of photography that we really liked. We knew it was worth spending money and time on getting it right as this is the part of the wedding that lasts forever! We loved Mark's journalistic style and how "in the moment" a lot of his pictures are but also that the posy shoots are stunning too and so well composed. I also think the vintage feel to some of his photographs very much fit our theme. When we met Mark, he was very easy to talk to and didn't make us feel silly, despite the daft questions we asked!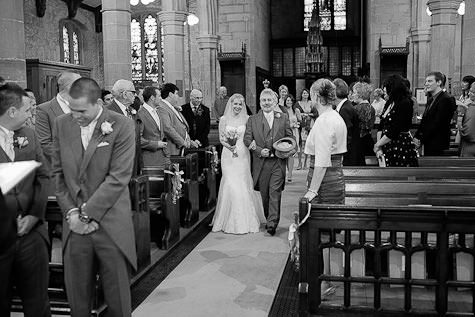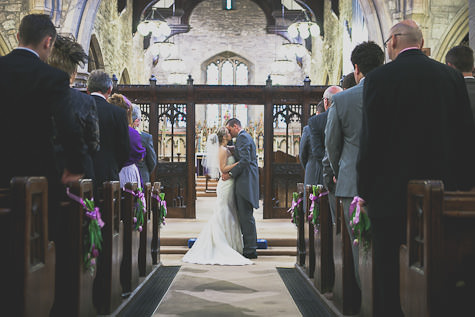 The Dress
My dress was by San Patrick, shoes from Coast and my minimalistic accessories were my own. My fresh flower hair slide which I wore in the evening was made by Natalie my lovely florist.
The suit and bridesmaids
Suits were hired (Carl Stuart – Huddersfield cloth) and the bridesmaid dresses were from ASOS.
Theme
We had a vintage and lilac theme which all started with the lace wedding dress. The bridesmaids dresses mirrored mine with a vintage feel and similar shaped top. The flowers were lilac and rustic looking with tulips and roses. We followed it through in the Yurt where we had lilac based bunting, vintage crockery and long tables covered with hessian and lace with mismatched cut glass vases with tulips in. The cake was also a vintage themed Victoria sponge with lilac sugar flowers on top.
Food
We had a lovely meal off the vintage crockery of carrot & coriander soup (served in tea cup & saucer), roast beef and all the trimmings and crème brulee with lemon biscuits. Washed down with lots of wine!
In the evening we had a hog roast from supplier just up the road.
Entertainment
We had a band called The Nerds, who we have playing in our pub on a regular basis. They did a fantastic job, literally everyone was dancing!
Flowers
We had tulips and roses in the bridal party flowers and tulips in the Yurt. All provided by the florist in our village, Bluebells.
Decoration
In the Yurt we had bunting, cut glass vases with tulips, cut glass jugs with candles, candle bags outside in the evening, hessian and lace on tables. Everything was cream and lilac. The crockery for the meal was vintage and mismatched, which everyone was wowed by! We got it from Add Vintage who are based in Leeds.
Personal touches
• I made the invitations, order of service, table plan and card box – with help from a crafty friend!
• We made the favours which were Yorkshire Mixture sweets wrapped in a handkerchief tied with purple twine with a name tag on.
• The Yurt was decorated by me, my mum and 3 bridesmaids the day before the wedding (with help from Daniel for heavy lifting!).
• We did all the vases and flowers, laid all the tables, arranged the seating plan and cake stands and put up little decorations like the heart hanging over the dance floor.
• It made it so personal and on the big day people commented on all the little touches and it was lovely to say we had done it!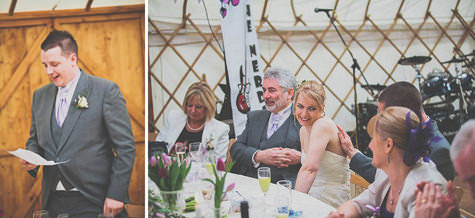 Special moments
There was a wonderful atmosphere during the speeches. I think because we had a small guest list it made it feel so intimate and personal that all four of us who did speeches were relaxed enough to do a great job…even if we did go on a bit! There wasn't a dry eye in the house…even the cake was in tiers! (Thanks to best man Will for that joke!)
Planning advice
You only do it once so do it your way! I loved having such a DIY wedding because we did have control over everything, which made it very personalised but it does make it more stressful so be prepared to put the time and effort in.
Biggest surprise
That all the guests had as good a time as we did and are still talking about it now 2 months later! Also that it went so smoothly and stress free, we really were able to enjoy all the amazing moments together.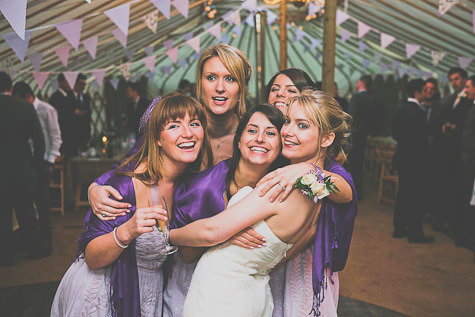 Supplier Shout Outs
Fore more information on Mark's work go to:
www.tierneyphotography.co.uk
tierneyphotography.co.uk/blog
[email protected]
FACEBOOK
TWITTER
07981 347019
Due to an email issue if you have emailed me between the 2nd & 9th of December, please resend it.
X