Today I have a totally gorgeous wedding for you as we yet off to Estonia for this wonderful laid back, bohemian farm wedding. When this wedding landed in my in box, I was blown away by the beautiful photography, so a big thanks to Gerry Sulp Photography for these amazing images. A beautifully natural wedding that takes place on the grooms parents farm, with the ceremony in a green house. The barn that holds the reception is simple yet quirky in its decoration, I just love the way they have incorporated the normal every day items like the tractors into the decoration and functionality of the day. With a bonfire and dancing to round off the celebrations this really is an exceptional wedding from beginning to end.
'Magical and fun! The venue was amazing, our guests rocked and I got to spend the whole day with my favourite person'
Reelika and Alar were married on 23rd July 2015 at Kõrtsi farm, Tõrma village, Lääne-Virumaa county, Estonia. 'Our understanding of a beautiful wedding day was something somewhat simple and cosy. In a place that has character, amidst the nature. So there we were, discussing different locations and Alar's countryside background, when our wedding planner Gätlin asked whether we really had no venue of our own. And that's when we suddenly knew the right place for us. Alar was brought up in an agricultural farm. So seeding, harvesting and grain drying are nothing unfamiliar to him and the farm itself consists of endless machinery as well as different buildings. Although we knew we had quite a few things to sort out in order to have a wedding at home, we were thrilled to celebrate our day in a place that means so much to us. Funnily enough with this crucial decision everything else also fell into place. We started with the ceremony in the greenhouse. I can still smell those tomatoes and hear it drizzle outside. After the ceremony our 7-year-old son Kaspar drove us to the reception venue with a small tractor. We held our party at a large warehouse that is normally used to stock crops and machinery. All the machinery was still there and with a bunch of nice details it was a whole new world. We like to joke that we had an "express-wedding". There were a little over 3 months between the proposal and the actual day. We had a total of 78 guests to the wedding.'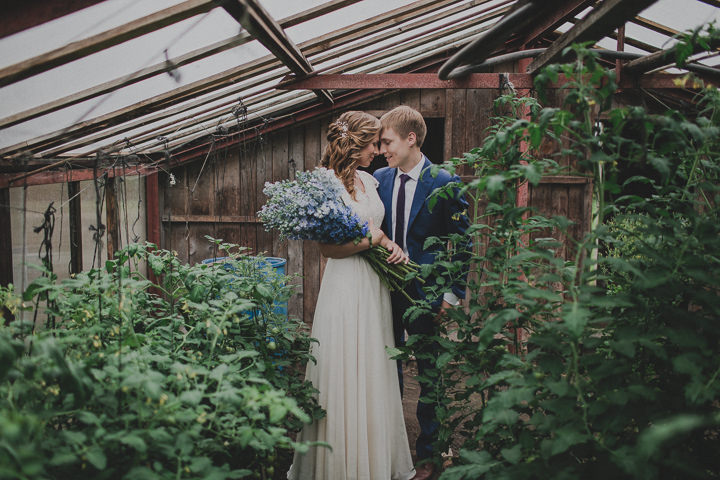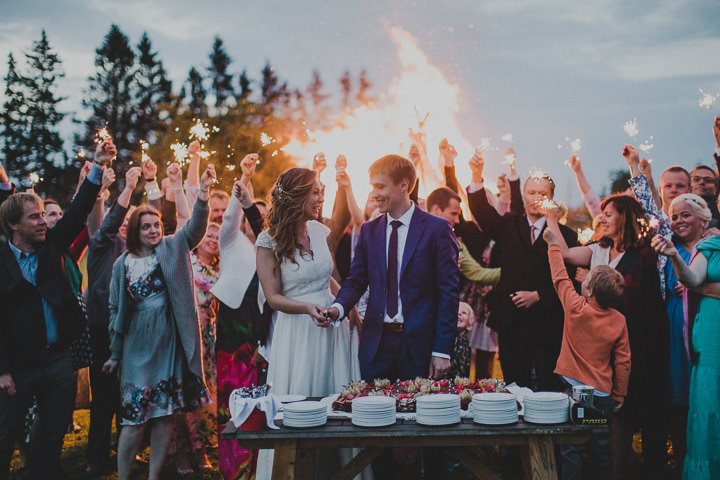 How they met
We met at a school trip to Legoland (Denmark) while we were both in high school. How to approach a considerably older girl? Does the whole evening of dancing together mean that the considerably older girl might actually be interested? What if I managed to sit next to him on a roller coaster? How to ask him on a real date, I mean with pizza and everything? You see, it was not an easy boy-meets-girl story. And yes, I am two years older than him. Luckily we managed to overcome all those difficult dilemmas and here we are, 13 years later.
The Proposal
The sun was shining, we were walking along the beach and then it happened. I have wanted to ask you for ages whether…Of course I said YES accompanied by laughter, tears of joy and tons of happiness… Except that is not how it actually happened. We had quite a different story entirely. Yes, the sun was shining and we were walking on the beach but then there was this huge stone right in the middle of our path. Alar wanted us to climb it. Who knew that skinny jeans and climbing are not a match made in heaven, right. When Alar finally dragged me up there and kept looking at me very intensely, I was certain that I knew what was going on. Something really bad had happened at work or he had some health issue. When he at last popped the question I was totally shocked. Here? Now? Without a warning?
As it was so unexpected, I completely froze. My moronic gaze must have lasted for a while as Alar suggested I can also take time to think about it. I answered NO and then realized I had just said NO. Luckily I pulled myself together and said NO, I don't need time, the answer is YES. Yet my brain still refused to co-operate. I suggested we take a photo of that huge stone that had suddenly become such an important part of our lives. Alar said he really wanted to surprise me and is glad he succeeded. Also, he likes to point out, that that's the first time he has ever seen me at a loss for words and completely silent.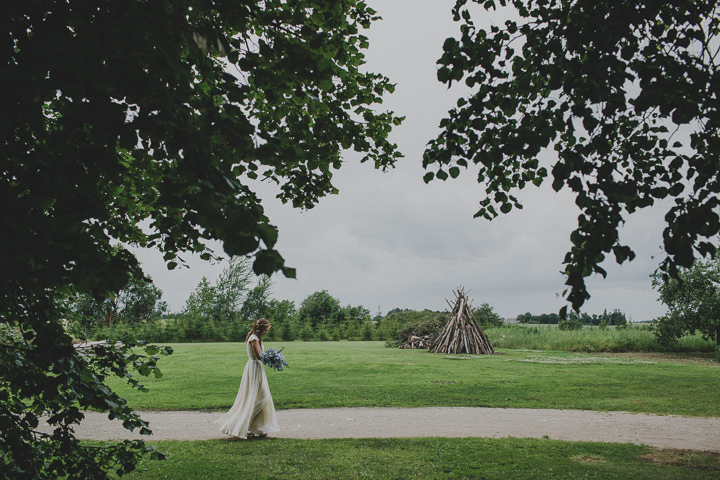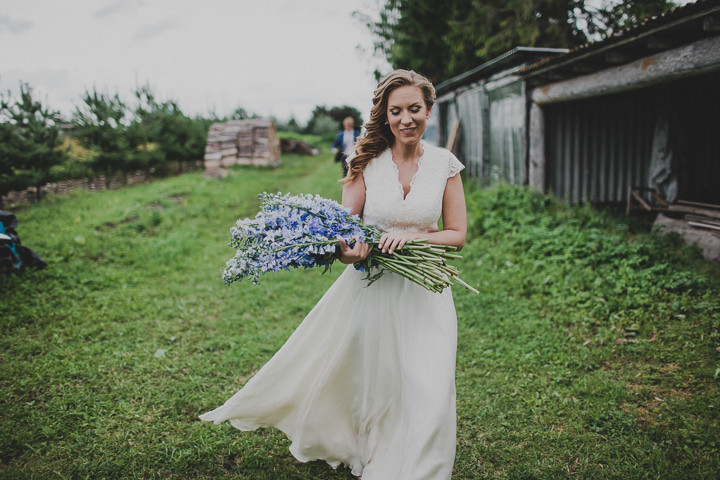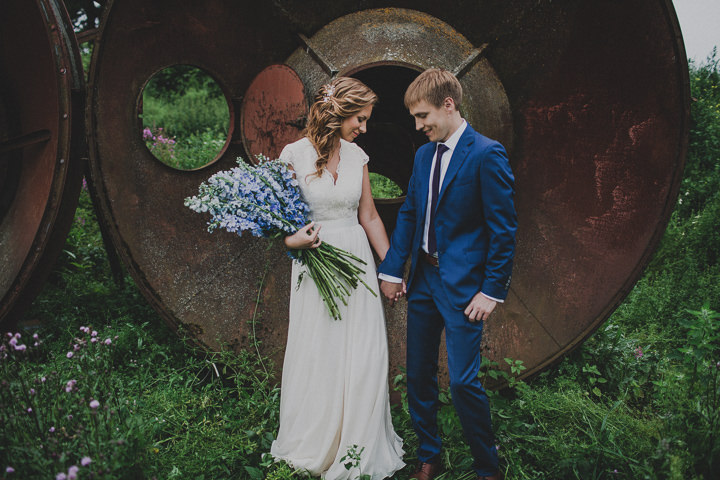 How did you allocate your budget
Approximately 30% on food and beverages, 30% on wedding planning, entertainment and photography, 30% on our rings, clothes, shoes and MUAH and 10% on the venue décor (flowers, tables, chairs, decorations).
Where did you splurge and where did you save
We saved a lot by using things we had at the farm as decorations – two tractors, a harvester and a truck. These unexpected stars of the evening filled up the room and set the mood. Plus instead of renting additional lighting we simply used the headlights on the tractors. We are so grateful that our wedding planner was eager to find creative solutions and helped us to stay within our budget without giving up anything we really wanted. We also preferred simple flowers to expensive bouquets and did ourselves as much as possible. For example Alar and his father spent hours setting up the dance floor, the lighting, the outdoor restroom and the bonfire place. Me and my mom sewed 100 meters of checkered ribbons etc.
How did you choose your photographer
We first met Gerry two years ago while we had the most delightful summer photo session together. By the way, it took place at the very same place. When we finally got the pictures from that day… Oh my! The vibe on those photos is just something else. Even today watching them somehow takes me back in that exact moment. Ever since then I have enjoyed Gerry's work. He is never typical or boring. You watch his photos and you always get so much more. You get a story. You get to laugh and be amazed. He is extremely talented in capturing the emotions and details and I simply like the way he sees things. So the choice of the photographer was really easy, we just kept our fingers crossed that he could come. Luckily he could.
The Dress
I wore a custom-made dress by the lovely Estonian designer Lilli Jahilo, a bespoke bridal hairpiece by Katriin Korsar and my shoes were by Spanic brand Zinda.
The Suit and Bridesmaids
Alar wore Baltman suit and Aldo shoes.
Theme or Colour Scheme
Just countryside love.
Flowers
Delphinium.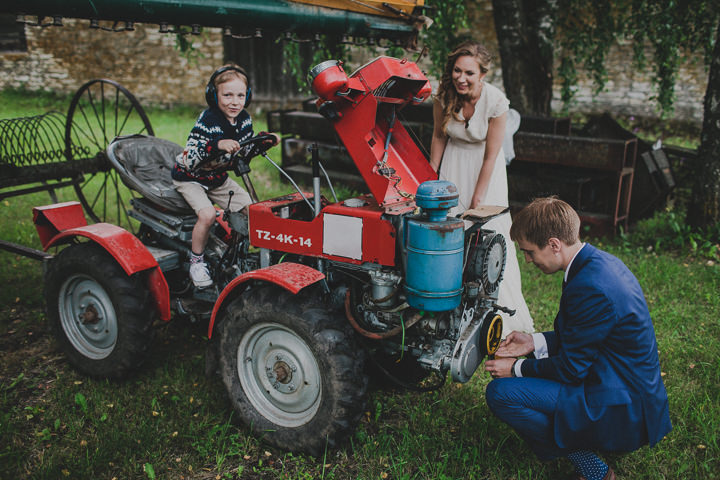 Food
We had the most delicious menu by Tervis Catering (that means Health Catering). The food was fresh and light, we had a lot of snacks and salad but also fish, chicken and beef.
Wedding Cake
We had a banana-strawberry cake from Kohvik Komeet (Comet Cafeteria). It was a dream, really. Although we had ordered extra just in case, not a slice was left… Our wish was to have one large cake and I guess it was well in line with the whole concept.
Entertainment
We tried to keep the programme light – just dancing and having fun. We had a kick-ass band Jupiter who made pop-rock covers. Then there were two games and also friends from both sides surprised us with their performance. My dear friend had even written us a play that was performed by a local theatre company.
Personal or Handmade Touches
We tried to have everything as personal and "us" as possible. I already wrote what we did to get the venue ready. But we also did things that simply seemed right and fun for us. Our son Kaspar drew the picture and wrote the text we used on all our invitations. The ceremony was really special and meaningful as it consisted of stories we both had written – separately, about us and each other. As a surprise my mother had also talked to Kaspar and it was so sweet how he described us and our love. 'They met when they were little and daddy called for her. Since then they liked each other so much that they had an apartment. When I was born, they took a new one, a proper one. Then I came out from their stomach and they had spent time together. Then one day daddy liked her so much he gave her the ring. And now they are getting married. They like each other. They will have rings and spend the rest of their lives together. In the beginning of the reception we introduced our guests and said thank you in self-made verses and complimented the couple in attendance who had been married the longest.

Special Moments
It was a special day with so many great moments. But just to highlight some – the ceremony which was personal and meaningful from beginning till end. Entering the party venue. Our son making a spontaneous speech. Hugging our family and friends. Dancing, dancing, dancing. Looking each other in the eyes and whispering I love you.
Advice to other couples
The most amazing thing about our wedding day was the pure feeling of happiness. To have that vibe you have to have a right companion by your side. That is the most important thing to begin with. What kept us on the right track while planning and helped us to make decisions quite easily is the question Why do we do it and what does it mean to us? There is always an overload of ideas with weddings but you have to find your own way, make your own story. Therefore choose what is important to you and skip the clichés. And when the actual day arrives, sit back, relax and enjoy! To that effect, is crucial to have a wonderful team by your side. Don't forget to have fun, be grateful and do not burden yourself with expectations. Details are just details. It can be perfect as it is – even when the cake gets a little wobbly in the car on the way over, his suit tears and you forgot to take your wows with you.
Biggest surprise
The fact that we both stayed calm throughout the day. That we did not think, just felt, stayed in the moment. Realizing at dawn the next day that I had not looked into the mirror since my make-up had been completed.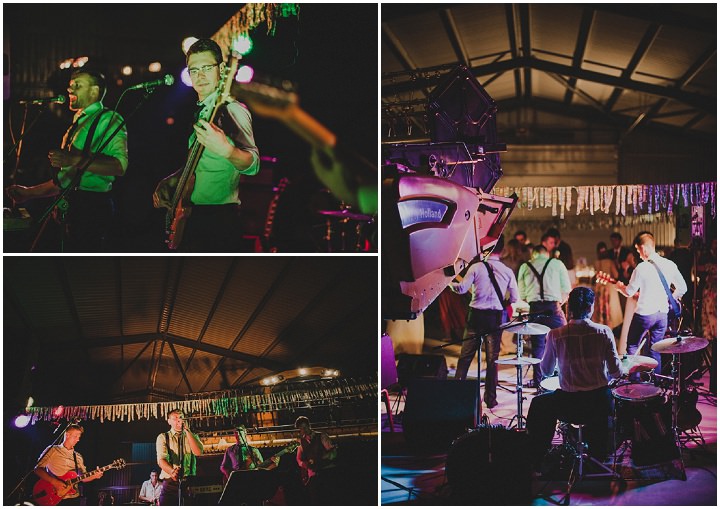 Supplier Shout Outs
For more information on Gerry's work please go to:
www.gerrysulp.net / I: gerrysulp / FACEBOOK / [email protected]