Happy Friday everyone! Boy am I pleased it's the nearly the weekend! I have been stuck in the house nearly all week with a poorly boy, he's all better now, which means today we can venture out and have a fun Friday together! I'm out for dinner and drinks with the girls tonight, so happy days all round! To finish off the week I have this gorgeous rustic wedding in Estonia to share with you. It's a beautiful day filled with gorgeous details, including lots of burlap and lace, a fabulous reception area and a beautifully simple outdoor ceremony! Big thanks to Gerry Sulp for the wonderful images.
A very windy, but sunny and beautiful day in the end of August together with our friends and relatives celebrating our love. We wouldn't change a thing – it was perfect for us.
Marlis and Kristjan were married on the 27th August 2016 at Tammistu, Tartu county, Estonia. 'We were looking for a perfect barn and found it near Tartu. It was a bonus that quite a lot of our guests were living in Tartu, so it was convenient for the guests as well. We had about 90 guests. The planning began when we found the venue which happened in February 2016 so the planning took six months in total.'
How they met
Our very dear friends introduced us. It was actually their secret plan to bring us together.. and what can we say – it worked! We've been together since the first day we met. At the time of our wedding we had been together for four years.
The Proposal
Well.. this is a bit funny story. But very sweet. Kristjan ordered an engagement ring from Australia (designed by Elise Maar). And it took a while to arrive to Estonia. Kristjan was getting impatient. As soon as he received the parcel, he decided to act right away. So, he came home and proposed in the hallway on one knee. A very precious moment. So simple, but so us.
Where did you splurge and where did you save?
We didn't count money when it came to food , venue, photographer and ceremony master. These were the most important things for us and we knew what we wanted. Where we saved.. well, we didn't have a special wedding car, ceremony and the party were held at the same place, we didn't have to worry about accommodating all the guests, we used guests' flowers as flower decorations and we did quite a lot ourselves, but this wasn't so much because of saving, but we really wanted to add personal touch where it was possible.
Why did you choose your photographer?
I think that already in the end of 2013 or in the beginning of 2014 I had stated that if I ever get married the photographer must be Gerry Sulp. I really loved (and still love obviously) his photos, style and vision. Kristjan agreed that his photos were just different and special.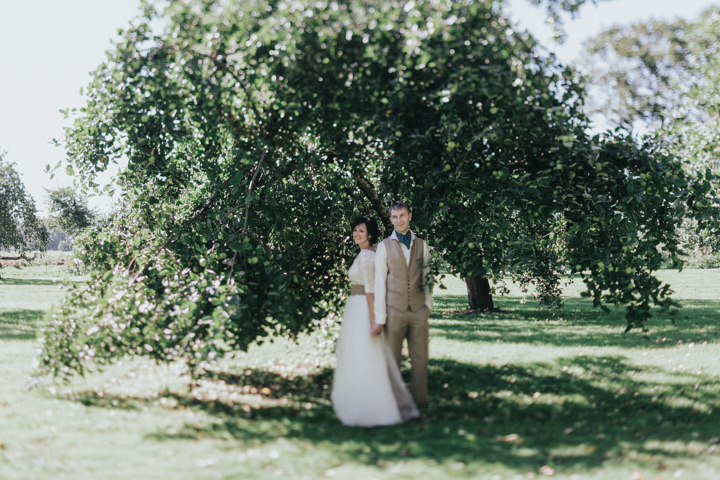 The Dress
My Dress was by Estonian designer Triin Isak (PITS by Triin Isak brand), my golden sandals from Heyraud Paris and bluish earrings by Estonian designer Tanel Veenre
The Suit and Bridesmaids
Suit was also made by Triin Isak (PITS by Triin Isak), as well as our one year old son's outfit (matching with his father)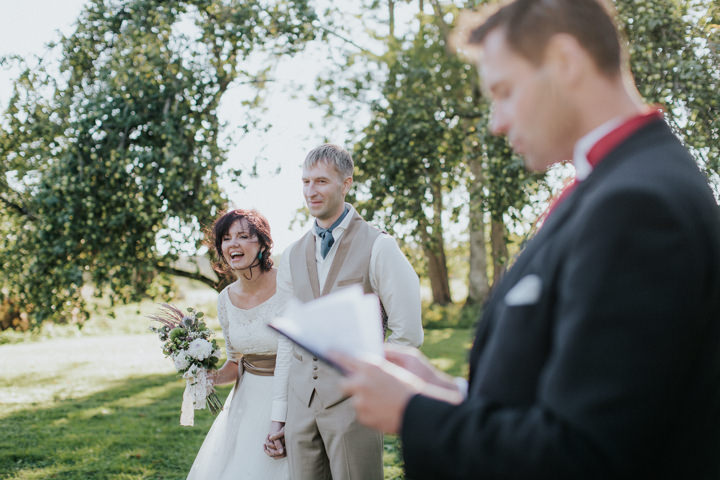 Theme or Colour Scheme
Natural and rustic theme. There was no particular colour, but we used burlap and lace for decorating the venue (vases, candle holders etc.). It was also our aim to bring straw bales in the barn to make it more natural.
Flowers
It's a tradition in Estonia to give flowers to the happy couple after the ceremony. We wrote on the invitation that if possible we would prefer wild flowers. So, all decorations were made on site after the ceremony by a florist from guests' flowers.
Decoration
Ceremony was held outside in the apple tree garden under an apple tree full of apples and almost without any decorations. In the barn we had pompoms in the ceiling, triangle flags on the walls, previously mentioned straw bales, "Christmas" lights here and there, candles in mason jars, M&K corner for photographs, straw bouquets as chair decoration. When the night came and it was dark outside we lighted wooden billets to pave the road.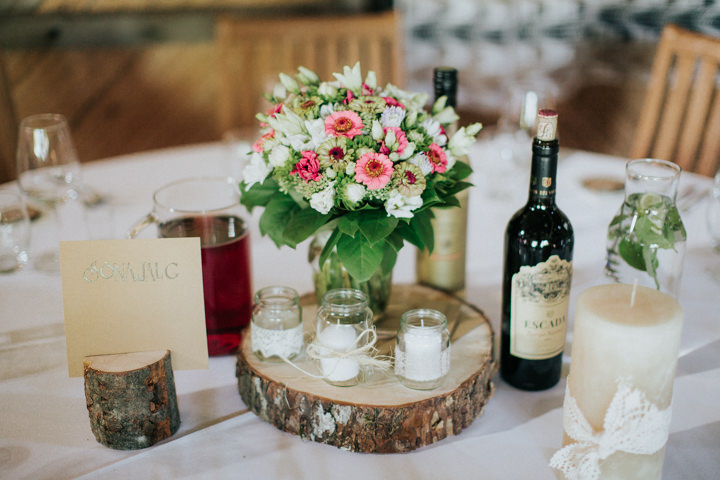 Food
We didn't have time to eat! But guests enjoyed canapés at the reception and warm and cold buffet afterwards. I think the highlights were smoked catfish and duck confit. The guests were extremely satisfied and so were we.
Wedding Cake
We didn't have traditional big wedding cake, instead we had five smaller ones that were placed on wooden tree slices matching our theme. As our family name "Soomets" means "swamp forest" we wanted cake to reflect that. So inside there were two cream layers – one with cranberries and one with blueberries. Decorations of the cakes were edible cones, branches and small flowers. And of course there was a bit of burlap (both edible and non-edible) there as well
Entertainment
We had an actor Veikko Täär as a ceremony master to keep things a tiny bit in order and say things we possibly would have forgotten. He also organised few games (introduction, auction), but not too much, to keep the atmosphere as relaxed as possible. We also had a band Margus Vaher & Alkeemikud – they played both Estonian and English covers.
Personal Touches
We did quite a lot of ourselves as we wanted our wedding to be as personal as possible. Firstly I need to mention our wedding rings – our rings were melted from my grandfather's wedding ring. My grandfather married my grandmother in august 70 years ago and they were happily married for many decades.
As I'm doing calligraphy, I designed and wrote invitations myself. As well as all the signs, name place signs, table names, table lists etc. We made the pompoms, triangle flags, mason jar decorations ourselves. Kristjan even cut an old plum tree and we made name place signs from it. Most of the things were done with the help of our friends and family. Big thank  you to all!
Special Moments or Highlights
Kristjan's most memorable highlight was the very first moment he saw me as a bride. We walked down the aisle together and as the wedding was outdoor in the apple garden, we walked through it before reaching the ceremony place – one of the most enjoyable walks we had! It was so special to have all our friends and relatives sharing the special day with us. And of course , a moment we both treasure was when our son Sebastian  joined us sitting in our arms in front of the guests when we listened to our vows and signed the papers.
Advice for other couples
Remember that this day is about you and only you! Listen to your heart and do things exactly as YOU like, not how someone else might like it. However, take good care of the guests. Nobody is happy when they are hungry or cold. And don't hesitate to ask your friends and family to help.
Supplier Shout Outs
For more information on Gerry's work go to:
www.gerrysulp.net / [email protected] / mob. +3725061737 / FACEBOOK / I: @gerrysulp
My style is to photograph weddings in natural, laid-back way, reflecting people as they are without poses and masks. Couples with a 'quiet confidence' attitude makes me want to do it again and again.
I am based in tiny EU country Estonia. It's beautiful and we have amazing untouched nature to show, come visit!