Well hello everyone and welcome along to the new site! The new Blog design went live late last night. It took a bit longer to get to this point than we first anticipated, but with my design and development team working around the clock to get the new Blog up and running we are here. Looking mighty fine too, if I do say so myself!
I will be talking more about the new design and how we got to this point later today, but for now I have a FABULOUS wedding for you! Who better to launch the new site than Jon from S6 Photography. You will know that I am a HUGE fan of Jon's work and that we have worked together since day one of our wedding careers, so it seems only fitting to have him here at the start of the new phase of the Blog. To make this wedding even more special it is shot in Cornwall where I was brought up, so it holds a very special place in my heart! The wedding itself is absolutely beautiful; the views, the venue, the landscape, the stunning couple and of course the awesome photography. I just love it!
'Our wedding

day

(

or week

)

was

extremely relaxed, natural, surrounded by our

very

closest

family and friends, full of energy, colour, fun, l

ove and

laughter

'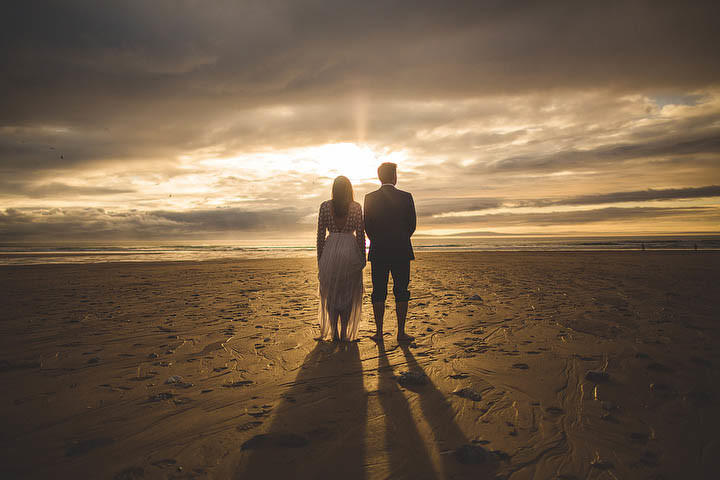 Verity and Sam were married on 25th April 2015 at The Watergate Bay Hotel, Cornwall. 'The hotel is set in a Cliffside, which over looks the most beautiful beach and the reception was held partially outside. Verity has been visiting Watergate Bay since she was born and has many happy memories there with her family and we have created lots of very happy memories there as a couple. We both love the beach and the sea, we were also able to have our dog Whisky there who was the ring bearer and he was able to stay in the hotel with us. We were also able to surf on the morning of our wedding day. Plus, Verity was able to walk around in bare feet for the entire week! The hotel is just incredible!  We had 45 guests and it took 3 months to plan. We are both very laid back but Verity had some extremely organised and helpful bridesmaids.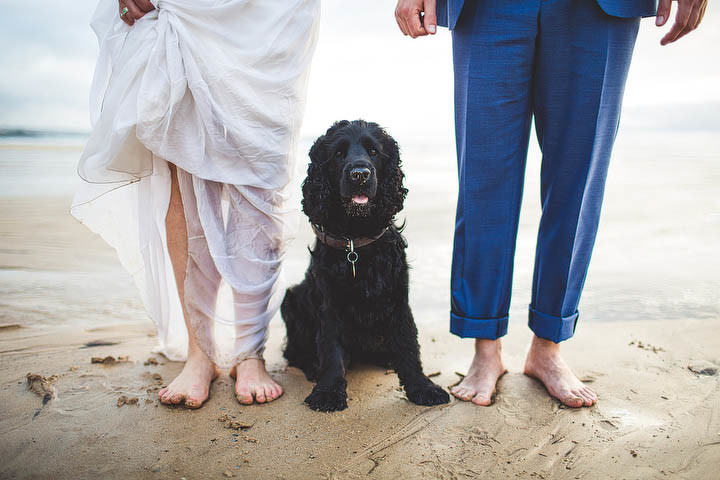 How they met
We met in halls in the first week of university nearly 10 years ago and have been together ever since
The Proposal
Verity is from Yorkshire and we were out walking our dog Whisky on the North Yorkshire Moors in Lastingham on new years day 2015, after a pub lunch at The Star Inn, in Harome, York. Sam got down on one knee in the wet with the most beautiful turquoise and diamond ring, which he'd designed himself and had shipped from an incredible designer in America! Whisky kissed me and so did Sam and the rest is history…
How did you allocate your budget
We decided what our biggest priorities were: the venue which spoke for itself, the photographer, and the band. The rest was very much DIY and amazing people.
How did you choose your photographer
We heard about Jon Dennis through a close friend. I didn't think he'd be available and he was supposed to be taking a weekend off but he'd never shot a wedding in Cornwall and kindly agreed to join us and obviously we were thrilled. We chose Jon because his shots are so natural, have so much energy, capture people's emotions so accurately and his finishing products are so beautiful and untouched. We did not have to pose for any of his shots, we barely realised he was there.
The Dress
Dress- Alice Temperley '15 Bridal Collection, Bicester village, Shoes – LK Bennett, York outlet, Hairpiece – York market. Makeup and hair – natural and done by one very talented bridesmaid Kate Lanch. Big turquoise and diamond earrings – (My something blue) bought from India by my closest friend Lucy who sadly couldn't be there on the day.
The Suit and Bridesmaids
Anthropologie dresses Suit- suitsupply.co.uk- London stores, TM Lewin Ties, Kate Temple pocket squares (Liberty Print pocket squares very new company, very affordable).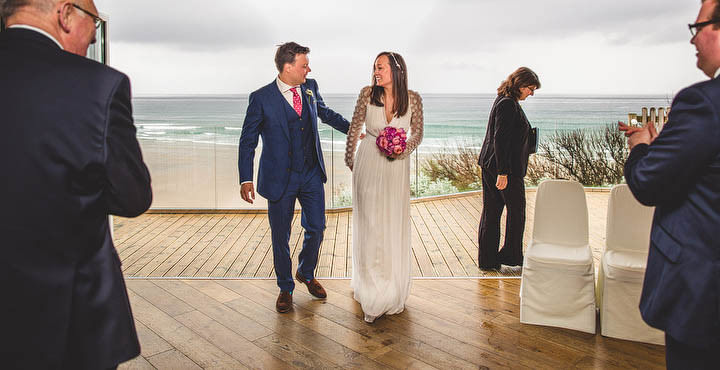 Theme or Colour Scheme
Whites, turquoise and a variety of pinks. Verity loves everything turquoise so she had to be careful.
Flowers
Our bouquets were a variety of pink Columbian Roses and lots of gypsophilia from a local flower distributer.
Decoration
Very little decorations, we picked the venue because it didn't need too much doing to it and the stunning beach was our backdrop. I was determined not to get stressed or over think anything and I didn't.
DIY- I hung white cotton bunting around the room, which I purchased from notonthehighstreet.com and we had two rows of silver buckets from eBay which filled with gypsophilia either side of the aisle. Mum collected hundreds of white candles and we lit all of these during the ceremony.
Food
We are foodies…Courtesy of Zacry's restaurant- Watergate cure gravalax, sweet mustard and dill sauce, Beef wellington, dauphinoise potato, French beans and sauce Bordelaise, Pavlova of raspberries with vanilla bean mascarpone.
Wedding Cake
Cheese wedding cake – all local Cornish cheeses.
Entertainment
John Adams acoustic singer, he sang throughout the ceremony with an acoustic guitar, and he played throughout the evening with an additional singer (pianist) and drummer. They played everything – old, new, acoustic to much more upbeat.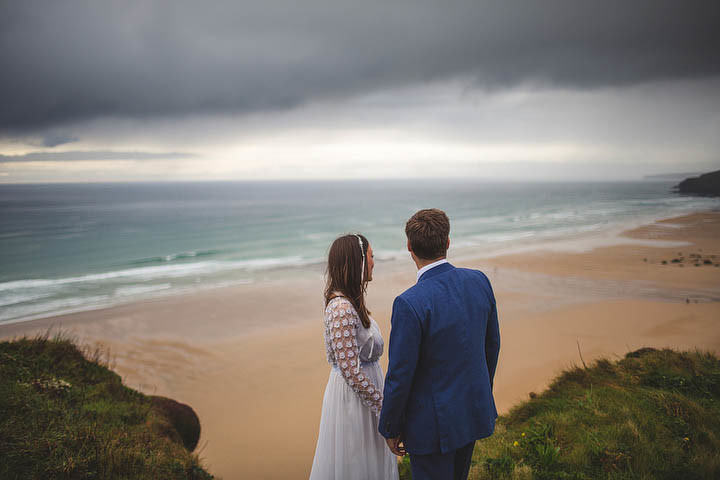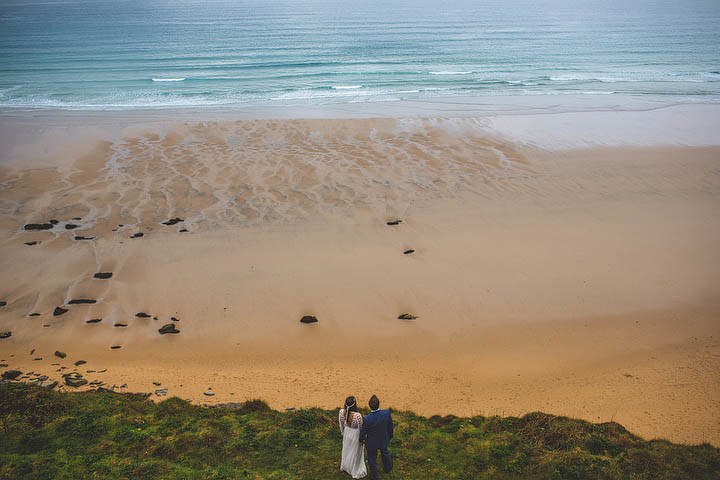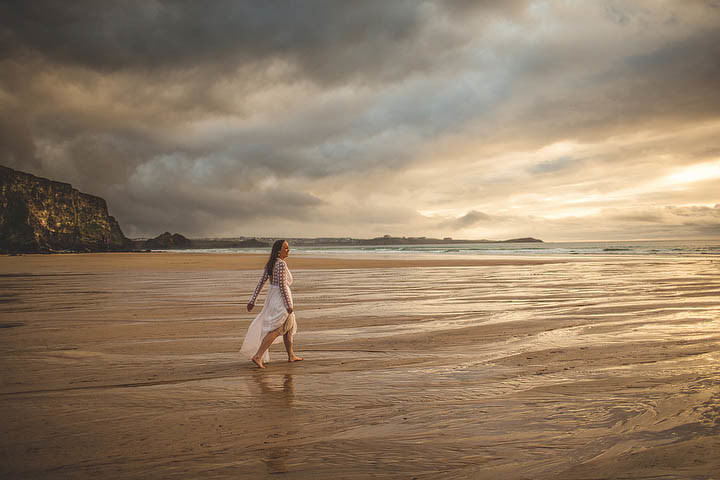 Special Moments
Surfing in the morning before breakfast, holding our dog during the entire ceremony, walking on the cliff tops together, running on the beach and in and out of the water , seeing our family and friends laughing and dancing!
Advice to other couples
Choose a venue where you can be yourselves on the day, don't over plan anything, go with your gut instinct for everything. If you don't want traditional bridemaids dresses then don't have them and probably the most important thing to remember is to share your planning as it can be really fun-surround yourself with amazing friends and family who love helping plan and organise your special day!
Biggest surprise
The whole day seemed like a surprise! We didn't plan everything, the day just unfolded which made it so magical.

Supplier Shout Outs
For more information on S6 Photography go to:
www.s6photography.co.uk / www.s6photography.co.uk/blog / FACEBOOK / @s6photography
Due to an email issue if you have emailed me between the 2nd & 9th of December, please resend it.
X