Well hello Tuesday and how are you? I hope it's a good week so far for you? Today I am going to a meeting with my designers to talk about the new blog design. So far all is going well, and I will be able to give you a  progress report after todays meeting, I am more than excited! Today' real wedding is a real stunner and it comes from one of my favourite wedding photographers Lisa from Devlin Photos. It's a beautiful London wedding that takes place in Burgh House. A stunning mix of pretty and eclectic details to give it a vintage feel mixed with a touch of elegance, and such a  gorgeous couple. A delightful day from start to finish.
'Our big day was filled with so many smiles and laughter. Everything came together including the weather'
Sarah and Christopher were married on 9th May 2015 at Burgh House, Hampstead in London. 'I researched just about every wedding venue in the South East! In the end we both loved the elegant but relaxed feel of Burgh House. We had 80 guests including 8 children many of who were just toddlers. We wanted the wedding to have a real family feel to it. We were only engaged for nine months so most of that time was spent planning. We picked out the venue in about November. Then we drew up our big wedding to do list on 1st January when I panicked that the wedding was only five months away!'
How they met
We met online and have been together two years. Chris was my first online date so I got lucky!
The Proposal
Chris asked me to marry him on the edge of the Grand Canyon. It was a very special moment for both of us.
How did you allocate your budget
Too easily! Wedding budgeting makes you lose all concept of the value of money. Priorities were photography, the venue and food.
How did you choose your photographer
I was adamant that I wanted great photos – after all they are the memories you treasure from the day. I chose Lisa Devlin as I'd heard she was one of the best in the business. I wrote her a gushing email telling her how great I thought she was. Luckily she was flattered and available on our chosen date. We met up with her before hand and really got on. It's so important to get on with the people who play a big part in such an important day.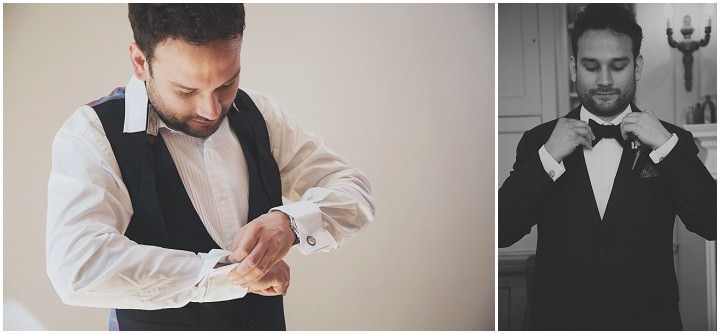 The Dress
I bought my dress from Heart Aflutter, a bridal boutique in East London. The designer was Daughters of Simone from San Francisco. Chris and I started and ended our engagement holiday in San Francisco so it had extra meaning to me. I knew I wanted lace and something understated but delicate. And the dress was so light and comfy on the day. I didn't want 50 metres of tulle and a thousand underskirts!
My veil was also from Heart Aflutter, shoes were Rainbow Club bought online and jewellery was all family pieces.
The Suit and Bridesmaids
Chris had his suit made bespoke at a tailor called Norton and Townsend near Liverpool Street. He looked like a movie star on the day. My maid of honour wore her own dress and my little bridesmaid was in a Monsoon dress. I was keen not to have everything too matchy matchy so was quite relaxed about what people wore as long as the colours all toned in.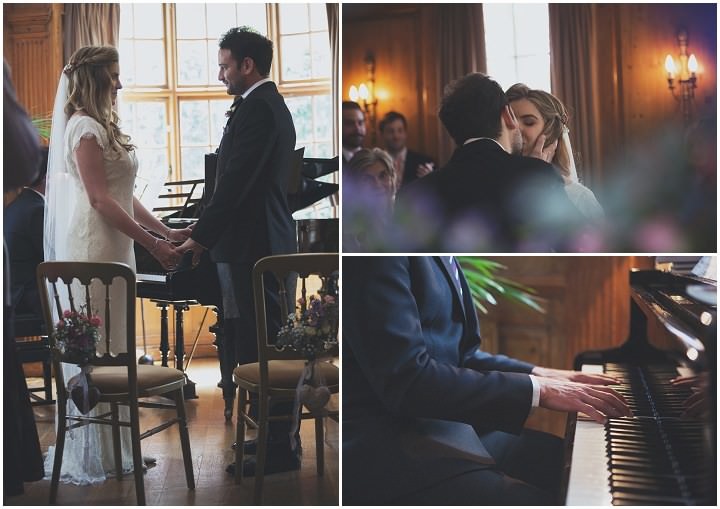 Theme or Colour Scheme
There wasn't too much of a theme really – a bit vintage, eclectic and pretty. We mostly went for dusky pinks and mauves with some soft mint/sage greens. I wanted to stay away from bling and organza chair ribbons. We wanted everyone to feel relaxed and comfortable – we specifically asked guests not to be too formal with fancy hats.
Flowers
I went a bit crazy with the flowers on Pinterest but Cappy at White and Winesome managed to pull my ideas together to create some really beautiful displays. I had soft vintage Amnesia roses and other English flowers including sweet peas in my bouquet. She arranged flowers in an eclectic array of vases and other containers along our tables. Everything was soft and pretty and delicate and not too structured. We were lucky enough to have the beautiful wisteria out in bloom at our venue and my bouquet toned in so beautifully for the photos. It all looked so romantic and dreamy!
Decoration
Burgh House is so beautiful it didn't need a huge amount of decoration. We had them string up some floral bunting, I decorated our postbox by covering it in all my favourite wedding magazine pictures(!), and I painted the table plan as a theatre stage to reflect our love of going to see plays.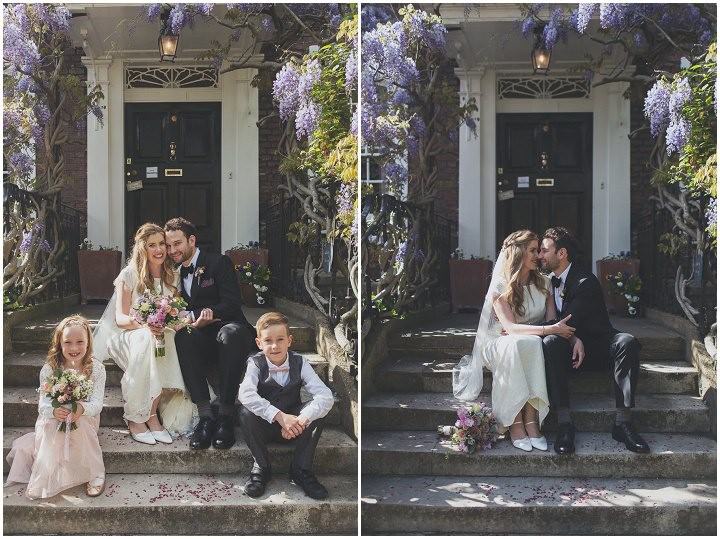 Food
Whilst we had our photos taken outside our guests tucked into a selection of canapés. Our starter was smoked salmon salad and the main course poussin. We had previously gone to a tasting with Leafi which confirmed their food was delicious.
We really wanted people to eat the wedding cake so served that up as dessert along with a cheese board. We chose Spanish wines to reflect Chris's Spanish side.
Wedding Cake
Our delicious and beautiful wedding cake was made by the talented ladies at Lincy Creations. They even matched the colours of the edible flowers to our invites. Many guests went back for second and third helpings which says it all really!
Entertainment
The venue had a grand piano that we were unable to move so we made the most of it by hiring a pianist, Miguel to play during the ceremony and meal. Then we had an acoustic band, Beyond Acoustic in the evening. They played a lovely mix of songs that got everyone up dancing.
Buy or DIY your Stationery
To save on costs we sent Save the Dates for free via Paperless Post. Then I got fully into the crafting and handmade our invites and programmes for the day. I cut out pretty papers and pictures and glued them all together I then scanned them into the computer and had them professionally printed. I was really pleased with how they turned out and I got a lot of great comments. It was so much fun to express my creative side for such a special event.
Personal or Handmade Touches
Our wedding programme had lots of elements that were personal to us. They were a bit like a collage. I decorated our postbox, made signs and covered paper mache hearts to decorate the venue.
The table plan was a chance to get the paintbrushes out. We thought long and hard for an original idea and the stage setting suited us perfectly because we are always taking trips to the theatre. Oh and the table names reflected our favourite food!
We made and decorated our favours. My maid of honour came over for a day of mini magnet making. We wanted a favour that people might actually pop in their pocket or bag. Hopefully several of them made it onto our guests fridges as a memento of the day! Guests names were stamped onto the favours by my lovely husband who enjoyed helping with the preparations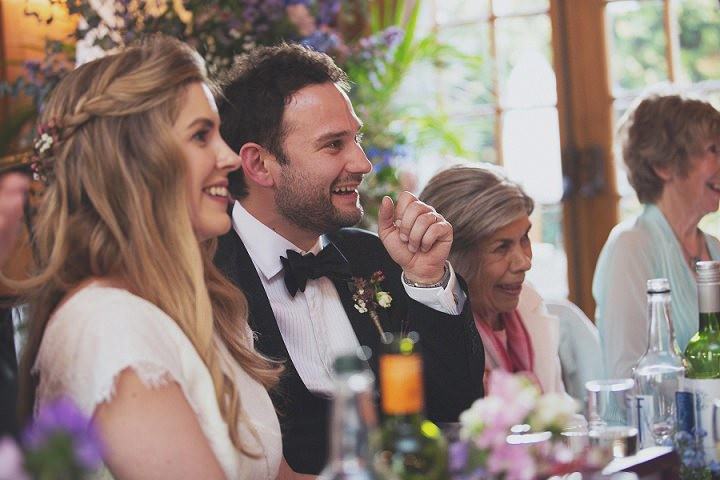 Special Moments
The whole day was crammed full of special moments: my new husband writing me a beautiful song that his friend sang after the speeches. The lucky black cat crossing our path as we had our photos taken. Seeing everyone looking so happy. And to top it all off the stormy clouds breaking just as we were getting ready, leaving us with a beautiful sunny spring day. Perfect
Advice to other couples
Make a lot of lists beforehand. We had a mega list pinned up in the kitchen that we could tick things off. If you're organised in the run up then just chill and relax on the day knowing that everything will come together (and even if it doesn't all go perfectly it will still be amazing!).
Also accept that you will spend more money than you intended – getting married is not a cheap process. Make sure you keep communicating as a couple and schedule in time for 'non-wedding' activities particularly as the big day gets closer.
Biggest surprise
The biggest surprise was not feeling nervous about making a speech even though I'm really shy. I was bursting with happiness and just wanted to share that with everyone on the day.
Supplier Shout Outs
For more information on Lisa's work please go to:
wwwdevlinphotos.co.uk
http://devlinphotos.co.uk/blog
FACEBOOK
T: @DEVLINPHOTOS