I am back on the blog today with part 2 of my #bridalblogathon experience.  If you check out my 3 previous posts Bridal Blogathon, Instagram Best Bits and last weeks part 1 post all about weddings in St. Lucia  you will get a good idea all about my trip to St.Lucia and Antigua organised by the lovely people at Elite Island Resorts, Kuoni and Karen Tippett PR.
It was an early start in St. Lucia where I was collected at the front desk by my taxi driver to take me on the short journey to the airport to wait for my flight to Antigua.  It was a very beautiful drive and I managed to see the sun rising.  *Firstly can I just say that I really do recommend island hopping in the Caribbean.  It's so easy and the islands are so close together.*  After a quick check in and short wait with the most delicious cheese and ham croissant kindly provided by St.James's In St.Lucia for my journey, we boarded the flight to Antigua.  It took just over an hour before we landed on the dry, sunny and very beautiful island of Antigua.  I didn't know what to really expect of Antigua.  I just presumed that St.Lucia and Anitigua would be the same with only being an hours journey away but how very wrong I was.  Both islands are different but in such an amazing way.  This is why I definitely recommend island hopping.  St.Lucia is very green, hilly and beautiful.  Antigua is pretty, flat, dry and has the most beautiful beaches ever imaginable.
I arrived with such a warm welcome from Antoine the general manager at The St.James's Club in Antigua that I immediately felt like I was at home.  I was given a glass of the most delicious and fresh Pina Colada and Antoine took me around the complex on a golf buggy to show me the sights before I was taken to my room.  The view in my room.  I was blown away!  I mean…Imagine waking up on your wedding morning or even on your honeymoon to a view like this!  Truly amazing and breathtaking.  Words cannot explain what a sight this is!
The wedding experience here at St. James's Club in Antigua is just as amazing as the experience as St. Lucia.  I managed to witness 3 weddings in Antigua.  2 at the St. James's Club and one at The Verandah.  All the weddings were held in the beautiful gazebos's they have onsite.  2 were over looking the sea on the gardens and the other wedding was on the pier.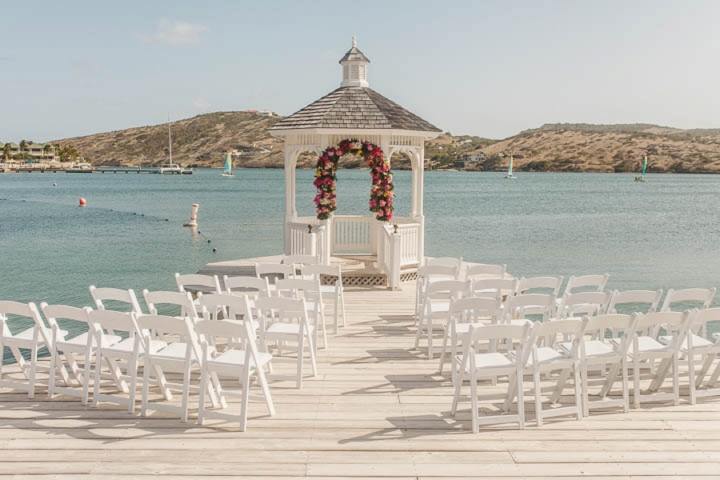 The St.James's Club in Antigua has 3 gazebos in total and you can get married on the beachside.  You can even have your wedding reception on the beach.  All of the locations are beautiful.  You really will be spoilt for choice!  There is also an amazing spa.  The Tranquility.  You can have all your pre wedding treatments here, male or female.  It has a great and spacious hair salon and a nail bar and the most amazing outdoors massage tables overlooking the sea.  Imagine having a couples massage here with the sea breeze hitting your skin on a warm day (take me back…please!).  All your beauty needs will be catered for.  You do not have to leave this beautiful resort.
I managed to spend some time with Nkems who was on the front desk of the salon.  She talked to me all about the treatments you can have.  She was full of knowledge and very passionate about what she does.  She will advise you about all the treatments and recommended the most amazing back massage I have ever had.  Thank you Nkems for spending so much time with me.
The wedding experience is wonderful.  The wedding planners and co-ordinator are brilliant and nothing at all is too much trouble for Paula and Alina.  I loved spending time with these two.  They make the most incredible team!  They live and breathe their job and they make all their couples feel special.  I managed to chat to some couples on the beach that had been married there the week before and they described their experience as truly perfect, relaxed and not stressful at all.  You can certainly leave all your finer wedding details to Paula and Alina because they will make your wedding unique and exactly how you want it to be.  Nothing is too much trouble.  I miss those girls!
Before you get married you will have to make a trip to St.John's to organise the finer legal details.  It make take a few hours but St.John's is only a short taxi ride away (the hotel are more than happy to organise the transport for you) and the trip to St.John's can be made into a lovely shopping day as it is duty free town.  I saw a few beautiful handbags on my trip and you may as well spoilt yourself on your wedding trip ladies ;-)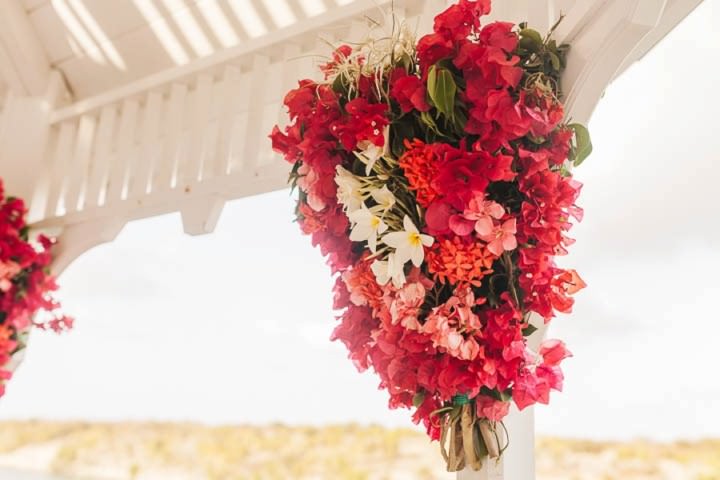 Paula and Alina try not to spend too much time with you before your wedding day.  Not because they don't want to they just want to make sure you have total relaxation before your wedding day.  They will be in contact by email before you leave the UK to make you feel at ease and let you know that they have everything in hand.  They will have a very relaxed meeting with you when you arrive and make sure they have all the details and instructions they will need leaving you to totally relax and enjoy St. James's Club and the wonderful activities it has to offer.  They are always about onsite and available most hours.  I even saw Paula on the beach one evening after 10pm chatting to guests!
As with St.Lucia, Antigua offer lots of extras for your wedding day.  Seat covers, intimate beach dinner, you can hire the restaurant for your evening reception, flowers, fire breathers, DJ's, bands and the list really does not end there.  There is so much choice which makes getting married in the Caribbean is so easy.
The wedding experience at the Verandah again was similar to St.James's.  They offer 3 gazebo's to use for your wedding or a beach wedding.  There are 2 overlooking the beach and sea and the other is an intimate location probably holding about 10 people.  The Verhandah has the most beautiful beach.  They offer all the fabulous extras that St. James's in Antigua and St.Lucia offer.  This resort again is perfect.  I honestly wouldn't know which to choose between St. James's and the Verandah because they are fantastic!  I really do have to give a shout out to the wedding planner as she is again fantastic and Bishop one of the Night Managers.  Bishop is a young, lively and passionate guy who really looked after me.  He is a true gent and all the guests loved him!
There is the same amount of choice as you can get here in the UK for your wedding but you know you are guaranteed the sun, crystal clear sea, sand and Caribbean charm with an Antigua wedding.  What more could you ask for?  It certainly is a paradise.
If you fancy getting married in the Caribbean then Kuoni and Elite Island Resorts should be your first port of call and they will be more than happy to help you plan your perfect day.
Huge thanks to Paula, Alina, the wedding co ordinator at The Verandah and Bishop.  There are so many others I could thank too but each and every member of staff at these resorts are amazing.  THANKYOU!
The team who made it happen
www.eliteislandresorts.com
St. James's Club Antigua
www.kuoni.co.uk
www.tippettpr.com
www.ultrasun.co.uk
The Verandah

I am looking forward to sharing with you in the near future my last post on Caribbean Honeymoons.  I will be sharing some of the amazing excursions, dining experiences and treatments I managed to experience.

[jprel]