I still pinch myself when I look over these images.  If you check out my two previous posts, Bridal Blogathon and Instagram Best Bits you will get an idea of what the #bridalblogathon that Boho Weddings was invited to by Kuoni and Elite Island Resorts was all about.
When I was first asked to attend the bridal blogathon all I knew was that I was going to be going to St. Lucia and Antigua.  As most of you regular Boho readers know, Paul and I were married in St. Lucia so I was really excited.  A few weeks later when an email from Karen dropped into my email box I was shocked and so very excited.  Out of all the hotels in St. Lucia (there must be 100's) I was going back to the very hotel that Paul and were married.  St. James's Club in St.Lucia.  *Cue lots of squeals and tears*
It all started on Thursday 30th April at 10am after an amazing breakfast in the No1 Lounge at Gatwick airport when I boarded a British Airways Airplane to St. Lucia.  9 hours later I landed on the beautiful island of St. Lucia where I was greeted with glorious weather and I couldn't wait to kick my shoes off and feel the white sand between my toes.
My overall experience back in 2008 when Paul and I got married was lovely but there was just things missing that could have made it perfect.  I have said previously in a post that if we were to get married again we probably wouldn't do the same again but after my latest trip to St.James's Club in St.Lucia my opinion has totally changed.
The wedding experience you now receive is magical and nothing at all is too much trouble for Kuoni, Elite Island Resorts and the staff at St.James's Club.
In my jam packed two days on the resort I was able to experience some of St. Lucia's best honeymoon activities, (more on this in a future post) witness one wedding vow renewal and I spent the afternoon with the AMAZING wedding co-ordinator Pam.  Pam loves everything about weddings and co ordinating them.  She is the most organised and relaxed person I have ever met within the wedding industry.  When you book your wedding in the UK she touches base with all her couples by email and even lets you have a skype meeting with her before you arrive if you feel the need but in all honesty, Pam has everything in control.  No request is too large or small which is so refreshing and great for any nervous bride/groom to be.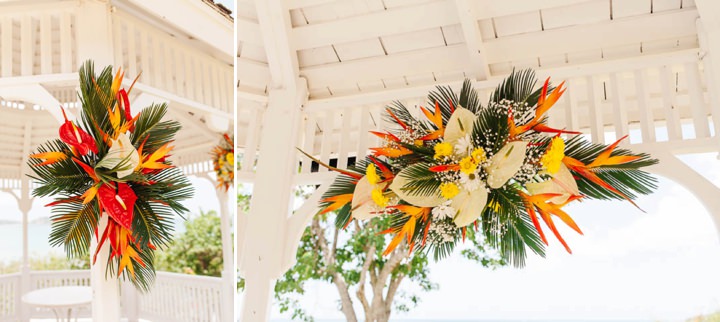 It's really easy to get married in St. Lucia which is fantastic news. When you arrive in the Caribbean you don't have to lose a day of your holiday trying to organise your wedding ceremony with the registrars.  You can leave it all in the capable hands of Pam or any of the other Elite Island Resorts Wedding Co- Ordinator's.
There are a few wedding requirements you do need such as:
There is a three day minimum in St.Lucia required to obtain a marriage licence.  If you do wish to be married less than three business days after arrival there would be a fee of $420US.  This can be paid in cash to the solicitor at the time of first meeting at the resort
There is no blood test required.  A lot of countries do require you to have a blood test before marrying in their country.
If either party is widowed you must bring your original marriage certificate.
$350US fee is required for your marriage license.  You do not have to leave your resort this will be done onsite with the Elite Island Teams Wedding Co-ordinator.
It's as easy as that!  There are many countries which do have a lot of requirements but St. Lucia is so simple and easy, meaning you can sit back, relax  (with a rum and coke) and enjoy your break without losing any time at all.
When Paul and I were married I have to say that I was a little disappointed with the options that we had for the wedding.  We didn't mention this at the time but they were really limited.  I suppose this is why we previously said if we could do it again we would get married in England.  For example: I wasn't able to choose my bouquet.  I was just given one on the day.  I wasn't able to speak to the wedding co ordinator before I arrived at the resort.   There was no exclusive use of the restaurants for after the reception to celebrate with our family and friends and we had to hold our celebrations in a busy restaurant.  Not ideal, but it was all fine and we had fun never the less.
There have been so many changes at St. James Club in St. Lucia and all are for the better.  What an amazing transformation in only 7 years.  The wedding experience is so much more relaxed with a great range of choices and nothing at all is too much trouble for the wedding team.  There is everything on site including a fabulous tranquility spa where you can have any beauty treatments before your wedding.  There is even a hair salon too and it's pretty amazing!  You don't have to leave the resort to prepare for your wedding day because everything you need is right there on the resort.  I got to sample the Bamboo massage and it's truly wonderful.  (I will share more of this in a few weeks when I chat about the honeymoon experience)
You can get married in one of four locations they have on the resort.  They have a gazebo on the beach, an archway on the beach where you can get married on the sand and there are two garden gazebos to choose from too.  All the locations are stunning, each overlooking the clear, crisp blue Caribbean sea.  But hold on….It doesn't end there!  You can now have a choice of bouquets, flowers for you hair, corsages, beach set up, table decorations and so much more.  The best thing for me was discovering that you can make your wedding much more exclusive now.  You can celebrate your newly married status by enjoying a beach BBQ, an a la carte menu in a separate part of the restaurant or you can hire a restaurant for your family and friends.  Once the sun goes down you can have a bonfire on the beach, a private dinner, DJ, live band, steel pan band and you can even hire fire eaters to entertain your guests!  I would have loved to have had fire breathers to entertain us at our wedding.  Such a great idea!  There is the same amount of choice as you can get here in the UK but you know you are guaranteed the sun, crystal clear sea, sand and Caribbean charm with a St. Lucia wedding.  What more could you ask for?  It certainly is a wedding in paradise.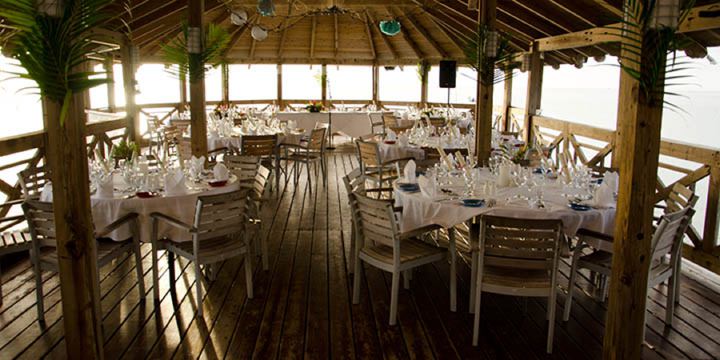 If you fancy getting married in the Caribbean then Kuoni and Elite Island Resorts should be your first port of call and they will be more than happy to help you plan your perfect day!  I had such an amazing experience at St. James's Club in St. Lucia I cannot recommend them enough!  (hopefully Paul, Fearne and I will be able to enjoy a good family holiday on the island again soon)
Huge Thank you to Mark Grebby the General Manager who was simply fantastic and has made St. James's Club what it is today.  Perfect.  The staff think so much of Mark and everyone is so happy to be part of the St. James's Club team.  It makes the experience at St. James' even more perfect as everyone is so happy!  I also want to thank Pam the wedding co ordinator.  She is truly amazing and any future brides getting married there can rest assured she really will make sure you have the perfect day.  She is simply the best at what she does.
The team who made it happen
www.eliteislandresorts.com
www.eliteislandresorts.com/st-lucia/morganbay
www.kuoni.co.uk
www.tippettpr.com
www.ultrasun.co.uk

I am looking forward to sharing with you in the near future My Antigua Wedding Experience and the Caribbean Honeymoon round up.

[jprel]