Todays wedding is just lovely. A barn wedding which seems to be the most popular of weddings at the moment. Over the last year I have featured more barn weddings than anything else on the Blog. They are so versatile as they offer a blank canvas and can often be more cost-effective than other wedding venues. Todays couple, Meg and Kevin chose to create a handmade wedding to keep costs down and in doing so created a wedding full of beautiful touches and pretty details. From the DIY flowers to the homemade wedding cake this wedding is just so pretty. Big thanks to blog regulars Chris and Verity from Sansom Photography for the images
'Homemade, traditional but not traditional, and absolutely amazing'
Meg and Kevin were married on 20th September 2014 at Bedern Hall and the reception was held at Barmbyfield Barn, Barmby Moor, Nr York. 'For a few different reasons we both knew that we didn't want a religious ceremony. But we also still very much wanted to have the ceremony and the reception at separate venues, similar to the manner of church weddings. The ceremony venue was very important to us and we spent months searching for 'a church that's not a church'! We found it in Bedern Hall, it's hard to pinpoint exactly why but it just felt right and we're really happy with our choice. We had a total of 65 guests for the day and 85 guests in total for the evening. We got engaged in September 2012 but didn't start planning properly until the following spring, so probably just over 18 months in total.'
How they met
We've been together nearly 8 years now. We met back in 2007 while I (Meg) was doing a placement year as part of my degree and Kev was working for the same company (GSK). We didn't work together though, we actually met through the company hockey club.
The Proposal
Kev: I'll be honest; the proposal was a bit of a let-down in the end. I'd been thinking aboutproposing for a little and with a holiday planned I decided that it would be the perfect opportunity. So I spent a little time ring shopping, picked the diamond and had it mounted in the ring style that I had chosen and off on holiday we went, Meg, myself and the ring. Unfortunately the holiday was disappointing, resort was a bit rubbish, location a bit poor and Meg sadly was a little ill during the break, so the romantic holiday proposal disappeared. By the time we arrived home I'd had the ring for about a month and we'd been on holiday and I still hadn't found the right opportunity. So the day after we got back from holiday I dragged her down to one of our favourite bars close to home thinking a proposal over a nice romantic drink would work, however the bar was busy and loud, so another opportunity was missed. The following day I was determined. We had a nice romantic meal at home, homemade steak and chips over candlelight. And just after finishing my medium-rare ribeye steak I told her I loved her and wanted to spend the rest of my life with her, pulled out the ring and asked her to marry me. And she said yes.
Meg: It was totally unexpected and most definitely not a let down!!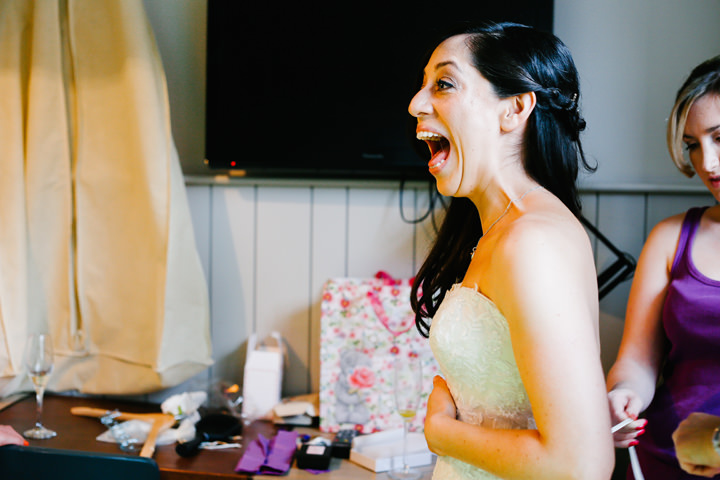 How did you allocate your budget
We were determined not to get into debt over our wedding, and not to have anything left to pay after the day. However we also didn't want to have to majorly compromise on things like the venues or food. So our budget was based on what we could save over the time we had and what we thought we'd spend. The biggest part of our budget went on venues, both the hire and then the dressing of them. We managed to save on some areas by doing them ourselves and find good deals by using local suppliers.
How did you choose your photographer
We didn't have a set idea of the type of photography we wanted, other than knowing there was no way Kev would stand very long for posed photos! So we set out just researching and looking at what our options were. Chris and Verity's photos from Sansom Photography stood out a mile for the way they told the story of the day and how incredibly beautiful they were. When we then went to meet them they were just so easy to get on with as a couple we pretty much decided then and there, and we're so pleased we did.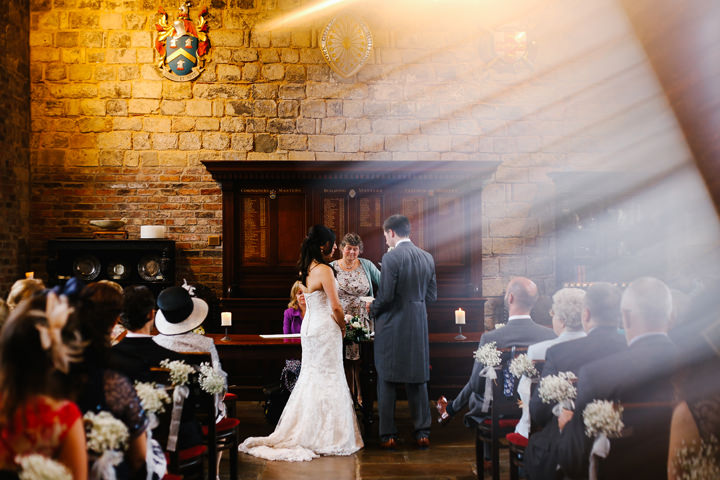 The Dress
My dress was Judith by Maggie Sottero. Shoes were Kurt Geiger and jewellery from Sarah Hickey.
The Suit and Bridesmaids
The suits were Ted Baker 'Tails of the unexpected' hired from MOSS. The Bridesmaids dresses were from Monsoon.
Theme or Colour Scheme
There was a vague vintage, pastel type theme but we more picked things we liked and just hoped they all went!
Flowers
I love flowers and wanted them to be everywhere, especially in the barn where we had the reception. Fitting this in the budget meant going DIY and luckily this worked with the just picked/unstructured/country feel I was aiming for. I bought all the flowers from a wholesaler, I didn't really know what to go for so just ended up picking a combination of flowers with a scent and in a variety of colours. We had Ivory & peach avalanche roses, pink alstroemeria, purple & ivory freesias, Gypsophila & chrysanthemums, using different combinations across the bouquets, buttonholes, centrepieces and venue decorations.
Decoration
Mainly the flowers, but also with a few wood slices, pom poms and candles thrown in.
Food
We had canapés with the reception and then sat down to an individual gazpacho shot, followed by tapas & paella and then wedding cake. We chose tapas as we both love Spanish food, for both the taste and also the sharing and conversation it brings to a meal.
Wedding Cake
Having made a couple of friend's wedding cakes in the past for some reason I thought it would be a good idea to make my own! I've also seen quite a few wedding cakes barely touched at weddings and decided if I was going to the trouble of making the cake, it was going to get eaten! So we hit upon the idea of a dessert suitable wedding cake, which with Kev's love of chocolate just had to be chocolate fudge, three tiers of it! I spent most of the 9 months running up to the day trying out and refining recipes and it seemed to pay off as everyone seemed to enjoy their dessert.
Entertainment
We had a band for the evening with a playlist we put together in between sets and during the day.
Buy or DIY your Stationery
It was all DIYed- save the dates, invites, order of day, menus etc etc.
Personal or Handmade Touches
We had loads!
-I made the wedding cake, which was served for dessert.
-My amazing friends helped me do all the flowers, including the bouquets and buttonholes, which actually wasn't planned but my mum who was going to do them was delayed on the day and couldn't make it in time to put them together.
-We also put on an honesty bar, where we provided all the drinks (majestic sale or return is brilliant), and asked people for an honesty donation towards the cost with the profits going to charity. Everyone was thrilled to throw in £10 at the start of the night and forget about it, and we were really pleased to be able to donate £250 to the hospice which cared for Kev;s grandpa before he passed away.
-Kev made the table plan (and I added the flowers), most of the props for the photo guest book, our thank you sign, the wood slices which formed part of our centrepieces and the honesty bar chalkboard.
-We also named all our tables after our pets, as between us we have three chickens, two cats, and a horse (we also had to include a now deceased rabbit to make up numbers!).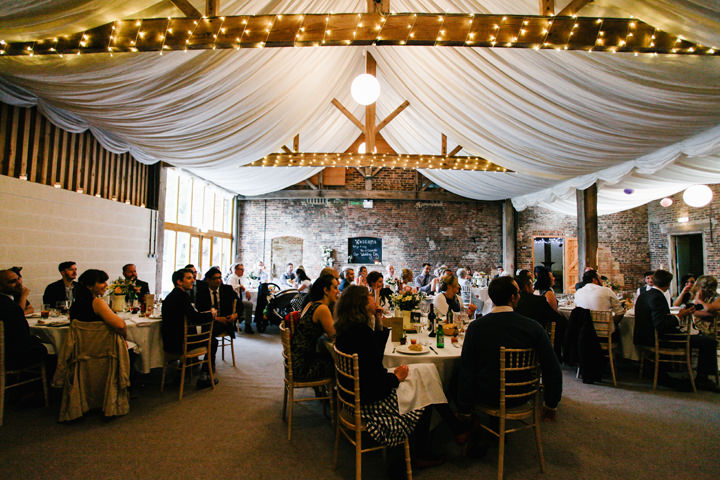 Special Moments
It's very hard to pick one to be honest, the whole day was just brilliant and all our plans just seemed to come together.
Advice to other couples
Have it your way!
Biggest surprise
That it all went to plan, I was even early to the ceremony!
Supplier Shout Outs
For more information on Sansom Photography work please go to:
www.sansomphotography.co.uk
www.sansomphotography.co.uk/blog
FACEBOOK
PINTEREST
T:@SansomPhoto
I: @sansomphotography

[jprel]