Happy Bank Holiday Monday everyone, are you all off having a lovely time? or are some of you at work? If you are at work I hope you aren't having too much of a stressful day! Our bank holiday has been fab so far we have been in London this weekend visiting Nik's sister and nieces and nephew. We are heading back today to make a start on clearing out the two offices, we have the painters coming on Thursday to get the decorating done, so everything is going to be upside down for a few days! I am so looking forward to seeing the nursery finished! On with this week's real weddings though and to start off the week I have this lovely wedding from Sansom Photography. It is set in the Yorkshire Dales and comes complete with garden games as well as badminton! Laura and Lawrence managed to plan the day on a small budget by prioritising what was important to them, they also called in lots of favours from friends and family, which was a big help!
Our wedding day was perfect for us, it was informal, relaxed and fun, plus the weather was unexpectedly fantastic! It was everything we could have asked for and more.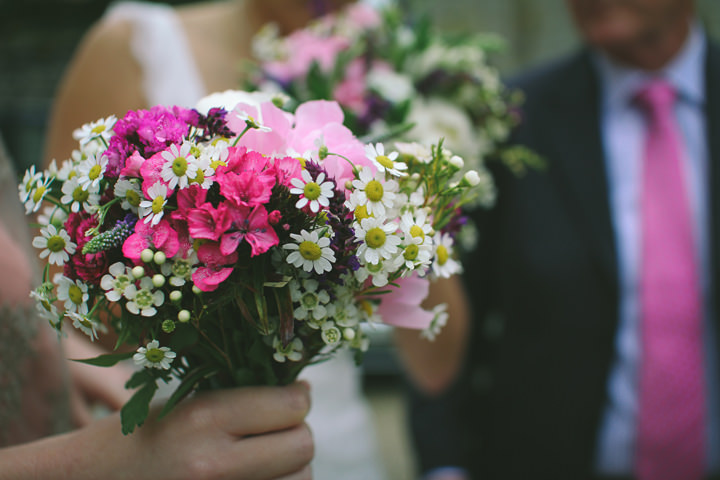 Laura and Lawrence were married on 29th June at The Priest's House in Barden, North Yorkshire. "When Lawrence proposed, I initially imagined our wedding in an elegant country house." Said Laura, "But, at first glance those types of venues were out of our price range and didn't tend to have the relaxed, friendly and inviting feel that Lawrence and I really wanted our wedding to have. We started thinking more creatively, looking at village halls and less traditional venues. Once we had found The Priest's House, we knew it was where we wanted to get married. Surrounded by the Yorkshire Dales, the setting was stunning and the Bunk Barn's charm completely won us both over. We managed to squeeze 50 guests into the ceremony room and then were greeted by an additional 20 of our closest friends and family immediately afterwards. We wanted everyone to be able to share our special day with us as much as possible. It took about 18 months to plan the whole thing. We started planning from the moment we got engaged, but wanted to enjoy the process and not feel rushed at all."

How they met
Lawrence and I have been together for 6 years since we both moved to Leeds separately in 2007. I was starting a new job, moved into a new house-share and knew few people in the area. My housemate invited me to go climbing with her, her boyfriend and his housemate. I'd never been climbing before, but I was excited to try something new and meet some new people. When we went to pick her boyfriend up it turned out that Lawrence was his housemate…and as they say the rest is history!
The proposal
Lawrence proposed in October 2011. After falling off my moped and breaking my wrist we were unable to go on the camping and biking trip that we had originally planned. However undeterred by this, Lawrence told me not to cancel my holiday from work and instead arranged for us to spend a couple of days at a 'surprise destination' in the Lake District. We ended up in Keswick in a lovely B&B and on the Sunday we headed out on a long walk around Derwent Water armed with a picnic of Cornish pasties. Unfortunately I had developed a cold over the weekend and was feeling particularly bad that day. After walking halfway around the lake, my cold had worsened and all I could think about was getting the ferry back and cosying up together in the B&B. But Lawrence had other ideas… He found us a little secluded spot by the edge of the lake to eat our lunch. After polishing off the Cornish pasties, I turned to look up at Lawrence and there he was, bent down on one knee, holding out a ring. I said 'Yes!' of course, instantly forgetting about my awful cold and practically skipped my way around the rest of the lake back to Keswick!
How did you allocate your budget?
Compared to many couples, we only had a small budget of £5000, so we had to consider our priorities carefully. Photographs last forever whereas some of the other aspects are only significant on the day, so we were happy to spend more money on the photography than on some of the other details. Selecting a relaxed, buffet-style picnic rather than a formal sit-down meal also meant we could serve good food at a price that was easier to swallow. We were very lucky that both our parents wanted to contribute towards the day, and I was also really fortunate as my mum kindly offered to pay for my dress when I got engaged. Sadly, she had not been able to afford the dress of her dreams when she was getting married and she didn't want me to sacrifice the dress that I would end up setting my heart on. It was such a kind gesture and we were really grateful to both our parents because their contributions helped us out a lot.
Why did you choose your photographer?
I met Chris and Verity from Sansom Photography at the first of a few wedding fayres that I visited. As I was chatting to them I realised how easy they were to get along with and how relaxed I felt in their company. We seemed to be on a similar wavelength and I loved their ideas and what they were about. It sold it to us that they preferred a more relaxed reportage style of wedding photography. We didn't want a lot of posed photographs of the day and much preferred the gorgeous natural shots that they managed to capture for us.

The dress and accessories
I loved my dress, though I really struggled when it came to choosing it. There are many beautiful gowns available and being on the tall and slender side seemed to open up a plethora of shapes and styles. I knew I wanted something unique and comfortable to wear. I preferred the dresses that were lacy and floaty as I didn't want anything too structured, but it didn't seem like the 'dream dress' in my head was out there on the racks. After visiting about my 10th dress shop I ended up at Brides of York and fell in love with the Cymbeline line of dresses that they stocked. The French lace was gorgeous – it was delicate without being dramatic and I adored the little bow, which trailed down my back from the empire line. I love vintage style jewellery so I knew I wanted something along these lines for my wedding. My headband was handmade by a family friend (Sarah Bickers of Sylvie Be Gladys) who is a vintage jewellery designer and extremely talented. Sarah made the rest of my jewellery fairly simple so as not to detract from the gorgeous head-piece: a pair of drop pearl earrings and a necklace, which complimented the bracelet I used as my 'something borrowed'. The bracelet had been a gift to my Mum from my Dad when they were first 'courting'.  Being tall, I picked out a pretty pair of flat sandals to wear from Office.
The suit and bridesmaids
I had two bridesmaids and whilst Marion lives nearby, Sophie now lives in Singapore, so we only had one shopping trip together to find the perfect bridesmaid dresses. Initially I had imagined that the bridesmaids would be in sage green, however, after finding my dress in Brides of York we crossed over the street, stepped into Monsoon and saw two remaining vintage styled dresses in a shade of dusky rose. They had silvery threaded details that complimented the dress I had just chosen beautifully and were dressy enough for bridesmaids to wear whilst keeping in line with our relaxed theme. Lawrence's suit was by Calvin Klein. His dress sense is naturally quite quirky, so like me, he picked a style that was unique. When I first saw Lawrence during the ceremony I remember thinking how gorgeous he looked – the sandy colour suited him really well and he is probably the only guy I know who can pull off a pink and blue striped shirt and blue suede shoes!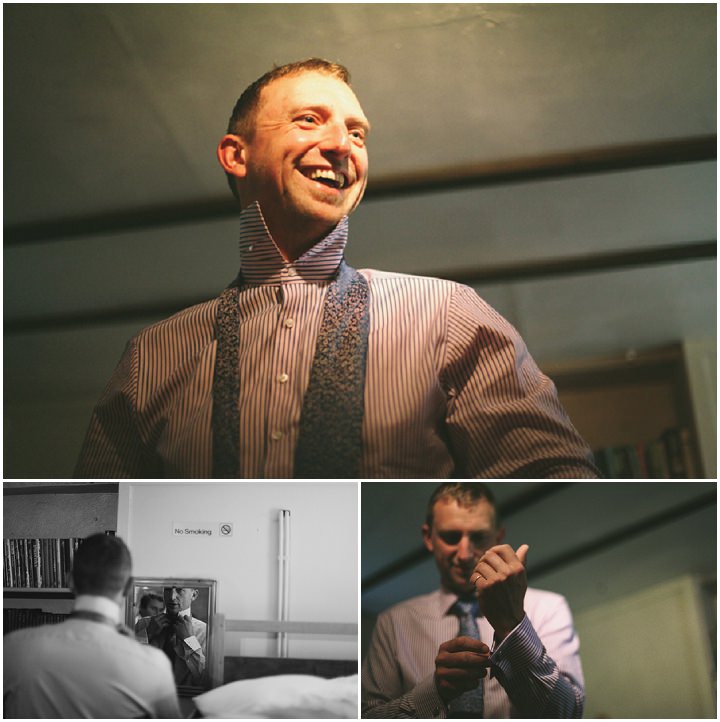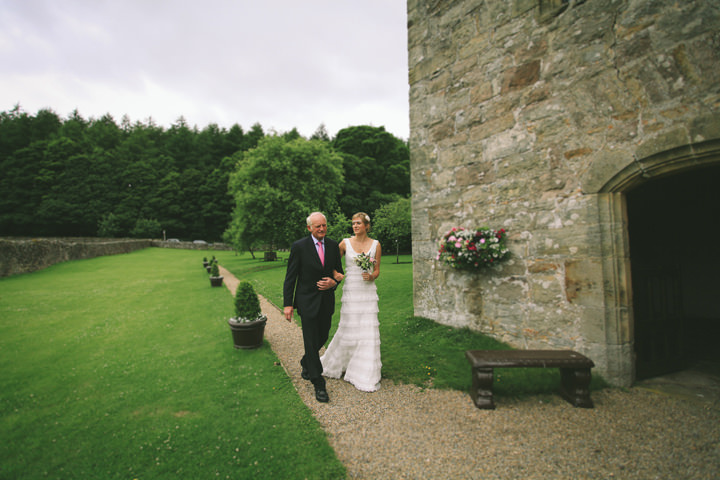 The theme
We love vintage styling and used an English country garden as inspiration, but we didn't opt for a specific colour or theme. Our colour scheme consisted of muted pastels and natural shades to create a rustic look.
The flowers
Debbie from The Priest's House arranged all of our flowers for the day and did such an incredible job. After discussing my ideas she put together a wonderful variety of wild flowers to accompany our rustic theme. She used rosemary in my bouquet which added a really lovely scent, and the bridesmaids' bouquets and family's button-holes were similarly impressive. The decoration The Priest's House has so much charm already it didn't take too much to enhance it. We used a mixture of birdcages, bunting, woven hearts, fairy lights and wild flowers, all provided by The Priest's House, so we didn't have to worry about spending lots of money on decorations that we might only use once.
The food and wedding cake
The catering was supplied by The Priest's House Restaurant which was great because we didn't have to worry about shopping around for external caterers. The meal was a take on a hog roast including roast pork (and lots of crackling!) bread rolls, salads and some gorgeous pickles and chutneys. Debbie (The Priest's House) also set out extra picnic tables so we had plenty of space to sit outside, enjoy the sunshine and chat to all of our guests. Lawrence isn't a fan of fruit cake, so my mum made us a small chocolate cake for our top tier. The remaining tiers consisted of cupcakes, made by a friend and pro baker, Alice Bennett. The cupcakes were all decorated in a vintage theme and they were so good that by the end of the evening many of our guests came to know her as 'The Cupcake Lady'!
The entertainment
It was important to us that everyone had fun on our wedding day. We had organised a selection of garden games to amuse our guests after the ceremony. They were a great way to get everyone involved and provided a fantastic opportunity for our guests to get to know each other. The badminton net proved to be a firm favourite, even Lawrence and I had a go! For the evening entertainment we hired a band called 'Wild Horses'. Tony, the lead singer, is a family friend of Lawrence's so it was great to have someone who we knew involved with the band. They played an incredible set of songs from wedding classics to slightly rockier requests, and managed to fill the dance floor from start to finish, giving the Bunk Barn a fantastic atmosphere. Our first dance was to Coldplay's 'Green Eyes', but the real hit of the night was 'Seven Nation Army' by the White Stripes, which really brought everyone to their feet. Actually, I think they played this song 3 times in total because Lawrence kept requesting it – now we always think fondly of our wedding whenever we hear that song!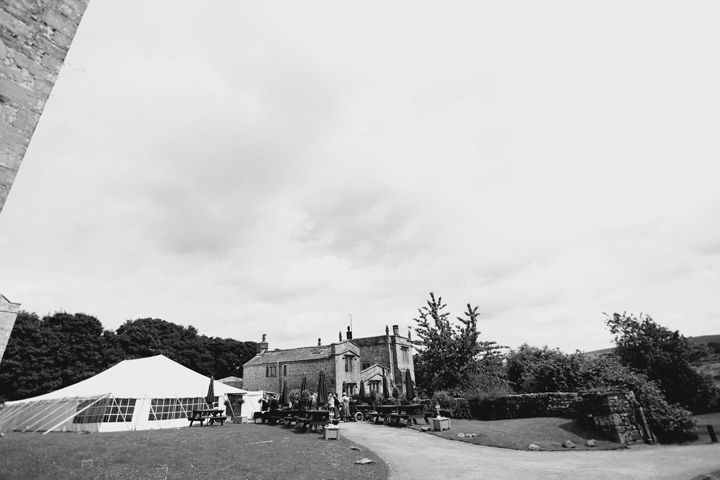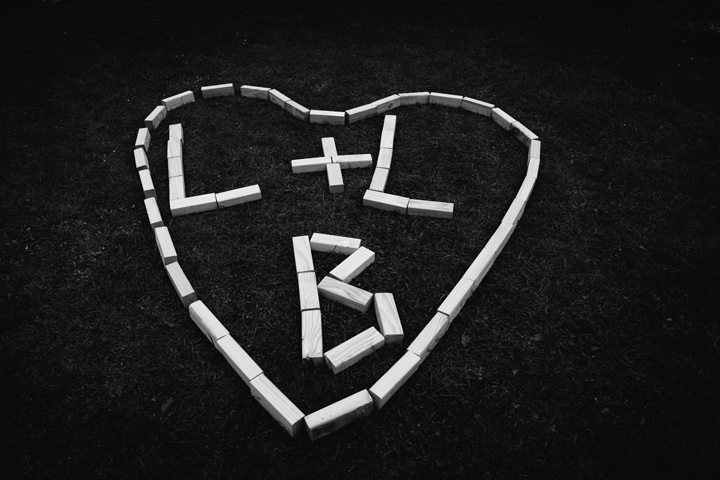 Buy or DIY your stationery?
A good friend of mine, Laura Jepson is an artist. Her business, Present Days Gallery, designs coats of arms for couples and weddings alongside other original artwork. When we first got engaged she designed us a crest, which we used as the main design for our invites as it represented us both so well. In keeping with our simple, rustic theme we used handmade paper and bound the invites together with natural garden twine.
Personal or handmade touches
Our friends and family were hugely involved in helping us to create our wedding and we can't say thank-you enough to them. From the cake and the cupcakes, my jewellery and the crest design for our invitations, so many people we knew used their skills to help us with our special day. On the morning of the wedding, my friend Emma styled my hair whilst many of our guests were helping to set up the venue. Lawrence is an ale drinker, so we managed to get hold our own keg from The Jug and Bottle. I, on the other hand, am a bit sweet-obsessed so we also created our own pick n mix table for our guests to snack on. Neither Lawrence nor I cared for a typical guest book that would likely be locked away in an attic gathering dust. Instead, we bought a Jenga set and asked our guests to write a message on each piece. Now, each time we get out the game to play it, we are reminded of our incredible wedding day and all the people who shared it with us.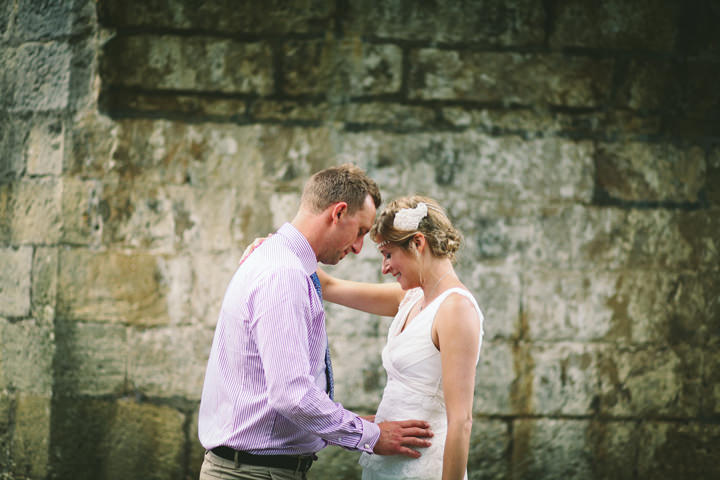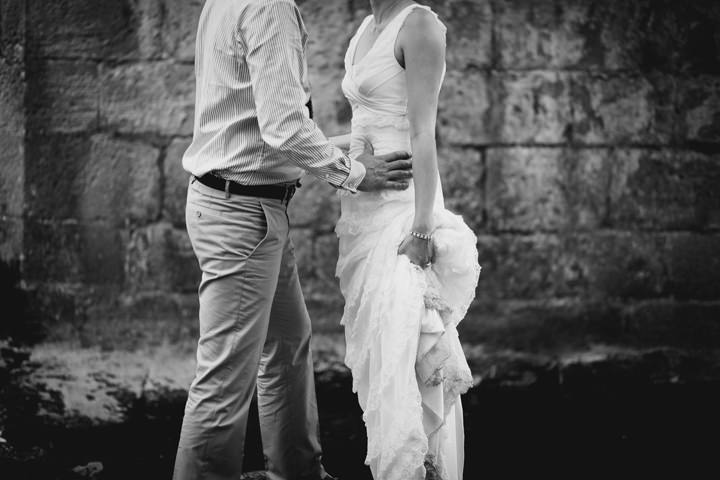 Special moments
One of the most special moments of the day was the readings we had in the ceremony. Two of my best friends read an Edward Monkton book 'A Lovely Love Story' which Lawrence had given me as a present for Valentine's Day a few years earlier. It was lovely to have something so personal to us put into our ceremony. Our 2nd reading was recited by Lawrence's 92 year old grandma who had found and chosen the reading herself (a poem called 'June Bride') and even cracked a few jokes whilst she was reading it! It was so special to us that she was able to be a part of our ceremony, and both readings gave us some wonderful memories to look back on.
Advice for other couples
Try not to get caught up in the formalities and little details that everyone tells you should have. If you are true to yourself and your partner then you will have a happier experience overall. Decide what is important to you both and stick to it – (it's your special day, so it's the one occasion where you can be a little bit selfish) – don't be swayed by other people's expectations, oh, and don't let them tell you that a wedding has to be expensive either… if you're prepared to think a little creatively then a small budget doesn't have to limit your dreams.
Biggest surprise
We didn't have many surprises on the day – we were lucky that everything went fairly smoothly for us. However we did receive a lovely surprise gift from our friends Laura & Chris Jepson (I mentioned earlier that Laura had designed the crest for our invitations). Sometime after the ceremony they presented us with our wedding gift – a beautiful pair of glass tankards with our specially designed crest engraved into the glass. It was such a lovely gift, plus it also meant that we had our very own special wedding tankards to use for the rest of the day!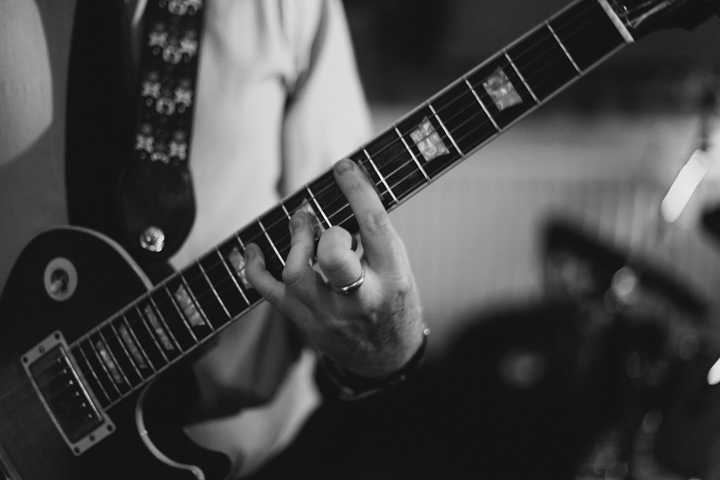 Supplier Shout Outs:
The Priest's House Restaurant – for the beautiful venue, catering, flowers and decoration – Debbie and Steve provided a fantastic service and really brought our vision to life for us. www.thepriestshouse.co.uk
Sansom Photography – Chris and Verity took so many incredible shots, it has made it practically impossible for us to narrow them down into an album!  We will cherish these memories forever.  hwww.sansomphotography.co.uk
Brides of York – for my wedding dress and the impeccable service we received. hwww.bridesofyork.co.uk
Sylvie Be Gladys – for my stunning headband and jewellery. They complimented my dress so well, I just wish I had an excuse to wear them every day! www.sylviebegladys.co.uk
Present Days Gallery – for our crest and invitation design.  Laura managed to incorporate every aspect of our lives into one piece of beautiful artwork. www.presentdaysgallery.com
Charlotte Jayne Beauty – for the bridal party make-up.  Everyone was so pleased with the results and it lasted all day and night! www.charlottejaynebeauty.co.uk
The Jug and Bottle – for our tasty keg of ale at a very reasonable price! www.jugandbottle.co.uk
Alice Bennett – for all the beautiful and delicious cupcakes – 

[email protected]

The Wild Horses – for the awesome music and the incredible atmosphere.
And a massive thank you to all of our friends and family who pitched in to make our day so special and personalised xxx
For more information on Chris and Verity's work go to:
www.sansomphotography.co.uk
FACEBOOK
@SansomPhoto

[jprel]