Well hello Friday!  I  hope you are having a good day so far and are looking forward to the weekend? What have you got planned, anything wedding related?  To finish off the week I have this fab 2 day wedding from Emma Warley Photography.  It's a colourful summer wedding that was all put together on a budget. However with a lot of help from friends and family Stephanie and Jock managed to put together a fun packed day where nothing had to be left out.  A tower of cheese, paper flowers, 2 wedding dresses, a barn dance and lots of irregular choice shoes, all go together to make this a great wedding to end the week.
'A colourful, fun, carefree experience that was not rushed. A big team effort!'
Stephanie and Jock were married on 15th August 2014 & 16th August 2014 at Falling Foss (near Whitby) for the ceremony and light refreshments. The bride's father's garden for afternoon BBQ. 16th – Stepney Hill Farm for the following gig. 'We wanted a place we could return to time and again, that would stay with us. As soon as we realised Falling Foss had recently got their licence, we just booked it. It's a magical place, the food is excellent, it has a laid back atmosphere, the people who run it are amazingly friendly and flexible and it's in a forest by a waterfall – who wouldn't want to get married next to a waterfall? For the Friday, we wanted again, to be somewhere that meant something to us. Dad's house at Wykeham Village near Scarborough is a 300 year old farm cottage, set in grounds that he has painstakingly landscaped himself. It's so beautiful. We bought a large marquee and had Stepney Hill Farm cater the BBQ, which meant we didn't need to worry about a thing on the day.
For the Saturday, we knew we wanted to have a big party and it had to be a gig. Jock's a musician, many of our friends are musicians and DJs, my Dad is a musician and I've done my bit too. So we hired Stepney Hill Farm's barn which is a large flexible space. We were lucky to have some great friends who supplied the stage, lights, sound tech, and live music. Stepney Hill Farm were amazing – they put a bar in for us, with very reasonable prices and they let us do whatever we wanted to set it up how we wished. We had a total of 40 guests on Friday and over 250 on Saturday. The planning took 6 months. We were undecided when to do it until we found the venues and once we found them, we just cracked on with it.
How they met
We met in a bar in1998 as we had mutual friends, but we only finally got together in 2010 when Jock got in touch with me after a big gap in our friendship. He wanted to see how I was and at the time I wasn't doing so well. We got closer after that point and pretty much realised we'd wanted to be with each other all along.
The Proposal
Our friend organised a very special fundraiser at Scarborough Castle. It was a fully catered black tie evening. We got a little tipsy and for some really silly reason had a fight! During our red mist I called him some awful names, and he told me it was over. Our friends were taken on a roller coaster ride as we went through breaking up to him deciding to prove to me how much he wanted to be with me by getting on his knees. We've always been 'all or nothing' types, there's a lot of fire in both of us!
How did you allocate your budget
Things were right but not extravagant. We spent less than the average family spends on a holiday I think, but with generous help from my parents and step-parents. We made sure we had great venues and really good food. My dress was in a sale but wasn't the cheapest out there either. Jock had on a tailor made suit from Thailand – the quality was immaculate and it wasn't overpriced. Not just to save money, but to make sure we enjoyed the planning, Jock and I made all sorts. He's a sign maker so he did any signage and design jobs we needed, he also did calligraphy on the invitations. I made decorations. My friends donated their time to make cupcakes. One very generous friend gifted us the hire of the 1969 VW camper! It also would have been far more expensive if we'd had to pay full price for the staging and the bands, but we are very lucky to have some very talented and generous friends. It was great to save money on these things, but even better that our friends and family were all involved in the production.
The only things we did not hold back on were my shoes and the amazing cake of cheese!
How did you choose your photographer
We wanted someone who 'got' us, and to work with someone who would be a guest and enjoy the day too. Emma was just starting up and she showed me some of her work and I loved her style immediately. She's a really vivacious character and as I'm quite strong willed, I needed someone to challenge me to come out of my comfort zone. She persuaded me into the engagement shoot and the 'getting ready' on the day shoot. I'm so glad she did! She made us feel really at ease and she joined in, chatting to friends and family all day, getting the shots that summed people up really, rather than over-staging stuff.
The Dress
I bought a dress from China on eBay. When it came it was fine – but that's not what you want for your wedding gown, so I wore that in the barn on the Saturday, matched with white Converse, and for the ceremony I had a Verise Bridal lace dress with my wonderful 'Abigail's Party' shoes form Irregular Choice.
The Suit and Bridesmaids
The fabulous suit was from modshopping.com. Made to measure for him, he chose all the details – pocket styles, buttons etc and it was with us in less than ten days. It's the most beautifully crafted thing. The Chinese dresses for the bridesmaids were more successful than my first attempt! We kept them colourful in teal, olive and hot pink, with matching shoes, again from Irregular Choice ('Summer Freckles')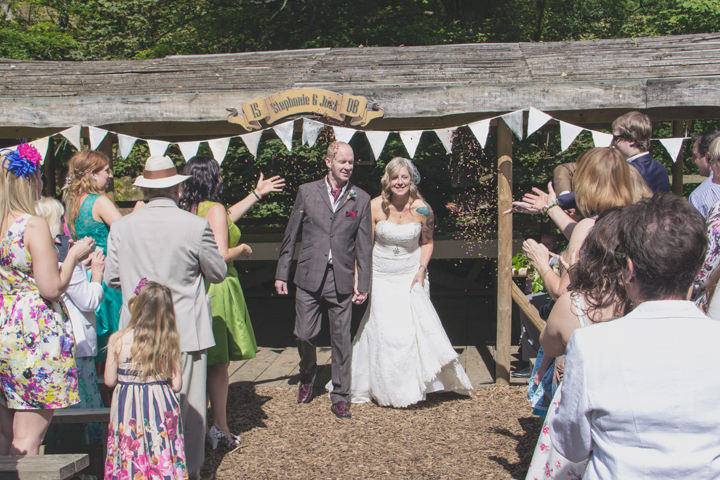 Theme or Colour Scheme
'Colourful and summery!'. I have a colourful tattoo on my arm so having one colour as a theme may not have worked.
Flowers
I had paper flowers made by a lady on Etsy. They had sheet music on them. My best friend upcycles denim so she made our fabulous boutonnieres. My step-mum decorated their house with flowers from the garden – cornflowers, daisies, anything that was available.
Decoration
Lots of butterflies. I'm a little obsessed! I made some from patterned card for table decoration and I used the same card for napkin rings too.
Food
All my favourite foods! My step-mum made me a bagel with salmon and cream cheese for breakfast. The Piper Heidsieck started to flow right around the hairdresser arriving. At Foss we had a range of savoury tarts, the huge cake of cheese, fresh fruits and homemade scones. At Dad's we had a steak BBQ, my step-mum's famous chocolate blancmange and the cupcakes. At Stepney Hill they put on a full hog roast.
Wedding Cake
Cheese, cheese, cheese!
Entertainment
As above, my Dad and our friends.
Buy or DIY your Stationery
DIY – Jock printed it then handwrote the names
Personal or Handmade Touches
I think I've already covered it – although we also had bowls made of old vinyls – many of them Jock's old band!
Special Moments
There were some really important ones all relating to music – walking in to our friend playing acoustic guitar, singing a song that has always meant so much to us, me singing for Jock, him singing for me. But actually, if I could be transported back to one particular moment it would be first thing in the morning. I woke up at Dad's house really early and went outside to check the marquee and things were still in place. It was the most fresh and beautiful morning. I listened to Jock's favourite song and my maid of honour and I sat and chatted. It was so relaxed.
Advice to other couples
Make sure both parties are fully involved in planning and decisions. Having Jock be a big part of it was great, not just in terms of sharing the load, but it made it truly OUR day – not just mine.
Biggest surprise
Jock singing – definitely – and me getting up to join him. The best night of my life!
Supplier Shout Outs
For more information on Emma's work please go to:
www.emmawarleyphotography.com
www.emmawarleyphotography.com/blog
[email protected]
07850 376345
FACEBOOK
TWITTER
I am Emma of Emma Warley Photography, based in Scarborough, North Yorkshire and covering the UK and beyond. I'm an alternative wedding photographer and my style is creative, fun and relaxed. I capture fleeting moments and make them last forever. 
[jprel]