Todays wedding is full of wonderful colour and French charm. With a theme of Mexican vibrant colours this wedding, set in the South West of France, is just adorable and so much fun! The couple Montserrat & Arnaud put the whole wedding together in 2 months but still managed a whole host of DIY projects and handmade details. By enlisting the help of friends and family they really put their own personal stamp on their day, which is chilled, relaxed and full of smiles. With a wedding dress from Mango and the cutest wedding car, this French DIY wedding is just wonderful, thank you to Hermione McCosh Photography for the images.
Spontaneous and full of life. The most incredible feeling to have all your family and friends in one place especially as they came from as far-flung places as Columbia, Mexico, Spain, Paris & Greece.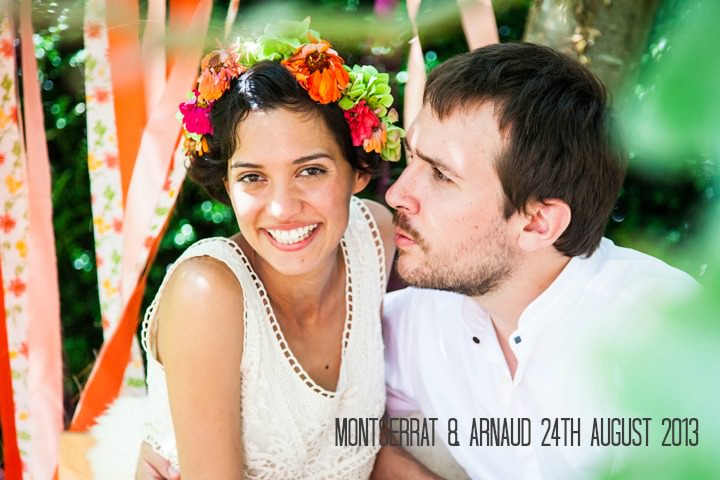 Montserrat & Arnaud planned their wedding in just two months and were married on 24th August in the South west of France, a village called Sare in the Pays Basque where Arnaud grew up and where his family still live. The reception was at the Maison des Derlon-Hernandorena in Urrugne also in the Pays Basque.
How they met
We've been together for five years. I came to Paris to study architecture and Arnaud was already a musician. One evening I went with friends to one of his concerts. He was playing the piano and later he came up to ask me if I would like him to play again for me? It went from there!
The proposal
It was in Amsterdam on one of the taxi boats on a canal. It was very natural- I didn't really believe him to start with and then I saw that he was serious. At first we wanted to do an ultra romantic, top-secret elopement to Greece which would have been fantastic but finally we thought it would be better to share the day with family and friends.
How did you allocate your budget?
One of the most important things at a french wedding is 'le bouf!" (The food) and of course the wine and champagne! We didn't have an enormous budget and as we wanted our day to be simple and relaxed we did a lot of things ourselves, DIY style, which took more time but the result was definitely more magical. Thanks to help from family and friends we managed to create the garden party dream wedding! Lots of people came to help during the week leading up to the big day. We made material garlands for the trees, the placement names and a huge pinata. The boys put the marquee up while the girls made flower decorations. We had wedding furniture from the company Nabie dit Oui which was perfect for the laid back theme we had imagined. Wooden tables and benches, tipis for the children, an open air dance hall and lots of rugs and cushions for sitting on. The garden also had a swimming pool which was perfect for a refreshing dip!
How did you choose your photographer?
I think having a professional photographer is really important as now these photographs capture the cherished moments of our day. I have known Hermione for a while in Paris and really admire her work. She is creative and spontaneous which I think matched our slightly non traditional wedding.
The dress and accessories
Dress from Mango, heels from Jonak (for the ceremony) and espadrilles from Esprit (for the garden)
The suit and bridesmaids.
Trousers from Mango, shirt from Karl Lagerfeld, jacket from Strellson, shoes: espadrilles from St Jean de Luz
The bridesmaids didn't have a particular dress but each had a flower similar to the ones in my flower crown
The theme
Mexican colours, vibrant! The theme was garden party, the girls came in brightly coloured dresses and the boys wore anything from Panama hats, bow ties and espadrilles!
The flowers
Dalias, Cosmos & wild flowers.
The decoration
Mexican paper bunting, Garlands made from Liberty material which hung in the trees, tipis for the children, wild flowers in jam jars. There was a table with an old-fashioned typewriter to send us a note!
The food and the wedding cake
To start with we had a lot of typical delicacies from the Pays Basque- meats, cheese and sea food. For the main course we had spit roasted lambs accompanied by Quinoa salads amongst other things.
We had a typical French wedding cake – A mountain of 'chou' pastry with cream and lots of little patisseries.
The entertainment
Arnaud is a musician so music was important so there were a lot of impromptu playing as well as a good DJ and live band. There were tipis and a children's corner. There is a Pellotte court (a typical basque game which is a bit like fives) in the garden as well as a swimming pool.
Personal or handmade touches
We did practically everything from placements, table numbers on wine bottles, material garlands, the invitations, the pinnate.
Special moments
We were married in the Mairie (town hall) Arnaud and I drove together to the reception. It was just the two of us in a 'deux chevaux' which was very special to be together alone. Also my father's speech was definitely a highlight.
Advice for other couples
– Get a good nights sleep the night before – at least six hours!
– Get your friends to help with the organisation and creation of the day. It's always fun to make a big pinata with a bottle of wine while chatting with friends!
– Don't forget that the wedding is a big party, a celebration with all your nearest and dearest. Follow your instinct you don't always have to be traditional. Your friends will appreciate originality. Wedding guests in their swimming costumes isn't really what you think of when you imagine an elegant and romantic wedding day but it worked for us!
Biggest surprise
My best friend, Adrian who was originally meant to be one of my witnesses arriving by surprise on the morning of wedding all the way from Mexico! Then of course seeing Arnaud in his suit for the first time!
Supplier Shout Outs:
Catering: La berdesque Catering
Flower crown: Hiribarren à Hendaye
DJ: Sanpan Tzar Jukebox
Wedding furniture: Nabie dit oui
For more information on Hermione's work, please go to:
hermionemccosh.com
hermionemccosh.com/blog
[email protected]
07753606628
FACEBOOK
@HermioneMcCosh
Hermione has lived in Paris for the last four years and has worked, amongst other photographic assignments, giving photographic tours in the streets of Paris. Hermione has therefore developed a reportage or photojournalistic approach to capturing weddings. She portrays moments through images that tell a story. Summer 2014 brings her back to the U.K. where she will based between London and the Lake District where she grew up. She also loves to travel and will happily take on destination weddings!
[jprel]