I had the most wonderful weekend so today for a Monday I am feeling rather happy. I spent Saturday with Fearne watching her dancing and in the evening I made the most delicious Thai Curry from a recipe I found on Pinterest. Yesterday was spent being in front of the camera rather than behind as Paul and I did a bit of modelling (I use that term lightly!) for Jon of S6 Photography workshop in Sheffield. This coming week is full of weddings related goodness and Kelly and I have some really amazing weddings to share with you all this week so stay tuned!
Today we are back with our popular DIY post and we would like to say a huge thanks to Alice from Market Place Farm for sharing todays DIY post of a Willow Wreath
STEP 1) To create the frame for your wreath you need to use the thickest rod of willow in your pile. Once you have selected this hold the fat end in your hand and bend the whippy end around until you have a circle like shape. Hook the whippy end in to make it look a bit like a pretzel. It should look something like this.
STEP 2) Place your next piece of willow alongside the thick end sticking out. Move it round the circle so that the thick end is now at the opposite end of your hoop. Weave the whippy end in and out, following the path of your first piece
STEP 3) Repeat this with your next piece of willow, ensure the weave is an even width by moving the thick ends so they all stick out at different angles.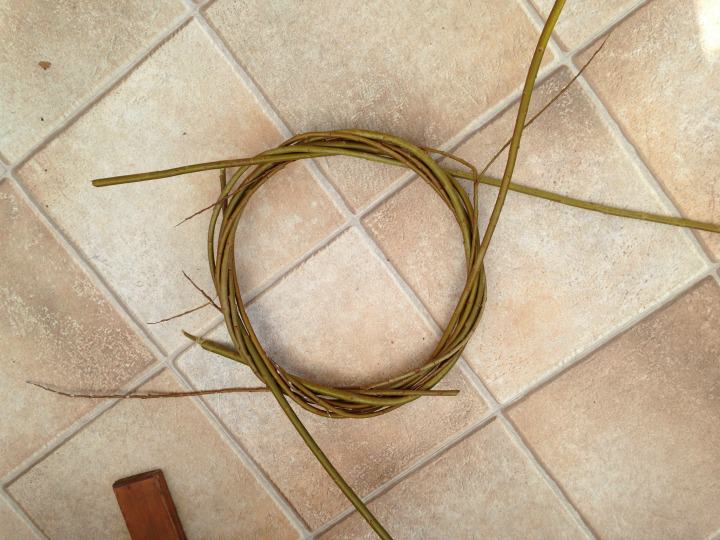 STEP 4) It's time to trim up. Use your secateurs to trim off all the bits of willow sticking out. For a more sleek finish cut them on an angle!
STEP 5) Your hoop is finished! If it is slightly out of shape you can now push and pull it until its round. Wrap garland around the wreath following the pattern of the willow. You may want to get creative and add individual flowers along your wreath, wrap with fairy lights or even just leave bare.
Your willow will eventually dry out and turn golden brown, depending on the time of year you weave your hoop will depend on how long it takes to dry out, however they are equally as beautiful green and brown!
For more information on Market Place Farm
www.marketplacefarm.co.uk
[email protected]
07970976001